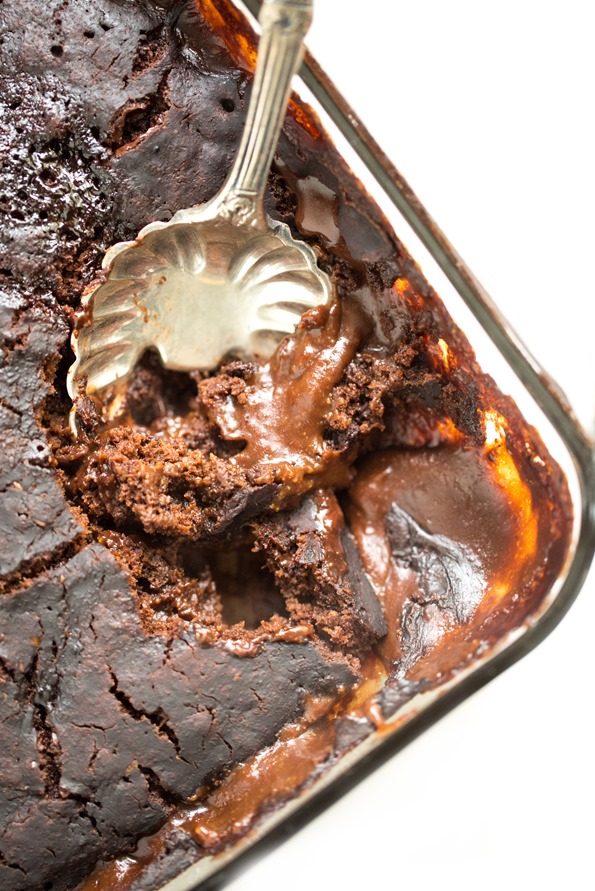 OMG, this pudding cake.
Pumpkin + chocolate + brewed coffee + pumpkin pie spices + almond milk = heaven in a dish!
Heaven in a gluten-free, vegan dish, that is. And it's easily made nut-free just by swapping out the almond milk for coconut milk. Want it soy-free too? Just use soy-free chocolate chips (such as Enjoy Life brand). Oh yea, and because I used moisture-rich pumpkin, this recipe is oil-free but you'd never know it.
If you haven't had the pleasure of enjoying a chocolate pudding cake before, let me tell you what's so magical about it: the chocolate cake creates its own chocolate pudding sauce as it bakes! Oh heck yes. It's like having a sous chef in your very own kitchen. Why make chocolate sauce when the cake can make it for you?
Now that you're drooling uncontrollably, let me show you just how easy it is to make…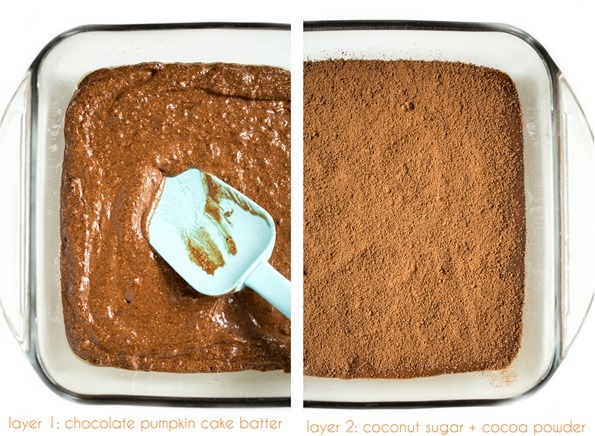 Layer 3 (below) is when you might want to freak out because your cake looks like a hot mess. You will think you did something wrong, but you did everything right, my friends. It's supposed to look like a hot mess. Don't you wish all recipes were that easy? So dump on that hot coffee on top and marvel in the hot mess! I promise it will all work out in the end (see after photo). It's like a magic trick.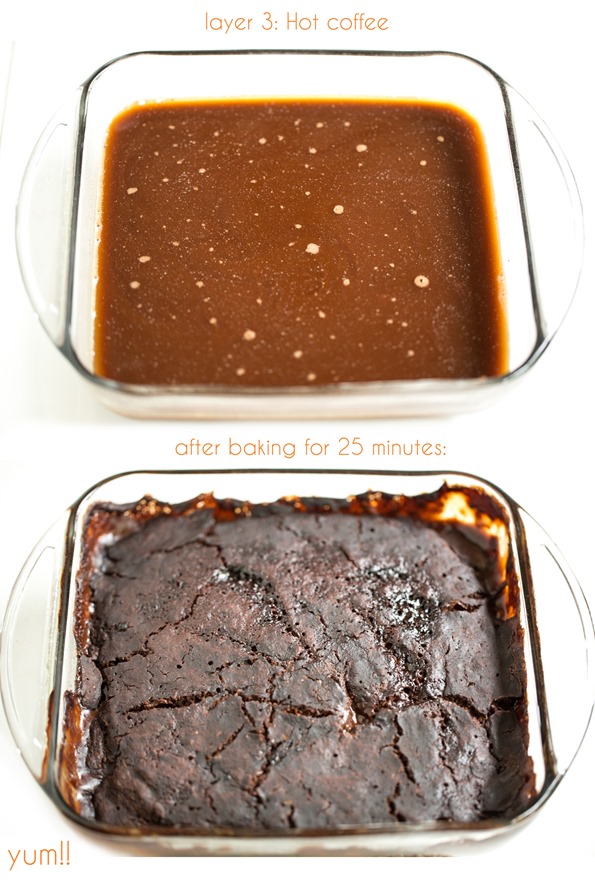 See? Nothing to worry about here.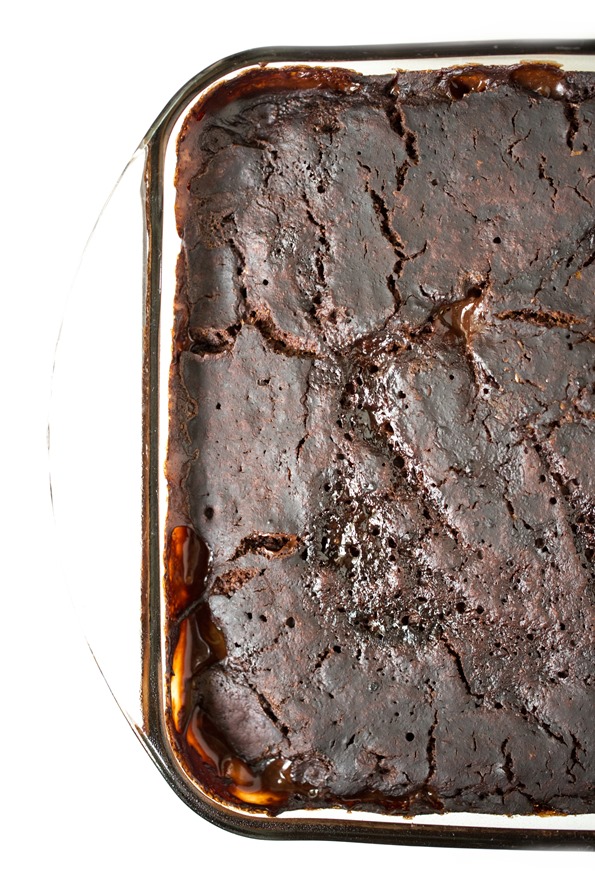 Don't you just want to dig in with a big spoon?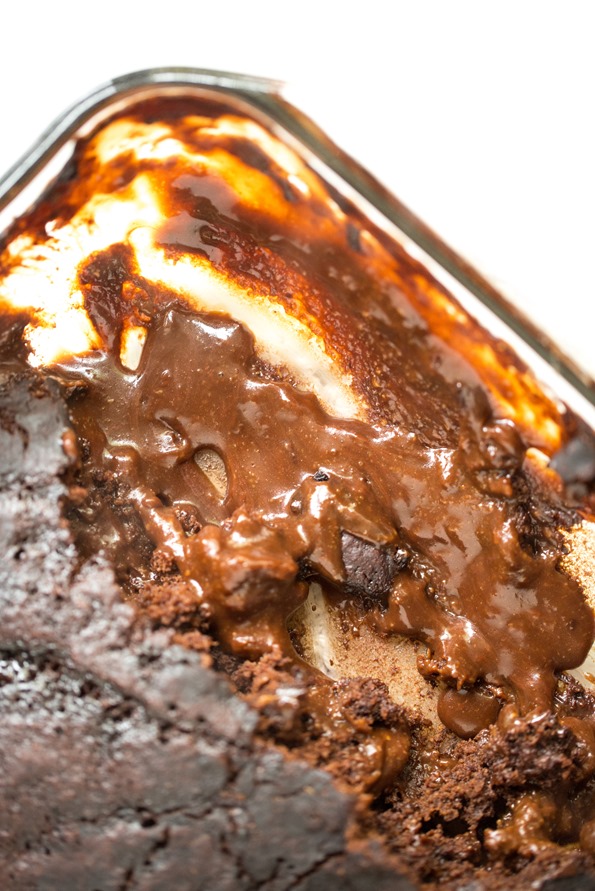 I highly recommend (no, I beg) that you serve it with your favourite vanilla ice cream (I love Coconut Bliss Vanilla Island) and toasted pecans. The hot vs. cold, gooey vs. creamy contrast is to die for. You won't be sorry.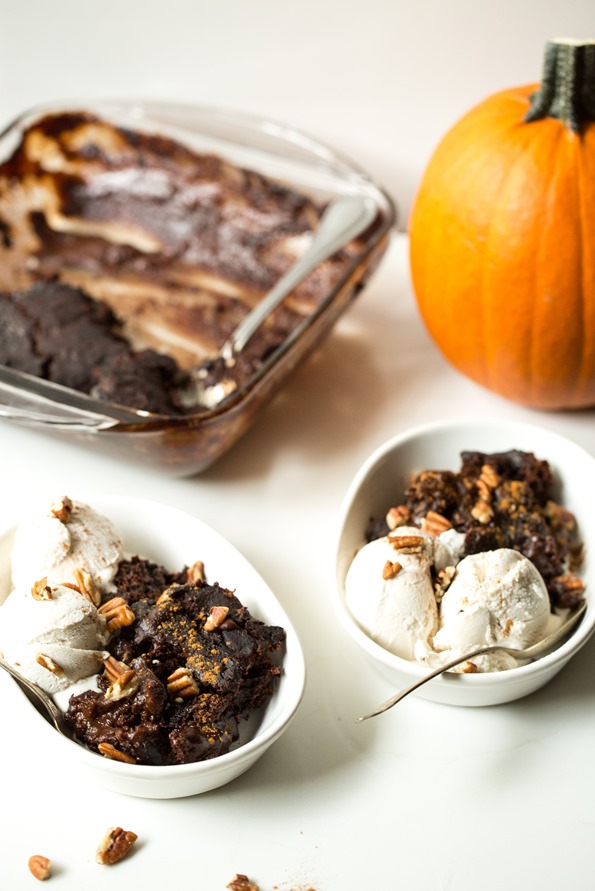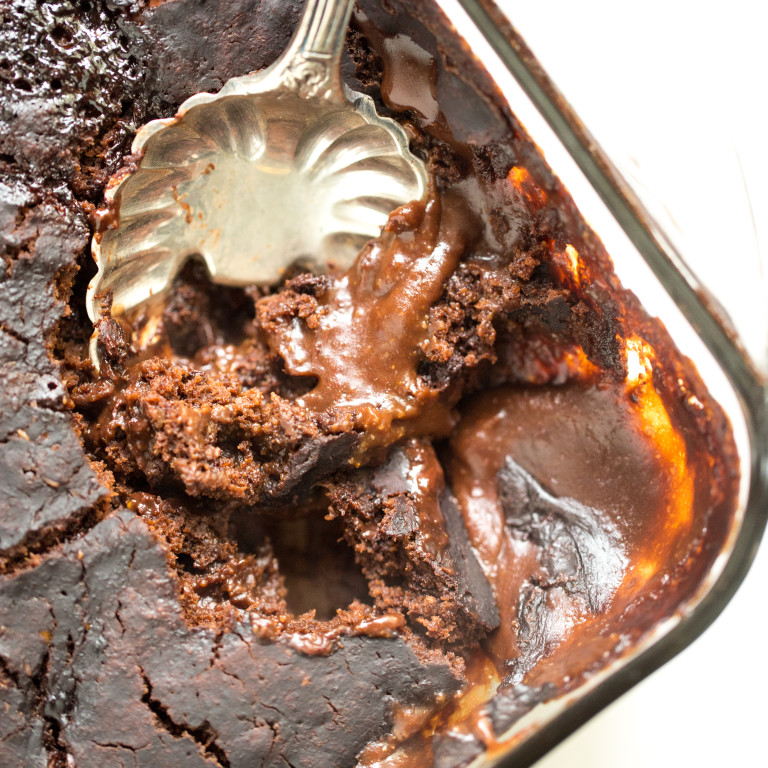 Gooey Pumpkin Spice Latte Chocolate Pudding Cake
Vegan, gluten-free, oil-free

Yield

6-8 servings
Prep time

Cook time

Total time

Coffee, pumpkin, pumpkin pie spices, and chocolate all combined in one gooey, saucy, pudding cake. What on earth could be better? Serve with a scoop of vegan ice cream and toasted pecans to take it over the edge. Be sure to see my notes at the end of this recipe for ways you can change it up. Recipe adapted from The Oh She Glows Cookbook.
Ingredients
1 flax egg: (1 tablespoon ground flax mixed with 3 tablespoons water)
1.5 cups rolled oats, ground into a flour (use certified gluten-free oats, if necessary)
3/4 cup coconut sugar
1/3 cup unsweetened cocoa powder
1 teaspoon cinnamon
1/2 teaspoon ground ginger
1/8 teaspoon ground nutmeg
1/3 cup finely chopped non-dairy dark chocolate
1/2-3/4 teaspoon fine grain sea salt, to taste
1/2 tablespoon baking powder
1/2 cup + 2 tablespoons almond milk
1/2 cup + 2 tablespoons unsweetened pumpkin puree
1/2 tablespoon pure vanilla extract
1 tablespoon cocoa powder
1/4 cup coconut sugar
1 + 1/4 cup hot coffee (use decaf, if desired)
For serving: vegan vanilla ice cream and toasted chopped pecans
Directions
Preheat oven to 375⁰F and lightly grease an 8-inch square glass baking dish with oil.
Whisk flax and water together in a small bowl and set aside for 5 minutes to gel up.
In a large bowl, stir together the oat flour, 3/4 cup sugar, 1/3 cup cocoa powder, cinnamon, ginger, nutmeg, chocolate, salt, and baking powder.
In a small bowl, whisk together the flax mixture, milk, pumpkin, and vanilla.
Pour wet mixture onto dry ingredients and stir until thoroughly combined.
Scoop the batter into the prepared glass dish and smooth out evenly with a spoon.
In a small bowl or mug, combine the remaining tablespoon of cocoa powder and 1/4 cup sugar. Sprinkle all of it evenly over the cake batter.
Slowly pour the hot coffee over the cocoa powder and sugar mixture ensuring that the coffee completely covers the powder and sugar. The cake will now look like a complete disaster, but this is normal. Promise!
Very carefully place the dish into the oven, uncovered. Bake at 375⁰F for 25-40 minutes (see my post for the visual step by step pictures) until the cake is semi-firm on the top, but bubbly and gooey around the edges (see photo in blog post). It will look under-baked, but this is normal (we want it saucy!). If for whatever reason your cake is still watery after 30 minutes in the oven, keep baking it until it looks like the photo in the blog post.
Let the cake cool for 10 minutes and then serve immediately with vegan vanilla ice cream and toasted pecans. This cake is best served warm straight out of the oven. I tried reheating leftovers in the oven the next day and the cake absorbed a lot of the sauce during the reheat. It was still good, but we preferred the cake the first day, fresh out of the oven. Leftovers are quite good served chilled, as an alternate suggestion.
Tip:
Notes: 1) You can probably swap the coconut sugar for natural cane sugar. The bake time may vary slightly since coconut sugar tends to be more dry. 2) If you aren't a coffee fan, feel free to swap it with boiling water. 3) To make this nut-free, swap the almond milk for coconut milk (or non-dairy milk of your choice) and leave out the pecan garnish. 4) To make the oat flour, add the rolled oats into a high speed blender and blend on high until a fine flour forms. You can also use 1 1/2 cups + 2 tablespoons store-bought oat flour instead.
Nutrition Information
(click to expand)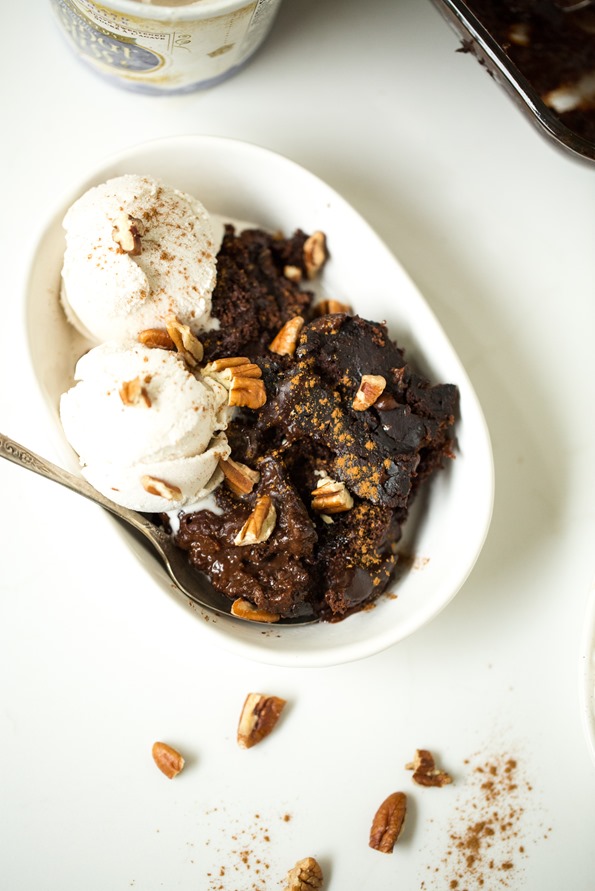 Wishing all my fellow Canadian readers a very happy Thanksgiving weekend! It's hard to believe it's already here.
If you are looking for my vegan Thanksgiving recipes, see this post.