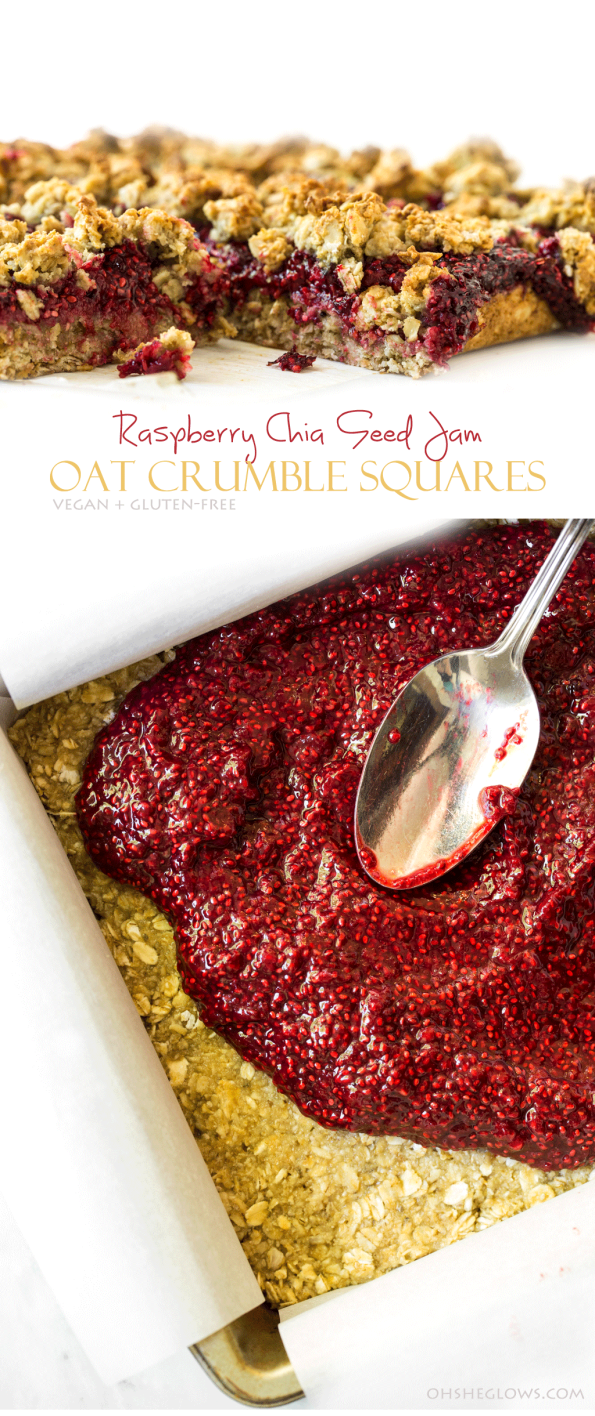 A blog reader recently emailed me hoping to see a gluten-free version of an oldie but goodie blog recipe – the popular Healthy Strawberry Oat Bars from way back in 2010. There's something about this time of the year that makes me crave jam-filled oat crumble squares (or really, any kind of baked good, who am I fooling!), so she didn't need to twist my arm. Not only is this version gluten-free, but it uses coconut oil instead of vegan butter (reduced by about half!), and showcases a new and improved crispy topping. The topping gets crunchy and golden, almost like a granola. Wowzers. My Raspberry Chia Seed Jam recipe was used for a reduced sugar option, but you can use any store-bought or homemade jam you see fit. The beauty of the oat square is that you can change up the flavour significantly just by swapping out different flavours of jam. I think a peach version would be nice too. I made a cinnamon peach chia seed jam a few weeks ago and it was delicious!
Joanna, this one is for you, and anyone who appreciates a classic jam + oat combo! These are healthy enough to start your day with, and delicious enough for an end of the night treat.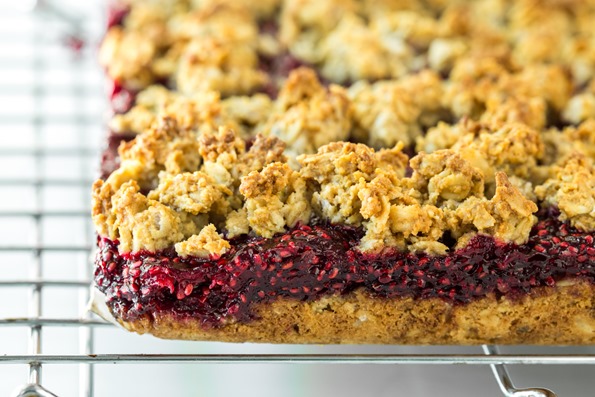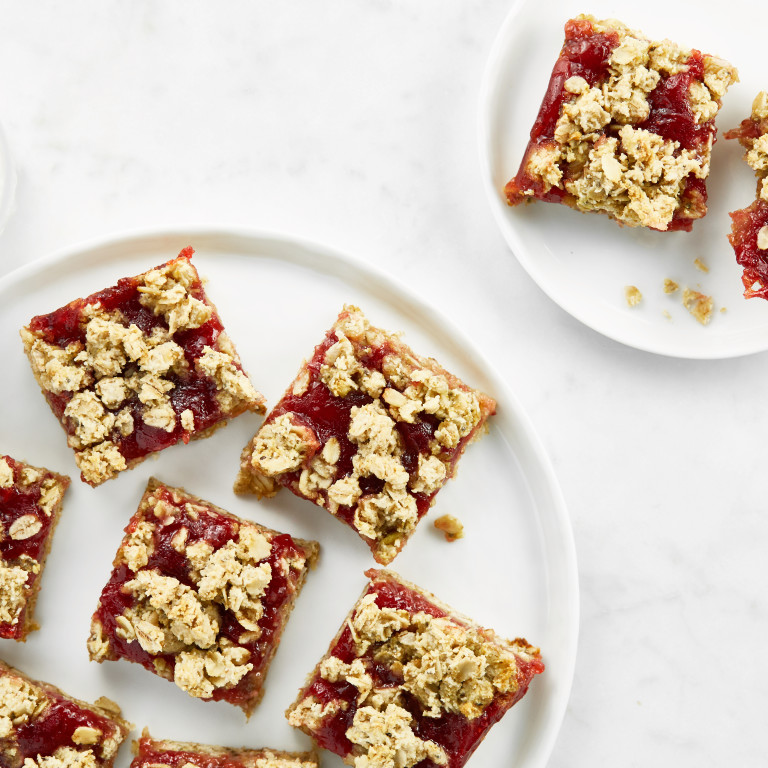 Raspberry Oat Crumble Squares
Vegan, gluten-free, soy-free

Yield

12 squares
Prep time

Cook time

Chill time

1 hour
Total time

Reminiscent of a Nutri-Grain bar, these squares are vegan, gluten-free, and filled with a delectable raspberry chia seed jam. They require a good period of cooling before they are ready to be sliced—otherwise they may crumble a bit, as they're very delicate while warm. Feel free to use 1 cup of your favourite store-bought jam in place of the chia seed jam if you are tight on time; this recipe comes together so fast if using store-bought jam (or previously made and cooled chia seed jam)! Oat squares adapted from my Healthy Strawberry Oat Bars. 
Ingredients
Raspberry Chia Seed Jam (or 1 cup store-bought jam):
3 cups (350 g) frozen or fresh raspberries
3 tablespoons (45 mL) pure maple syrup, or to taste
2 tablespoons (20 g) chia seeds
1/2 teaspoon (2.5 mL) pure vanilla extract
For the squares:
1 tablespoon (10 g) chia seeds
1/4 cup (60 mL) water
1/3 cup (80 mL) coconut oil, melted
1/4 cup (60 mL) pure maple syrup
2 tablespoons (30 mL) brown rice syrup
1 teaspoon (5 mL) pure vanilla extract
2 1/2 cups (250 g) gluten-free rolled oats
1/2 cup (68 g) gluten-free oat flour
1 cup (100 g) almond flour (not almond meal)
1/2 teaspoon baking soda
1/2 teaspoon fine sea salt
Directions
Preheat oven to 350°F (180°C) and line an 8-inch square pan with parchment paper (with overhang so it's easy to lift the slab out later).

For the jam: In a medium pot, stir together the raspberries, maple syrup, and chia seeds until combined. Bring to a low boil and reduce heat to medium-low. Simmer, uncovered, for about 10 to 15 minutes, stirring frequently, until the raspberries break down and the mixture thickens slightly. Remove from heat and stir in the vanilla. Transfer the mixture to a bowl and into the freezer for about 20 to 30 minutes, to hasten the cooling process.

For the oat squares: In a small mug, mix together the chia seeds and water to make a chia egg. Set aside for a few minutes until thickened.

In a large bowl, stir together the melted oil, maple syrup, brown rice syrup, and vanilla. When the chia egg has thickened, stir that in, too.

One by one, stir in the rolled oats, oat flour, almond flour, baking soda, and salt until the there are no dry patches left. The dough will seem too dry at first, but if you keep mixing, it'll eventually come together!  

Set aside 1 packed cup of dough for the crumble topping.

Spoon the remaining dough into the prepared pan. Place a piece of parchment paper on top of the dough and press down to spread the dough out evenly, until it covers the entire base. Or, in lieu of parchment paper, simply use lightly wet hands to press the dough down.

When the chia jam has thickened and cooled, pour all of it (about 1 cup) on top of the oat mixture and spread it out evenly. If using store-bought jam instead, spread on 1 cup.

Crumble the remaining cup of dough over the jam layer.

Bake uncovered for 25 to 30 minutes, until the topping is semi-firm to the touch.

Place the pan directly on a cooling rack for 20 to 30 minutes, and then place it in the fridge until completely cool (about 30 more minutes). Slide a knife around the edges. Carefully lift out the slab and slice into squares.

Store any leftover squares in a sealed container in the fridge for up to 1 week, or in the freezer for up to 6 weeks.
Nutrition Information
(click to expand)