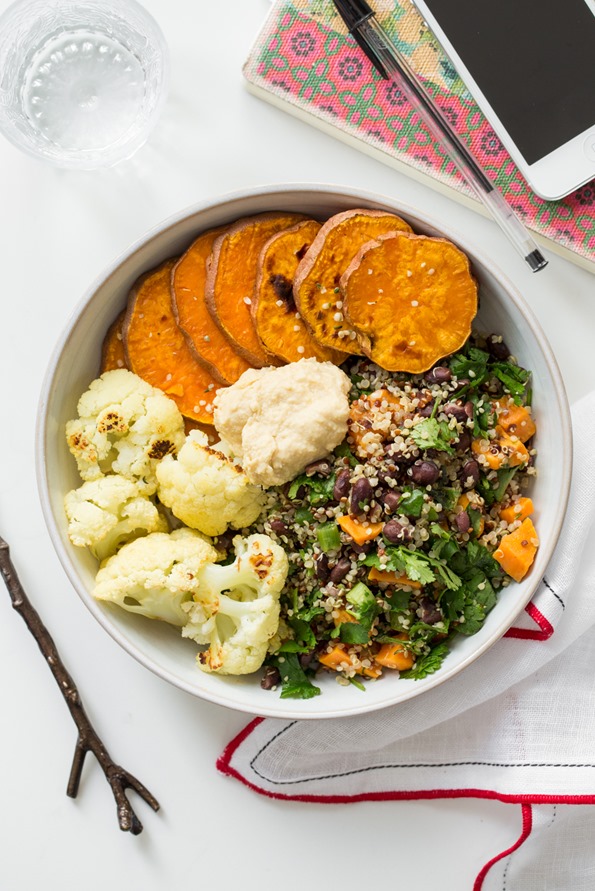 Even though it's the dead of winter and all I want to do is crawl under the blankets with some hot cocoa and a chocolate bar, I've been making an extra effort to increase my veggie intake. The more veggies I eat, the more chocolate I can have, after all. It's simple math. Some days it's easy to forget how great I feel when I'm fueling my body with a rainbow of plants; they keep me sane during the cold, dreary days of winter. Food has this amazing power to influence my mood (much like exercise) and I often tell myself that feeling better is only a meal (or workout) away. It really is true! So keep this in mind if you are feeling the effects of a long winter like I am. Healthy eating begins with the very next meal…
I go through vegetable phases all the time. Right, now I'm hooked on cauliflower (enough to turn it into creamy alfredo which you seem to be enjoying a lot!), cabbage (via sauerkraut…lol), and sweet potatoes. Always sweet potatoes. This tasty lunch is something I threw together recently and I loved the combo so much I decided to share with you. The main event is an energizing black bean and sweet potato quinoa salad. The only thing I missed was a sliced avocado (I opened it up and it was all bruised…sigh), so if you have some around definitely throw it in.
In addition to the salad, I added roasted sweet potato rounds (because you can never have too much sweet potato on a cold winter day), roasted cauliflower, hemp hearts. and a big 'ol scoop of hummus for good measure. Since I already had the salad made in advance, all I had to do was throw the veggies into the oven to roast while I tended to other things. It came together quite fast! Three cheers for leftovers.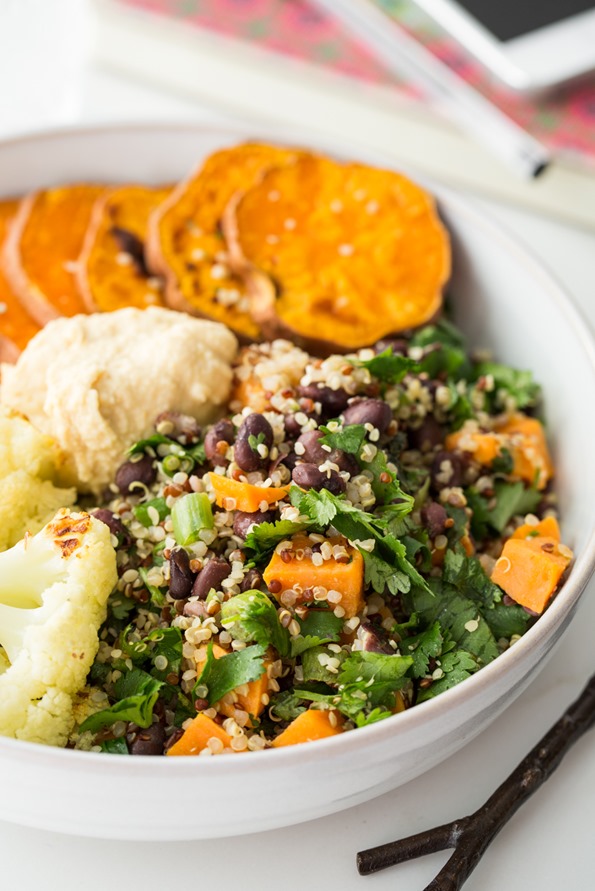 This isn't so much an exact recipe I'm sharing today, but more of a show and tell to hopefully inspire you to create your own. I lightly adapted one of my favourite quinoa salads from last year (see link below), and then added in other things to create a filling and feel-good lunch bowl! Oh by the way, as my sister discovered last weekend, this quinoa salad is also fantastic in a wrap with hummus and other veggies. A very good idea, I'd say!
For the bowl:
– Black Bean & Quinoa Salad (I made it with roasted sweet potato instead of carrots – loved this variation so much!)
– 1-2 cups chopped roasted cauliflower
– 1 sweet potato, sliced into rounds and roasted
– hummus, as needed to get your daily quota (the salad is so good mixed with some hummus, FYI)
– hemp hearts, for garnish (adds more protein and healthy fats…and let's not forget edible confetti)
~~~
So there you have it. A mood-booster-in-a-bowl.
Is it spring yet?