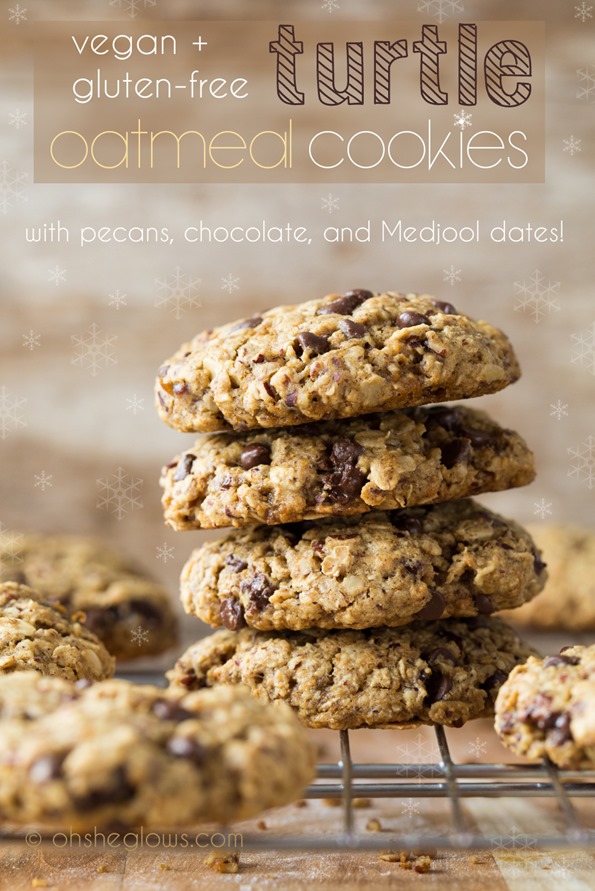 Let's keep this holiday goodie train chuggin' along, with a new cookie recipe that I made recently for a holiday get together. It's inspired by the Turtles candy, with a nutty, "buttery" base of toasted pecans, caramel-like Medjool dates, and mini dark chocolate chips. They did not last long. I bet you've never had an oatmeal cookie quite like this one – it's a keeper, for sure! I have to say, it replaces my oatmeal raisin cookies as the new reigning champion. And I didn't think anything could top those.
Introducing the world's best tasting cookie dough. Try it and see…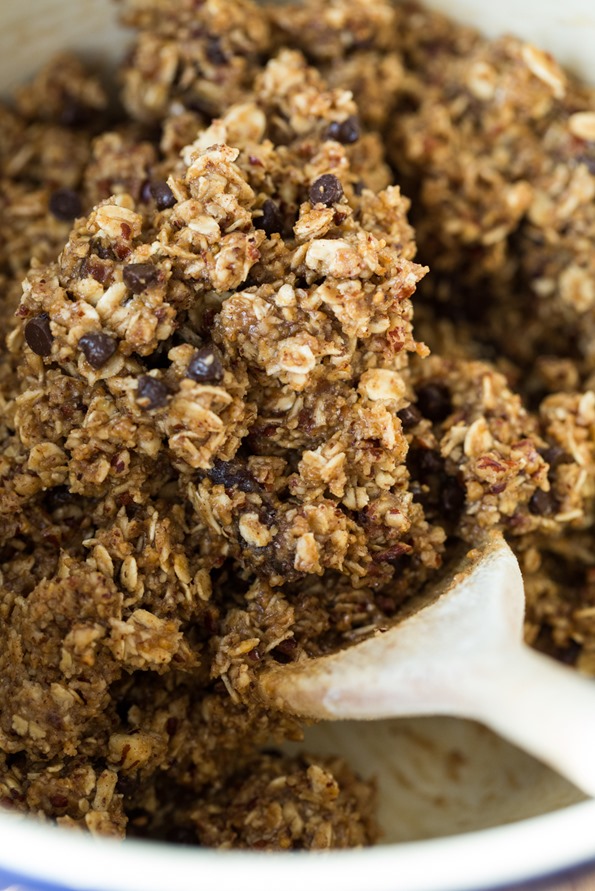 The cookies aren't too shabby either! My favourite way to eat them is straight from the fridge or freezer. Weird, right? They get really firm and crispy when chilled – almost caramelized in texture – and I just can't get enough.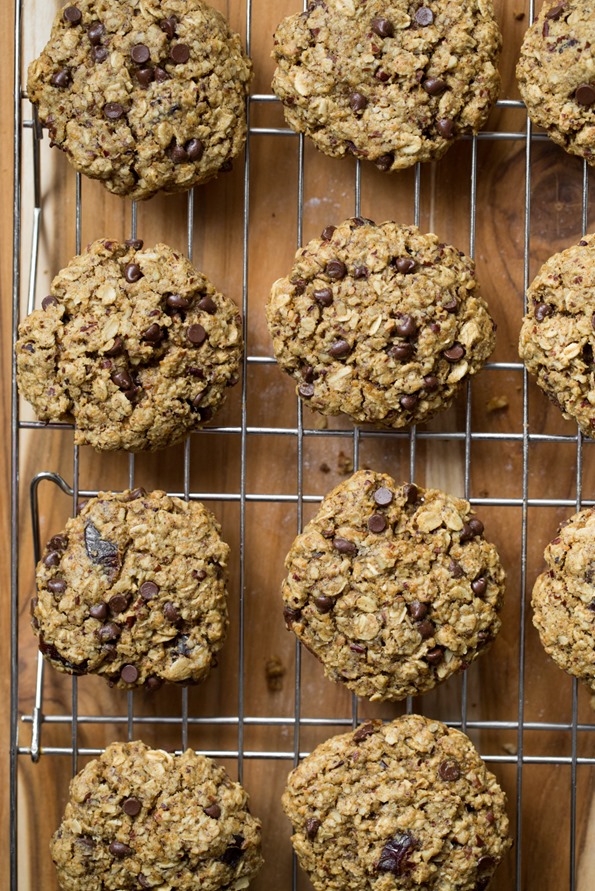 I'm so sorry to do this to you, but I'm keeping the recipe a secret.
Don't be mad.
Sometimes I just want to keep a recipe all to myself. Is that wrong?
I feel horrible!
Ok, ok stop punching your computer screen. I'm only joking! Poor computer screen.
For the full recipe, head on over to Keepin' It Kind where I'm participating in Kristy's Vegan Cookie Swap Party.
Edited to add: you can now find the recipe below: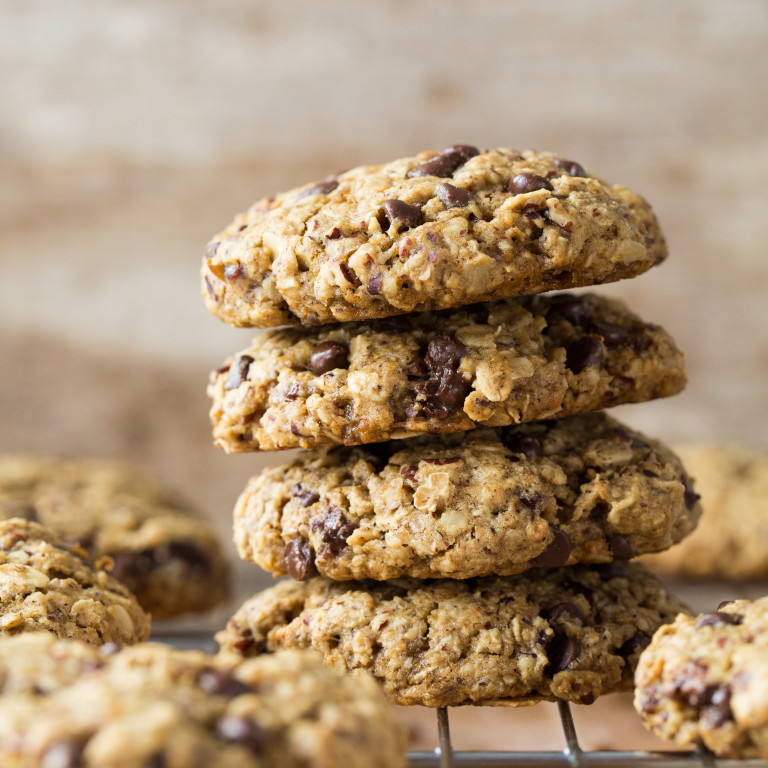 Vegan "Turtle" Oatmeal Cookies

Yield

16 large cookies
Prep time

Cook time

Total time

Inspired by one of my childhood favourite candies, these "Turtle" Oatmeal Cookies are studded with caramel-like Medjool dates and dark chocolate chips, all surrounded with a nutty toasted pecan and oat base. If you can stop eating the dough for long enough to bake them, you are in for a real treat. This sounds a bit strange, but my favourite way to enjoy these is straight from the fridge or freezer where the cookies get firm and crisp.
Ingredients
1 + 3/4 cups pecan halves
2 cups gluten-free rolled oats, divided
3/4 cup gluten-free all-purpose flour (I used Pamela's brand, see note)
1/2 cup Sucanat or unpacked brown sugar
1 teaspoon baking soda
1/2 teaspoon cinnamon
1/2 teaspoon fine grain sea salt
1/2 cup pure maple syrup
3.5 tablespoons coconut oil
2 tablespoons almond milk
2 teaspoons pure vanilla extract
heaping 1/3 cup pitted dates, diced
1/4 cup mini dark chocolate chips (I use Enjoy Life brand)
Directions
Preheat oven to 325F and line a baking sheet with parchment paper. Toast pecans for about 9-11 minutes, until golden and fragrant. After toasting, remove from oven and cool for a few minutes. Preheat the oven to 350F. Add pecans into food processor along with

1 cup

of oats and process until coarsely chopped with some fine powder (see photo in blog post). Be sure not to over process or the oils in the nuts will release.
In a large bowl, stir the pecan/oat mixture, the remaining 1 cup rolled oats, flour, Sucanat, baking soda, cinnamon, and salt.
In a medium bowl, stir together the maple syrup, melted coconut oil, milk, and vanilla. Pour the wet mixture on the dry ingredients and stir until combined.
In a small bowl, coat the chopped dates in 1/2-1 teaspoon of flour and toss until coated. This prevents the dates from sticking together. Fold the dates and chocolate chips into the dough.
Take about 2 tablespoons of dough, roll it into a ball, and then press down on it with your hand to flatten it on the baking sheet. Space cookies a couple inches apart. Repeat until you have about 16 cookies.
Bake for 12-13 minutes at 350F until the cookies are golden brown on the bottom. Remove from oven and let sit on baking sheet for 3-4 mins before placing cookies onto a cooling rack for 15 minutes.
Tip:
Notes: 1) Instead of gluten-free all-purpose flour, you can probably swap it for regular all-purpose flour. Depending on the flour you use, the results can vary. 2) As for the gluten-free flour blend, I recommend using one that is rice based (such as Pamela's brand) and avoid using one that is garbanzo based (such as Bob's Red Mill) to avoid any bean-y flavour.
Nutrition Information
(click to expand)