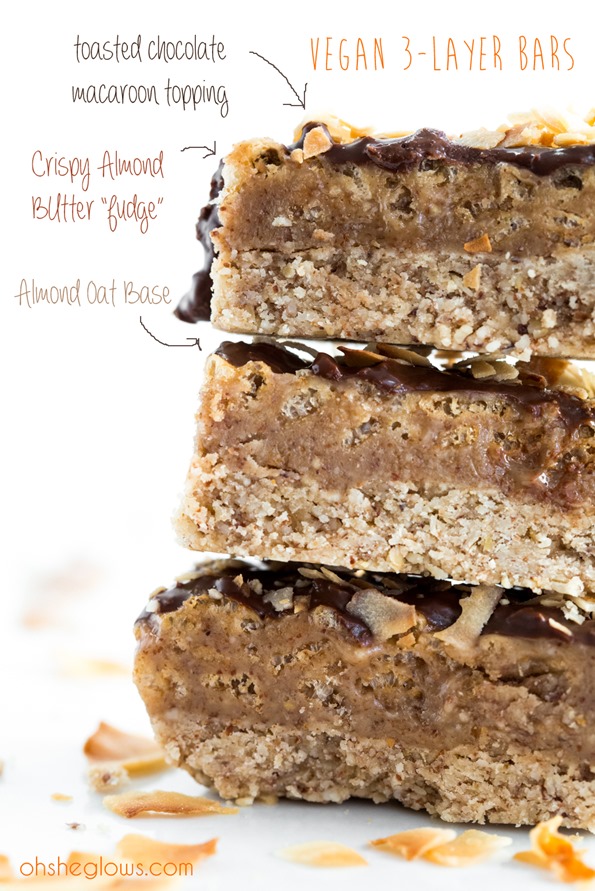 I may not have my costume picked out or a pumpkin carved yet (how the heck is it Oct 24th?), but the vegan candy options are a-go. That is, if they last until the weekend.
I've been working on these layer bars for a few weeks now. It took a bit of patience to get the thickness of the layers juuust right, but lo and behold I finally nailed something worth sharing.
Me likey. Me likey a lot.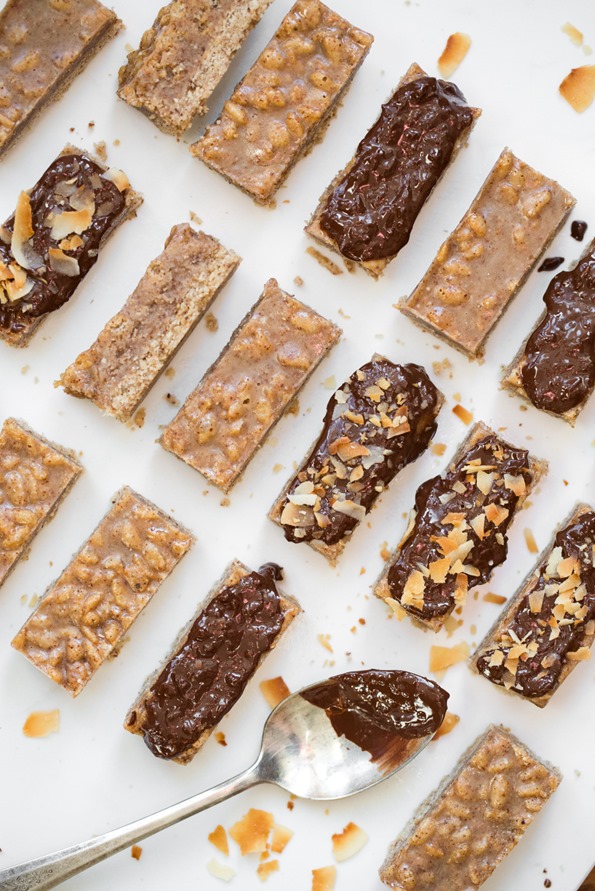 If you are looking for a fun and incredibly tasty Halloween treat (or really, a treat for any special occasion!), I hope you'll give these a whirl. They just about made our dreams come true.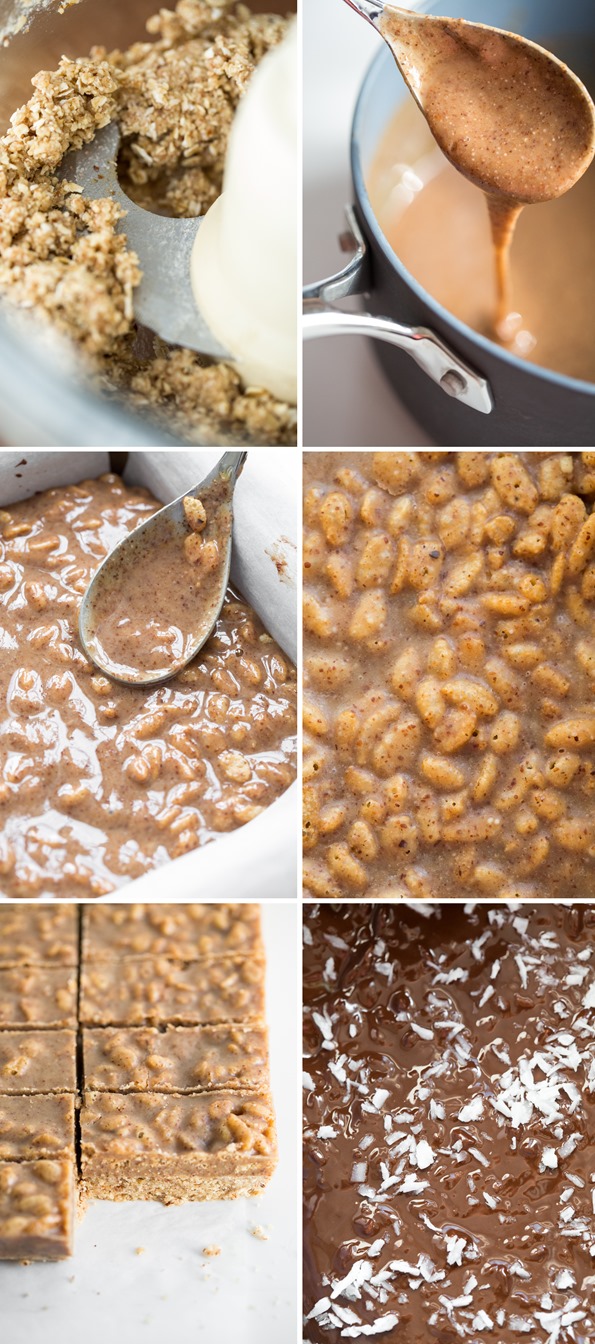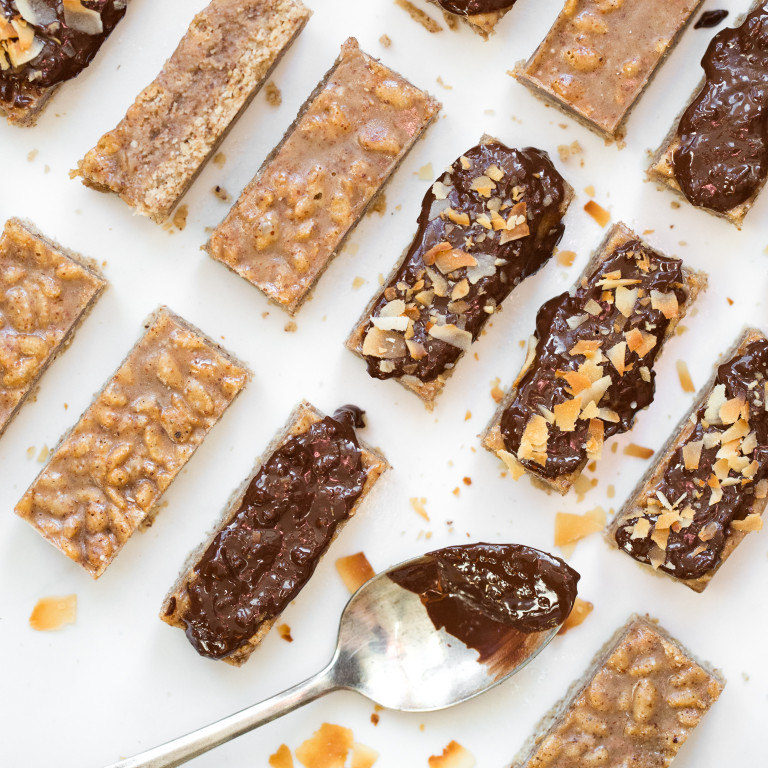 3-Layer Almond Coconut Chocolate Bars
Vegan, gluten-free, soy-free

Yield

18 small bars
Prep time

Cook time

Chill time

1 hour
Total time

These bars are bursting with three of my favourite flavours – almond, coconut, and chocolate! How could you go wrong? A soft and nutty toasted almond-oat crust forms the base. If you've made my Chilled Chocolate Pie, you can probably attest to how good this press-in crust is! The middle layer is made up of a no-bake almond butter "fudge" enhanced with rice crisp cereal for a wicked crispy texture. The bars are topped with a dark chocolate "macaroon" coating and garnished with big flakes of toasted coconut. I know.
Ingredients
For the base:
3/4 cup whole almonds
1/2 cup gluten-free oat flour

*

1/4 cup virgin coconut oil
3 tablespoons pure maple syrup (or other liquid sweetener)
1/4 teaspoon fine grain sea salt
1 cup gluten-free rolled oat
For the middle layer:
1 cup raw or roasted almond butter (or peanut butter)
1/2 cup virgin coconut oil
1/4 cup pure maple syrup (or other liquid sweetener)
1/2 tablespoon pure vanilla extract
pinch fine grain sea salt
1/2 cup rice crisp cereal
For the topping:
1/2 cup vegan chocolate chips (use Enjoy Life brand for soy-free)
1/2 tablespoon virgin coconut oil
1/4 cup shredded unsweetened coconut
1/4-1/3 cup toasted unsweetened large coconut flakes (such as Let's Do...Organic brand)

*
Directions
Preheat oven to 350F and line an 8-inch square pan with two pieces of parchment paper, one going each way.

For the crust

: Add the almonds into a food processor and process until a fine meal forms, just larger than sand. Now add the oat flour, oil, syrup, and salt and process until combined and sticky. Finally, add the cup of rolled oats and process until the oats are chopped and the dough comes together, but the oats still have a bit of texture to them. The dough should stick together when pressed between your fingers. Crumble the dough evenly in the prepared pan. Press the dough into the pan evenly, wetting fingers if necessary to prevent sticking. Smooth out the dough with a pastry roller and use your fingertips to press in the edges until even.  Poke a few holes with a fork to let air escape. Bake, uncovered, for around 13 minutes. Place pan on cooling rack for at least 10 minutes.

For the middle layer

: In a medium saucepan, stir the almond butter, oil, syrup, vanilla, and salt and heat over medium until the coconut oil is melted and the mixture is smooth. Whisk if necessary. Remove from heat. When the crust has cooled for 10 minutes or so, stir the rice crisp cereal into the almond butter mixture and pour this mixture on top of the crust. Smooth out and place in the freezer on a flat surface for 40-45 minutes, until the middle layer is completely solid. While the mixture freezes, toast the large coconut flakes (see note below). After the middle layer is frozen, remove from freezer and lift out the bar. Slice into 6 rows vertically and then slice 3 rows horizontally to make 18 small bars. Place bars in the freezer once again while you prepare the chocolate topping.

For the chocolate topping

: In a saucepan, melt the chocolate and coconut oil over low-medium heat. When half the chips have melted, remove from heat and stir until completely smooth. Stir in the shredded coconut. Remove bars from the freezer and spoon a small amount of chocolate on top of each bar. Immediately, sprinkle with toasted coconut flakes. Return the bars to the freezer until the chocolate is set. Serve immediately (bars will melt quickly, so I wouldn't suggest keeping them out too long). Store leftovers in the fridge or freezer.
Tip:
1) To make 1/2 cup oat flour, add 1/2 cup rolled oats into a high-speed blender and blend on high until a flour forms. 2) To toast the large coconut flakes, spread onto a baking sheet and toast at 350F for only 3-4 minutes, until golden and fragrant. After cooling, I crumbled the flakes up into smaller pieces for easier sprinkling. 3) For a fun twist, try making these bars using my homemade Nutella instead of almond butter!
Nutrition Information
(click to expand)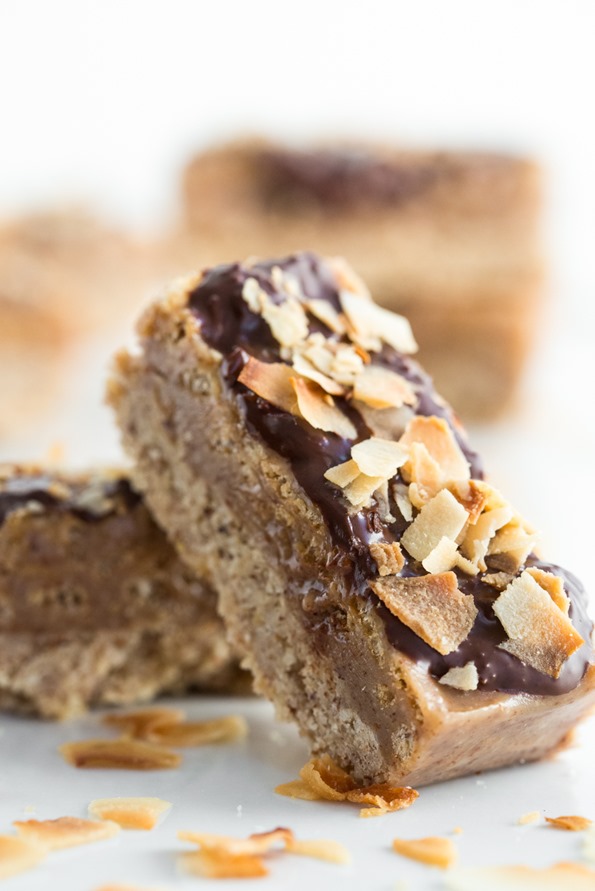 By the way, thank you for your comments in my last post! It's comforting to know that many of you have been through the same thing and it all worked out in the end. Here's to good luck house hunting vibes for all. :)