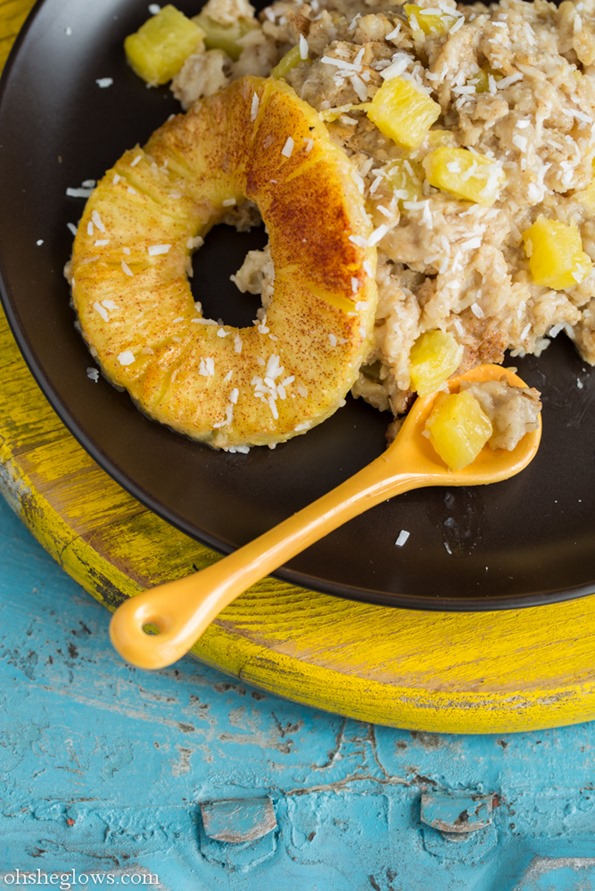 If Pineapple Upside Down Cake was morphed into breakfast, this would be it.
Shredded coconut, rolled oats, pineapple, banana, and a shot of coconut rum for good measure, makes this one of the tastiest oatmeal recipes to ever cross my lips. The coconut rum accents the tropical flavours in the dish, but you can always leave it out if you need to. Rum extract or coconut extract would work fine too I'm sure.
Cinnamon and ginger add to the party-in-your-mouth! Oh and it's a party I tell ya.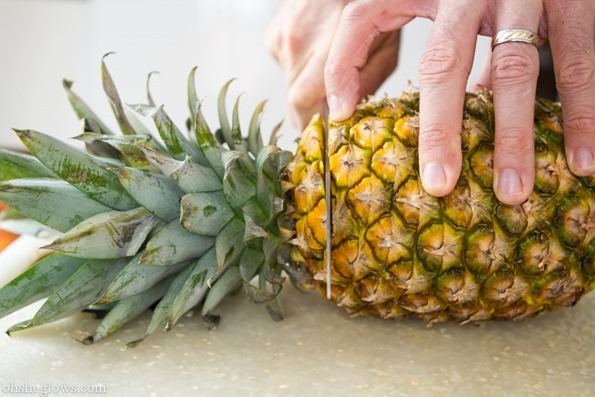 This baked oatmeal is sure to win over a crowd and it would be a lovely addition to a brunch menu. Try serving it with some whipped coconut cream to really take it up a notch. Rest assured though, it tastes amazing without any toppings at all. This isn't one of those baked oatmeal's that you need to add a bunch of things on top to make it taste good. It's absolutely amazing served plain straight from the dish.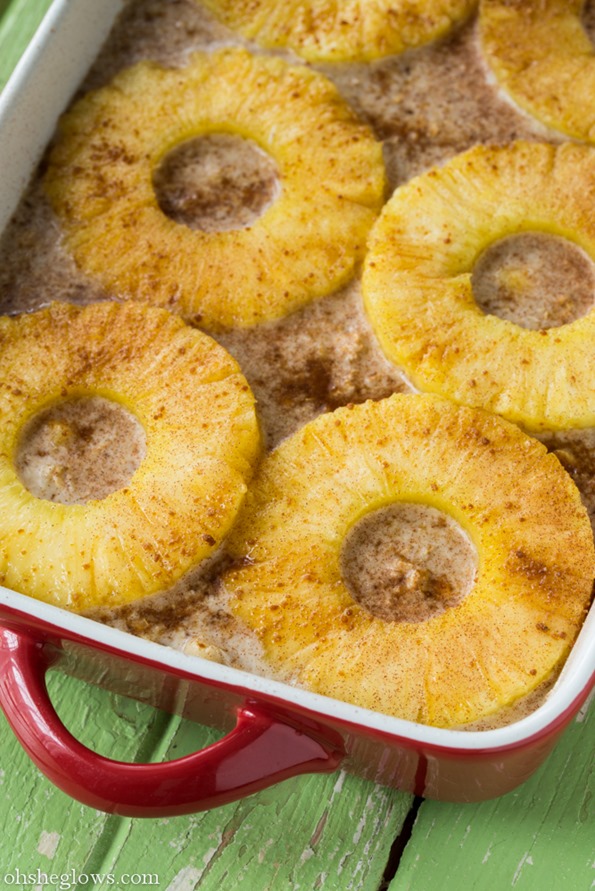 Throwing it together only takes about 10 minutes and then you'll need to bake it for about an hour. The smell when you pull it from the oven is just heavenly – the wait was sure worth it.
Once it's baked the most challenging part is letting it cool down for about 10-15 minutes before digging in. More waiting, I know, but that baby is sizzling h-o-t. When you take it out of the oven, it will look under baked in some parts, but this is totally normal (I reassure myself this multiple times a week in the kitchen!). When it's still warm it has the texture of stove-top oatmeal (with firm edges), but once it cools completely it's fairly solid and firm, like a soft oatmeal square. I gave the pineapple rounds a generous sprinkle of cinnamon and coconut sugar before going in the oven – never a bad idea!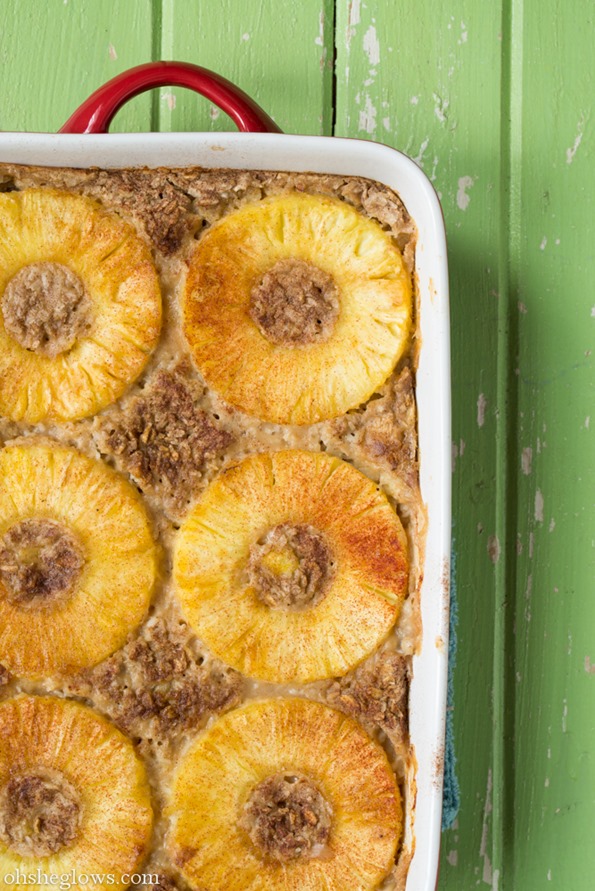 Tropical Pineapple Boozy Baked Oatmeal
Vegan, oil-free, soy-free, gluten-free (only if using gluten-free oats)
Email, text, or print this recipe
Serves 6
Dry ingredients:
1.5 cups rolled oats
1/2 cup oat flour
1/2 cup shredded unsweetened coconut
1 tsp baking powder
1/2 tsp cinnamon
1/4 tsp ground ginger
1/4 tsp fine grain sea salt
Wet ingredients:
2.5 cups almond milk (or coconut milk)
3-4 tbsp pure maple syrup, to taste
2 tbsp coconut rum (optional – or try 1/2-1 tsp rum extract or coconut extract)
2 tsp pure vanilla extract
1 large banana (or two small), peeled and chopped
1/2 cup chopped fresh pineapple
6 fresh pineapple rings (about 1/2-inch thick)
1. Preheat oven to 350F and lightly grease a 2 or 2.5 quart baking dish. I used a 2.5 quart baking dish (10 cup) and it was a tad bit large, so I think 2 quart would work just fine.
2. Stir all dry ingredients together in a large mixing bowl.
3. Add the wet ingredients (milk, maple syrup, optional coconut rum or extract, and vanilla) into the dry ingredients and stir well to combine. Fold in the chopped banana and chopped pineapple.
4. Pour oatmeal mixture into the baking dish and spread out evenly. Place the 6 pineapple rings on top of the oatmeal and sprinkle with cinnamon and coconut sugar (or other granulated sugar).
5. Bake at 350F, uncovered, for 55-65 minutes or until the oatmeal is golden and firm in some spots, but still soft in others. Allow the oatmeal to cool in the dish for 10-15 minutes before digging in. Serve with whipped coconut cream to take this dish over the top!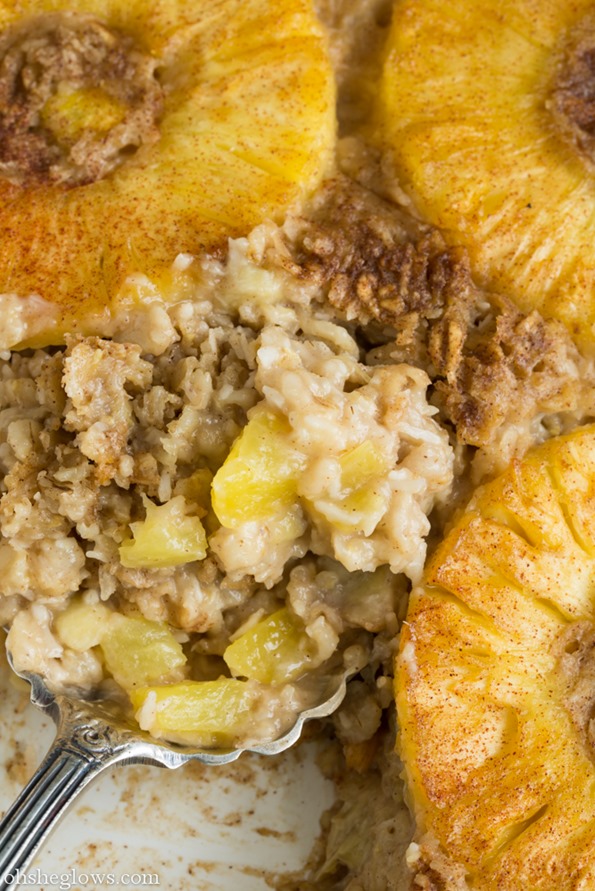 If you're looking for other oatmeal breakfast recipes, check out these below:
Flourless Strawberry Apple Breakfast Crisp & On the Glo Basic Oatmeal Squares:

And now leftovers are calling my name…
Hope you enjoy your weekend!