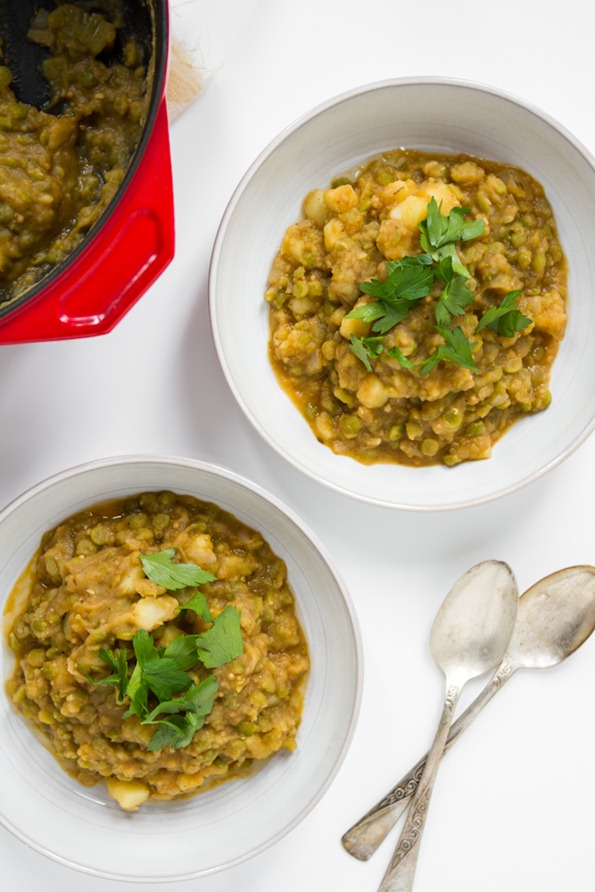 For some reason, I've been craving potato soup ALL winter long. And the strange thing is, I don't think I've ever had potato soup before. Is it normal to crave things you've never tried? Well, it happens to me quite often. Case in point: vegan sushi. I've never had it before, but every time I see it my craving grows and grows. This weekend I decided another day couldn't go by without this potato soup. I had some Yukon gold potatoes sitting on the counter just waiting to be made into a hearty bowl of goodness.
While the thought of a basic potato soup seemed satisfying enough, I couldn't resist putting my own twist on things. To amp up the protein, green split peas were thrown in and also provided a good lick of fibre and a satisfying crunch. This created a potato soup with over 14 grams of protein and 12 grams of fibre per serving – not too shabby for a soup that's normally a bowl of carbs. My biggest fear was the soup turning out bland so I cranked out some of my favourite spices inspired by one of my most-loved Cajun spice blends – smoked paprika, oregano, thyme, chili powder, yellow mustard seeds, and a hint of cayenne pepper. The flavours blended so well with the potato and it was anything but bland (yet still approved by the cautious spice fan in the house).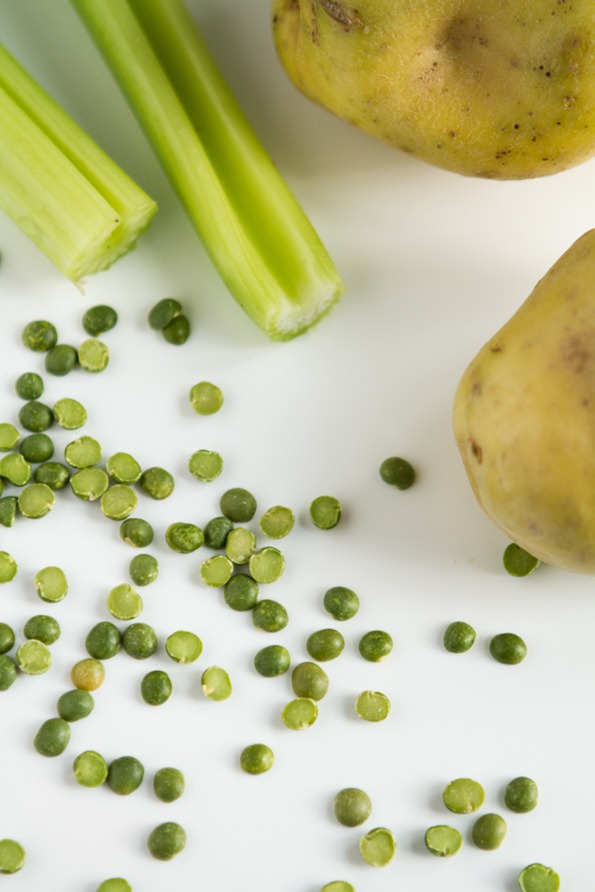 I like a nice texture in my soup, so I only pureed about 3 cups in a blender and left the rest intact. This results in a thick, creamy broth while still leaving the vegetables and split peas for a satisfying crunchy texture. If you prefer a smooth soup, feel free to puree the entire lot. It's a rather homely and unassuming soup, but we enjoyed it so much I made two batches this weekend and I already plan on making more this week. Why is it the homely looking foods always taste so good?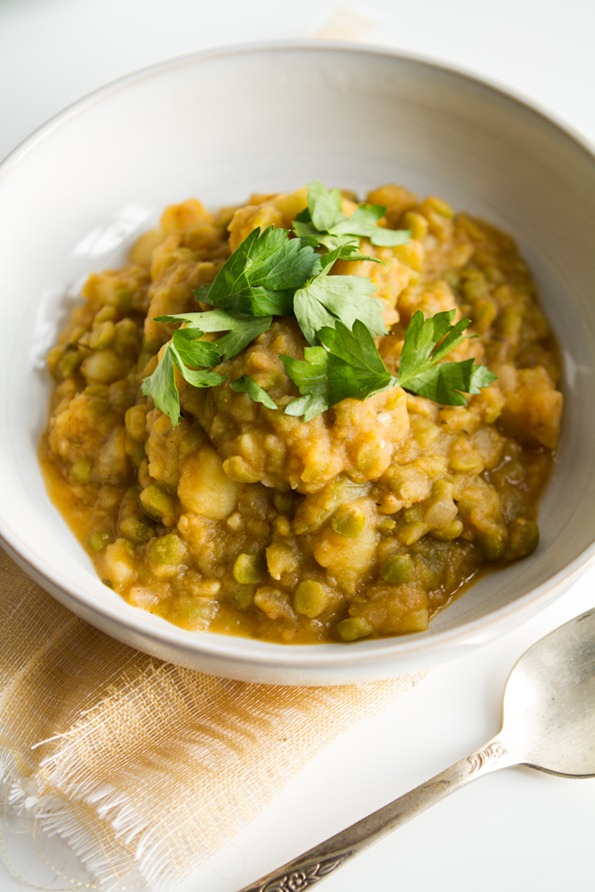 Not Your Average Potato Soup
Email, text, or print this recipe
Yield: 3 servings
Ingredients:
2 tsp coconut oil (or other oil)
3 garlic cloves, minced
1 tsp yellow mustard seeds (optional, but recommended)
1 small onion, diced
3 celery stalks, diced
4 cups diced Yukon Gold potato (about 1.4 pounds)
1 cup uncooked green split peas, rinsed
5 cups vegetable broth
3/4 tsp smoked paprika, or to taste
1 tsp dried oregano
1/2 tsp dried thyme
1/8-1/4 cayenne pepper, to taste
1/2 tsp chili powder
fine grain sea salt and black pepper, to to taste
Fresh parsley, for garnish (optional)
1. Add oil to a large pot and sauté the garlic and mustard seeds for a few minutes over medium-high heat, until the mustard seeds begin to pop. Be careful not to burn them. Add in the onion and sauté for another 5 minutes, or until the onions are translucent.
2. Add the celery, potato, split peas, broth, and spices. Stir to combine. Bring to a boil and simmer on low-medium heat uncovered for 20-30 minutes, or until the split peas are cooked through and the potatoes are tender.
3. With a ladle, carefully transfer about 3 cups of the soup into a blender (leave some of the pouring hole ajar so stream can escape). Starting at a low speed, puree the soup until smooth and pour it back into the pot and stir. (Note: You can also use an immersion blender if desired.) Cook for 5 minutes and then serve immediately with fresh parsley and a pinch of smoked paprika, if desired.
For nutritional info, see here.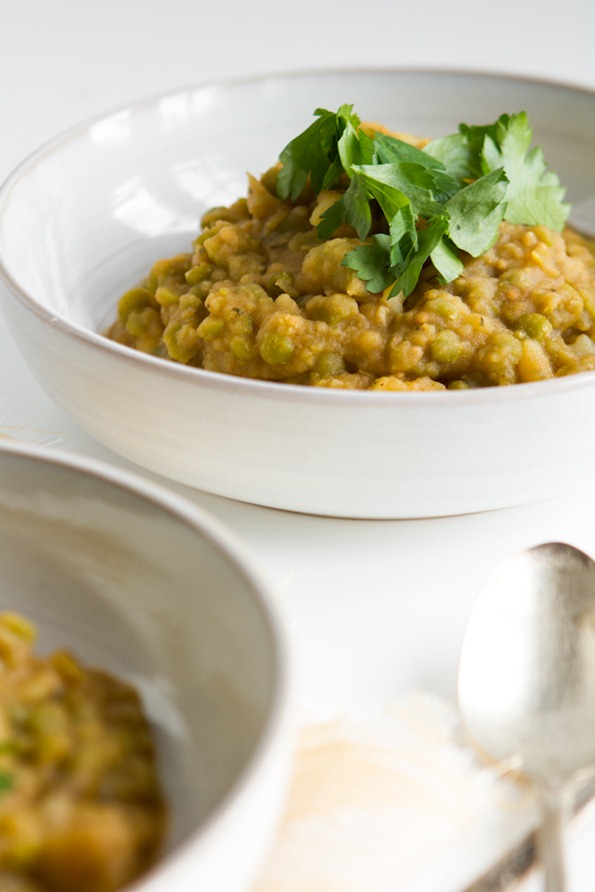 I've been playing around with blog fonts and gave the blog a bit of a makeover this weekend. You probably can't see it yet because we have a long cache on the blog to reduce server load. If you'd like a sneak peek, hold down control and hit F5. That should do it!