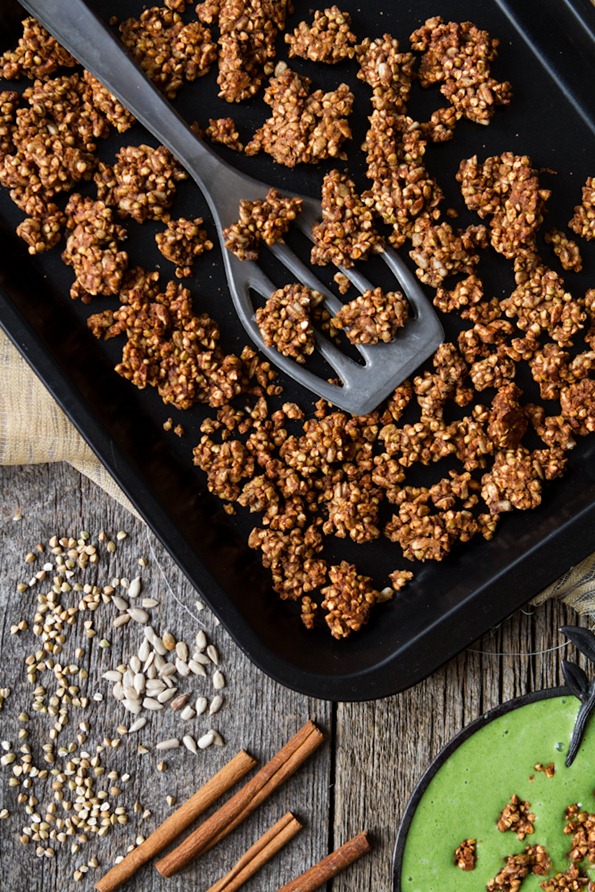 Do you know how dangerous it is to have freshly baked granola sitting on the counter during a long winter evening? And by dangerous, I mean it totally feels healthy enough (vegan, oil-free, buckwheat!) to keep picking away at all night long. You can be sure we did. Each time one of us left the kitchen with a couple clusters in hand, we'd say, "OK, this is the last piece of the night!" only to be tempted back into the kitchen during the next commercial break.
This granola stands apart from the crowd with its lightly sweet, oil-free clusters of crunchy cinnamon-coated buckwheat and sunflower seeds. There isn't an oat in sight, but we hardly noticed or even cared. For those of you who were pleading for a recipe using almond pulp, you'll be happy to know that I threw my leftover almond pulp into this batch and it blended seamlessly. I'm sure it also works just fine without it though.
Added on top of a Green Monster for breakfast, I couldn't take those pictures fast enough! Snap, snap, slurp, slurp.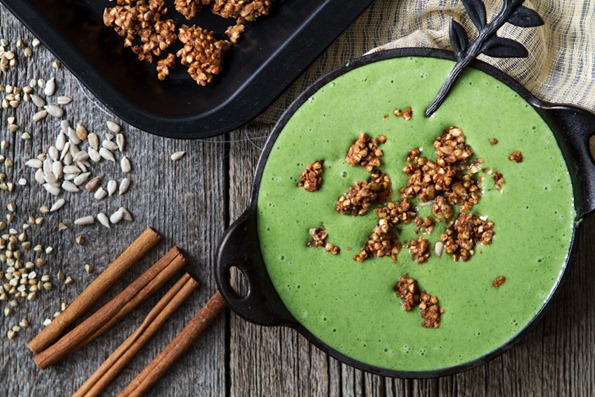 Blissful Buckwheat Granola Clusters
Vegan, Gluten-free, Oil-free. For nut-free version leave out the almond pulp.
Email, Text, or Print this recipe
Yield: about 12 servings or roughly 4.5-5 cups
Dry ingredients:
1.5 cups raw buckwheat groats (not Kasha)
Leftover almond pulp (I had about 1/2 cup or so)*
1/2 cup raw sunflower seeds
2 tsp cinnamon
1/2 tsp fine grain sea salt
1/4 cup coconut sugar (or other granulated sugar of choice)
Wet ingredients:
2 tbsp unsweetened applesauce
1/4 cup coconut nectar syrup (see below for other options)
3 tbsp sunflower seed butter (or almond or peanut butter)
1 tsp vanilla extract
1. Preheat oven to 300F and line a large baking sheet with parchment paper.
2. In a large bowl, mix together the dry ingredients. If using almond pulp, it will remain a bit chunky, but not to worry.
3. In a smaller bowl, mix the wet ingredients until combined. Add wet mixture to dry ingredients and stir until the dry ingredients are thoroughly coated and wet.
4. Spread granola onto baking sheet in a uniform layer. Bake at 300F for 20 minutes, roughly flip granola, and bake for another 18-20 minutes, watching closely so it doesn't burn. Granola will be lightly golden on the bottom and will harden a lot during the cooling process.
5. Cool completely on the pan and then store in a glass container on the counter for up to 3-4 weeks (just an estimate).
Notes: 1) I assume this recipe also works without the almond pulp, so if you don't have any still give it a shot. 2) If you don't have coconut nectar, feel free to use brown rice syrup. Honey would work too if that's part of  your diet. These sticky sweeteners help the granola clump together. You can also use maple syrup or agave, but I don't think the clusters would hold together as much.
For nutritional info, see here.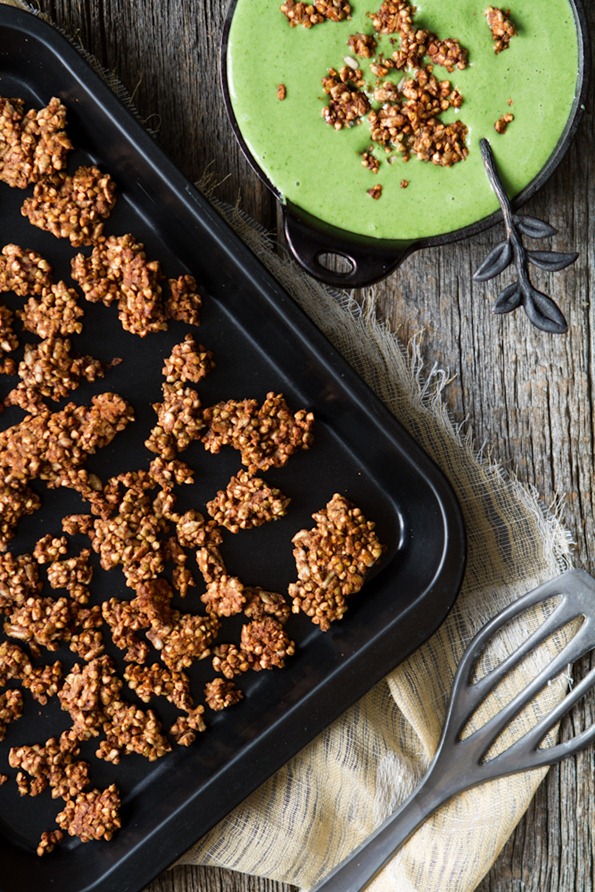 PS- If you are looking for an oil-free oat-based granola, check out my Lightened Up Summer Granola. It's probably the most popular granola recipe on the site.
Happy crunching!