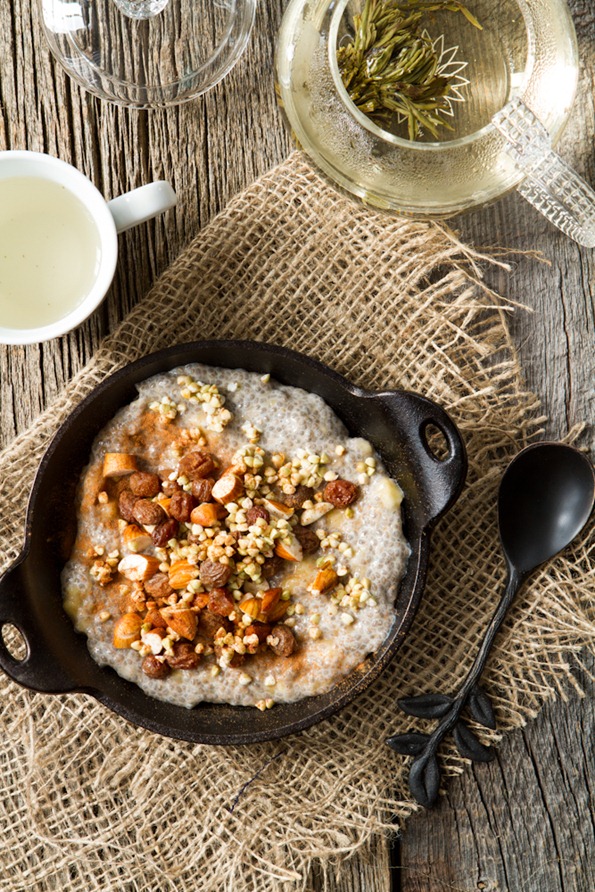 My skin is not a happy camper lately.
I don't know what's up, but I know it's ticked off. Angry. Inflamed. What's the problem? That, my friends, is anyone's guess. When a girl has puffy, itchy eyes and rashes on her face, it's time to slow down and pay attention. If you've ever been the detective for your own strange skin reactions, you know just how daunting this process can be. Everything is questioned.
Not surprisingly, my family doctor suggested an allergy elimination diet and to examine my environment for possible culprits. I've switched our detergents, soaps, shampoos, and I've retired make-up for the time being. That was the easy part. The elimination diet and food journaling, on the other hand, are proving to be rather difficult as a recipe developer. It's my worst nightmare actually.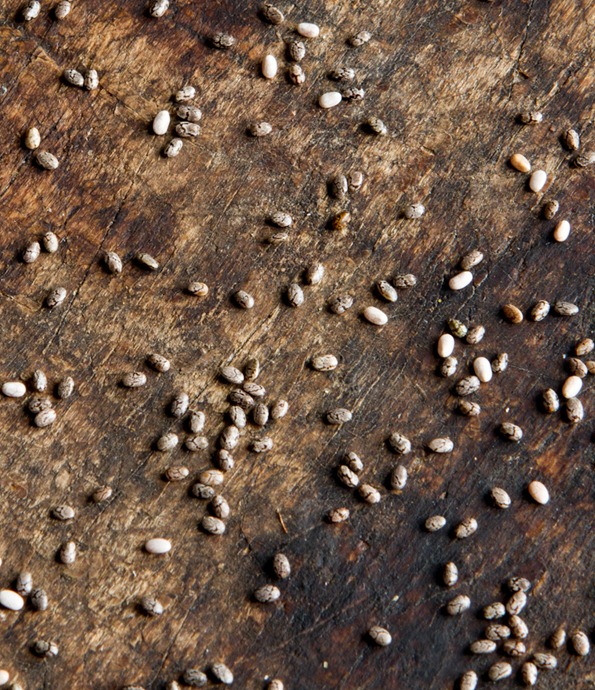 Of course, skin flare ups could be from a billion things, including stress. I'm a big fan of stress-relieving practices, but I'm not so good at carrying them out in my own life. When life gets crazy and deadlines are looming, I often left my own health slide in the process. I know I've said it a million and one times, but I need to work on this.
As I'm leaving my doctor's office she says, "Above all, DO NOT stress about the rashes. Stress is the absolute worst thing for your skin."
[Is it just me or do you get more stressed out when someone tells you not to stress? ahh]
She's so right though. I need to take a chill pill.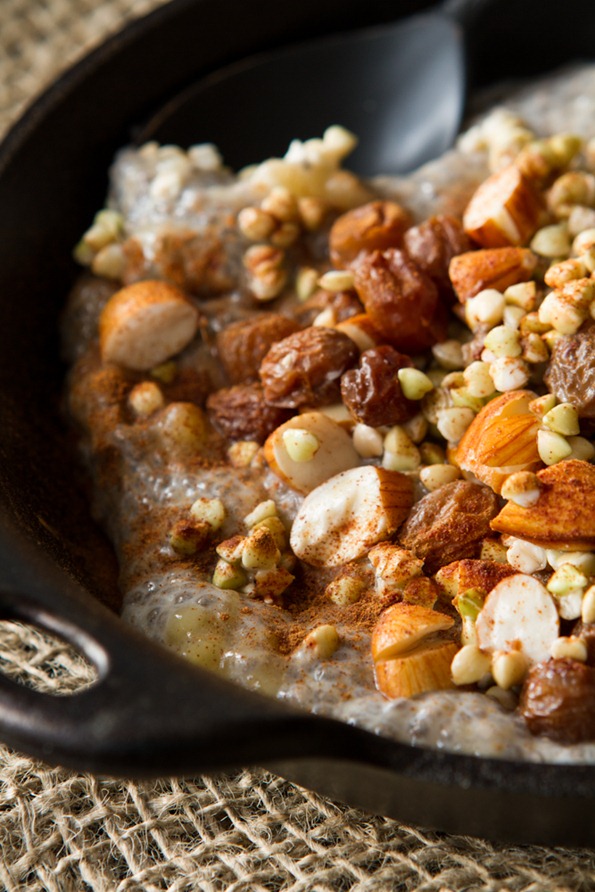 Of course, breakfast is a natural way to start the day on the right foot. I'm a big fan of breakfasts that can be made in advance, such as Green Monsters (just give them a good stir in the morning), raw buckwheat porridge, vegan overnight oats, and this chia pudding. Even though they take just a few minutes to throw together before bed, I'd fallen out of the habit of prepping them. But man oh man, it makes such a difference to wake up to a nutritious breakfast ready to be enjoyed!
The recipe below makes 2 servings so you can share it with a loved one or wrap up the leftovers for your next craving, which if you are like me won't be far off.
Chia Seed Breakfast Bowl
I like mashed banana in this because it thickens the mixture while adding a lot of volume. If you aren't a banana fan, you can omit it, but you might need to reduce the milk and I also suggest adding in your own sweetener and/or other fruit in its place. This porridge is especially creamy when made with Homemade Almond Milk. The thickness of the chia pudding will vary based on the kind of almond milk you use, so you can add more if necessary. If your pudding is too thin for you liking you can add more chia seeds and let it sit for 10 more minutes. Finally, if you aren't a fan of the tapioca-like texture of chia seed pudding, try blending it until smooth.
Email, text, or print this recipe
Yield: 2 servings
Ingredients:
Chia mixture
4 tbsp chia seeds
1 – 1.25 cups almond milk (it's great made with Homemade Almond Milk)
2 small bananas, chopped small
1/2 tsp pure vanilla extract
two pinches of cinnamon
Toppings:
2 tbsp raw buckwheat groats, soaked
2 tbsp raisins, soaked
2 tbsp whole raw almonds, chopped and soaked
couples pinches of cinnamon
2 tbsp hemp seeds
1. Mash bananas in a medium-sized bowl. Stir in chia seeds. Whisk in the almond milk, vanilla, and cinnamon until combined. Place in fridge overnight to thicken.
2. Add buckwheat groats, raisins, and chopped almonds into another bowl. Cover in water and soak overnight in the fridge or on the counter.
3. In the morning, place your desired amount of chia pudding into a bowl. (Note: at this point, you can blend your chia pudding if a smooth texture is desired, but I don't bother). You can add more almond milk if you want to thin it out in the morning. Or, if it's too thin, add more chia seeds to thicken it up. Drain and rinse the buckwheat/almond/raisin mixture. Sprinkle on top of chia mixture along with a pinch of cinnamon and a tablespoon of hemp seeds. Serve with a drizzle of maple syrup, if desired. Store leftovers in the fridge for 1-2 days.
For nutritional info, see here.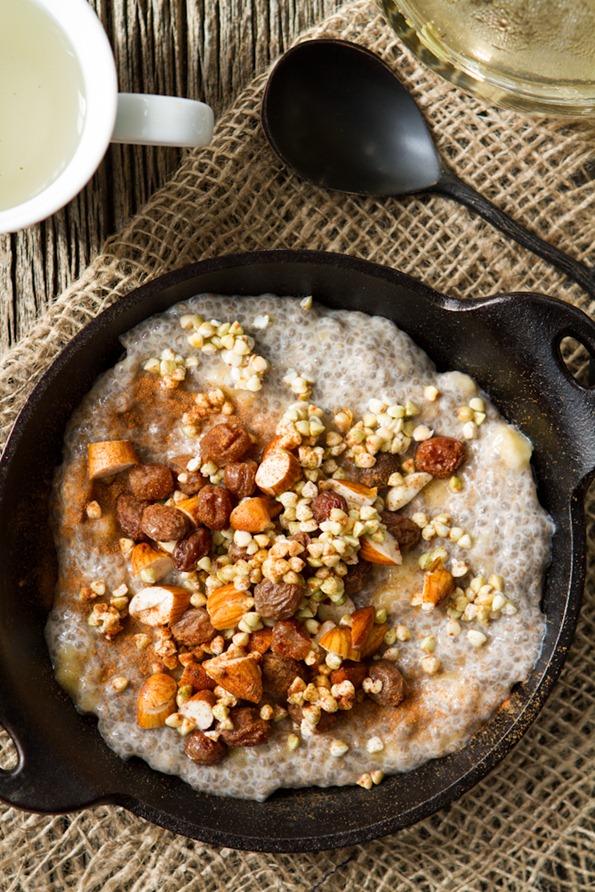 Have you ever dealt with a strange skin reaction or allergy? What did you do?