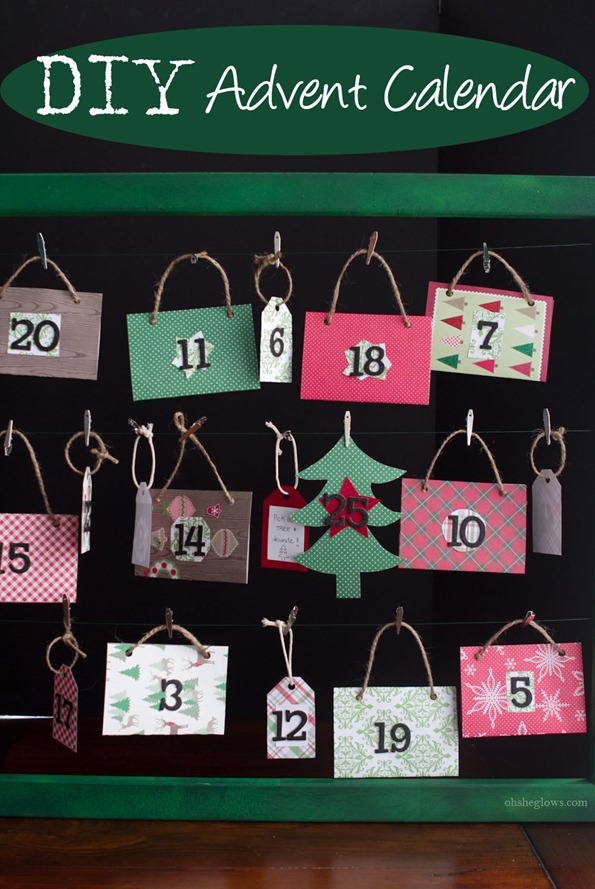 I don't really consider myself a crafty person, but I feel like I unleashed my inner crafting goddess this past weekend! Even though I started to lose steam about 30 minutes into this project (my typical short attention span), I persisted on and ended up with a fun advent calendar that can be reused for many years to come.
Thanks to Bec from Little Lucy Lu for the tutorial and inspiration!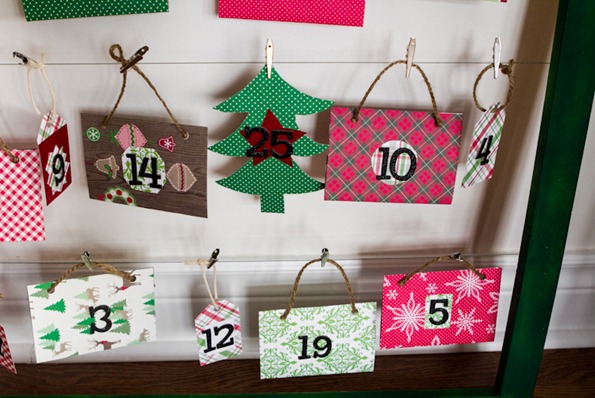 Before I knew it I found myself at Michael's and Home Depot on a Friday night. par-tay. It ended up being a lot of fun (except for the Home Depot part) and I was impressed with how easy it was to make (except for the frame building part which someone kindly took over).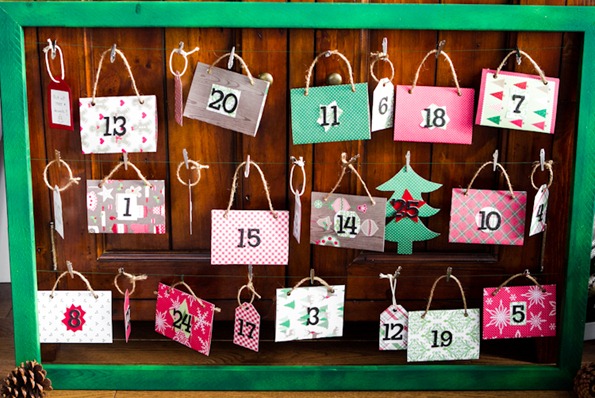 Eric, the exacting, meticulous planner, took the wood to the garage and later appeared with a frame so perfectly square it could be sold at the store. Later on when he was hanging the wire, I heard him say things like, "this needs to be mathematically correct" and "I think I am going to strip some thicker electrical wire because I don't think this crafting wire will hold…" And he did. He stripped this awful, ugly thick wire and tried to convince me it would look good. Umm, no thank you, but I appreciate the thought. I insisted the regular crafting wire would hold my "super heavy" tea bags and not surprisingly it did, but that didn't stop him from putting about 765 staples into the back of the frame and pulling the wire so tight I thought he was stringing a guitar. When he builds, he builds to last.
I, on the other hand, had numbers dropping like flies all night long because I forgot to glue them in place. Who knew the tacky backing wouldn't hold? When I build, I build to last for 5 minutes apparently.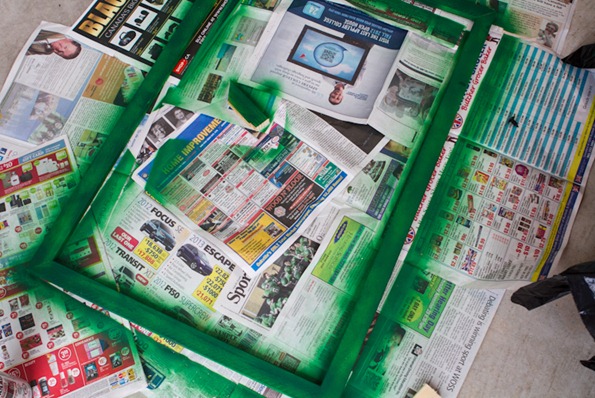 Here's what you'll need:
– A large frame (2 feet by 3 feet) OR make your own frame. We used (two) 1 inch x 2 inch x 8 foot framing lumber boards. They cost about $1 each. OR try a large bulletin board and just pin everything on.
– spray paint, if desired. I used Tremclad flat green paint – found at Home Depot
– Florist wire (found at Michaels) or try regular string (Eric made three rows)
– Staple gun for securing wire/string
– 24-25 metal clips OR simply tie loops around the wire with twine/string/ribbon
– twine or string
– construction paper or scrapbooking paper (I purchased Martha Stewart holiday mat pad + 2 sheets of scrapbook paper)
– Stick on numbers (or make your own)
– glue stick + scissors
– treats, notes, activities to put inside!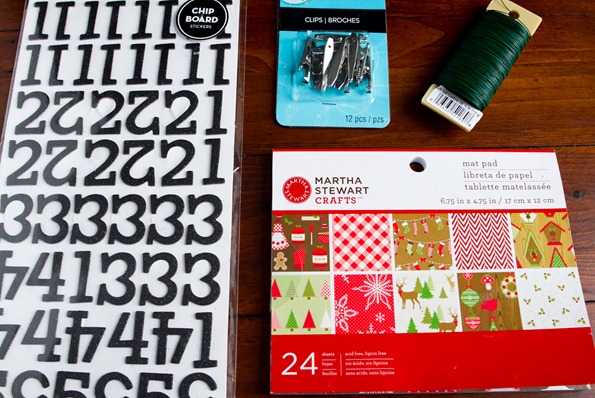 I LOVE this crafting paper by Martha. The sheets are the perfect size to fold in half and make pouches and it was 40% off to boot.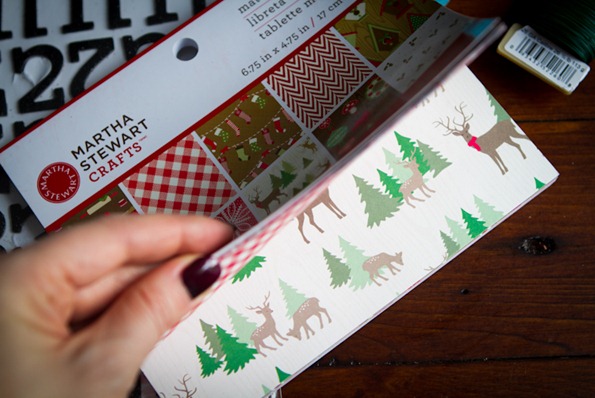 To make a pouch:
– Fold/cut craft paper into desired size (I used above sheets which are 6.75 inches by 4.75 inches, but make them any size you wish)
– Hole punch holes on each side
– Place twine or string through holes and a big knot on one side (see below)
– Glue number on the front
– secure on calendar with clip (or simply tie with string)
To make the Tags (see #2 above):
– Print off this tag template in your desired size
– Trace it onto desired craft paper & cut out
– Write desired activity on the back (such as "put up the Christmas tree" or "Christmas party at Jenn's place")
– Glue number/paper on front
– hole punch top & secure with string
We're picking out our Christmas tree & decorating it on December 2nd, so I wrote that for #2.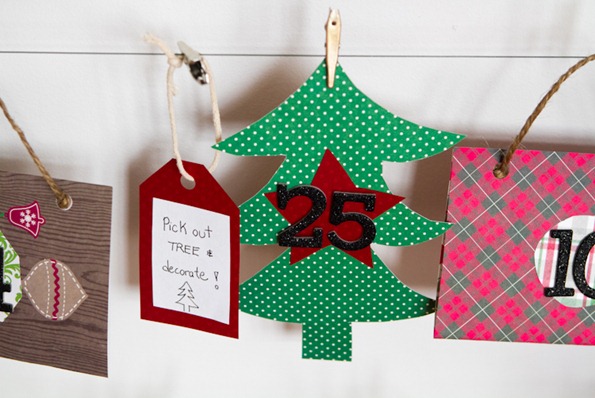 Ideas for pouch-stuffing:
– Your favourite tea
– homemade granola or trail mix
– Chocolate wrapped up in tin foil
– Candy, suckers, gum, mints, etc
– Write activities for you and your family to do together (I wrote down our Christmas parties, putting up the tree, baking days, etc)
– You could also use this calendar to stay healthy around the holidays by writing down daily fitness or health goals as motivation to stay on the right track. Don't forget to balance it out with chocolate though!
– Any other ideas?
– I'm planning a surprise for Eric on the 25th tree, but I probably won't write it until our last night in the house before Christmas.
So there you have it, our first ever DIY Advent Calendar! Maybe some day a child of our own will be using this each year. If not, I'm sure Sketchie will like it filled with treats…or lens caps.
Is it just me or is he building some major arm muscles?
Are you crafting anything this holiday season?