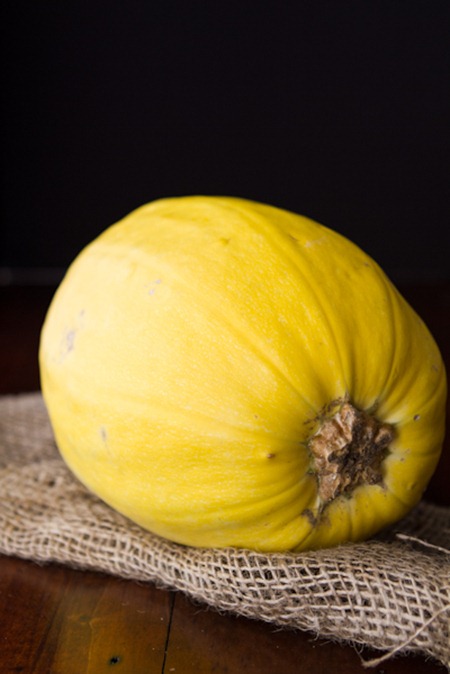 Somehow, I managed to live the first 25-26 years of my life before trying spaghetti squash. Actually, I could add many, many foods to that list. When I first came across spaghetti squash, I didn't quite know what to think of it. Stringy strands of squash? How the heck do I get that to work? It seems weird. Naturally, this only made me want to try it more!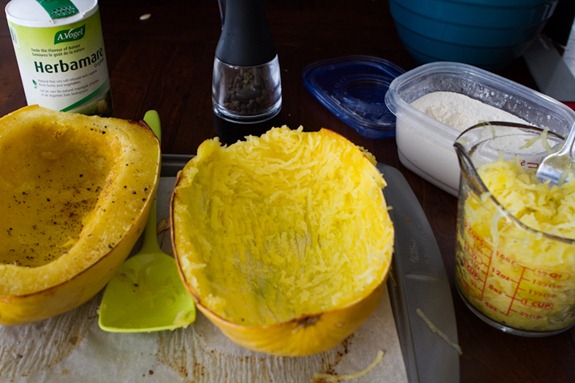 Well, it is a bit weird when you think about it, but it's also now one of my favourite foods. I could add many things to that list too.
Similar to my beloved zucchini noodles, spaghetti squash makes a light, fiberiffic base for pasta sauce, pesto, chili, stews, and even my creamy avocado pasta sauce. It's also a great way to up your veggie intake without even realizing it. I can easily pound back an entire squash all on my own. [Did I just say "pound back" and "squash" in the same sentence? Speaking of weird…]
This big squash (photographed) hails from Aylmer, Ontario – a hefty 5 pounder!
If you've ever been intimidated by preparing and roasting a spaghetti squash like I have, I hope these step-by-step photos are helpful.
Note: If you really, really don't want to slice the squash in half, rest assured you can roast squash whole (just pierce it with a few knife cuts first). I prefer to slice it in half for a couple reasons: 1) I season the squash before roasting and the flavour infuses as it roasts, and 2) It cooks in a fraction of the time – often ~20 minutes faster compared to roasting it whole. However, roasting it whole is a nice option if you have a really big squash and a dull knife!
How I Roast Spaghetti Squash:
1. Preheat the oven to 375F. If your squash is quite large, start by slicing off the stem. This makes it easier to slice through and also gives you a flat base to work with. You can do this on a cutting board or an old tea towel.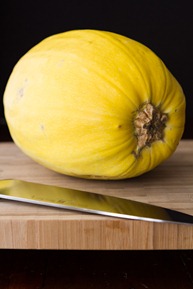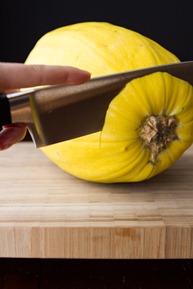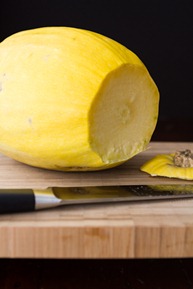 2. Place squash flat end down. With a [recently sharpened] chef's knife, slice down the middle lengthwise. I like to use a "rocking" motion to cut through. This big squash was challenging, but a slow and steady pace eventually won the race…or something like that.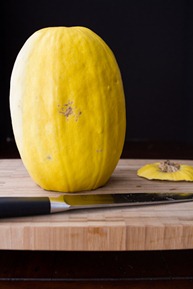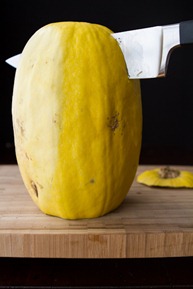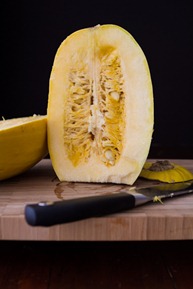 3. With a metal ice cream scoop (my Zyliss scoop works amazing for this!) or spoon, scoop out the seeds & guts. Set aside seeds if you plan to roast them later. And you will, right?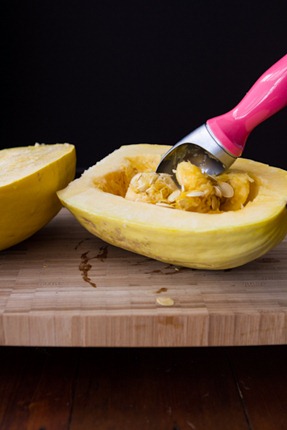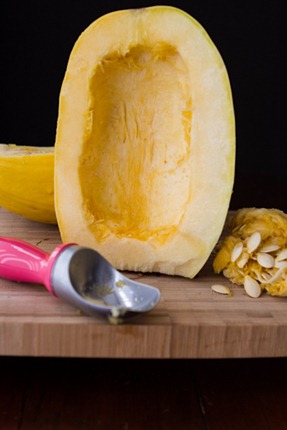 4. Brush halves with a tiny amount of olive oil (I used maybe 1/2 tsp oil on each). Sprinkle with Herbamare (or sea salt) and freshly ground black pepper. Place on a baking sheet lined with parchment paper, cut side down. The salt & pepper you just sprinkled on will stick to the oil.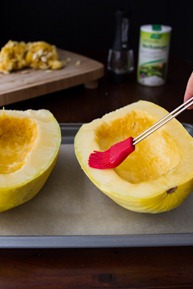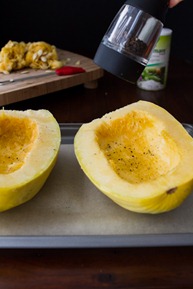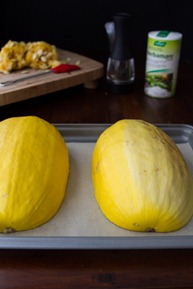 5. Roast at 375F for around 35-45 minutes, or until you can easily scrape strands away from the squash. The outer yellow skin will also deepen in colour. Baking time will vary depending on the size. My 5-pound squash took 40 minutes.
6. Remove from oven and flip each half. At this point, feel free to use the fork to see if the strands easily come off. If it's ready, cool for about 5-10 minutes and then grab the fork and scrape the squash flesh over and over. You'll be left with a bunch of spaghetti-like strands! Season again and serve immediately – in the shell if you wish.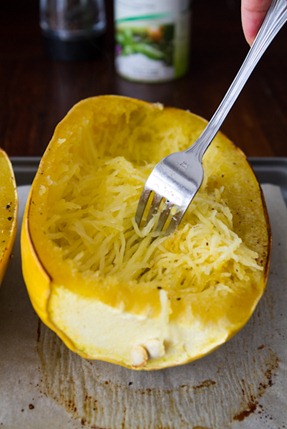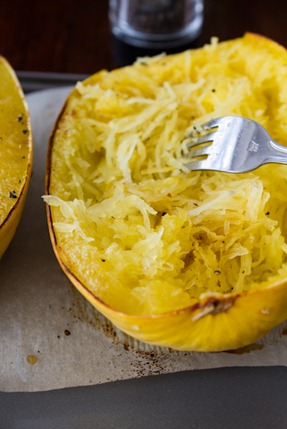 My 5 pound squash made just over 4 cups of "spaghetti" strands – the perfect amount for Eric and I to share.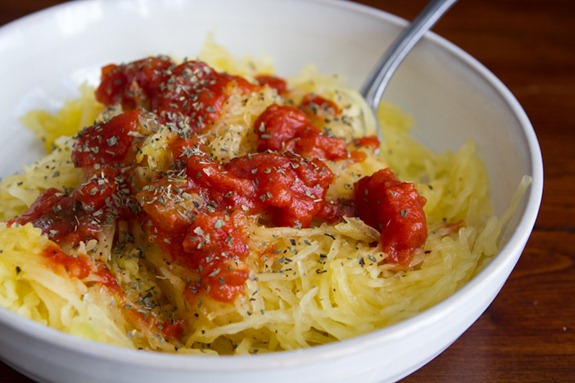 Something as simple as salt, pepper, marinara, dried basil, and garlic powder is a fantastic combo. I could eat this every. single. day.
I also love to serve homemade chili or stew on top.
Or in this case, creamy avocado sauce.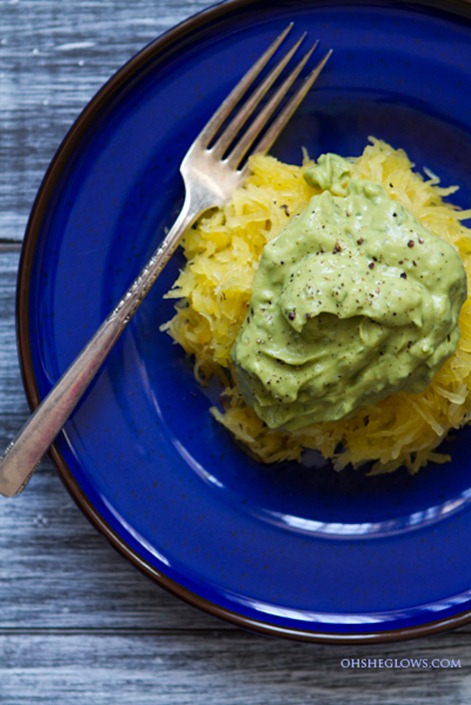 For this recipe, I played around with my creamy avocado pasta sauce. It was so good I had to share the results. To email, print, or text this recipe, click here.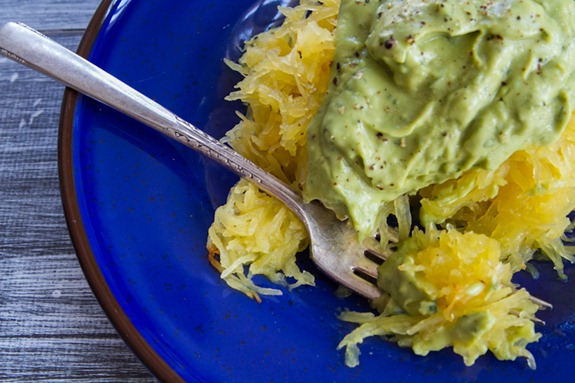 We enjoyed the roasted squash seeds while watching some great fall tv! Anyone catch The Mindy Project this week? I'm pretty much obsessed with it after 1 show. Also, glad to have Up All Night back on – another show I never miss.
To my surprise, the seeds taste just like sugar pumpkin seeds. yum!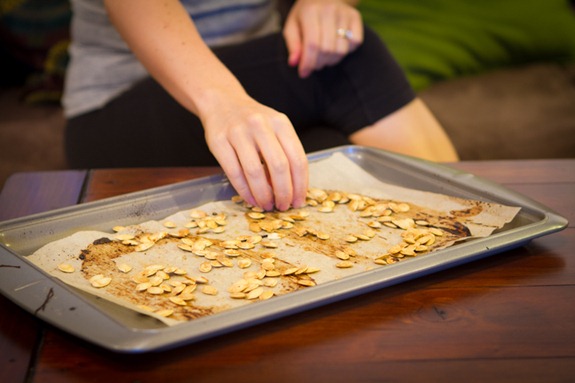 What's your favourite way to enjoy spaghetti squash?
What are your must-see fall tv shows?