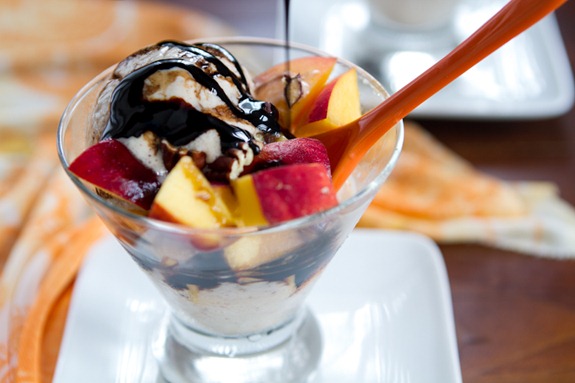 Since we're on the topic of our fears this month, let's talk about culinary fears. Most of us have a few – those dishes or techniques we've been wanting to try in our own kitchen, but haven't found the nerve. Maybe it's a pie from scratch, a fresh loaf of homemade bread, or learning how to pipe a cake… sometimes it seems too daunting to even bother.
One of my culinary fears has always been making a balsamic reduction. A balsamic reduction (also referred to as balsamic glaze or syrup) involves cooking down or reducing balsamic vinegar until it thickens into a lovely glaze or syrup. As it cooks down, the vinegar becomes lightly sweet (but still has a nice bite!) without the harsh acidity that can overpower a dish.
I've heard so many horror stories of people scorching the vinegar in the pot when trying to reduce, I figured there was some crazy method to it that would likely drive me insane. But deep in the back of my mind, I knew I always wanted to give it a shot. I fell in love with balsamic glaze at a restaurant many years ago and it's always been something I wanted to incorporate into my own meals. Plus, have you ever had it drizzled over strawberries? It's just about the best thing in the world!!
Next, to this dessert of course…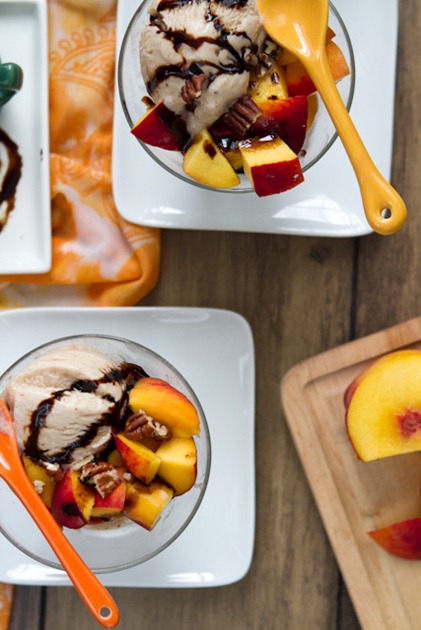 The best part of this little adventure was finding out just how easy it is to make. Maybe it was beginner's luck and I'm due for my horror story another day (probably), but this was a breeze to make. Read on for my tips and tricks.
How To Make a Balsamic Reduction

:

1. Add 1 cup balsamic vinegar into a medium-sized non-stick pot/sauce pan. Or use whatever amount you desire, keeping in mind you will reduce the volume by 2/3-3/4.

2. Bring the vinegar to a simmer/low boil over medium-high heat. Reduce heat to low-medium. I left it on heat setting 3 for most of the time to be careful. Stir. Some people also add a tiny bit of sugar at this stage, but I didn't bother and was still very pleased with the final taste. I think it will depend on the quality of vinegar that you use. I was using a good-quality organic balsamic, so maybe that helped with overall taste.

3. Here's the tricky part. You have to keep an eye on it for the entire time, stirring every few minutes or so. This was difficult for me because I'm always doing a million things at once and often responding to email/comments on the laptop when I have down time in the kitchen. Using 1 cup vinegar and cooking it on low, it took me almost 40 minutes to reduce (edited to add: my second trial took me just under 20 minutes! I increased the heat to medium the entire time). When it's as thick as you want it, feel free to stop! I was going for a super thick syrup-y texture.

4. Every few minutes, give the mixture a gentle stir. After about 20-25 minutes, I was convinced this vinegar was not going to thicken, but lo and behold it did ever so gradually.

5. After the better part of 40 minutes, my vinegar reduced about 2/3-3/4 in volume! Whohoo. I started with 1 cup and I was left with about 5-6 tablespoons or sweet, thick balsamic reduction goodness. Oh my gosh it is sooooo good. Make sure to keep a very watchful eye on it during the last 10 minutes. From what I read, things can quickly go from good to horrible if left unattended for even a minute…

Once you've made it you can drizzle it on just about anything. Salads, grilled veggies, and seasonal fruit are especially fun this time of the year. Or try dipping a fresh baguette into oil and vinegar…that's always a good idea!

Store it in the fridge, keeping in mind that it will harden slightly when chilled. Allow it to come to room temperature before using.

As for next time, I might try cooking it at a slightly higher heat to reduce the cooking time, but I still think the key to my success was a low, consistent heat & watchful eye.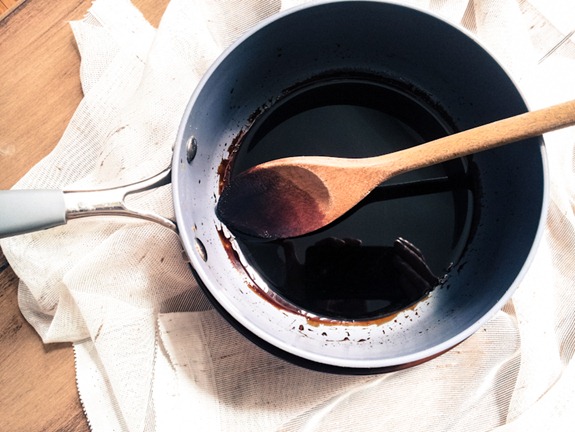 I am a proud mama of some damn good balsamic syrup.
And let me tell you, I could not wait to make this dessert.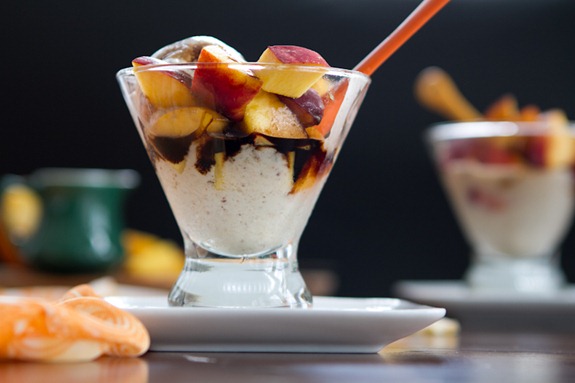 Peaches & "Cream" with Homemade Balsamic Reduction
What you'll need:
Non-dairy ice cream (I used Vanilla Almond Dream ice cream…love!)
Fresh, chopped peaches
Chopped pecans or other nuts
Homemade balsamic reduction (see above)
Add a scoop or two of ice cream in a parfait glass, followed by chopped peaches and pecans. Now drizzle on some balsamic reduction and enjoy a "fancy" summer dessert.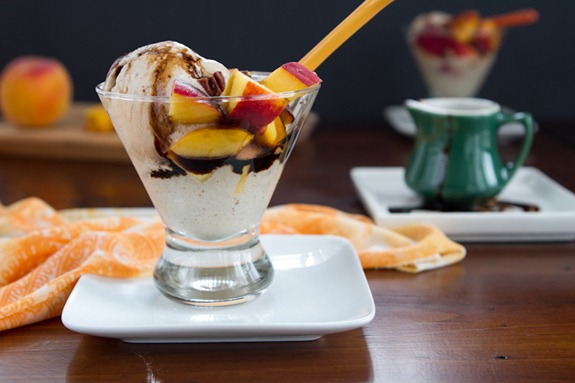 Chocolate sauce < balsamic reduction
There I said it.