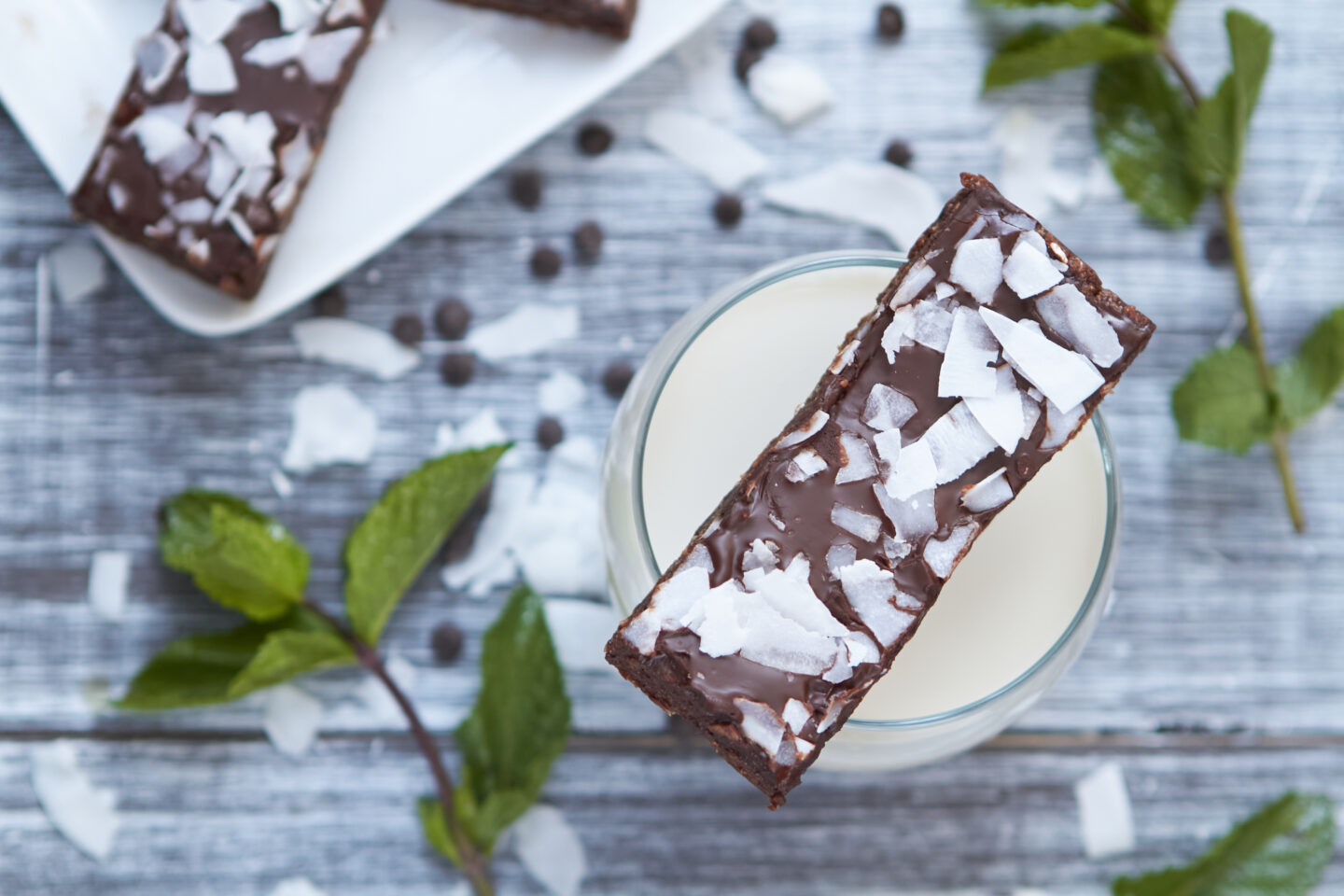 PEP cool mint patties were one of my favourite candy bars growing up. Oh, and Junior Mints. And York Peppermint Patties! Gah. And Wonderbars, but that's another story. Peppermint and chocolate are a match made in my taste buds heaven. Oh, and don't tell me chocolate and peppermint is only for the holidays…pssshhh, I don't know who makes these rules, but I don't want to hear such nonsense. It's like saying you can't play Christmas music in October!
I even had a chocolate peppermint Glo Bar to highlight my love for them – "peppy-mint". Not surprisingly, it's one of my favs. I decided it was a good idea to make a dessert bar that would taste just like a peppermint patty. It's been way too long. Plus, it's no-bake meaning no summer hot flashes! I had one of those earlier Monday. Don't ask me why I thought it was a good idea to make soup…or muffins…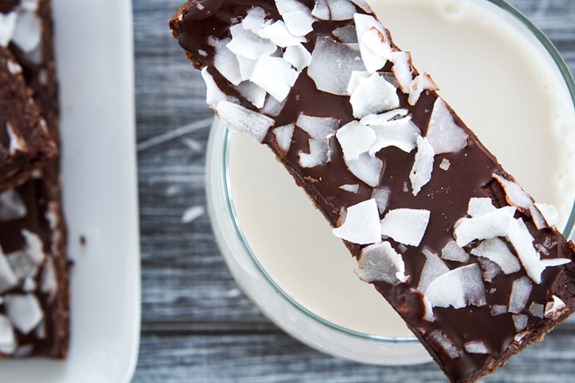 First things first, I have a P.S.A. to share.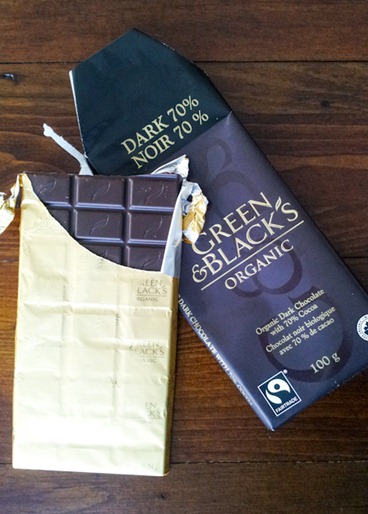 I don't know how this chocolate bar eluded me for so long, but I tried it this weekend and I almost DIED in ecstasy. Creamy, dark – but not bitter at all – did I mention creamy? and fair-trade? I can't believe I only bought one. Rookie mistake!
Edited to add: While the bar I purchased didn't list any dairy products, from what some of you have told me below, the new US label contains milk powder. I found some info from the company website explaining why and posted it in the comments below if you are interested.
Obviously, I used this chocolate for the bars and proceeded to rock my face off. Then, I walked around with a smudge of chocolate on the corner of my mouth for who knows how long. After putting in a 12-hour work day yesterday, I plopped down on the couch kicking my heels up and Eric kindly pointed out that I had a rolled oat stuck on the top of my foot. This was in addition to 3 cooking stains on my shirt and chocolate on my face. Hot.
Luckily, he's used to it.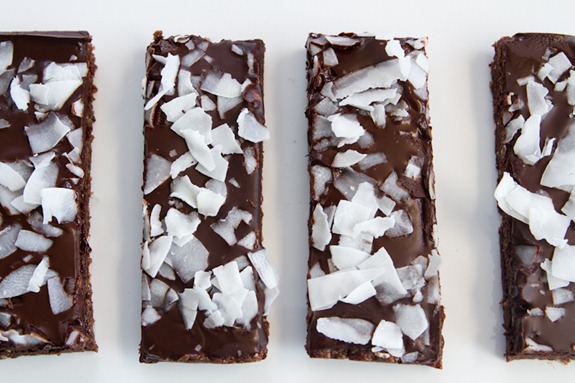 The good news is these bars are worth it. And odds are, you aren't as messy as me.
Step 1 involves processing ingredients like almonds, walnuts, oats, cocoa powder, sweetener, etc until a ball of dough forms.
Then you press it into an 8-inch pan lined with parchment paper. The dough is very sticky so cover the dough with a piece of parchment paper before attempting to spread it out.
Finally, melt chocolate with a touch of coconut oil and peppermint extract. Spread it over top and freeze the whole thing for about 10-15 minutes. Oh, and sprinkle some flaked coconut on top if you wish! It adds a nice crunch…and it's so darn pretty in a photo.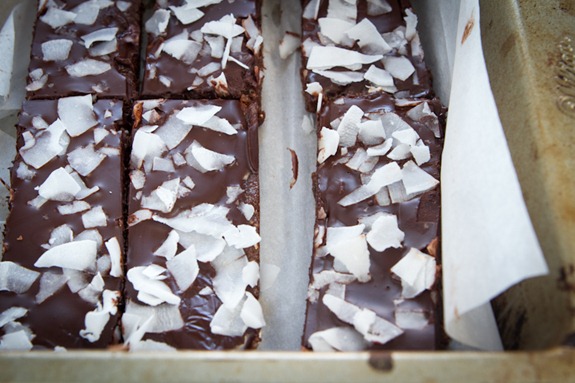 Cut into bars and serve chilled with a glass of almond milk. You'll swear you're eating a peppermint patty!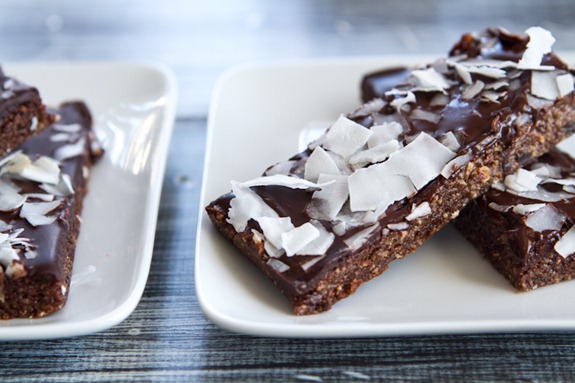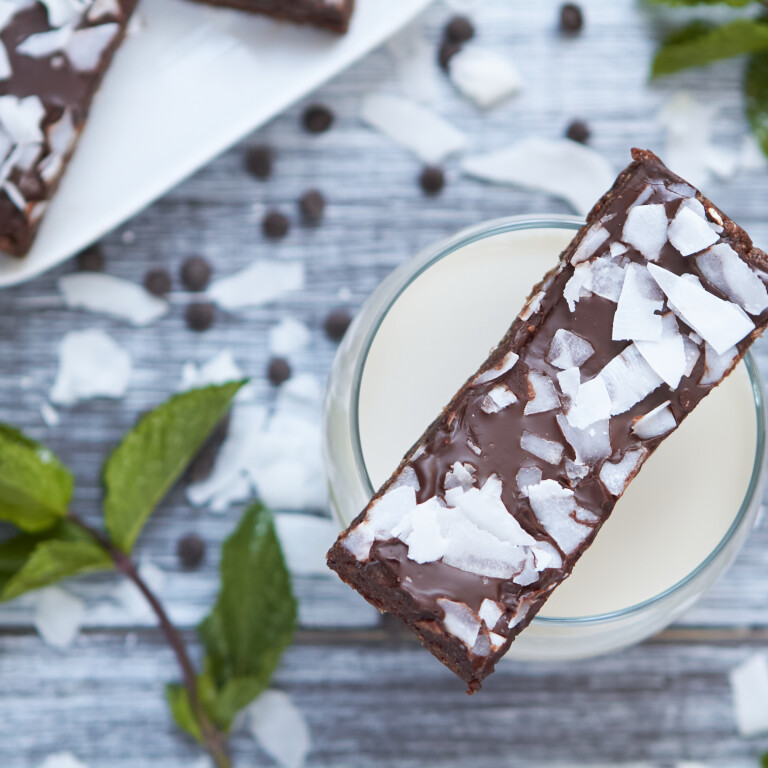 No Bake Peppermint Patty Bars

Yield

12 small bars
Prep time

Cook time

0 minutes
Chill time

10-15
Total time

Ingredients
2 cups rolled oats, processed into a flour (or 2 cups oat flour)
1/2 cup almonds
1/2 cup walnuts
4-5 tbsp cocoa powder, to taste
1/2 tsp fine grain sea salt, or to taste
2 tbsp packed brown sugar
2 tbsp almond milk
5 tbsp pure maple syrup
1/4 cup rolled oats
1/4 cup dark chocolate chips
75 grams dark chocolate (about 3/4 chocolate bar)
1 tsp coconut oil
1/4 tsp peppermint extract
Flaked coconut, to garnish (optional)
Directions
Line an 8-inch pan with two pieces of parchment paper, one going each way. Set aside.
If making oat flour, add 2 cups rolled oats into a high speed blender. Blend on high until a flour forms.
In a food processor, add almonds and walnuts. Process until a very fine crumble. Add oat flour, cocoa powder (start with 1/4 cup for now), salt, and brown sugar. Process until combined.
Add in the maple syrup and almond milk. Process until a ball forms. Add another tablespoon of cocoa powder if desired. Process in the 1/4 cup rolled oats and chocolate chips until combined.
Take mixture and crumble it all over the prepared pan (it will be very sticky but not to worry). Now place parchment paper over top and press down evenly with your fingers. Use a pastry roller to smooth it out. Once smooth, place in freezer while you melt the chocolate topping.
Add chocolate, coconut oil, and peppermint into a small pot. Melt on low until most of the chocolate has melted and remove from heat. Stir. Remove pan from freezer and pour melted chocolate on top. Smooth out with spatula. Sprinkle on coconut (opt.) and place in the freezer for 10-15 minutes, or until set. Slice into 6 narrow rows and then in half to make 12 bars. Serve chilled with a glass of almond milk. Store in the freezer.
Nutrition Information
(click to expand)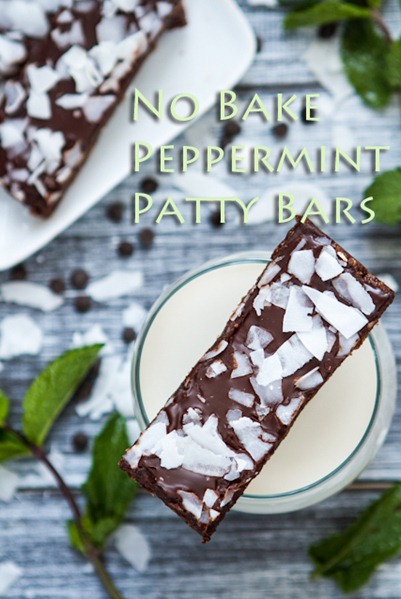 No, there isn't any fresh mint in the bars as the picture suggests, but it sure does make a nice accent in the photo. Feel free to use fresh mint processed into the bars if you want a double peppermint kick! I tend to think of these ideas after the fact…