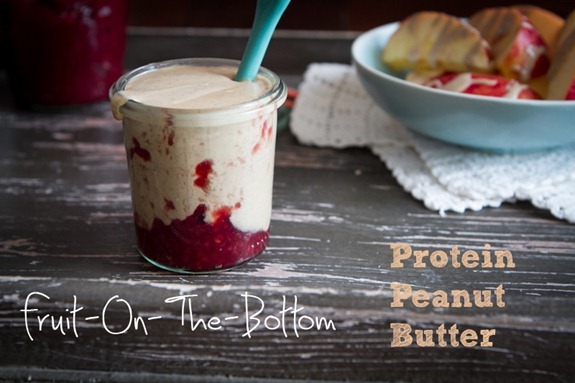 Between adding peanut butter in smoothies, spreading it on veggies and apples, and of course, baking with it, I can go through a lot of peanut butter in a month. Oh, and I like to eat it with a spoon sometimes too! I recently started to make my own peanut butter to save a bit of money. When you buy your own peanuts and make it at home, it works out to being a bit less costly than store-bought. Plus, it takes less than 10 minutes to whip up. I also enjoy making my own almond butter too. For my other nut butter recipes, see my nut butter category.
How To Make Homemade Peanut Butter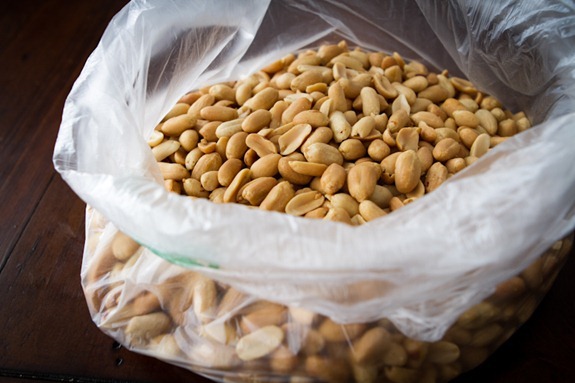 I bought a huge bag of roasted non-salted peanuts at the grocery store recently. I got 8 cups at about 75 cents per cup. I'm sure you can find even cheaper nuts at bulk food stores or even online.
To make homemade peanut butter, add 2 cups of roasted peanuts into a food processor. When making nut butter, you'll need a heavy duty food processor. The smaller ones just don't seem to work from what I've heard. Peanut butter is one of my favourite nut butters to make because it's cheap and it blends up very fast!
Here it is after 1 minute of processing – it's already coming together!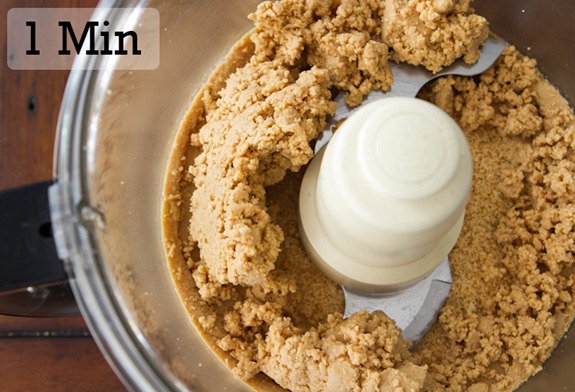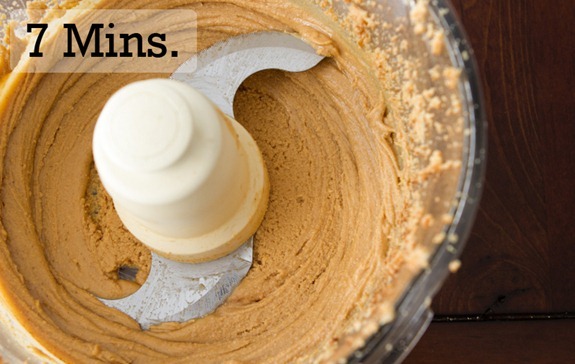 I added in 1/8th teaspoon fine grain sea salt and 1/4 tsp cinnamon. At the 7 minute stage, you can stop, but I like to go a couple extra minutes because it gets super smooth!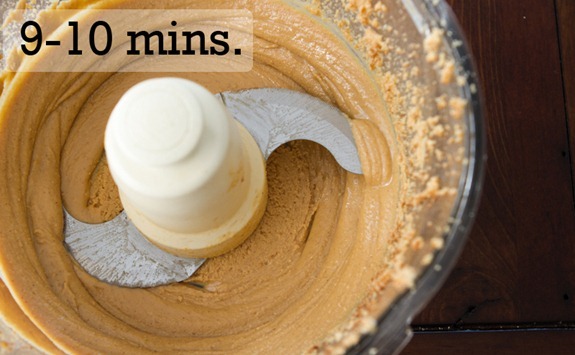 Also, feel free to make it chunky by adding more peanuts and pulsing.
Homemade Peanut Butter (makes 1 cup):
2 cups roasted non-salted peanuts
1/4 tsp cinnamon
1/8th tsp fine grain sea salt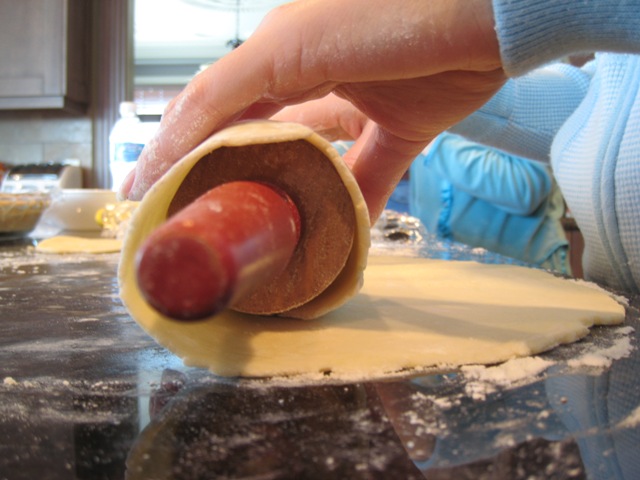 I didn't stop there either…meet fruit-on-the-bottom protein peanut butter: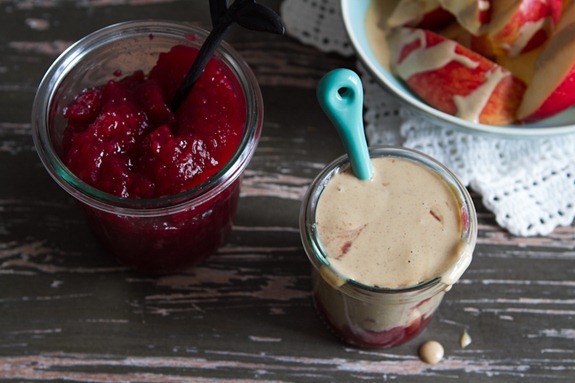 For the recipe & how-to photos, click "continue" keep reading.
This second recipe is a fun way to stretch out your peanut butter supply even more – turn 1/2 cup PB into 1 & 1/4 cups – while still maintaining almost the same protein content per tablespoon. This idea is inspired by the Maple Cinnamon ABU I made in the past (lightly adapted from Heather's original recipe), but this recipe has protein powder for a boost.
I used Garden of Life's Raw Protein Power, which has 17 grams of protein per serving. It's also unflavoured so it makes a good base for this recipe. I caution against using any strange tasting protein powders here – you want something nice and neutral. If your protein powder doesn't taste great, this recipe won't either. Consider yourself warned! ;)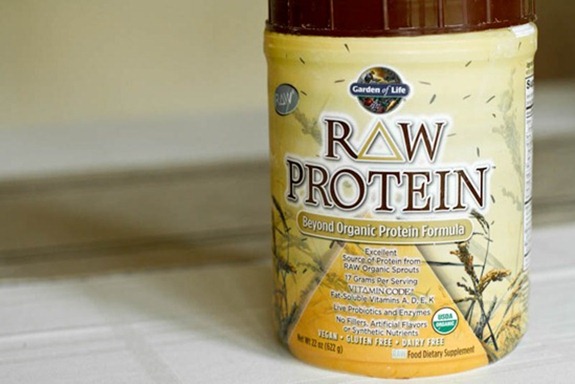 Into the food processor goes almond milk, roasted peanut butter, protein powder, cinnamon, and vanilla extract!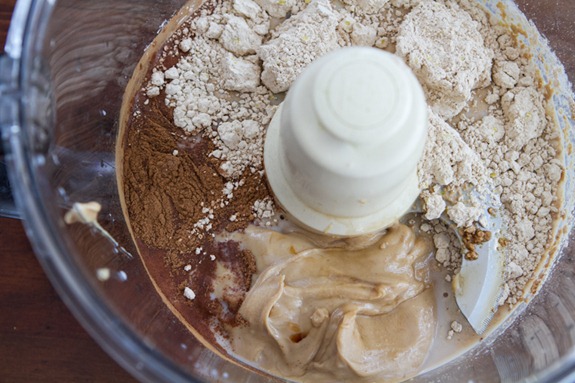 After tasting it, I deemed a touch of sweetener was necessary to cover up the mild protein powder taste. I added a bit of maple syrup (about 4 teaspoons) and it was perfect!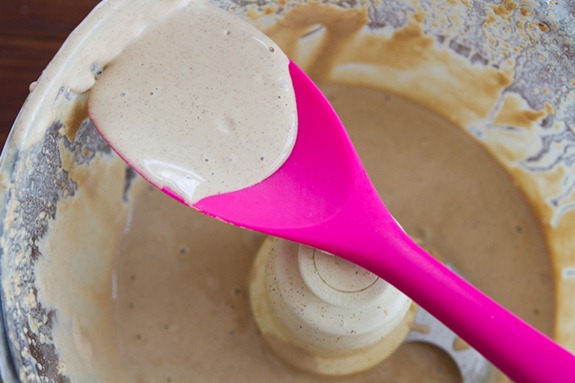 It's quite thin in consistency when you first make it, but it easily doubles in thickness once chilled.
I took it up a notch or two by adding strawberry jam into the mix! PB and J spread, anyone?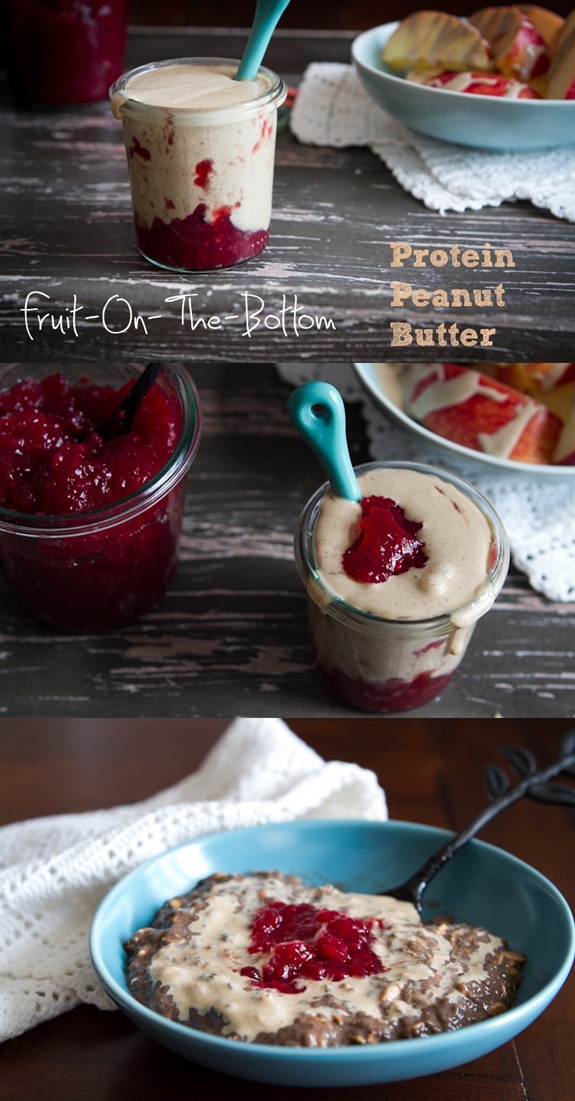 PB & J vegan overnight oats happened, obviously. It's also great for dipping apples, banana soft serve, and adding to smoothies.
Fruit-On-The-Bottom Protein Peanut Butter
Print, Email, or Text this recipe
Yield: 1 & 1/4 cups (not including jam)
Ingredients:
1/2 cup peanut butter
3/4 cup almond milk
6 tbsp neutral-tasting protein powder (I used Garden of Life's Raw Protein Powder)
1/2 tsp cinnamon
1/2 tsp pure vanilla extract
1 tbsp + 1 tsp pure maple syrup (or other liquid sweetener)
Strawberry jam, to stir into the bottom
1. In a food processor, add peanut butter, almond milk, protein powder, cinnamon, and vanilla. Process until smooth, stopping to scrape down the bowl as needed.
2. Add sweetener to taste and process again until blended. Add a pinch of salt if desired.
3. Scoop into a jar and swirl in your favourite jam. Will keep in the fridge in a sealed container for at least 1.5-2 weeks. This spread will thicken up considerably once chilled.
Nutritional Info: (per tablespoon without jam, makes 20 tbsp): 51 cals, 3 grams fat, 2 grams carbs, 1 gram fibre, 1 gram sugar, 3 grams protein.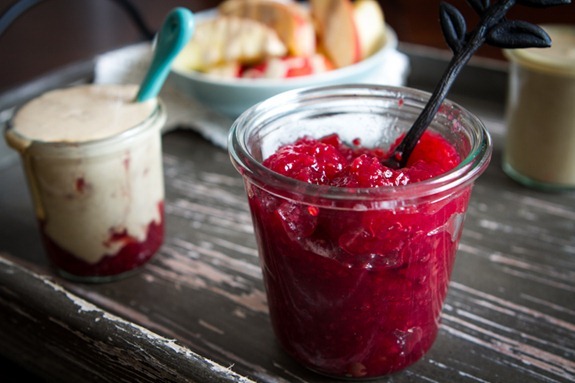 These canning jars are from Crate & Barrel – fell in love! They are perfect for nut butters & homemade chia seed jam. Speaking of chia seed jam, this would be a great recipe to make right along side this protein peanut butter.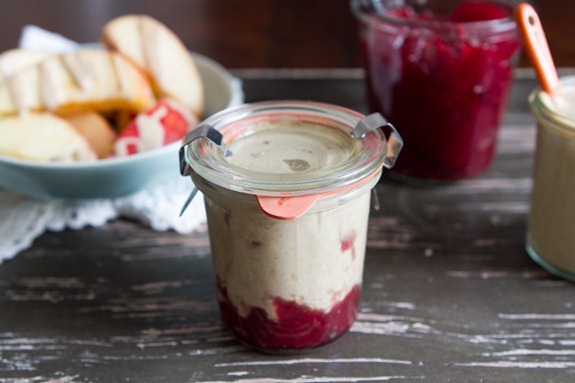 By the way, the chia seed jam lasts much longer than I originally anticipated. I've had some in the fridge for about a month and it still seems to be fine! I'm not sure how long this peanut butter will stay good for in the fridge, but my first batch lasted 1.5-2 weeks and then I polished it off.
Feel free to try this out with almond butter too. If you don't want to add any protein powder, check out the Maple Cinnamon ABU recipe. I basically used a 1:1 ratio of almond butter to almond milk, and added a touch of cinnamon and maple syrup to taste.
~~~
Thank you for your kind words about the blog redesign! Eric read all of the comments too and he was smiling from ear to ear! I'm happy that many of you are enjoying the new menu system.