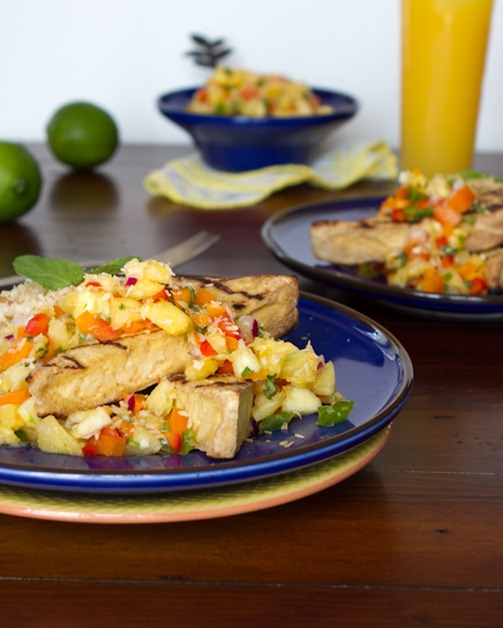 When you can't get away for vacation, but still want the feeling of a vacation, this dinner is for you! Better yet, have someone make it for you while you sip a margarita. It's tropical, refreshing, and perfect for those warm summer nights when you want to change up your go-to meals.
Plus, you simply cannot go wrong with juicy fruit cascading over your dinner plate, especially during a heat wave. This was quite simple to throw together, but still felt like a dish I'd find on the menu of my favourite veg restaurant (only better because it was made at home!).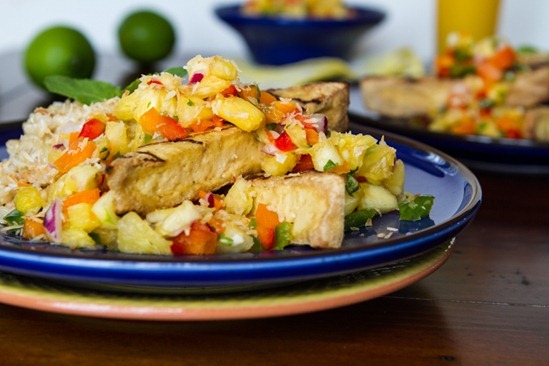 I've never made coconut rice before, but after a quick scour of the internet, I settled on Jaden's recipe. Only I didn't have jasmine rice or full-fat coconut milk so I used brown rice and light coconut milk instead. I was a bit worried I'd end up with a "healthy tasting" coconut rice, but it tasted nothing of the sort. It was as creamy and decadent tasting as I hoped it would be. A tiny amount of brown sugar, nutmeg, and toasted coconut really made the flavours pop. Without these it was a bit bland, but with, it's now a rice dish I'm crazy about.
I'm not sure if you can tell in this photo below just how thick and creamy it turned out. You'll have to trust me on this one!
I pressed the extra-firm tofu, sliced it into four huge triangles, and brushed oil over all sides with a sprinkle of herbamare. Eric was in charge of grilling the tofu, which didn't take very long at all. Maybe 5 minutes per side.
We're both tofu fans and enjoy it plain, but if you think you'd like the tofu spruced up a bit more feel free to use a marinade prior to grilling. We added a bit of BBQ sauce on the side and it was the perfect accompaniment for dipping.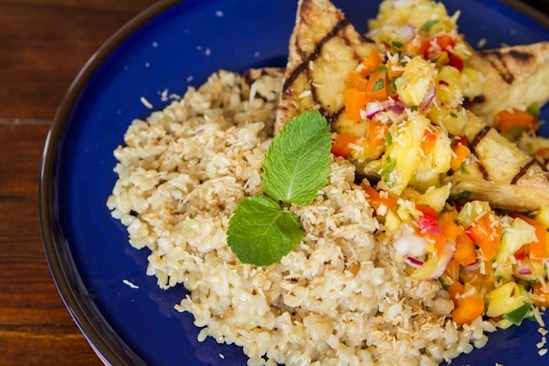 Grilled Tofu with Pineapple Salsa and Coconut Rice
Vegan, gluten-free, nut-free, oil-free

Yield

2-3 servings
Prep time

Cook time

Total time

Ingredients
For the tofu
1 package extra-firm or firm tofu (I used Sol-Cuisine organic brand)
Cooking oil, for brushing
Herbamare or salt, for seasoning
For the coconut rice
1/4 cup shredded coconut
1 cup dry/uncooked short grain brown rice
1 can (400ml) light coconut milk (yields 1 & 3/4 cups)
2 tsp packed brown sugar
1 tsp coconut oil (optional)
Sprinkle of nutmeg
For the pineapple salsa
(this makes over 5 cups so feel free to make a half batch!)
1 pineapple, cored & diced (makes about 3 cups diced)
1/2 cup diced red onion
2 jalapeños, seeded and diced
1 large garlic clove, minced
1 red pepper, diced (about 1 cup)
1 orange pepper, diced (about 1 cup)
3 tbsp fresh lime juice (1 large lime)
1/4 cup packed fresh mint leaves, minced
Red pepper flakes, to taste (optional)
Directions
Press Tofu: Remove tofu from package and rinse with water. Press the tofu for at least 20 minutes following these directions. After pressing, slice the tofu block down the middle, lengthwise to make two halves. Now slice each piece diagonally to make 4 triangles total. Brush each side with cooking oil and then season generously. If you don't enjoy plain tofu try using a marinade prior to cooking.
Coconut Rice: Preheat oven to 300°F. Toast shredded coconut for about 8-12 minutes until golden. Rinse brown rice in colander and then place into a medium-sized pot. Add one 400ml can coconut milk (equal to 1 & 3/4 cups). Stir. Bring to a boil and then reduce heat immediately to low. Cover with lid and cook for about 25-30 minutes until most of the coconut milk is absorbed and rice is tender. Remove from heat, keep lid on, and let it "steam" for another 10 minutes or so. Stir in brown sugar and optional coconut oil. Garnish with toasted shredded coconut.
Salsa: Meanwhile, add all salsa ingredients into a large bowl, adjusting to taste. My pineapple was very watery, so I dumped the pineapple into a colander and let the water drain for about 10 minutes prior to using. Feel free to do this too or just leave it as is.
Grill tofu: Preheat the bbq grill for about 15-30 minutes (depending on your grill) on high. Turn heat down to medium/low. Carefully, grease the grill with a cooking oil safe for high heat (e.g., canola, sunflower, safflower, or sesame). Grill the tofu for about 5 minutes on each side (this will vary). Be sure not to overcook the tofu or it will be dry.
To serve: Spoon coconut rice on a plate and sprinkle with a dash of nutmeg if desired. Add grilled tofu next and then spoon over a generous amount of pineapple salsa. Sprinkle everything with more toasted coconut and garnish with mint leaves. Feel free to serve with a bit of BBQ sauce on the side to spruce up the tofu.
Nutrition Information
(click to expand)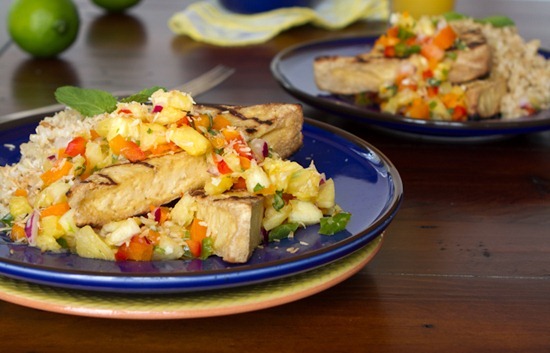 In other news, I had a fun photoshoot with Sketchie this weekend. You can head over to my Facebook page to check it out. All hail crazy cat ladies!
What are your favourite summer entrees? As always, feel free to leave your recipe requests below!
Hope you have a great start to your week.