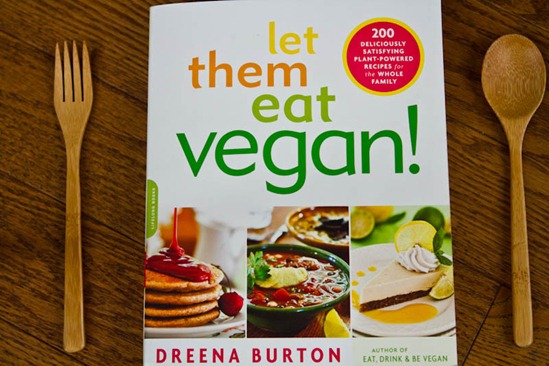 I first came across Dreena Burton's blog and her vegan recipes just as I was beginning to dabble with vegan recipes myself. Shortly after I started my blog in 2008, I heard all the buzz about Dreena's vegan cookbook called Eat Drink & Be Vegan. Her Supercharge Me cookies were the talk of the town!
The focus on natural, non-processed ingredients appealed to my own dietary goals and Eat Drink & Be Vegan quickly became one of my most used cookbooks. Dreena was instrumental in my eventual quest for a plant-based diet and also one of the first to show me how fun and delicious vegan recipes can be.
Dreena writes:
"Four cookbooks, three children, one Sarabi-cat, and a few hundred recipes later, I'm still loving creating new dishes.  Now they are better than ever, with the best balance of "nutritious meets delicious"!  I'm not going to give you any recipes I wouldn't feed my children.  They've got to be healthy.  And, they've got to taste good (I won't give you anything my family rejects either)!  So, join me, get plant-powered!"
We ended up connecting through our blogs and I was happy to find out she's a fellow Canadian! When she mentioned that she was working on her next cookbook – Let Them Eat Vegan! – I told her I would love to review it on my blog if the opportunity presented itself.
FYI: I'm told LTEV will be available for purchase and shipped out in MAY!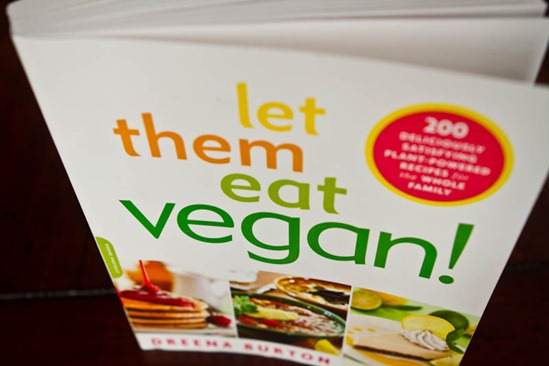 Let Them Eat Vegan! is packed with 200 plant-powered recipes for the entire family. Dreena offers notes on how to modify her recipes for those with allergies or common substitution questions. Natural vegan ingredients are abundant in her recipes, many of which I already have in my own pantry. Dreena's care and attention to each recipe is exactly why I find myself coming back to her recipes again and again.
The book features a chapter on pantry basics and kitchen tools, followed by breakfast bites, salads, sauces and dips, soups, sides, mains, burgers, pasta, cookies, cakes/pies/puddings, and ice cream chapters. Let Them Eat Vegan also features over 25 beautiful recipe photos.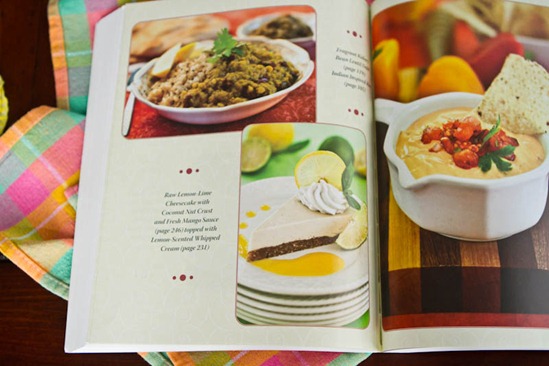 I'm always curious which recipes are the author's favourites, so I asked Dreena and here's what she shared:.
"I love many of the bean soups, like the Mexican Bean Soup with Chipotle Avocado Cream.  It's lighter than a chili, and the cream just completes the soup perfectly (even without the chipotle addition).  I love having it with tortilla chips on the side, it's like a spicy comfort food for me. 
The Mac Oh-Geez because it is pleases *everyone* in the family (yay)! 
I also love DJ's Hummus Salad Dressing, because I love hummus and it's like hummus for your greens, and can be made oil-free. 
And, I also love the Fragrant Kidney Bean Lentil Dahl, because the blend of spices are so soothing for me and the Mediterranean Bean Burgers – because I love flavor, and love my beans! 
Our kids adore the Vegveeta Dip, and the Cocoa Cookie Dough Balls, and they really also love the Wonder Bean Puree (over brown rice and topped with avocado).  It's not the prettiest dish, but that doesn't seem to bother them one bit, they love it!  Hubby loves most everything, and also a big fan of the Mexican Bean Soup and Vegveeta."
Here are a few of the recipes that I made this past weekend.
First up, the Chocolate Raspberry Truffle Tart with Coconut Crust!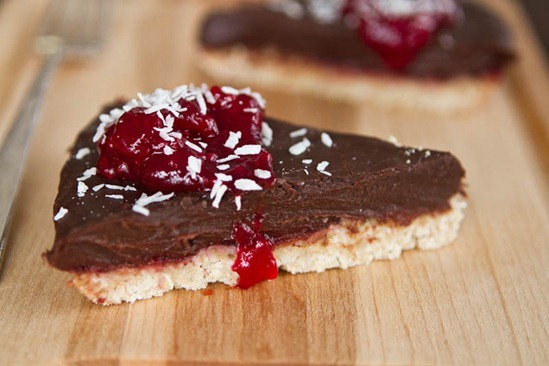 You had me at truffle tart.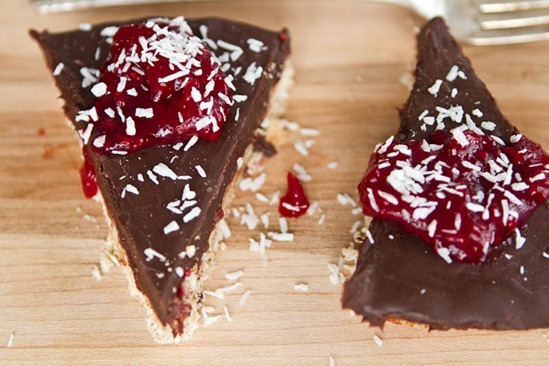 It's made up of a coconut oat crust, lightly toasted in the oven until golden and fragrant.
Next up is a layer of raspberry jam, followed by this incredible creamy chocolate truffle layer to finish it all off.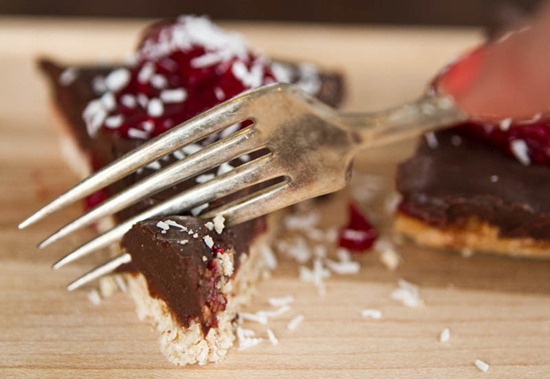 The tart is decadent, but not in that artificial, what-the-heck-did-I-just-eat kind of way. It's totally worth a splurge on a special occasion! Eric's eyes just about rolled back in his head when he tasted it.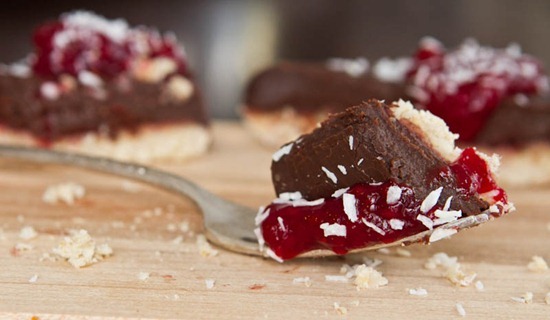 Next, I made the Cocoa Almond Jumbles- chewy, lightly sweet, and a fun snack cookie. They are made up of rolled oats, almond meal, nut butter, cocoa powder, among other healthy ingredients. I subbed the almond butter for sunflower seed butter and they turned out great.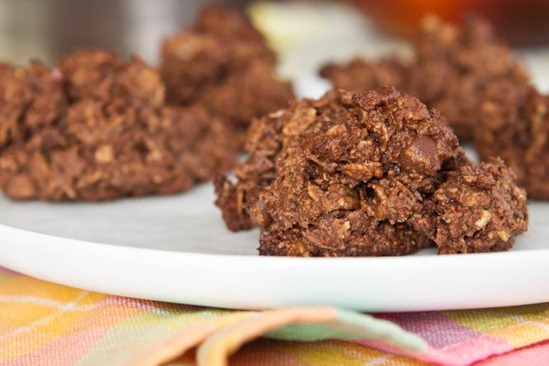 Finally, I made Dreena's Jerk Chickpeas!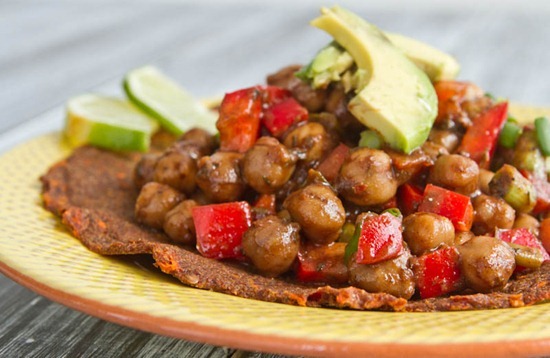 This just might be one of the best tasting chickpea recipes I have tasted!
It's filled with flavourful ingredients like allspice, cinnamon, thyme, maple syrup, tamari, fresh ginger, and red chili flakes. I made it extra spicy with lots of red chili flakes and it was absolutely fantastic. As Dreena says, the recipe has some bite to it and it's not for the faint of heart. Well, sign me up. I served it on a raw flax wrap with avocado slices and freshly squeezed lime juice. I know I will make this dish again and again! I think it would also be good on baked tofu.
Thanks to Dreena and Dacapo Press, I am allowed to share this recipe with you today. I'm so excited for you guys to try this one out! Be sure to stop by Dreena's blog and let her know what you think.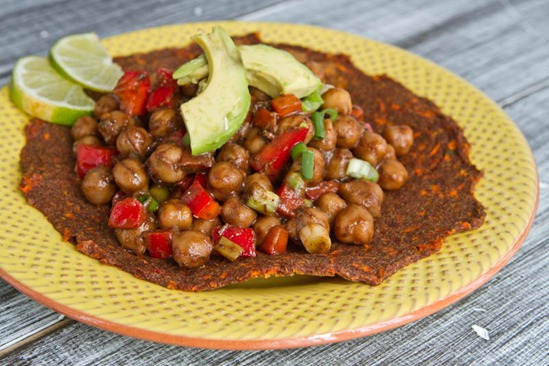 Dreena Burton's Jerk Chickpeas
Print, Email, or Text this recipe
Printed with permission from the book Let Them Eat Vegan! by Dreena Burton. Excerpted by arrangement with Da Capo Lifelong, a member of the Perseus Books Group. Copyright © 2012. www.dacapopresscookbooks.com
Why not combine the exciting flavors of a jerk marinade with healthy chickpeas? This dish is a snap to bring together, and bakes in about a half hour, so you can have it topped over rice and on the dinner table with little fuss.
3 – 4 tbsp freshly squeezed lime juice (see directions)
2 tbsp tamari (can use coconut aminos for soy-free option)
1 tbsp olive oil (optional, can omit for oil-free version)
1 tbsp tomato paste
1 ½ tbsp pure maple syrup
1 ¼ tsp dried thyme leaves
1 tsp ground allspice
1 tsp cinnamon
¼ tsp ground cloves
¼ tsp ground black pepper
1 tbsp grated fresh ginger root
2 large garlic cloves, grated
Few pinches red chili flakes (between 1/8 – ¼ tsp, or more if desired, I find 1/8 tsp is just right for me, but go for more if you want!)
2 ½ cups cooked chickpeas
¾ – 1 cup chopped or sliced red bell pepper (see note)
3/4 cup green onions, sliced (white and green portions, see note)
2 tbsp fresh cilantro or flat-leaf parsley, finely chopped (for finishing, optional, see note)
1. Preheat oven to 375 degrees.
2. In a baking dish (I use an 8 by 12-inch), combine all the ingredients (starting with 3 tablespoons of the lime juice) except the chickpeas, red bell peppers (see note), green onions, and cilantro. Stir until well mixed. Then add the chickpeas, red peppers, and green onions and stir again.
3. Cover the dish with foil and bake for 25 minutes. Remove the foil, stir, and bake uncovered for another 5 to 8 minutes, stirring again about halfway through, until the marinade has partially absorbed into the chickpeas.
4. Taste; if you'd like more tang, add another 1⁄2 to 1 tablespoon of lime juice, and stir well, along with any reserved green onions and fresh cilantro. Serve over rice, or in pita breads or tortillas with sliced avocados and with extra squeezes of lime juice, if desired. Serves 4, with brown rice and/or other accompaniments.
If This Apron Could Talk: If you'd like to keep the texture and color of the red pepper a little firmer and vibrant, add after about the first 10 to 15 minutes of baking, and stir in. Ditto for the green onions.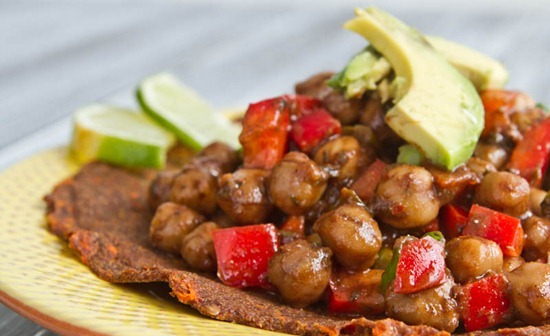 Let Them Eat Vegan Giveaway!
For a chance to win a copy of Let Them Eat Vegan! please leave a comment below by Thursday April 26th. I will draw one random winner and announce it on the blog. Note: Book will be shipped in May.
Goodluck to all!