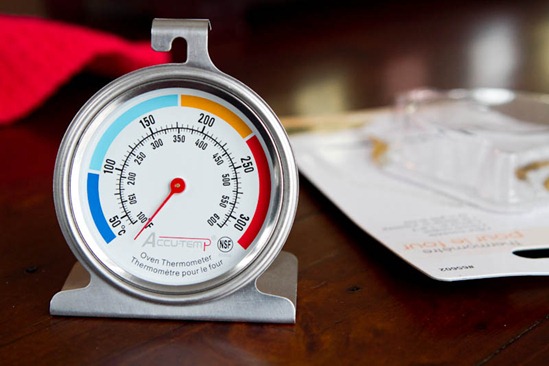 According to a test by Cook's Illustrated in 2011, different ovens set to the same temperature can vary by as much as 90 degrees.
Yes….90 degrees.
If you are an avid baker or cook (or even just an occasional one), this news should be a bit concerning. Or maybe this news is relief; you now have a valid excuse for why your sweet potato fries always burn! Or at least I do…
When we moved in, one of the first things I did was check the oven's true temperature. It's an older oven (edited to add: I don't mean super old by the way. The oven in our last house was 30 yrs old and I doubt this one is more than 10 yrs, so technically, it's newer to me) and I was concerned about switching to a new-to-me oven without checking things out first. It's especially important to me because I post my recipes for all of you and I have to be as accurate as possible.
For some reason, I had a bad feeling about this oven, even though it's quite nice on the eyes.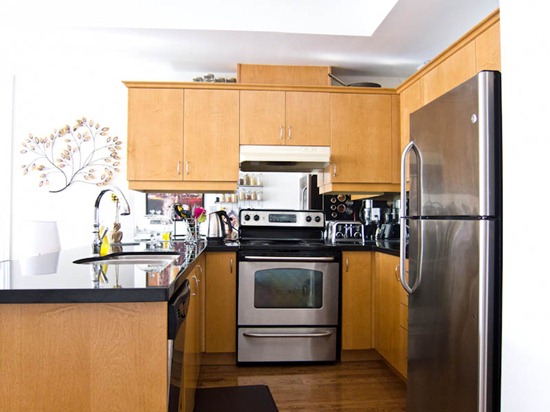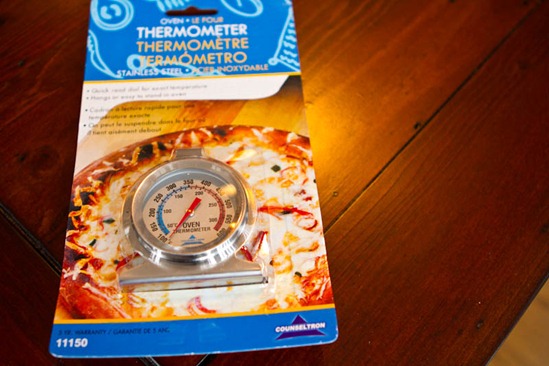 I set my oven to 350F and placed my oven thermometer (from Kitchen Stuff Plus) in the center of the oven on the middle rack. This would be the first of several tests I would end up doing.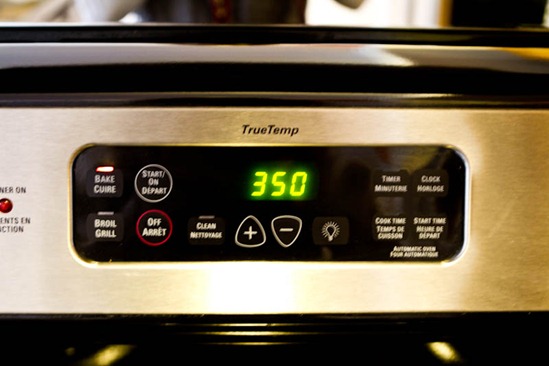 [But it's called a "TRUE TEMP"…what could possibly go wrong???]
The oven beeps when it has supposedly finished preheating, so I eagerly walked over to the oven when it alerted me. I didn't want to impact the temperature by opening the door, so I quickly turned on the oven light and bent down to look at the temperature.
The oven temperature read about 290F or so. I can't quite remember it exactly, but it wasn't even close! I gave the oven the benefit of the doubt, assuming that it just took longer to preheat.
And I waited some more. The temperature climbed slowly and after a good 15 minutes, I decided it wasn't moving anymore. I waited an extra 30 minutes just to be sure.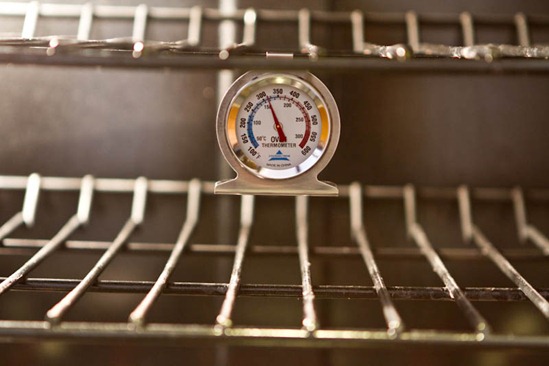 I squinted my eyes really hard (am I getting old or are those things just really tiny?)
To me, it looks about 315-320F: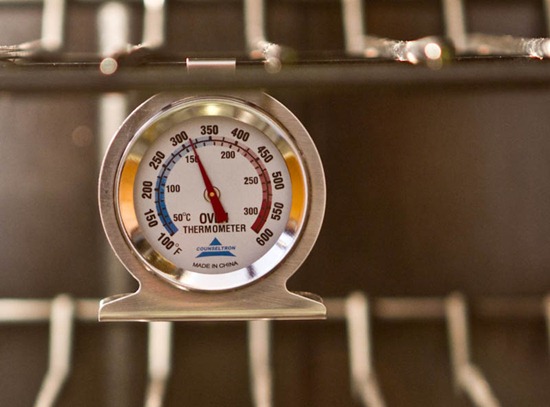 This is about a 30-35 degree difference. I also tested various places in the oven (on the side and in the back), but they were all around that temperature give or take 5 degrees. I even left it in for a full hour just to be sure. Nada.
Every good researcher knows that it's to never advisable to rely on a single study, right? So, I headed out and bought another brand of oven thermometer (this time from Canadian Tire) and tested it once again.
Replicate.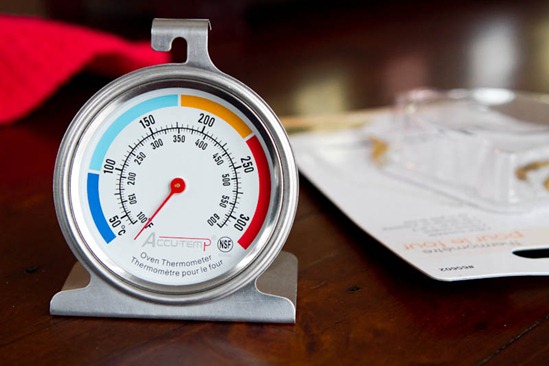 Wouldn't you know it, the temperature was the exact same. Approximately 320 degrees Fahrenheit when it should have been 350. At least the thermometers are accurate. ;)
I Googled if there was any way to fix my wonky oven temperature and it turns out that it's fairly easy to calibrate many kinds of ovens, depending on the severity.
Always start with the manual first. I looked for the owner's manual, but wasn't able to locate one (not surprising being in a rental and all). Eric suggested that we find the model number of our oven and see if we could find instructions online. He wasn't able to find the manual online for this oven.
Eric finally ended up finding directions on Appliance 411- "How do I adjust the oven temperature on my range?".
Following these directions, he was able to set the oven temperature higher (35F was as high as he could go), however it's still not a perfect calibration. Now, when I set the oven to 350F, it heats to about 340F, so it's still about 10 degrees too low. To attain 350F, I have to set the oven to 360F and also wait about 5-10 minutes after the oven tells me it's preheated. This isn't a huge deal, as long as I'm careful and I keep my oven thermometer in the oven when using.
The oven thermometer is probably the best solution we have right now, aside from actually paying someone to repair it (or asking the landlord), which I probably wouldn't bother with unless it got worse.
Our first adventure in oven calibration is now complete.
One thing I love about this oven? The stove top heats up much faster than our old oven back at home. You win some, you lose some! I've burned a few veggie burgers so far, but I'll get used to it eventually.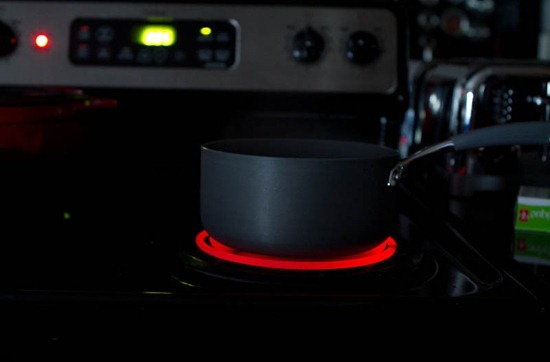 Have you ever measured your oven's true temperature or calibrated your oven? I bet you sure are curious now…