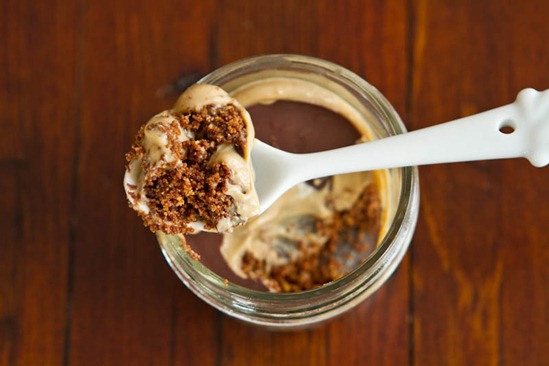 Last week on Twitter, I asked you guys if you'd rather see a main course or dessert recipe for the upcoming Easter holiday.
Of course, many of you vegan goblins said you wanted BOTH!
I like the way you think.
Actually, the majority vote was for the main course recipe, easily by a 80/20 split. Does that surprise any of you? It's interesting to note this because my most popular recipes (or should I say, the ones that are clicked on the most) tend to be dessert recipes. Maybe it's the case that people enjoy drooling over pictures of desserts, but in reality, we tend to make more savoury, main course recipes.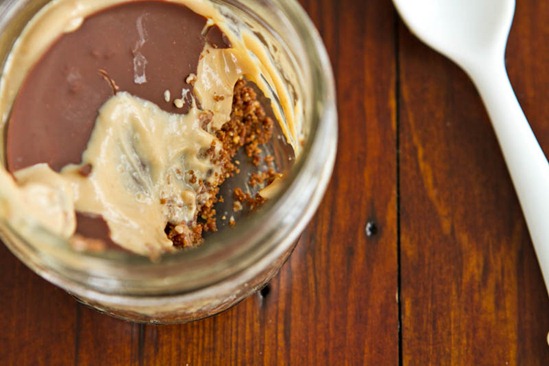 Well, let me tell you, this isn't a dessert that you should just look at. You should make this now. And be sure to take a picture because they last much longer.
sigh.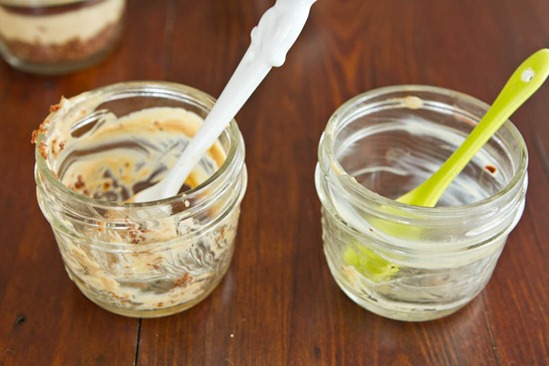 That was the damage I did immediately after the photoshoot. HA!
Imagine a cross between a peanut butter cup and a chocolate peanut butter torte, with a healthy, vegan twist. This is it! My obsession with this idea started when I came across a peanut butter cup recipe over at The Purple Spoon. I couldn't get it out of my head for days!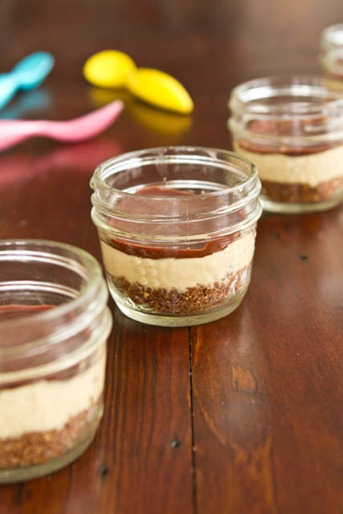 I wanted this dessert to be mini to keep the portion size in check, so I used these cute and portable 125ml mason jars. They worked like a charm! I picked mine up from Canadian Tire. You can find different sized mason jars at many home hardware type stores, as well as Wal-Mart. If you don't want to use jars you can use ramekins, but the dessert won't have nearly as much height to it. Or you can easily double the amount that goes into each dish.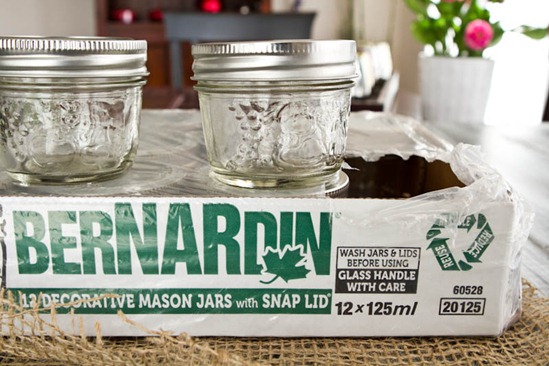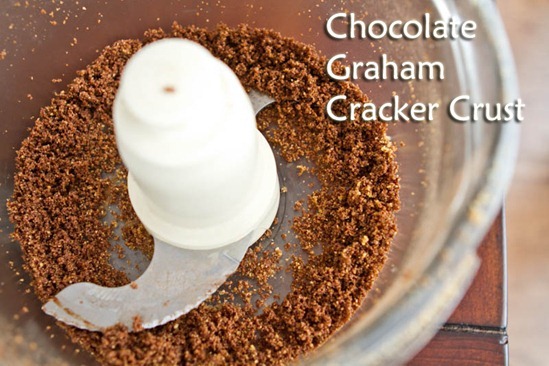 The first thing you do is make a chocolate graham cracker crust with graham crackers, maple syrup, coconut oil, and cocoa powder. If you don't want to use coconut oil, you can sub in Earth Balance and you can also sub the maple syrup for another liquid sweetener. I added a couple tablespoons of the crust into 5 mason jars and then pressed it down with my fingers until even.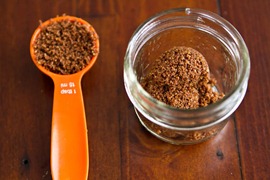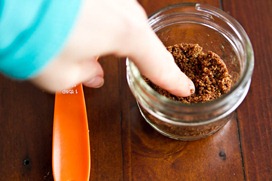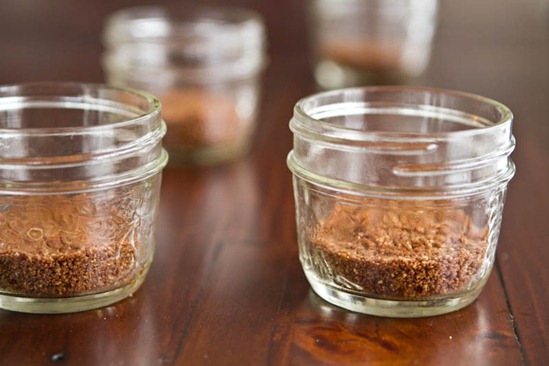 Fool proof.
For the second step, I whipped up the insanely creamy and buttery peanut butter filling. I feel all flustered just looking at the picture again!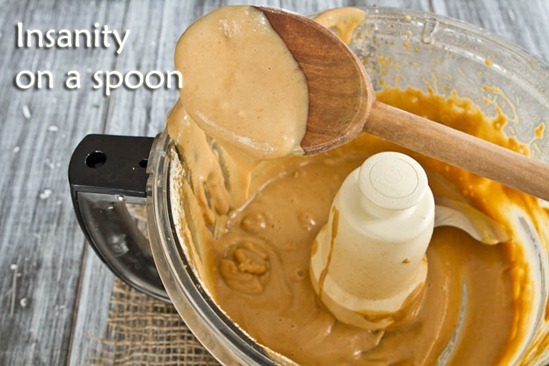 My goal for this filling was to make it high in volume, so I used silken/soft tofu to add thickness and body with minimal calories. It was my first time making a dessert with soft tofu and I was a bit hesitant (ok, a lot), but it worked amazing and I could not detect it at all.
Now portion about 3 heaping tablespoons of filling into each jar: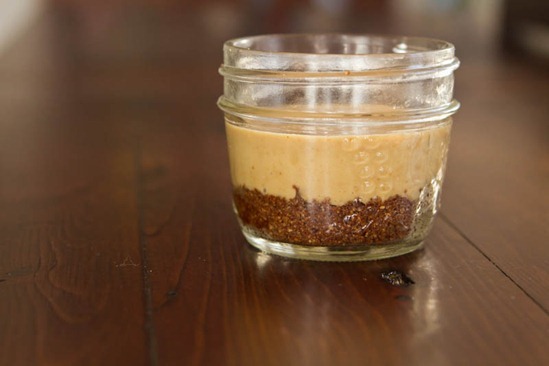 And place the jars in the freezer for about 30 minutes.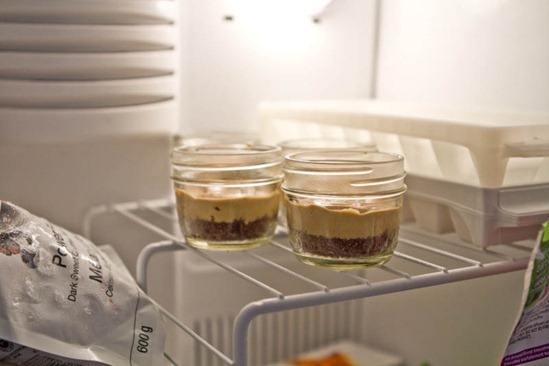 Now go do some busy work or you will drive yourself insane peeking into the fridge every 45 seconds. I've been there…the minutes pass like days.
After the filling sets, melt the chocolate and coconut oil and then spoon a teaspoon of melted chocolate on top of each. Now, quickly twist the jar all around to coat all sides with chocolate. Chill in the fridge or freezer until the chocolate sets. I prefer to enjoy it cold from the freezer, but I let it thaw for about 10 minutes first..if I can wait that long.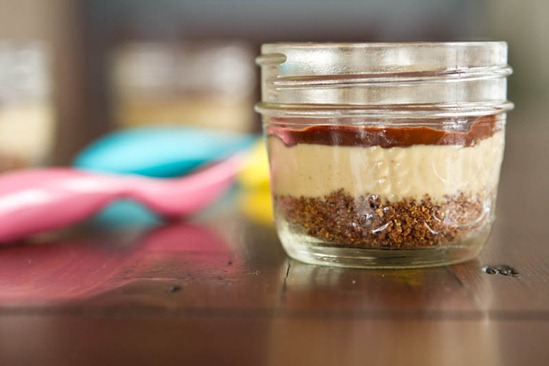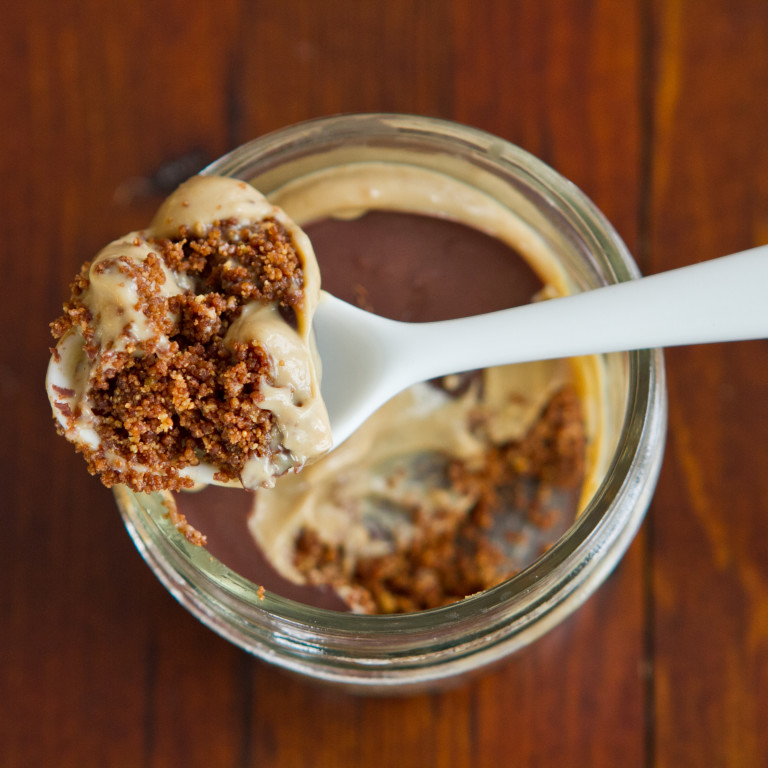 Mini Peanut Butter Cups in a Jar

Yield

Five 125ml jars
Prep time

Cook time

0 minutes
Chill time

30
Total time

Ingredients
For the crust
heaping 1/2 cup + 2 tbsp graham cracker crumbs (10 squares)
1.5 tbsp pure maple syrup (or other liquid sweetener)
1 tbsp coconut oil (or Earth Balance)
2.5 tsp cocoa powder
For the filling
200 grams soft/silken organic tofu, roughly chopped
1/4 cup natural peanut butter
1/2 cup Sucanat or brown sugar, processed into powder (or 3-5 tbsp icing sugar)

*

see question #6
1 tbsp almond milk
1 tsp pure vanilla extract
salt, to taste
For the chocolate shell
2.5 tbsp dark chocolate chips
1.5 tsp coconut oil (or Earth Balance)
Directions
If making homemade powdered sugar, add 1/2 cup of Sucanat (or brown sugar) into a high-speed blender and blend until a powder forms. Set aside, but leave the lid on as it needs to settle.
In a food processor, process the crust ingredients until crumbs are a bit damp. Add 2 tablespoons of the crust into each jar. Spread out evenly and flatten with fingers.
Quickly wipe out the processor bowl. Now add the filling ingredients and process until silky smooth, scraping down the sides as necessary.
Add 3 tablespoons of filling into each jar and spread gently with a spoon. Place jars into freezer, uncovered, for about 30 minutes to firm up a bit.
Remove jars from freezer and melt the chocolate on the stove-top or microwave. Spoon 1 teaspoon of melted chocolate on top of the filling. Quickly, twist the jar around to coat all sides. Repeat for the rest. chill in the fridge or freezer to firm up the chocolate or just dig in as is!
Tip:
You can also try using my homemade PB graham crackers instead of buying from the store.
Nutrition Information
(click to expand)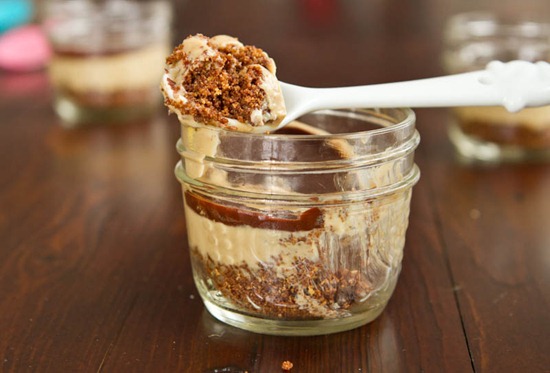 Ingredient/Allergy Questions you may be wondering about:
1. What if I can't have nuts? If you can't have nuts, I suggest using sweetened sunflower seed butter as a swap for the peanut butter. You may also need to swap coconut oil for Earth Balance and be sure to check all other ingredients.
2. What if I can't have gluten? For a gluten-free crust that works amazing (I even tried it myself), try using this pecan based no bake crust. Of course, double check all other ingredients to ensure they are GF.
3. What if I can't have soy? That is a tricky one for this recipe. My first thought is to use banana (or banana soft serve!) because it's sweet, easy, and blends super smooth. You may also want to reduce the sugar.
4. What if I don't have coconut oil?
Feel free to sub Earth Balance for coconut oil.
5. What if I don't have maple syrup?
Feel free to sub any liquid sweetener of your choice.
6. How do I make homemade powdered sugar?
As I've seen on Lesley, Ashley and Katie's blogs, it's very easy to make homemade powdered sugar. Simply add Sucanat, brown, or white sugar into a high-speed blender and blend until a powder forms (you can also add a bit of cornstarch to it, but I didn't bother to for this recipe). Allow it to sit in the blender for at least 5 minutes to settle. There tends to be a huge white cloud when you take off the lid, so it's a bit messy, but it's a great, natural swap for confectioner's sugar so I'm not complaining too much. I didn't measure how much 1/2 cup Sucanat made, so if you are using store-bought powdered sugar I would start with 3 tbsp and add to taste from there. Sucanat also gives the filling a nice golden tone.
7. What if I don't have mini jars?
Feel free to use ramekin dishes, but I suggest doubling the ingredients since ramekins are a lot bigger.
I imagine they can also be heated up, but I didn't get that far…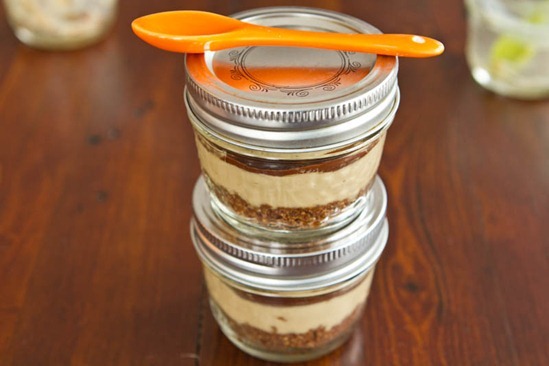 Whew, am I chatty today or am I chatty today?
Must have been that 6am hot yoga class…I'm bouncing off the walls here.