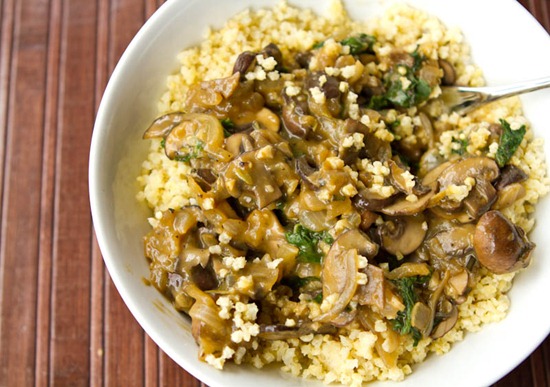 I present to you…
Healthy. Winter. Cozy. Comfort. Food.
For you.
And me.
And mah belly.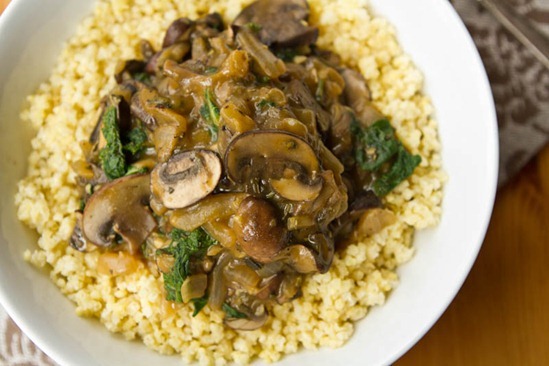 Am I the only one who occasionally screams Get in mah belly a la Austin Powers before I eat a good meal?
I thought so.
Let's talk go-to meals. What are yours? Lately mine are big vegan bowls made up with a base of grains, sautéed vegetables/protein, and a tasty sauce to tie it all together. I can thank Fresh restaurant for my little obsession with bowls. I like to make them at home for a fraction of the cost. There's just something so satisfying about digging into a huge bowl with a seemingly bottomless pit, isn't there? Plus, bowls can be changed up countless ways, so you never get bored. Although, I could probably eat the same combo for a few weeks straight without blinking an eye…
During the winter I tend to crave hot, stick-to-your-ribs bowls and in the summer I crave cold, lighter bowls. This is a stick-to-your-ribs kinda bowl…the bowl you make when your house is frigid and no matter how many layers you have on, you can't shake the chill from your bones. That kind of night calls for a gravy bowl.
And guess what? It just happens to be good for you.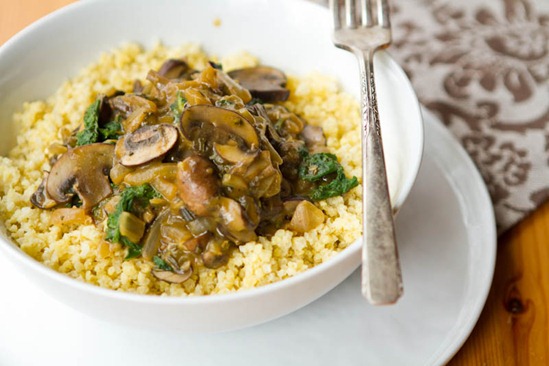 For the base, I used fluffy millet. This is different from the scorched millet which was my first attempt. Fluffy millet is also different from the overcooked mushy millet which was my second attempt. When you don't forget to set the timer and leave the room, it's light and fluffy like quinoa, but heartier and denser, in a stick-to-your-ribs kind of way that is perfect for the colder months. If millet isn't your thing, you can easily change up the grain. Quinoa, rice, barley, noodles, etc would all work well here.
I topped the millet with a healthy but rich mushroom gravy and kale for a pop of super power. Easy but fabulous.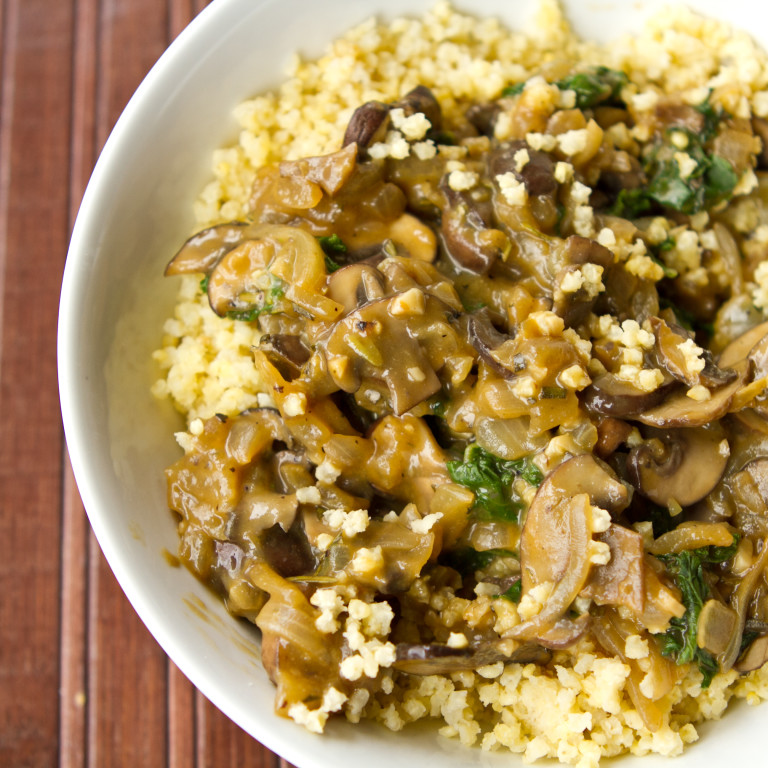 Cozy Millet Bowl with Mushroom Gravy and Kale
Vegan, gluten-free, nut-free

Yield

2 servings
Prep time

Cook time

Total time

Feeling cozy? Snuggle up with this comforting bowl of vegan goodness. The dish feels rich without the heaviness that usually comes with traditional gravy.
Ingredients
1/2 cup uncooked millet (makes ~2 cups cooked)
1/2 tsp extra virgin olive oil
2 cups chopped sweet onion (1 medium onion)
3 garlic cloves, minced
4 cups sliced crimini mushrooms (300 grams)
1.5 tbsp minced fresh rosemary
2 tbsp nutritional yeast
1.5 tbsp low-sodium tamari (soy sauce)
1/2 tbsp cornstarch
1 & 1/4 cup vegetable broth
1 cup fresh chopped kale, stems removed
Freshly ground black pepper & kosher salt, to taste
Directions
Toast millet (optional): In a pot or skillet with a lid, toast the millet over medium heat, stirring frequently, until it starts popping. Be careful you don't burn it. The goal here is a light toast. Remove from heat. Cook millet: Bring a medium-sized pot of 1 cup water, a pinch of salt, and 1/2 cup uncooked millet to a low boil. Reduce heat to low and cover with tight-fitting lid (with no air holes). Simmer for 15-20 minutes or so. Remove from heat and let sit for 5 minutes covered. Remove lid and fluff with fork. Set aside.
Meanwhile, grab a large skillet and heat oil over medium heat. Add in chopped onions and garlic and sauté for about 5 minutes.
Add the sliced mushrooms and sauté for about 12 minutes longer, stirring as necessary. Now stir in the rosemary, nutritional yeast, and tamari. Cook for a few minutes.
In a small bowl, whisk together the broth and cornstarch until clumps are gone, and then stir into the mushroom mixture. Stir in kale. Cook for another 5-6 minutes or so, until slightly thickened. Portion millet into two bowls and serve the mushroom gravy on top.
Tip:
This mushroom gravy just screams comfort food. Check out this deliciousness…
Nutrition Information
(click to expand)
Approx Nutritional Info (per serving, serves 2): 355 kcals, 4 grams fat, 63 grams carbs, 11 grams fibre, 6 grams sugar, 16 grams protein.
~~~
This mushroom gravy just screams comfort food. Check out this deliciousness…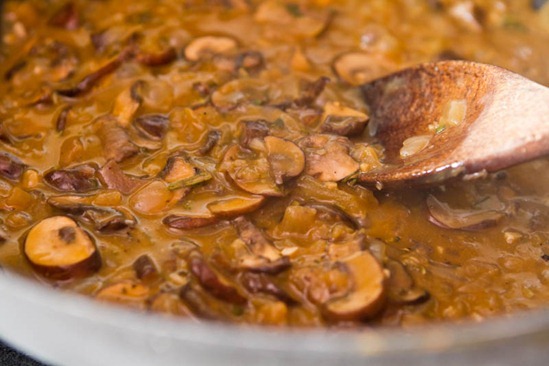 If I didn't have any millet, I would've happily enjoyed this gravy all on it's own. :)
Divide the millet into two bowls and then pour on the gravy mixture on top. That's all there is to it.