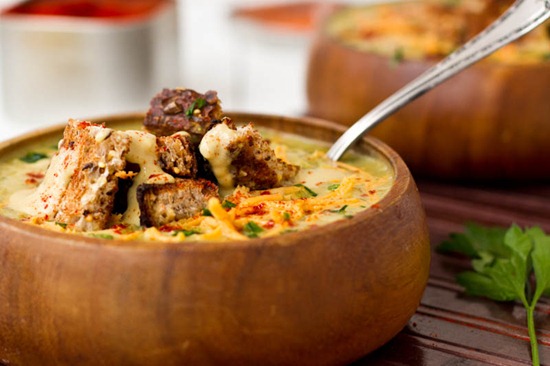 I have scary memories of all of those "Cream of" canned soups.
Anyone?
For some reason my dad used to love those canned soups. Depending on the day it could've been Cream of Mushroom, Cream of Broccoli, or Cream of Chicken. He's probably eating one right now, actually.  I'd watch in fear as he cranked open the can, plunked the soup into a pot (which of course, came out in a single can-shape), and added a can of milk to break apart the "soup jello".
I was not down with that, even at the wise age of 8.
I always preferred to eat soup that didn't come out in a single lump. Clear broths, like vegetable soup, were more my style. I also loved canned tomato soup like nobody's business, especially with a million saltines crumbled over top. The saltines would get all mushy and saturated with tomato soup, allowing me to crush even more on top. Paired with a grilled cheese, that was just about my favourite meal as a kid.
Even though I never did take a liking to those creamed canned soups, I will admit a creamy soup sounds so comforting this time of the year. I figured I could probably come up with something a lot healthier and less processed in my own kitchen.
And with any luck…something that didn't look like grey Jell-O.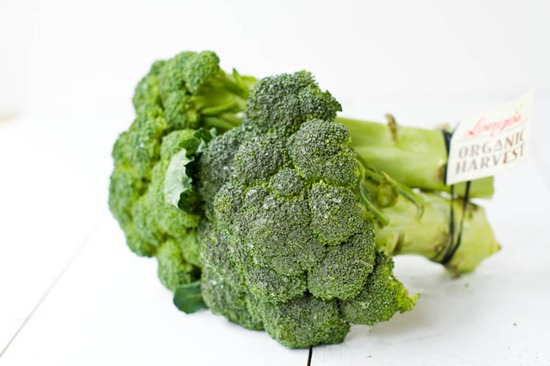 After the weekend's crazy holiday hijinks, I was craving comfort food, but I also wanted something that snuck in a bit of green. My recipe brainstorming session was pretty short because I was working at 30% functionality.
Idea #1: Roast broccoli and pour my 5-min cheeze sauce all over it. That sounded wonderful, but not quite a meal.

Idea #2: Make Cream of Broccoli soup made with cashew cream instead of dairy cream. I wasn't really feeling the cashew cream though, so I tossed that idea for now.

Idea #3: I combined my broccoli and cheeze idea with my soup idea to make creamy Broccoli and Cheeze soup.

Idea #4: Toast bread and slather Earth Balance and garlic powder all over it. Forget the greens.
If it hadn't been for this 12 days of healthy dinner challenge, I would've gone for idea #4! But my goal was a meal, so I compromised and combined ideas #3 and #4… 
Jackpot.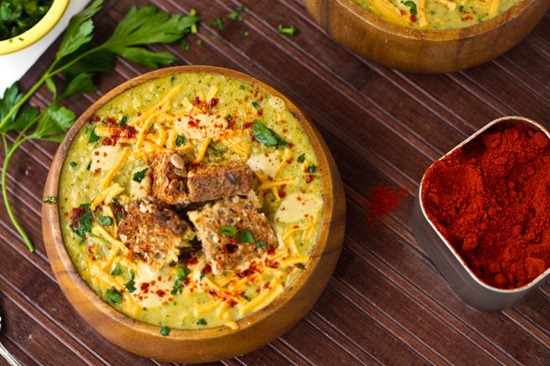 [print_this]
Broccoli & Cheeze Soup
Healthy comfort food at its finest! This soup combines my love for broccoli and cheeze sauce, while doing without the cream or cheese. The prep is quite lengthy due to all the chopping, so I suggest using an electric chopper or processor if you want to speed things up. I finished the soup with a sprinkle of smoked paprika and Daiya cheese. Enjoy with your favorite croutons or even some breadsticks for dipping would be lovely. I didn't have any croutons so I just double toasted some bread, spread it with Earth Balance, and a sprinkle of garlic powder. Yum!
Yield: 4 servings
Ingredients:
1 tsp extra virgin olive oil
1 medium sweet onion, chopped
2-3 garlic cloves, minced
1 cup chopped celery
4-4.5 cups chopped broccoli florets (2 heads, stems removed)
1.5 cups peeled & chopped potatoes (about 3)
3 cups vegetable broth
2 tbsp nutritional yeast 
1/4 tsp cayenne pepper (or crushed red pepper flakes)
Low-fat vegan cheeze sauce, divided (see below for recipe)
1/2 tbsp lemon juice (optional)
herbamare & onion powder, to taste
Kosher salt & black pepper, to taste
1/4 cup fresh minced parsley, plus more to garnish
Daiya cheese, to garnish
Smoked Paprika, to garnish (optional)
1. In a large skillet, heat the oil, onion, and garlic over medium-low heat, stirring frequently. Cook for about 5-6 mins.
2. Add in the celery, broccoli, and potatoes and cook for about 5 minutes. Now, add the broth, nutritional yeast, and cayenne pepper and simmer for another 15 mins or so until the potatoes are just fork tender.
3. Meanwhile, prepare your cheeze sauce (see below) while the soup simmers.
4. Carefully transfer the soup (in two batches) into a blender. Blend until almost smooth (I left it a bit chunky, but you can blend as much as you wish) and place back into the pot. Stir in the cheeze sauce, reserving 1/3 cup for later.
5. Stir in optional lemon juice, salt, pepper, and optional herbamare all to taste. Finally, stir in the minced parsley and spoon into bowls.
6. Top the soup with croutons, Daiya cheese, remaining cheeze sauce, and smoked paprika.
[/print_this]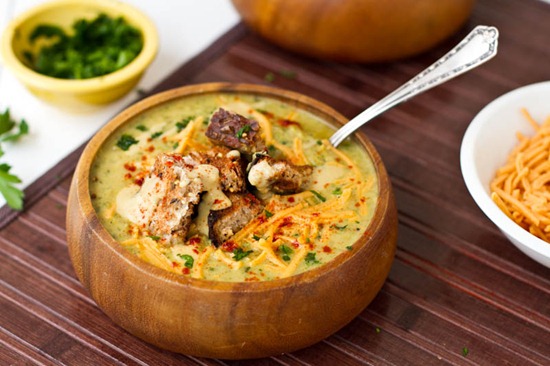 This soup was quite a lot of work, due to all the chopping. If you want to save time you can use a food processor or electric chopper to speed things up. Or maybe bribe your loved one to do it for you?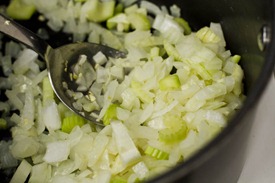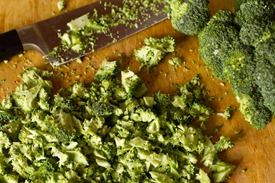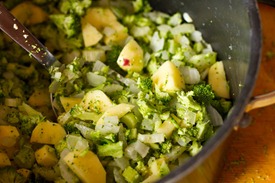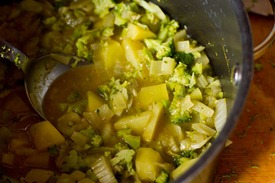 If you figure out how to do that, please let me know.
While the soup is simmering, make the cheeze sauce in a medium-sized saucepan. This sauce comes together in under 10 mins, so it's the perfect busy work while you are waiting for the soup.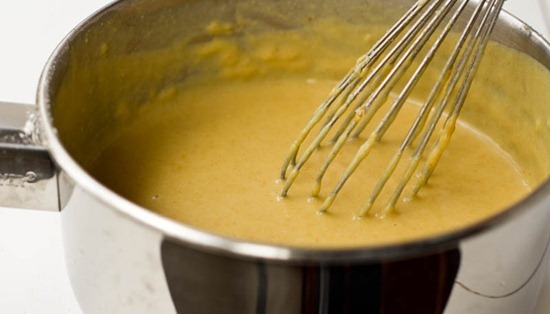 [print_this]
Low-Fat Vegan Cheeze Sauce (double batch)
Adapted from here. I basically just doubled my old recipe and added a couple extra spices.
Ingredients:
1.5 cup unsweetened, unflavoured almond milk
3/4 cup nutritional yeast
1 tbsp Earth Balance or other non-dairy buttery spread
2 tbsp all purpose flour
1 tbsp + 1 tsp Dijon mustard
1/2 tsp garlic powder
1/2 tsp onion powder
1/2 tsp kosher salt & freshly ground black pepper, to taste
1/4 tsp cayenne pepper
1. In a skillet or pot, melt the Earth Balance over medium heat.
2. In a medium sized bowl, whisk together the flour and 1/4 cup milk until all clumps are gone.
3. Whisk in the remaining milk (1.25 cups) as well as the milk and flour mixture into the pot. Now whisk in the nutritional yeast. Reduce heat to low-medium.
4. Add Dijon, garlic powder, onion powder, salt and pepper to taste and whisk frequently over low heat until the sauce thickens up, for 3-5 minutes. Be careful not to burn it. Remove from heat once thick.
[/print_this]
Set aside the cheeze sauce, and carefully transfer the soup in a blender in two batches (or just use an immersion blender!) and blend until almost smooth. I left it a bit chunky, but you can blend as much or as little as you wish.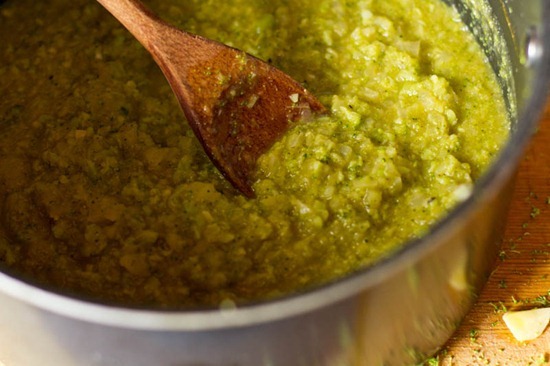 Now stir in the cheeze sauce, reserving 1/3 cup for later: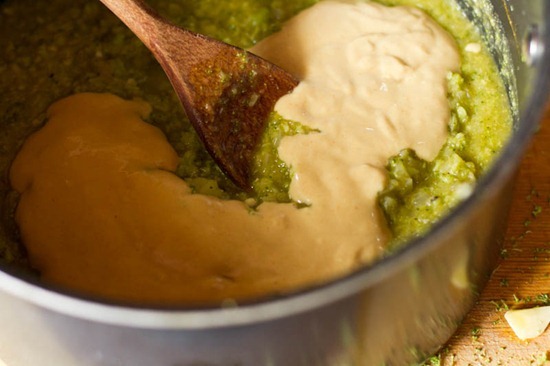 Now we're talking.
I also stirred in about 1/4 cup of Daiya cheese, but that is optional. Add the rest of the spices and seasonings to taste.
Serve with croutons, remaining cheeze sauce drizzled over top, a sprinkle of Daiya cheeze, and smoked paprika.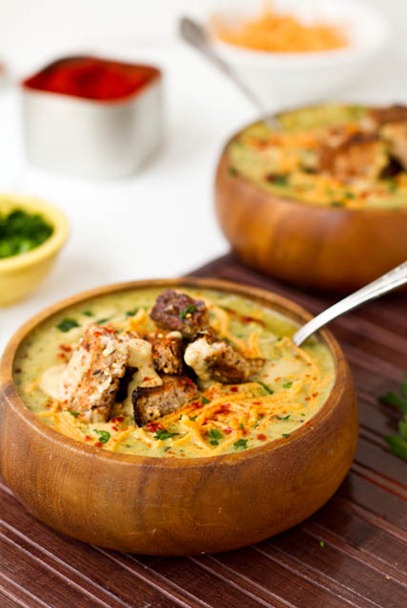 It's creamy, filling, and healthy while satisfying a major craving for comfort food. Sadly, it didn't last long…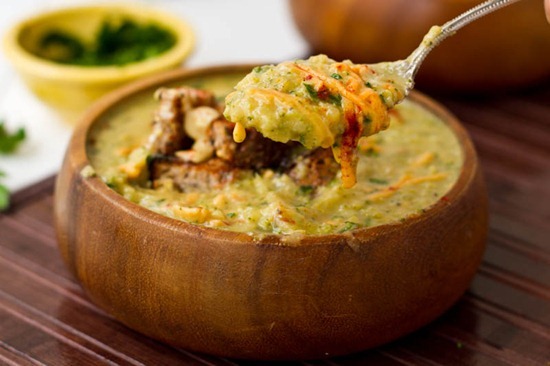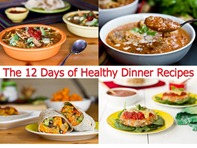 Previous 12 Days of Healthy Dinner Recipe posts:
1) Naughty & Nice Vegan Enchilada Casserole
2) Over The Rainbow Cabbage Salad with Tahini-Lemon Dressing
Recipage News
Many of you may know that I use (and love) Recipage, the recipe organizational system for bloggers. I wanted to pass along the exciting news that Recipage is now FREE for all users!
Want to see it in action? Check out my recipage and see how easy it is to search for ingredients, courses, and specific recipes.