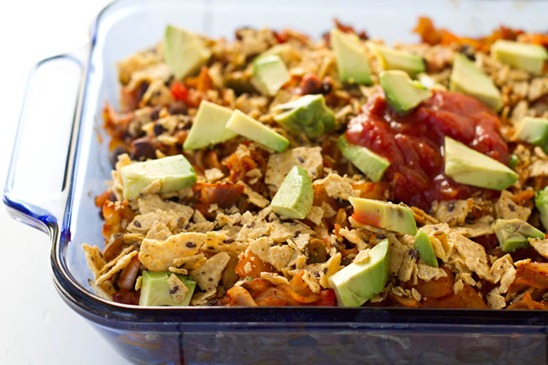 Welcome to Day 1 of the 12 Days of Healthy Dinner Recipes!
I'm excited to bring back the healthy meals over the holidays. Sometimes, I have to remind myself that the time I spend preparing dinner is redeemed with quick, effortless lunches in the days ahead. It all balances out in the end.
First up, is a delicious and versatile enchilada-inspired Mexican casserole that's packed with vegetables, healthy proteins, grains, and a kick of heat. It's pure comfort food, almost like wrapping yourself with a warm blanket by the fire. Or setting your blanket on fire, depending on how spicy you like it…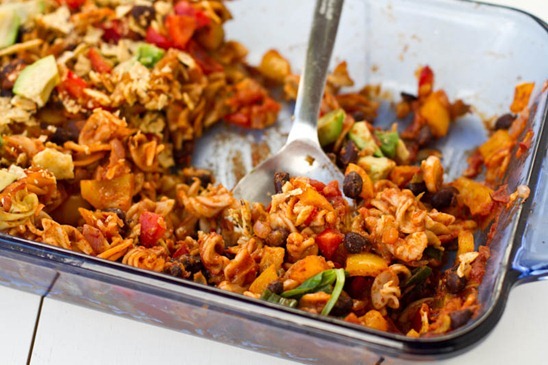 When we got back from our trip, Eric and I both found ourselves with a bit of a cold. You know the usual complaints this time of year- congestion, irritated throat, and dull headaches. It wasn't a full blown cold, but could've potentially turned into one without the proper TLC. I knew I had to put away the sweets for a few days and get back to home-cooked nutritious meals. Green Monsters too! Eating out is fun and all, but there's just something about a home cooked meal that feels amazing.
This dish was just what the doctor ordered. It's vibrant, healthy, spicy, and comforting, while still feeling a bit naughty. We can't be nice all the time.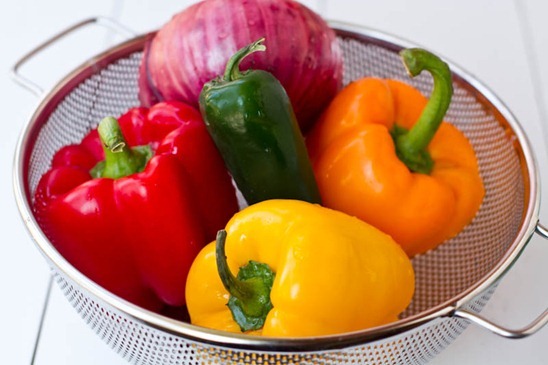 Have you ever tried a canned enchilada sauce and loved it? This was the first enchilada sauce that I've ever purchased (it took me 2 grocery stores to find too) and I was so put off by the taste I almost gagged! I'm not one to gag over many foods, so I'm not really sure what it was that offended my taste buds so much.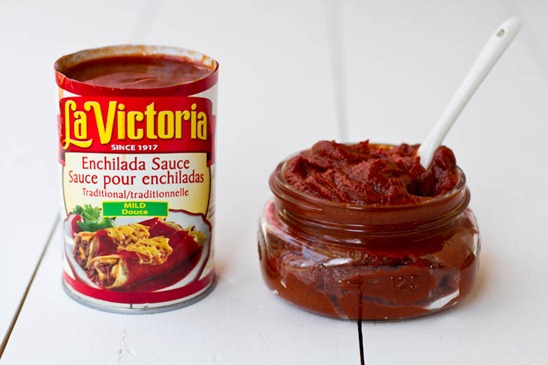 Thankfully, enchilada sauce is really easy to make and ready in about 15 minutes. Of course, if you do have a canned enchilada sauce that you enjoy, feel free to use that instead. Just use something that tastes good as it will serve as the base of the entire casserole.
I made my sauce thick, but feel free to thin it out with water as necessary depending on what you want to use it for.
[print_this]
Easy Enchilada Sauce
This enchilada sauce is very "tomato-y" with a nice kick of heat (which of course, is relative, so adjust to your own tastes). I made the sauce quite thick, but you can thin it out by adding more water if you like. To save a bit of time, make it the night before and then store in the fridge until ready to use.
Inspired by All Recipes.
Yield: 2 cups
Ingredients:
2 tbsp chili powder
1 tbsp flour
2 tbsp extra virgin olive oil
2 (8-oz) cans tomato paste
1 cup + 1/4 cup water (or more as desired)
1 tsp cumin
1/4 tsp cayenne powder
3/4 tsp garlic powder
1/2 tsp onion powder
salt & pepper, to taste
1. In a small bowl, whisk together the oil, flour, and chili powder until no clumps remain. Add this mixture into a pot over medium heat. Cook for a couple minutes.
2. In the same bowl you used previously, mix the cumin, cayenne, garlic powder, and onion powder. Whisk this into the pot mixture until no clumps remain and then whisk in the tomato paste and water. Whisk until smooth. Whisk, whisk, whisk…because I haven't said whisk enough apparently.
3. Simmer sauce on low-medium heat for about 10-15 minutes. Checking it every 5 mins and whisking.  Add salt to taste and adjust seasonings if desired.
[/print_this]
While the pasta is cooking, chop and sauté your vegetables and cook for about 5-10 mins.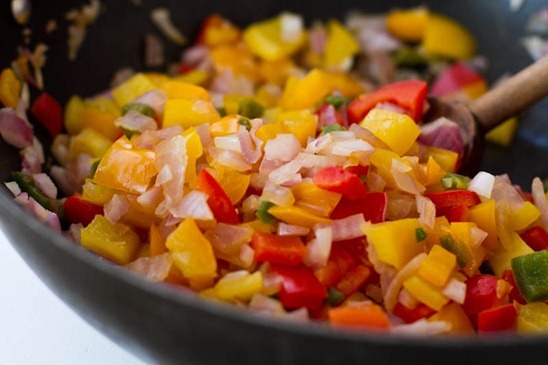 Now add half of the enchilada sauce (about 1 cup), taco seasoning, and drained & rinsed beans. The spicier you like it, the more taco seasoning you can add. I used a couple tablespoons of my homemade taco seasoning and it was quite spicy.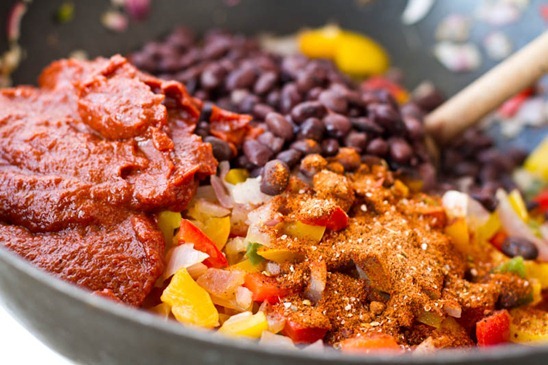 Stir it all up and taste test.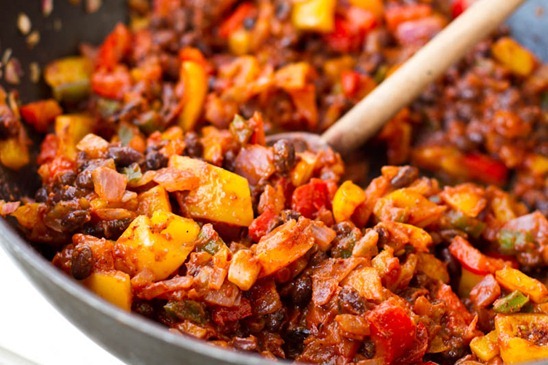 After cooking for 5 mins more, add in the chopped green onion and Daiya cheese.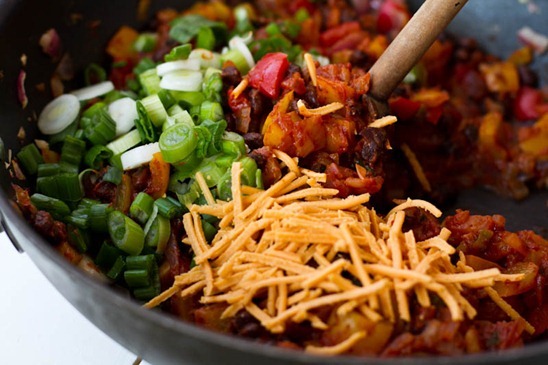 Spread 1/2 cup of enchilada sauce over the bottom of the dish. Stir in the cooked pasta really well and place into a 2 quart casserole dish.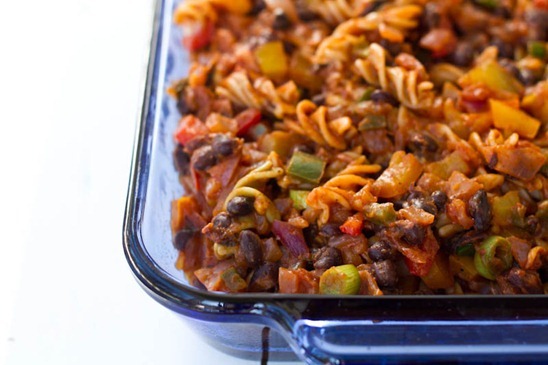 and for a little crunch…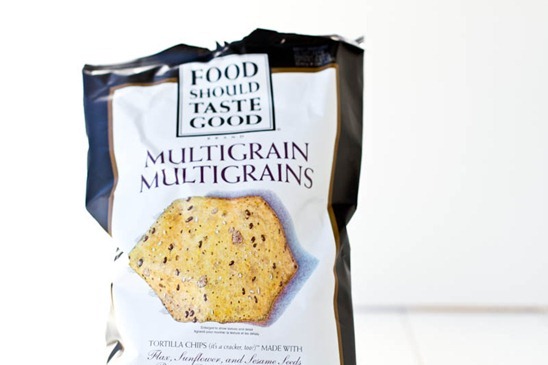 In a baggie, crush 2 handfuls of your fav nacho chips (about 20 chips):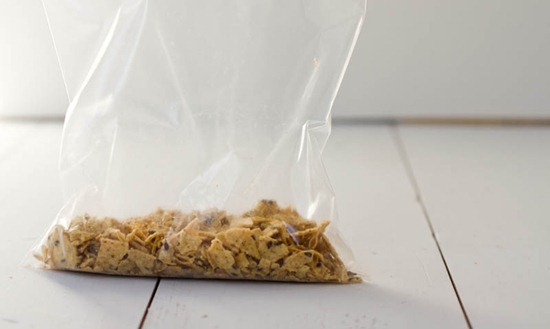 I recommend sprinkling on the crushed chips just before serving if you plan on having leftovers. The chips will get a bit soft while in the fridge so it's best to put them on right before serving.
Bake for about 15-20 mins at 350F until heated through. Sprinkle on chips.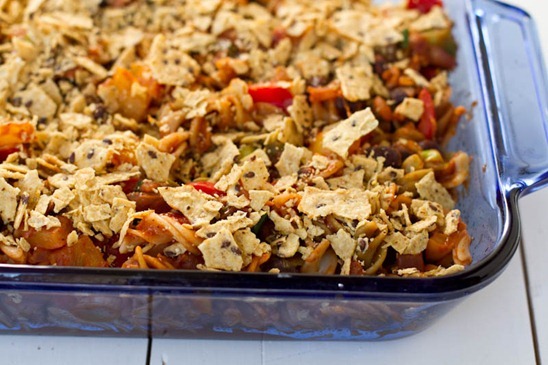 Top with avocado, salsa, sour cream….whatever tickles your fancy!
Serve with a big green salad and tortilla chips. Pretend you are on a beach in Mexico.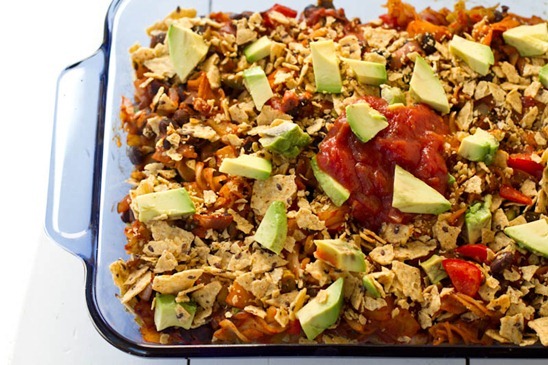 [print_this]
Naughty & Nice Vegan Enchilada Casserole
Eric summed it up quite well when he said, "If a restaurant near my work served something like this, I would eat it everyday." I love that man.
Inspired by: Better Home & Gardens
Yield: One (2-quart) casserole
Ingredients:
8-ounces dry fusilli pasta (3.5 cups dry noodles or half a 16-oz package)*
1 tsp olive oil
1 red onion, chopped
1 medium jalapeno pepper, seeded and chopped*
3 bell peppers (I used 1 red, 1 orange, and 1 yellow), chopped
1-3 tbsp taco seasoning mix (I used my homemade taco seasoning), to taste
1 can black beans (or 2 cups cooked), drained and rinsed
1.5-2 cups homemade enchilada sauce (see above, or use store-bought)
1/3-1/2 cup Daiya cheese (or other non-dairy cheese)
1 cup chopped green onions
salt & pepper, to taste
20 tortilla chips (about 2 handfuls), crushed
Avocado, salsa, sour cream, etc, to garnish
1. Preheat oven to 350F and grab a 2-quart casserole dish. Add dry pasta to a pot of boiling water and cook for 7-8 minutes. Be careful not to overcook the pasta or it will get mushy in the casserole. Drain and rinse with cold water to stop the cooking process.
2. In a large skillet, sauté the chopped onion, jalapeno, and peppers in the olive oil over medium heat for about 7-8 mins.
3. Add the taco seasoning, drained and rinsed black beans, and 1 cup of the enchilada sauce. Stir well and cook for another 5 mins.
4. Stir in the cheese, pasta, and chopped green onion. Season with salt and pepper to taste and adjust seasonings if necessary.
5. Spread 1/2 cup of enchilada sauce over the bottom of the casserole dish. Scoop on the skillet mixture and spread out evenly. Spoon on the rest of the sauce on top and sprinkle with cheese.
6. Bake for 15-20 mins at 350F until heated through. Sprinkle with crushed nacho chips, chopped avocado, salsa, and sour cream if desired just before serving. Serve with a big green salad and nacho chips.
Note 1: Be sure not to handle the jalapeno seeds as they can make your fingers (and anything you touch) sting badly. You can also wear plastic gloves too.
Note: Want a burrito filling and not a casserole? Try subbing the pasta for brown rice.
[/print_this]
What I love about this casserole is how versatile it is!
Here are a few different ways you can enjoy it:
Leave out the pasta and use it as a burrito filler
Spoon the warm casserole over a big salad as a sneaky way to get in more greens
Make a quick, rushing-out-the-door, breakfast wrap
Use brown or wild rice instead of pasta, or other grain of choice to change it up
Add more Daiya cheese (maybe another 1/2 cup), leave out the pasta, and use the mixture as a hot dip for nacho chips!!! It could potentially make quite the party dip with a few changes.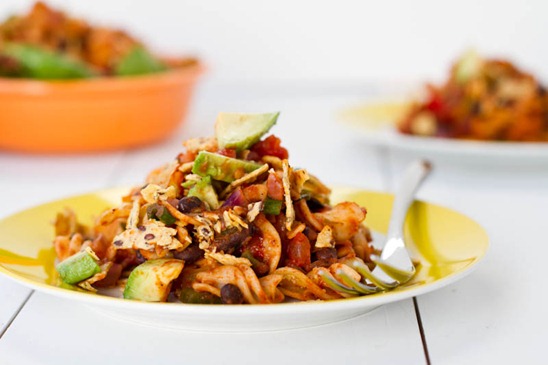 Sinuses clear.
Belly content.
Cold be gone.
Lunch today…