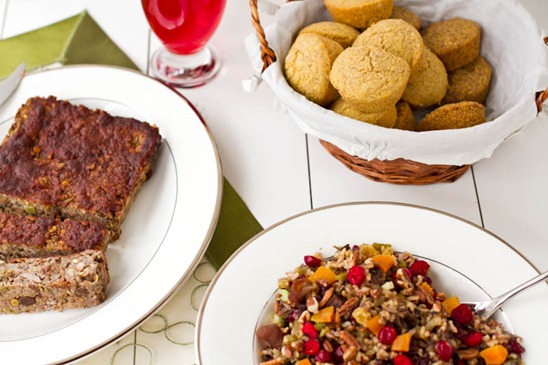 One of my frequently asked questions around this time of the year is always, "What vegan recipes can I make for my upcoming holiday meals that will impress the skeptics?"
Eating vegetarian, vegan, or other special diet can be challenging, especially around the holidays. It doesn't help matters when "Uncle Joe" is ranting and raving about the lack of turkey on your plate either! Obviously, many traditional holiday foods are based around animal products, but that doesn't mean that you have to eat dry lettuce all weekend. Even if you are a meat eater, you can still bring along a vegan dish to impress your family as well. And who knows, once you get your feet wet, you just might find yourself hosting your very own vegan holiday dinner!
When I first became a vegan in 2009, I told my family that I'd love to bring a couple vegan dishes to contribute. Not only is the host/hostess usually eager to have help, but it assures me that I won't go hungry during a meal that should be fun and celebratory. It also lets the cook know that I don't expect them to spend hours trying to figure out what to make me. Plus, it's always fun for me to surprise others with just how delicious vegan recipes can be. Well two years and many vegan recipes later, they aren't so surprised anymore, but I guess that's a good thing.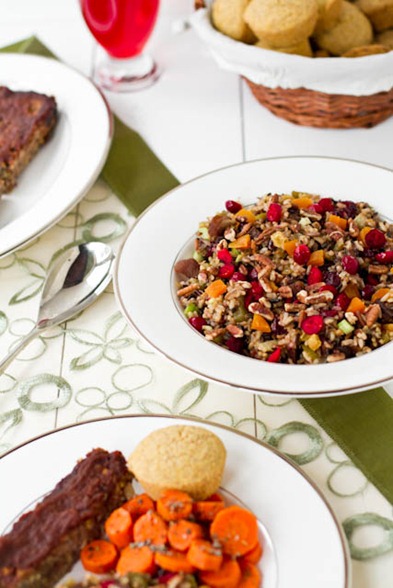 On Sundays, I love to cook a big hearty meal and this is even more true during Fall and Winter as the temperatures drop and the evenings darken. This weekend, I used Sunday's meal to try a new holiday recipe that I could share with you. The recipe is a stunning rice pilaf that would make a great addition to any holiday meal. My inspiration came from a "wild rice stuffing" recipe in Bon Appetit, but I don't like to call it stuffing because 1) it's more like a hearty rice pilaf, and 2) I'm not stuffing anything, unless of course you count stuffing this dish in my pie hole. Yes, come to think of it I did a lot of stuffing this weekend.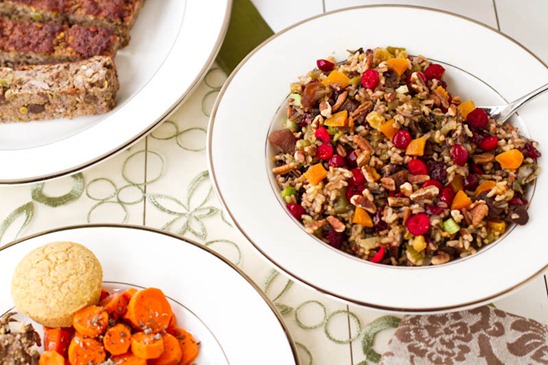 I've never made a rice pilaf quite like this. It's luxurious tasting while being deceptively healthy and low in oil. The dish only uses 1 tablespoon of olive oil, yet tastes incredibly rich and buttery. Not to mention, it's packed with antioxidants and other nutrients including cranberries, dried apricots, pecans, and more.
I've been looking for a dish like this that I could make for my own holiday dinner and I'm happy to report that I will certainly be making this again at Christmas! I hope you enjoy it too.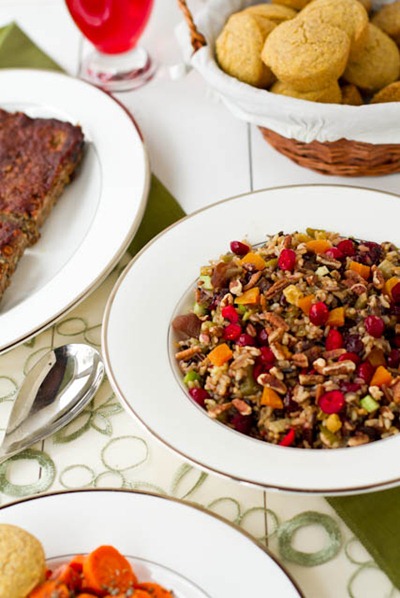 Cranberry, Apricot and Pecan Wild Rice Pilaf (GF + vegan)
Stuffing need not apply, this wild rice pilaf is a show stopper! Bring to your holiday dinner to dazzle and impress the toughest critics. The beauty of this dish is that it looks like it is much more time-consuming than it really is. The addition of fresh cranberries adds a very light tartness to the dish that balances out the sweetness from the dried fruit very well. It can also be made a day in advance to help save you time. If making in advance, be sure to leave out the pecans until just before serving and reheat in the skillet.
Inspired by Bon Appetit
Yield: 4.5-5 cups
Ingredients:
1 tbsp extra virgin olive oil
1.5 cups chopped celery + 1/2 cup, divided
1 heaping cup chopped sweet onion
2 garlic cloves, minced
1 & 1/2 cups uncooked wild rice
2 cups vegetable broth (be sure to use gluten-free if required)
1 & 1/2 cup water
1 bay leaf
3/4-1 tsp kosher salt (or to taste) + black pepper as desired
3/4 cup pecans, chopped
1/2 cup dried cranberries
1/3 cup dried apricots, chopped
1/4 cup golden raisins
1/2 cup fresh cranberries, thinly sliced
1. Preheat oven to 325F and toast the pecans for about 7-8 minutes. Remove and set aside.
2. Sautee onion, oil, and garlic in a skillet over medium-low heat for about 5 minutes, stirring often. Add 1.5 cups chopped celery and cook for another 5-7 minutes.
3. Add wild rice, broth, bay leaf, and water. Bring to a boil and reduce heat to low-medium and then cover with lid. Simmer for 30 minutes, stirring once half way through.
4. After 30 minutes, uncover, stir, and continue cooking for 20-30 minutes until the liquid is absorbed and rice is tender. Note that wild rice cooking times can vary a lot so keep an eye on it so it doesn't burn.
5. Remove bay leaf and stir in the dried fruit. Season to taste and stir in the sliced fresh cranberries and 1/2 cup chopped raw celery. Stir in toasted pecans.
Note: Dish can be made 1 day in advance. Do not add pecans until just before serving. Allow to cool then place in an air tight container in the fridge. Reheat in a skillet just before serving and stir in pecans.
I served dinner with my Ultimate Vegan Lentil Walnut Loaf, steamed carrots (mixed with a bit of Earth Balance, Herbamare, pepper, and sage), maple cornbread muffins (working on the recipe), and High Protein Garlic Mashed Potatoes with Vegan Gravy.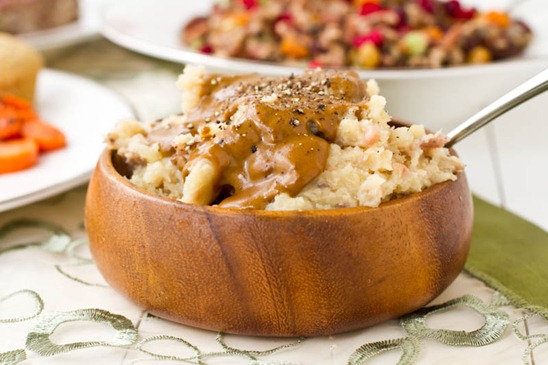 I also finally perfected my Vegan Pumpkin Pie recipe last week after working on it since late September. Oh, it's good and well worth the wait. :)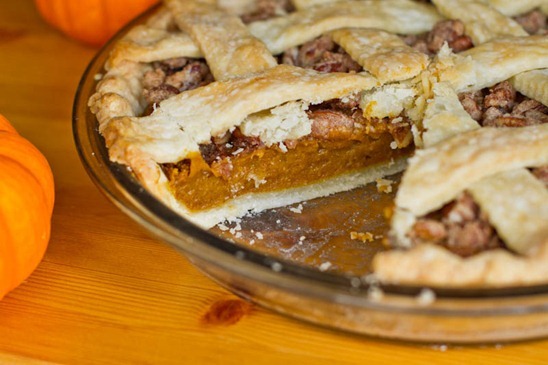 I will share this recipe soon, complete with a step-by-step tutorial on making a perfect lattice pie crust.
Need less to say, we're going to eat very well this week. Anyone want to come over for leftovers?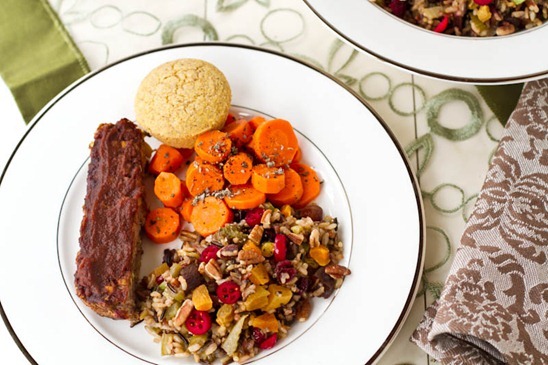 Looking for other ideas?
This Ain't Grandmas Sweet Potato Casserole is one of my favs (this picture does not do it justice). You can prepare it (without cooking) the day before (and place in the fridge), bring to room temperature, and cook it 45 mins before dinner is served.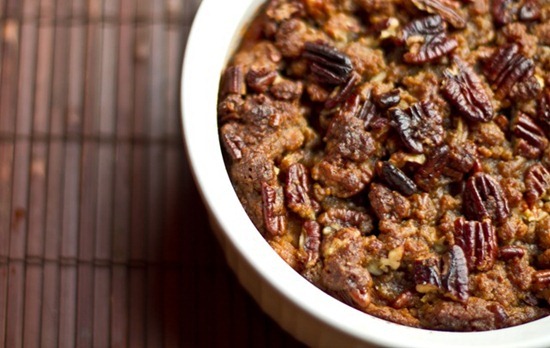 Brownie Pumpkin Pie with a Crunchy Pecan Streusel Topping is very well-reviewed too.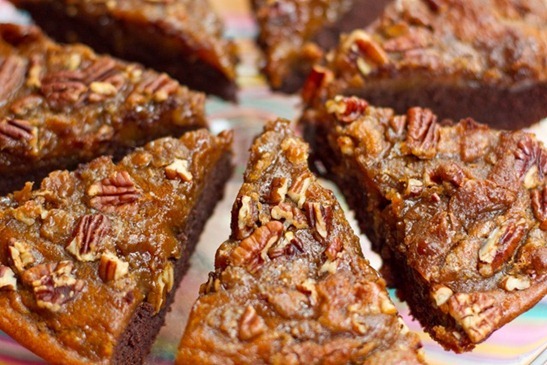 Now hopefully you can keep your cool, have fun, and give thanks for all your blessings this holiday season.
Stay tuned for a few more holiday dishes coming up! In addition to the pie recipe, I have a few other things planned (maybe a festive harvest salad, a drink, and another fruity side dish) so hopefully they turn out!
What is your biggest hurdle with holiday dinners? Eating healthy? Being veg or gluten-free, etc? Getting along with "Uncle Joe"?