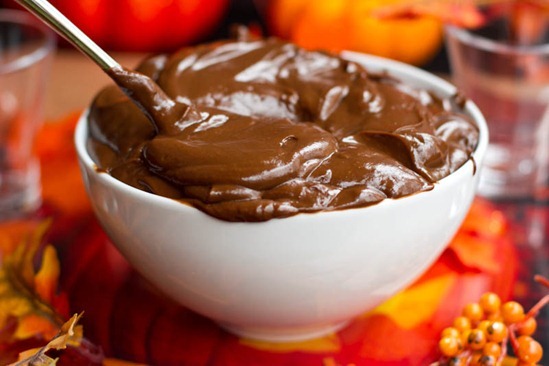 Every Halloween I have grand plans to make "scary" Halloween food.
This year, I have my eye on:
I'm all over the scary food right now.
[P.S. – Kitty litter cake? Really? I might barf. times ten.]
Anyway, I dream about all the scary food I'll make and then it occurs to me that I really just want chocolate in mass quantities.
I don't care if it scares me, in fact, I doubt chocolate could. Well, unless it's shaped like poo or even worse, in a litter box. That's pretty scary. The same goes for Eric playing Christmas music a week before Halloween.
Sigh.
Give me luxurious chocolate, Green Monster shots, "scary" Dollarstore decorations,  and a couple easy, no-bake recipes?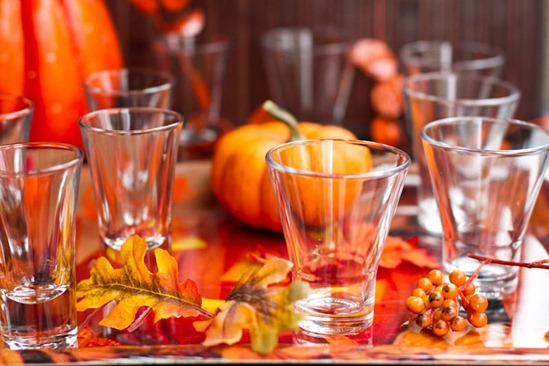 I can do that.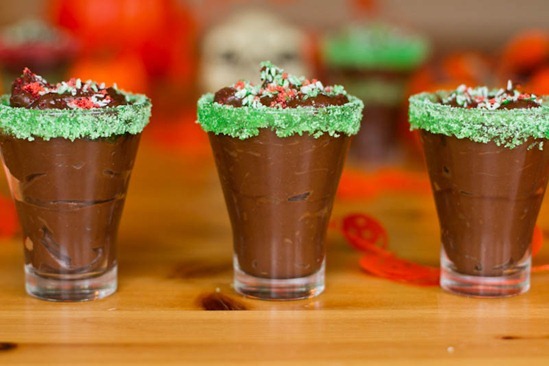 [print_this]
Vegan Double Chocolate Pudding Cups
1 batch of my favourite vegan pudding (or double it if you need more)
Shot glasses or parfait glasses
Natural cane sugar
Food coloring (the Wilton ones I have are vegan)
Coconut/chia seeds, to garnish (optional)
1. With a food processor, make the vegan pudding.
2. To make coloured sugar, add about 1/4 cup of sugar into a bowl. Now add about 5-6 drops of your desired colour. Mix well with a spoon or hands until combined (I put gloves on to avoid staining).
3. To rim glass, dip end into water and then dip into the coloured sugar mixture. Twist glass until coated evenly.
4. Add pudding and top with coconut and coloured sugar.
[/print_this]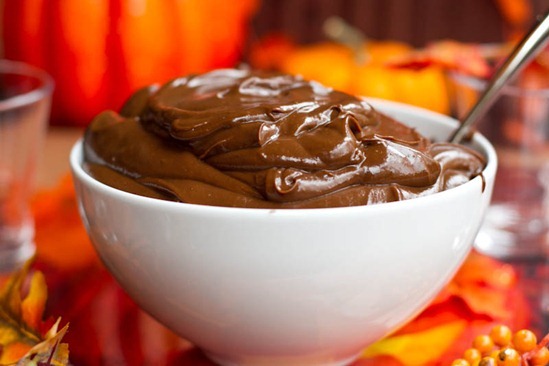 Man, I love this pudding. This is an example of avocado in a dessert that works!
See, scary?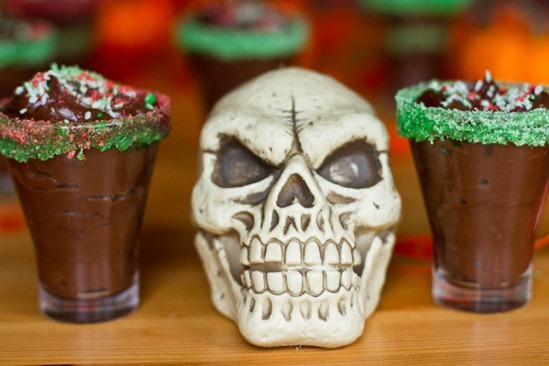 Oh my what nice eyes you have…
And because I'm all about balance, something GREEN!
A Green Monster on Halloween, how appropriate.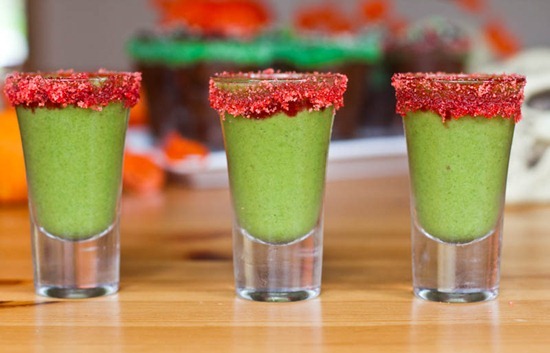 [Please avoid the glaring obvious that these look like Christmas shots instead of Halloween. I blame Eric playing Christmas music.]
Mini Green Monster Shots
Made extra sweet for Halloween!
Yield: ~2.5 cups
Ingredients:
3 frozen bananas (peel before freezing)
1 cup almond milk
1-2 cups spinach
chia seeds, if desired
ice, if desired
1. Chill shot glasses in freezer. Throw ingredients into a blender and blend until smooth. Rim with sugar (as explained above) and fill with green monster smoothie.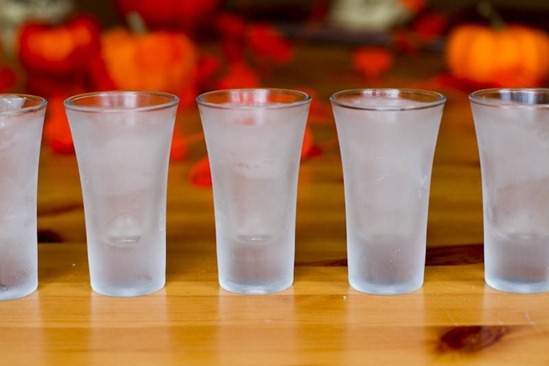 Get this. I chilled the shot glasses in the freezer beforehand. DO IT!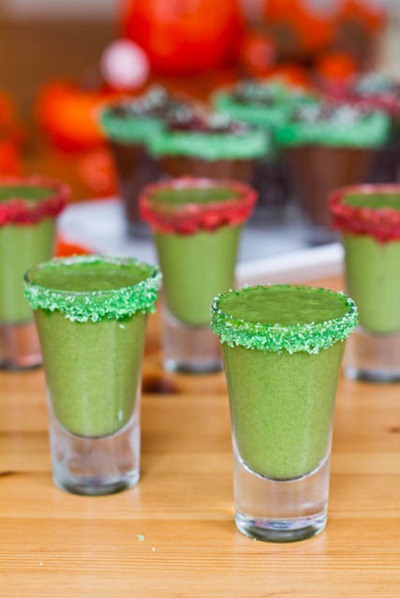 Get what else. I discovered I could make my own coloured sugar.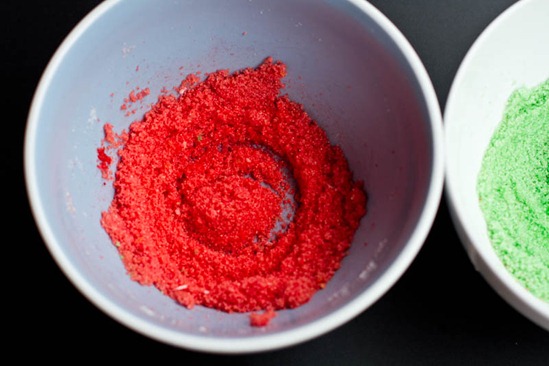 All you do is add food colouring drops to the sugar and mix well until combined. Instant coloured sugar! How did I not know this?
This is supposed to be orange, but clearly the colour wheel is not my forte.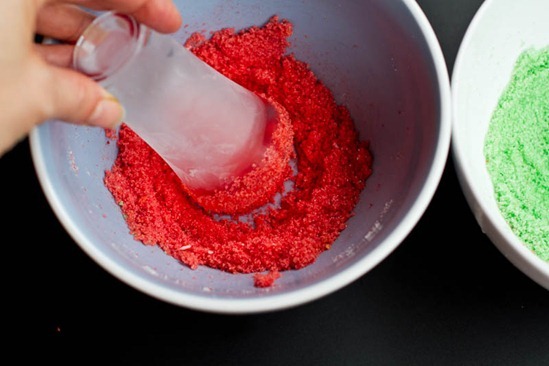 Dip the glass in water and twist around the sugar mixture until evenly coated. Or something.
This would be fun for kids!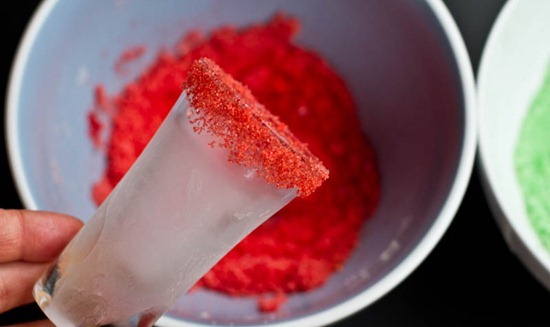 You know what kids would love even more?
Drinking something called a Green Monster, made extra sweet just for Halloween.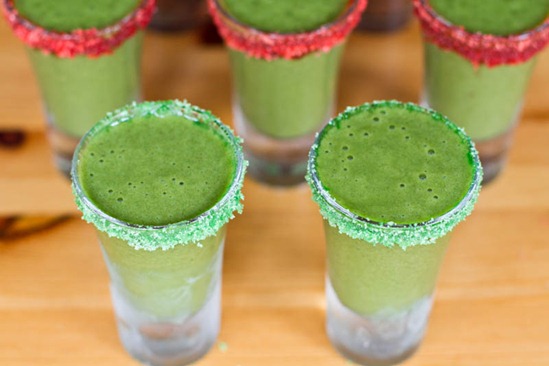 Yup, I totally slammed 5 shots in a row after this photoshoot. Hard core, I know.
So there you have it, two no-bake vegan Halloween recipes that won't take up too much of your time.
Now you can plan that costume you've put off all week, or maybe that's just me.
Help?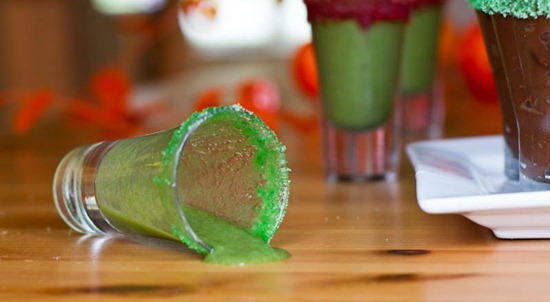 Bottoms up!
~~~

Sorry for the major delay, but the winner of the cookbook giveaway is #642- Katie L. Congrats! Katie wrote, "Hey Angela!! I love your recipes, I make them on a weekly basis (this week I made pumpkin pie brownies and pumpkin gingerbread)! This book looks great! Thanks for showing me how to make great vegan food!"
Thanks for participating!