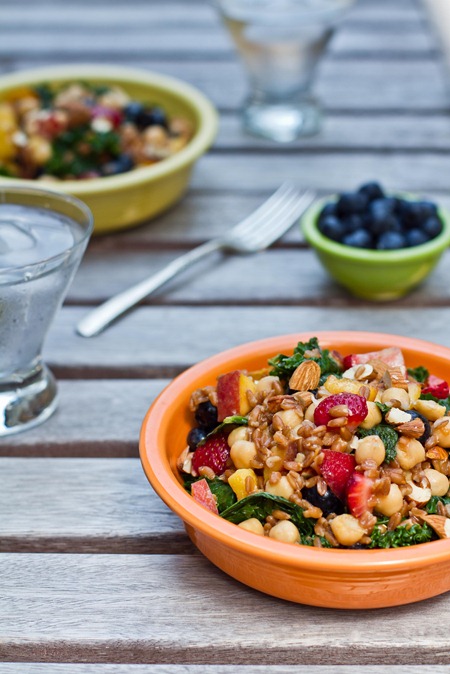 Welcome to the Heat Wave of 2011. Are you melting too?
Today it's supposed to reach 38C (100F)…and 47C with humidity! Humidity is such a party pooper. Anyone who lives in a humid climate knows what I'm talking about.
And the hair.
Oh my hair.
Just picture a tumbleweed in the Sahara that got struck by lightening and then jumped in a puddle.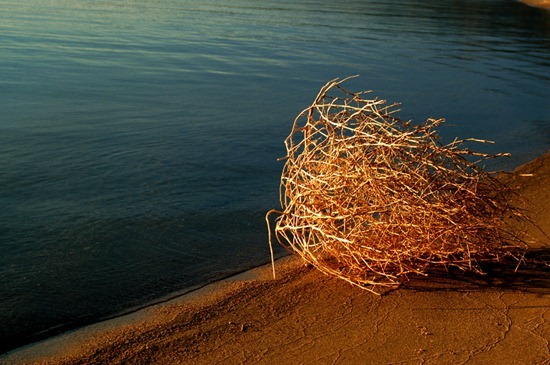 [source]
That's my hair right now.
Sketchie did this when he saw me this morning. ahhh!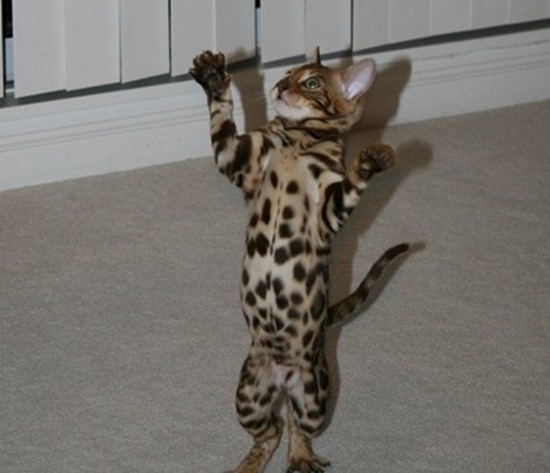 Thankfully, summer salads always look composed and pulled together no matter how hot it is. I love to grab some seasonal fresh fruit (or vegetables), greens, protein & grains, and mix it up with a homemade dressing. Presto magico.
Serving it with a huge margarita is highly encouraged.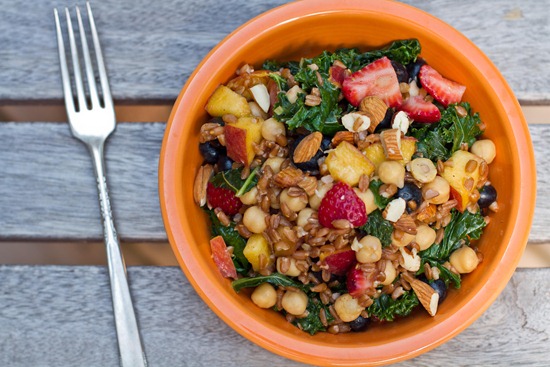 [print_this]
Heat Wave Summer Salad
Yield: 4 servings
Salad:
1 cup uncooked Speltberries (or wheatberries or other grain- makes 2 cups cooked)
1 15-oz can chickpeas (or 1.5-2 cups cooked chickpeas or other bean)
2 cups chopped peaches
1 cup strawberries, hulled and sliced
1 cup blueberries
4-5 cups raw kale (or other green)
1/2 cup almonds, chopped
Salt, pepper, and cinnamon, to taste
Dressing:
1/4 cup Apple Cider Vinegar
1.5-2 tbsp pure maple syrup, to taste
1 tsp olive oil
1 tsp Dijon mustard
1/4-1/2 tsp cinnamon, to taste
1/4-1/2 tsp kosher salt, to taste
1. Cook one cup of dry speltberries (or wheatberries) in a pot with 3 cups water until tender (about 25-30 mins). Drain and place in large bowl with drained and rinsed chickpeas.
2. Meanwhile, sauté the kale leaves until tender. Chop the almonds, berries, and peaches. Place in bowl with chickpeas and speltberries.
3. Whisk together the dressing ingredients and adjust to taste. You may need more maple syrup or oil to suit your own taste buds. I like my dressing tangy! Pour dressing over salad and mix well. Serve at room temperature or chilled. Serves 4.
[/print_this]
After mixing together the chickpeas, speltberries, peaches, and berries…I felt something was missing…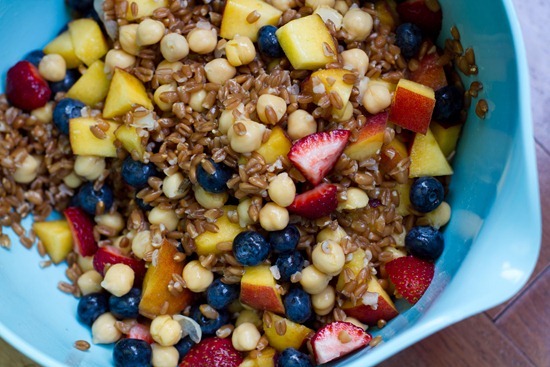 Sautéed garden kale and chopped almonds did the trick. :) Of course, you can get creative with whatever you have on hand. There are no rules with salad making.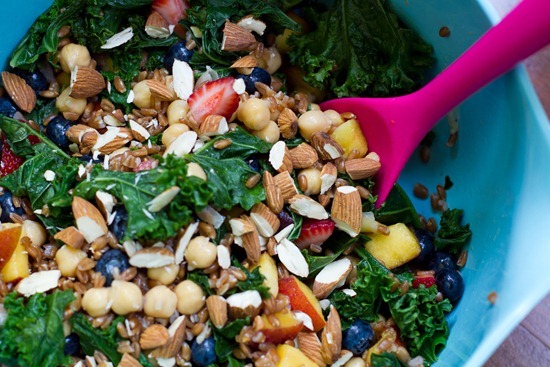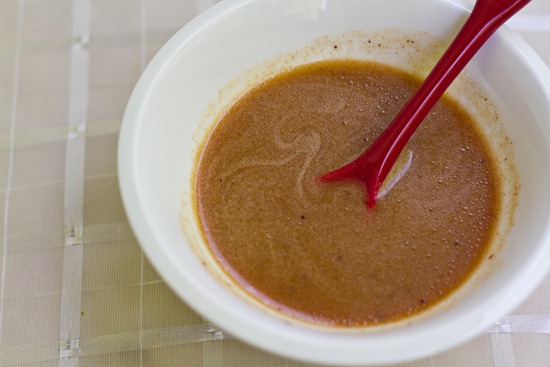 After mixing the Cinnamon Maple dressing, it all came together. Delicious and quite refreshing thanks to the summer fruit.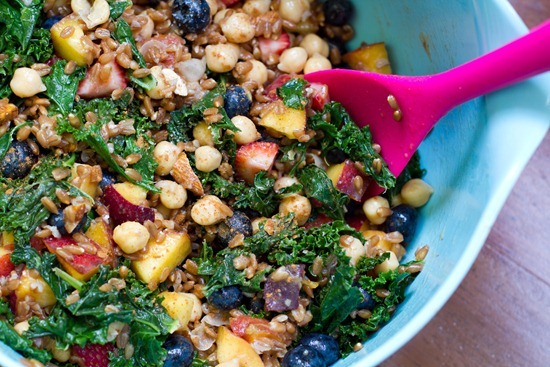 Ange = 1, Humidity = 647575
Hopefully kiddie pools don't melt.