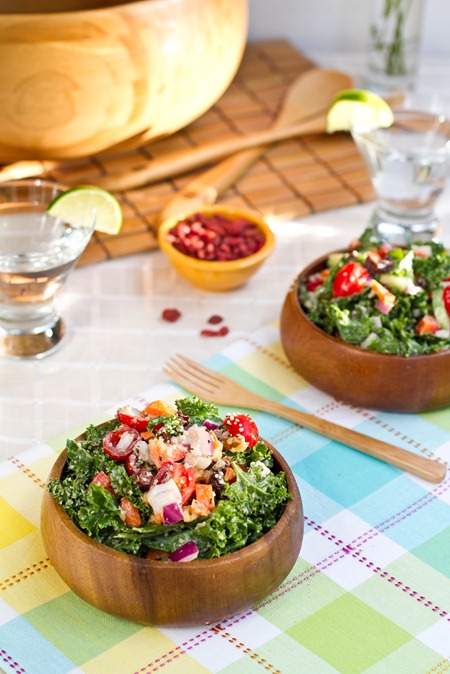 Confession: I used to hate eating raw kale.
In fact, raw kale was the bane of my existence!
The only way I could bring myself to eat raw kale was if I put it in a Green Monster, and even then it was always quite bitter. Or I would bake kale chips and cook them so long that you couldn't even tell it was kale.
But then I learned a couple secrets to preparing raw kale and I never looked back. And it's a good thing because I have 20 kale plants growing in the garden right now!
My 3 tips for preparing raw kale:
1. Remove the stems when you plan on eating it raw (and some people remove the stems for cooking too-it's personal preference). The stems are the bitter part of the plant. I used to always use the stems and wonder why my kale salads tasted ridiculously bitter. Now I just use the leaves and it always turns out wonderful to the palate.
2. Massage the dressing into the leaves and let it 'marinate' for at least 10-15 minutes. A kale salad tastes best when the dressing has had a chance to soak into the leaves. This also helps soften the leaves which is especially important if you are using the curly variety. You don't want it scratching your throat!
3. If you really don't like curly kale, try Dinosaur (Lacinato) kale as it is less bitter.
When I started using these simple tricks, my kale salads went from bitter and hard to swallow to mind-blowing delicious!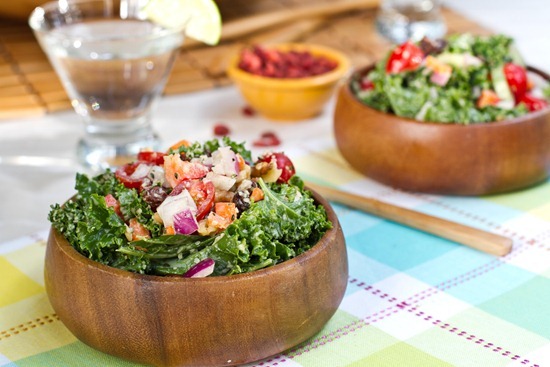 Kale is said to be a 'beauty' vegetable because it improves skin tone, complexion, and gives you a great glow.
It's also just as beautiful for your insides too!
Kale is rich in:
Vitamin K
Vitamin A
Vitamin C
Manganese
Fibre
Copper
Tryptophan
Calcium
B6
Potassium
Folate
and more!
My goal for last night's salad was to create a 'weekend glow' kale salad. I always love to feel my best on the weekend, but sometimes too much alcohol and desserts don't always leave me feeling great come Sunday evening. This kale salad brings a nice balance to the weekend and gives an extra kick to your step!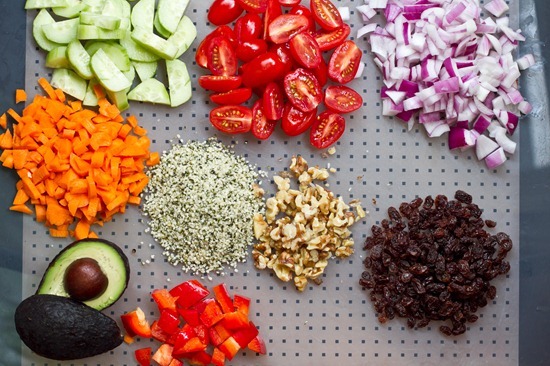 To make this salad, I gathered some superfoods:
Cucumber (great for skin!)
Grape tomatoes
Red onion
Raisins & goji berries (antioxidants)
Walnuts (Rich in omega 3 fatty acids)
Hemp Seeds (high in protein)
Carrot (great for eyes and skin)
Avocado
Red Pepper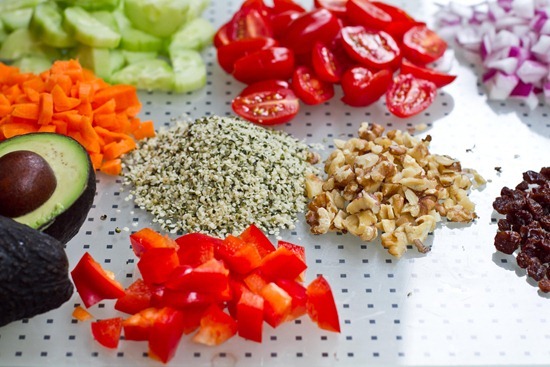 Next, I made the dressing using my favourite tahini-lemon dressing from my Lightened Up Protein Power Goddess Bowl. This dressing is addicting! It has such a nice kick to it.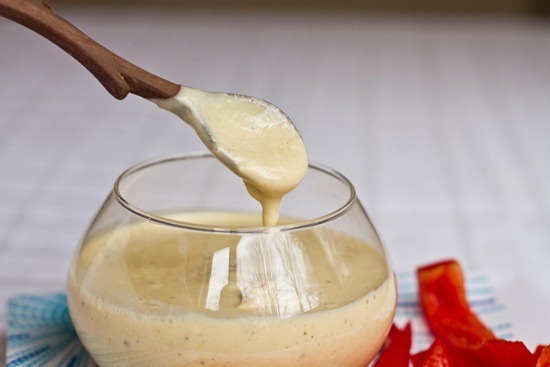 Then, I used about half of a large head of kale, tore the leaves off, rinsed, and dried it in my salad spinner.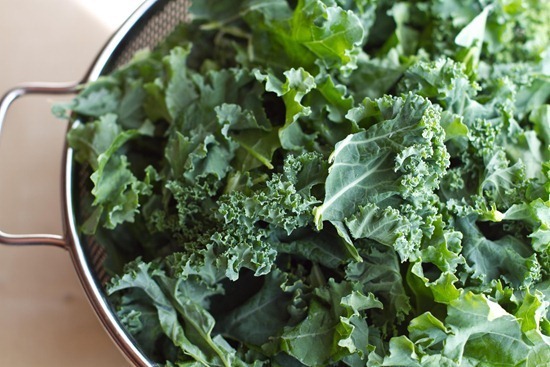 Finally, I mixed everything together in a large bowl and let the dressing 'marinate' for about 15 minutes in the fridge. It tastes great as soon as you mix it, but it will taste even better after sitting!! Just before serving, I sprinkled on the rest of the hemp seeds and walnuts. The seeds and nuts are really key to this salad because they add protein and healthy fats, along with a great crunchy texture.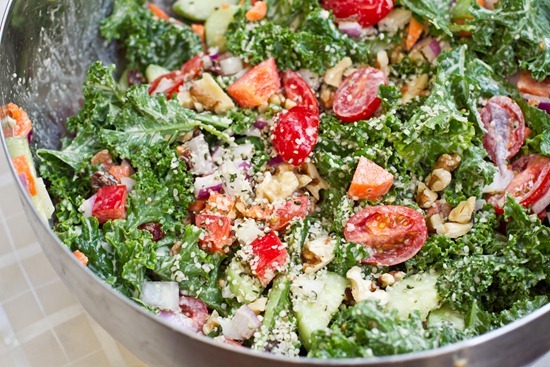 I was a bit shocked because this was the best salad I think I've ever made, kale or otherwise. Even more shockingly, Eric inhaled this salad! When you can get a man to enjoy a kale salad, you know that you have hit the jackpot.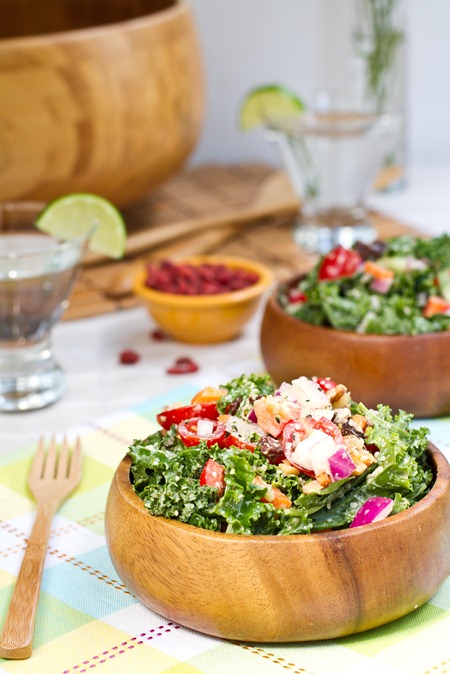 [print_this]
Weekend Glow Kale Salad
Yield: 4 servings
Ingredients:
1/2 large head of kale (about 4-6 cups)
1 cup finely chopped red onion
1/2 red bell pepper
1/2-3/4 cup chopped carrot (2 small carrots)
1 English cucumber (2 cups chopped halves)
1 avocado, chopped
1 & 1/4 cup chopped grape tomatoes (or other variety)
1/2 cup mixed raisins and Goji berries
1/4 cup hemp seed
1/3 cup chopped walnuts
Dressing: 1 batch of Lightened Up tahini-Lemon Dressing (<—click for recipe)
Your desired fresh or dried herbs
Directions:
1. Chop vegetables and mix in a large mixing bowl. Reserve hemp seed and walnuts for sprinkling on top.
2. Make your Lightened Up tahini-Lemon Dressing in a food processor and process until smooth.
3. Tear the leaves off of the kale and rip into bite-sized pieces. Wash and dry kale leaves.
4. Mix the vegetables, kale leaves, and full batch of dressing (3/4-1 cup) in large bowl until thoroughly combined.
5. Place in fridge to 'marinate' for 10-15 minutes. Serves 4. Keeps in fridge in a sealed container for 1 day.
[/print_this]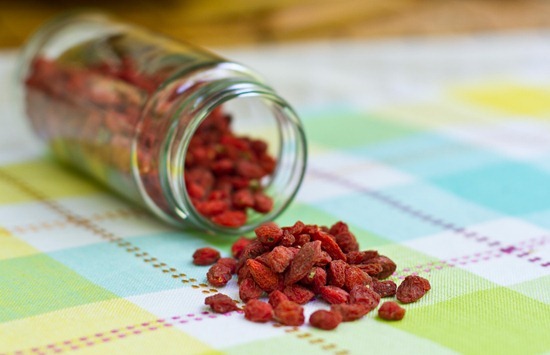 I picked up some Goji Berries at Bulk Barn for some extra superfood power. Goji berries are very high in Vitamin C and antioxidants. I forgot how much I LOVE Goji berries! They are like an earthier and less sweet raisin. At first I wasn't a big fan of them, but once I got used to the taste I fell in love with them.
Eric said if you covered them in sugar they would taste just like sour patch kids!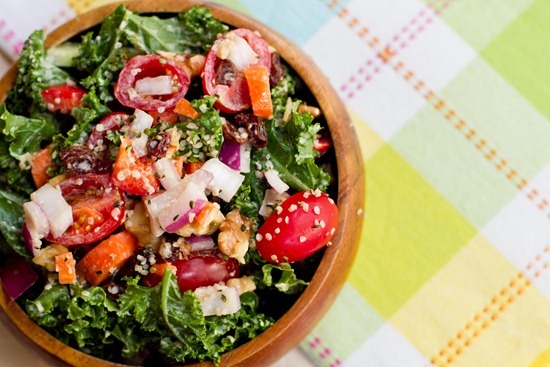 I encourage you to try out this salad if you are a kale skeptic. It completely changed how I think about eating raw kale.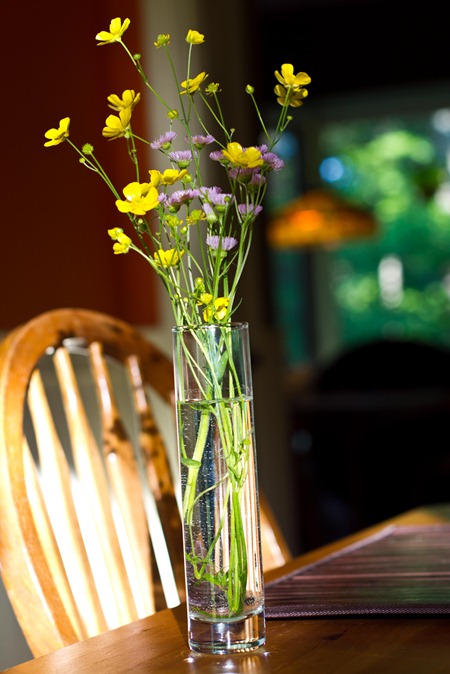 Here's to a glowing weekend.