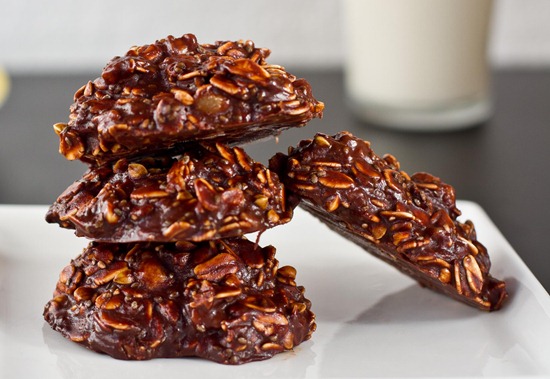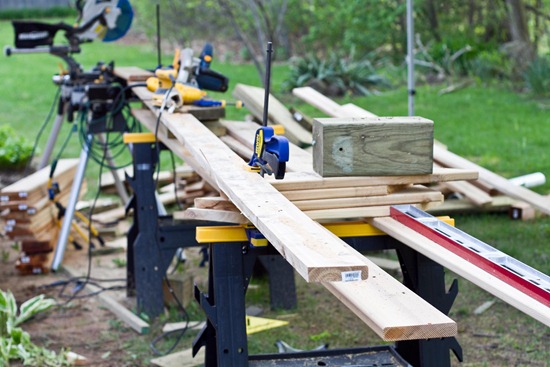 We took advantage of the gorgeous weather last night and did some more deck work and gardening.
I like to leave Eric some words of encouragement on the scrap wood. ;)
My plants seem to be adjusting well to the transplant!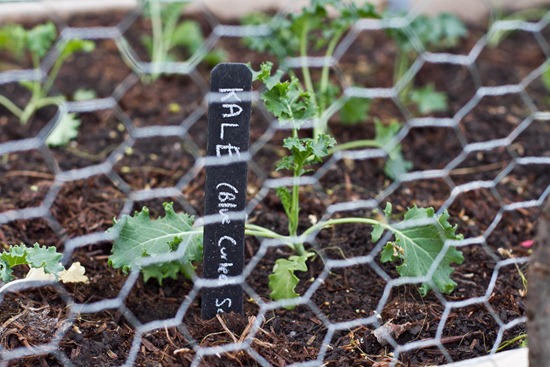 Some of the plants look like they have already grown an inch! The bell peppers seem to be sprouting up especially fast. I water them in the morning around 7am.
Sometimes there is singing involved.
Sometimes there is story telling involved. The spinach and kale already know their destiny (green monsters and kale chips).
I put 3 foot high chicken wire around both beds to hopefully keep out the bunnies, deer, etc. I can unhook it and open it up when I need to.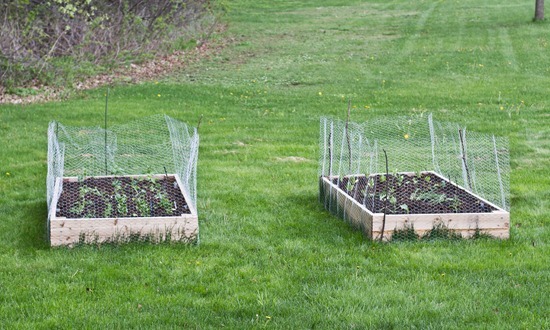 Hopefully it helps…(but I think if an animal really wanted to get in there, it could!)
Tonight, I'm going to buy some larger pots (mine are too small) and a trellis or two and get that all set up.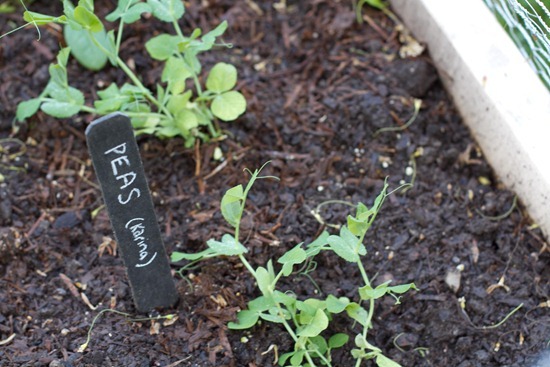 When I came in last night, I was craving chocolate like mad.
I'm definitely the 'typical female' who gets intense chocolate cravings from time to time and nothing else can satisfy me until I have my fix. Normally, I just eat chocolate chips straight out of the bag (and end up eating way too many!), but last night I wanted to come up with a healthier fix for my chocolate cravings.
I instantly thought of my Frosty No Bake Glo Cakes that I enjoyed so much last summer. I figured that I could take this recipe and make it into a chocolaty version!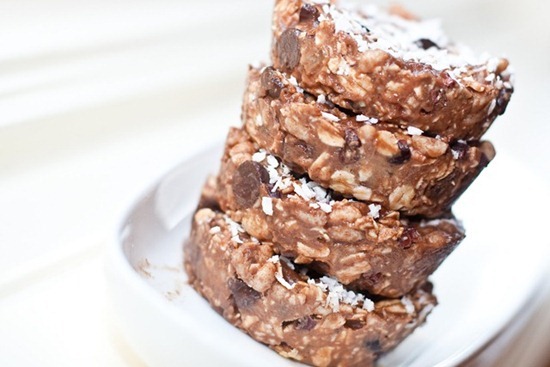 In just 5 minutes of prep work, I had these intensely chocolaty cookies in the freezer just waiting to be enjoyed!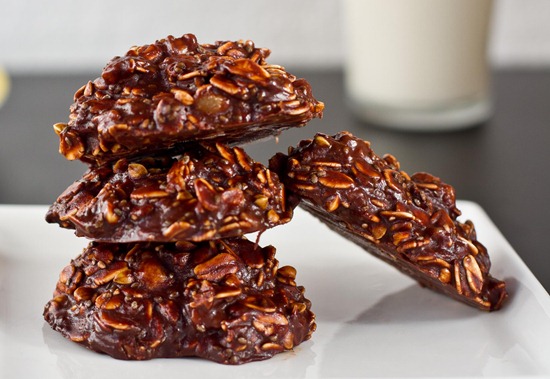 They are super creamy, chocolaty, slightly sweet, chewy, pillowy (thanks to the banana) and a bit doughy. And the ingredient list and nutritional profile is quite impressive too.
Even when in the freezer overnight, they don't firm up solid- they remain chewy, which means you can enjoy them anytime for a quick chocolate fix.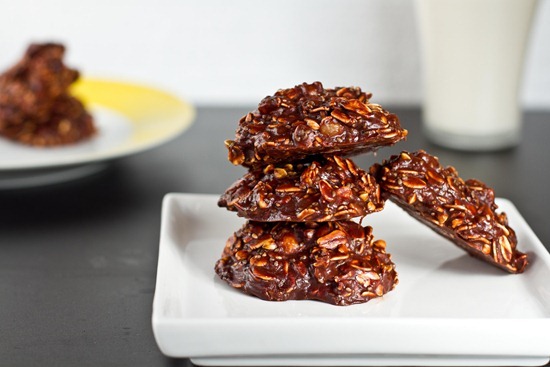 Frosty No-Bake Chocolate Oatmeal Cookies
Adapted from Frosty No Bake Glo Cakes.
Yield: 7 small cookies.
Ingredients:
1/2 cup rolled oats
1/4 cup non-dairy chocolate chips
1 large banana
1 tsp pure vanilla extract
1 tbsp chia seeds
1 tbsp buckwheat groats (optional)
1 tsp cocoa powder
Sweetener, if preferred
Directions:
1. In a microwave safe bowl, melt the chocolate chips for about 60 seconds being careful not to burn. Remove from microwave and stir so the rest of the chips melt.
2. Roughly chop the banana and mash it into the melted chips with a fork.
3. Stir in the rest of the ingredients into the chocolate & banana and stir very well until all oats are coated with chocolate.
4. Line a plate with parchment and drop about 7 cookies onto it. Alternatively, you can use muffin liners. Freeze for about 1 hour or until firm. Cookies will firm up, but they won't become solid and will remain chewy. Leave in the freezer for a quick chocolate fix any time of the day! Makes 7 small cookies at 80 calories each.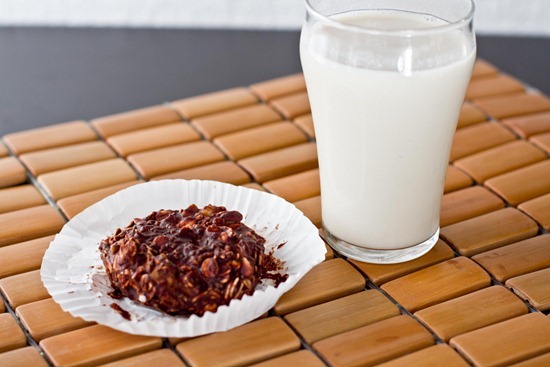 Nutritional Info (per cookie, makes 7):
80 kcals
3 grams fat (1 gram sat)
10 grams carbs
2 grams fibre
5 grams sugar
2 grams protein
Not bad, right? :) The best part is that the cookies don't taste like a 'typical healthy cookie' at all. These really did satisfy my chocolate cravings!
When I made the first batch, I made 4 cookies in muffin liners like I did with my glo cakes…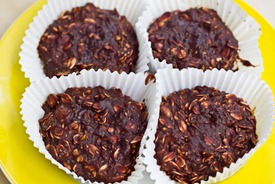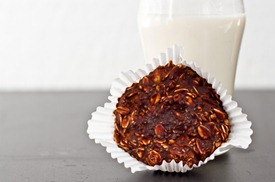 I prefer them as smaller cookies though because I get to eat more! For the second batch, I simply dropped 7 cookies onto a parchment paper lined plate and popped them in the freezer until firm.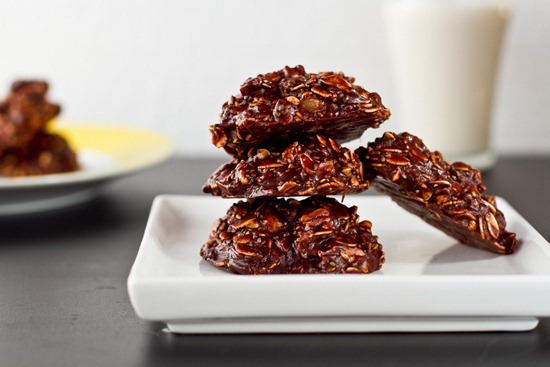 Oh, and I may have crumbled one on top of a bowl of Kamut Puffs this morning… Just throwing that out there. ;)