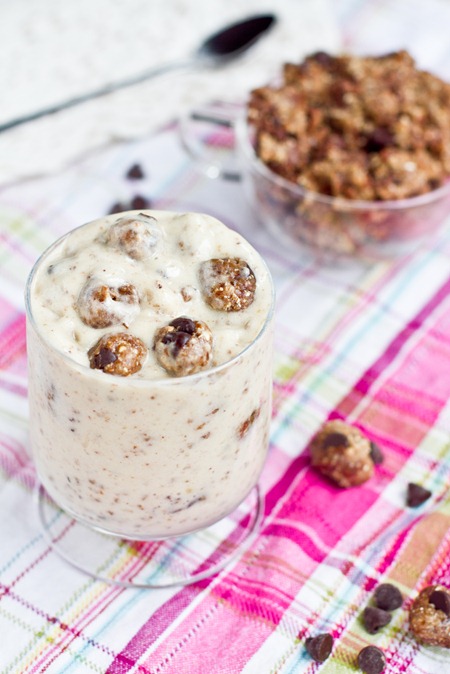 Growing up, I used to have a thing for Dairy Queen Blizzards. The Chocolate Chip Cookie Dough Blizzards, in particular, were my go-to indulgence during the summer when I needed something cold and creamy, especially after hours of running around at softball practice. It also helped that my sister used to work there and she would give me extra scoops of cookie dough when I came in. ;)
Love that.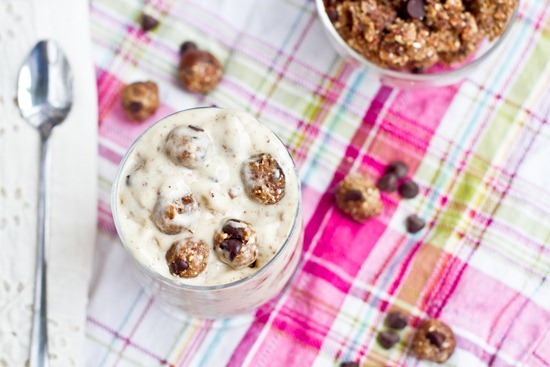 Yesterday, I found myself with an insatiable craving for a cookie dough blizzard. It must have been the  tropical weather we were experiencing (11 Celsius and sunny- I'll take it!) and the fact that I had just come back from a 6 mile run. The only thing on my mind was COLD!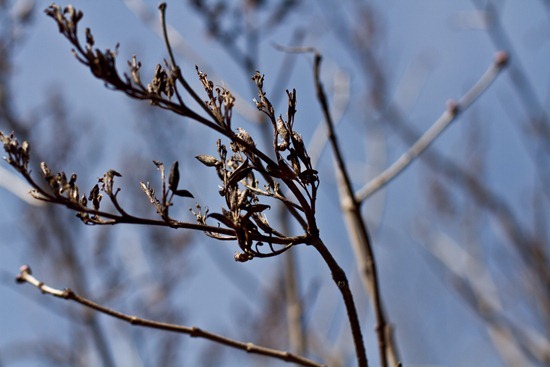 Let's first take a look at the ingredients in the Dairy Queen Cookie Dough Blizzard.
Chocolate Chip Cookie Dough: Unenriched Wheat Flour, Sugar, Margarine (Palm Oil, Water, Soybean Oil, Mono- and Diglycerides, Artificial Flavor[Milk], Colored with Annatto, Calcium Disodium EDTA added as a preservative, Vitamin A Palmitate added), Chocolate Chips (Sugar, Chocolate Liquor, Cocoa Butter, Soy Lecithin [Emulsifier], Vanilla), Powdered Sugar (Sugar, Corn Starch), Butter (Cream, Salt), Pasteurized Eggs, Brown Sugar, Corn Starch, Natural and Artificial Flavor, Salt.

Dairy Queen Vanilla Soft Serve: Milkfat and nonfat milk, sugar, corn syrup, whey, mono and diglycerides, artificial flavor, guar gum, polysorbate 80, carrageenan, and vitamin A palmitate.

Fudge: High Fructose Corn Syrup, Sweetened Condensed Skim Milk (Skim Milk, Sugar, Corn Syrup), Partially Hydrogenated Coconut Oil, Water, Fructose, Cocoa processed with Alkali, Cocoa, Sodium Alginate (Algin, Dextrin, Sodium Phosphate), Salt, Mono & Diglycerides (Vegetable), Potassium Sorbate (a preservative), Soy Lecithin, Disodium Phosphate, Artificial & Natural Flavors..
Admittedly, I wasn't really craving one after reading that crazy list, but I figured that I could make a homemade version using natural ingredients from my kitchen.
This recipe was inspired by the banana soft serve with cookie dough pieces that I made a lot last summer.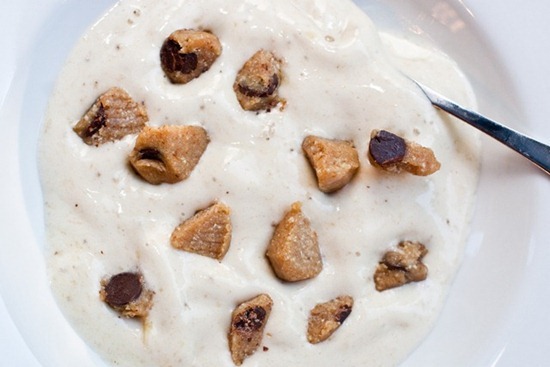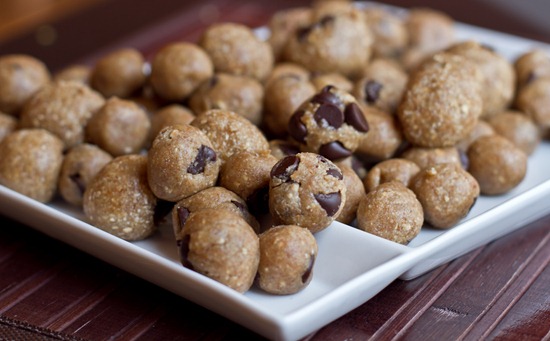 The first thing I did was make a batch of cookie dough. This is my third cookie dough recipe, adapted from Chocolate Dipped Cookie Dough Balls and my Raw Cookie Dough Balls.
Cookie Dough Balls III
Yield: 1 cup packed cookie dough
1/2 cup unsalted cashews
1/4 cup rolled oats
1/4 cup oat flour (or whole wheat pastry flour)
1/2 tsp kosher salt
1.5 tbsp natural cane sugar
1/2 tsp pure vanilla extract
3-4 tbsp pure maple syrup (or a bit more if dough is too dry)
1/4 cup dark chocolate chips
Directions: In a food processor, add the cashews and oats and process until it forms a fine crumble. Now add in the salt, sugar, and flour and process for a few seconds more. Add in the maple syrup and vanilla and process until combined. It will be sticky, but this is normal! Add in your chocolate chips and stir by hand or process. Form into balls. Store in freezer.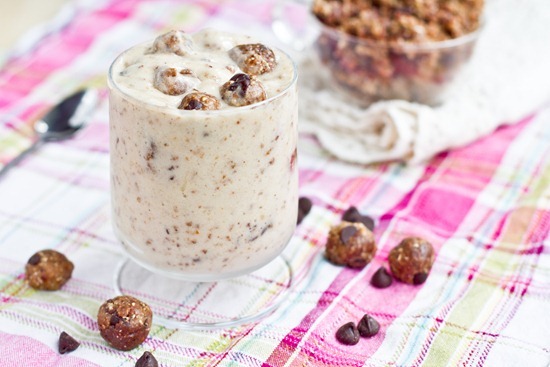 Chocolate Chip Cookie Dough 'Blizzard'
Yield: 2 servings
3 peeled and frozen bananas, cut into 1 inch chunks for easier processing
Splash of non-dairy milk (if needed)
2 tbsp cookie dough (from above)
Directions: In a large food processor, add in your 3 frozen bananas. I like to cut my bananas into 1 inch chunks before freezing. Process bananas, stopping to scrape down the sides of the bowl as necessary. Finally, add in your cookie dough and process until combined. You should have a soft serve type consistency when done. To make the blizzard simply stir in your desired amount of mini cookie dough balls, pour into a glass, and serve with a spoon. Makes 2 servings.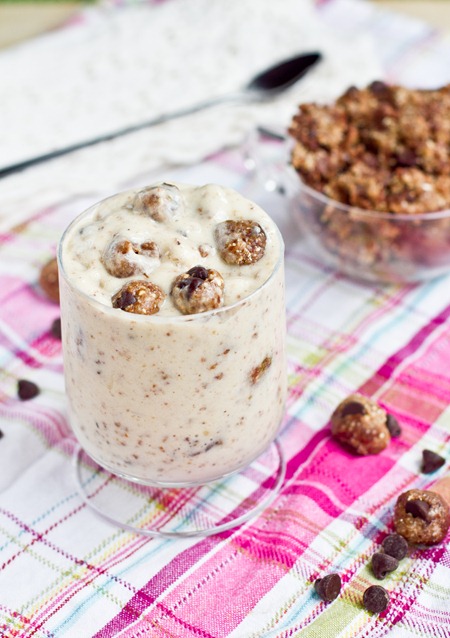 This was pretty awesome, not going to lie. :) We will be making this a lot this summer, I can tell.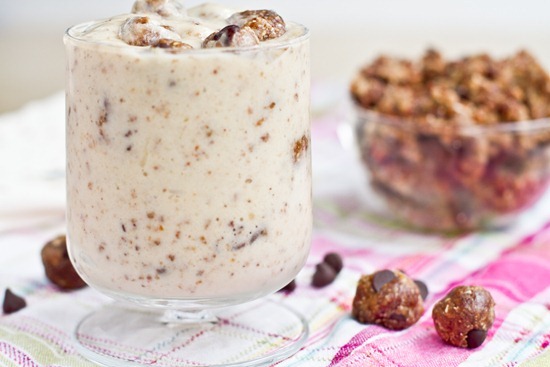 In case you missed it yesterday, the 3 winner's of the giveaway are now posted! Thank you everyone for your generous donations.
Happy Friday!