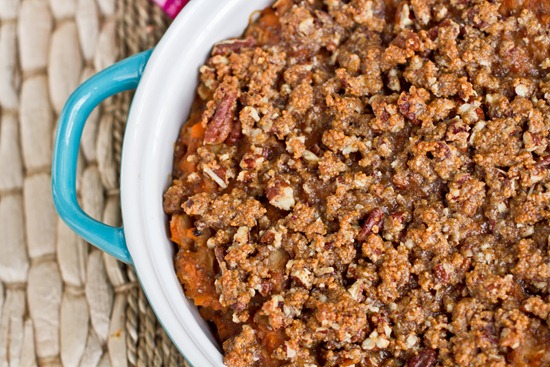 I grew up enjoying my mom's sweet potato casserole for every holiday and it was always a dish I just couldn't get enough of. There is something magical about comforting and creamy sweet potatoes with an ooey gooey toasted marshmallow topping. When I started eating a vegan diet, I was determined to make a sweet potato casserole that would rock my world just like the one of my youth.
Enter: This Ain't Grandma's Sweet Potato Casserole.
It has been a hit at every holiday dinner I have brought it to. No one can ever believe that it is vegan!
Yesterday morning, I was craving this sweet potato casserole in a major way.
The only snag?
It was 7:15am. I find myself in these situations quite a lot.
I looked at the sweet potato, it looked at me…I looked at it again.
And I turned that craving into breakfast.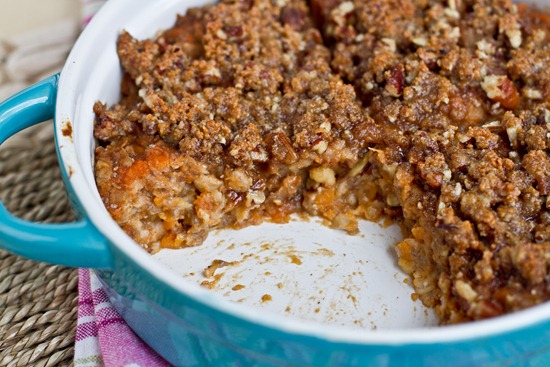 [print_this]
Sweet Potato Oatmeal Breakfast Casserole
Inspired by This Ain't Grandma's Sweet Potato Casserole.
Yield: 3-4 servings.
Oatmeal Ingredients:
1/2 cup regular oats
2 cups organic soy milk (or milk of choice)
1 small sweet potato, peeled, chopped (made 2 cups raw or 1.5 cups cooked)
1 ripe large banana
1 tbsp chia seeds (if you omit, you may have to reduce the milk)
1-2 tsp pure vanilla extract
1 tsp ground cinnamon + 1/8th tsp nutmeg + 1/4 tsp kosher salt, or to taste
2 tbsp pure maple syrup
Crunchy Pecan Topping:
1/3 cup chopped pecans
2 tbsp Earth Balance (or butter)
2 tbsp flour (I used spelt flour)
1/4 cup brown sugar (I used Sucanat)
Directions:
1. Preheat oven to 350F. Bring several cups of water to a boil in a medium sized pot. Add in the peeled and chopped sweet potato. Cook over medium heat, for about 5 minutes, until fork tender. Drain and set aside.
2. Give the pot a quick rinse and then add in the oats, milk, and chia seeds. Whisk well and bring to a boil. Reduce heat to low-medium and cook for about 5-7 minutes, stirring frequently.
3. With a potato masher, mash in the cooked sweet potato and the banana into the pot. I left some chunks for texture. Now stir in the cinnamon, maple syrup, nutmeg, vanilla, and salt to taste. Adjust seasonings if necessary. Cook on low for another few minutes.
4. Make the crunchy pecan topping by mixing together the pecans, flour, Earth Balance (or butter), and brown sugar with a fork. until very clumpy. Pour the oatmeal into a baker dish (I used a 4 cup/8 inch casserole dish) and spread out evenly. Now sprinkle on the pecan topping.
5. Transfer the oats to a casserole dish (8inch/4cup or whatever you have!) and bake, uncovered, for 20 minutes, at 350F. After 20 minutes, set oven to BROIL and broil on low for a couple minutes, watching very closely so you do not burn the topping. Remove from oven and serve. makes 3-4 servings.
Note: You can reheat the oatmeal by mixing in a bit of milk and heating in the microwave. However, it is also very good COLD, straight from the fridge with a splash of milk too! YUM!
Nutritonal Info (based on 4 servings with soy milk, without topping): 217kcal, 4 grams fat, 7 grams protein, 6 grams fibre.
[/print_this]
This is hands down the BEST spin-off oatmeal I have made yet. If you make one thing this week, you gotta make this.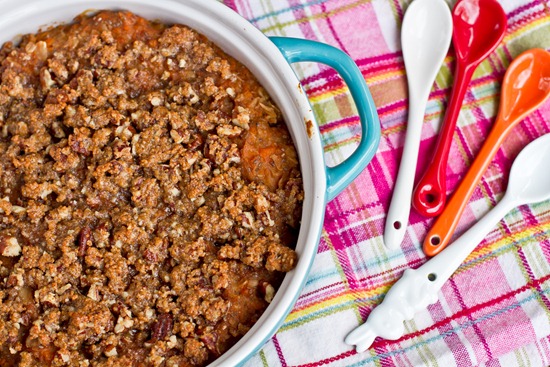 The first thing you do is lightly cook the sweet potato for just 5 minutes until just fork tender. It cooks much faster if you cut it into 1 inch pieces. I used 2 cups raw sweet potato, which yields 1.5 cups cooked.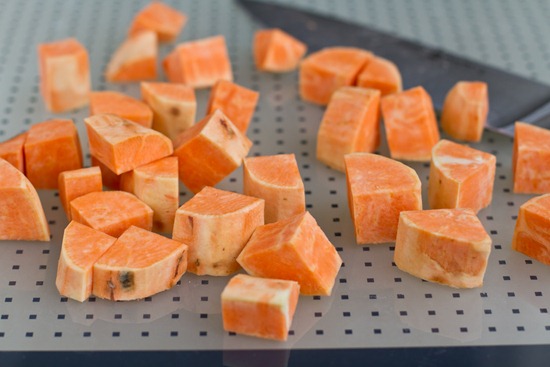 Now assemble the oatmeal ingredients: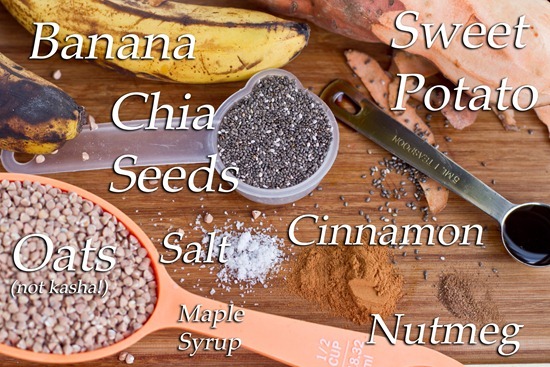 For my first attempt, I used Bob's Red Mill Kasha (roasted buckwheat) and I really did not like the texture, so I started over and used regular oats.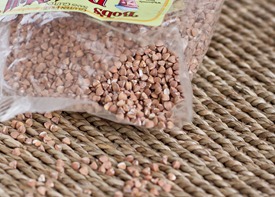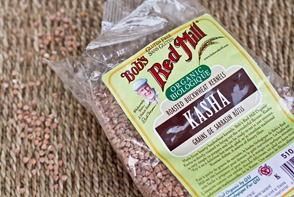 This is what it made in my first attempt with kasha: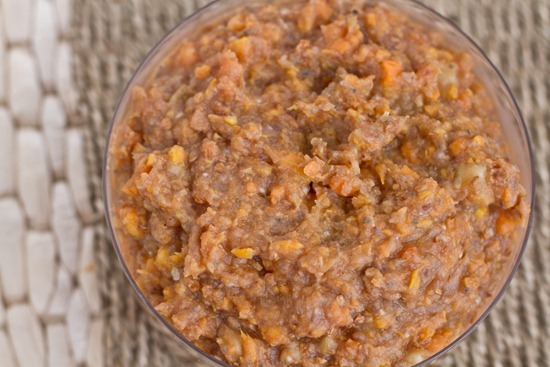 I was not a fan of the taste or texture of Kasha in this recipe.
Back to oats!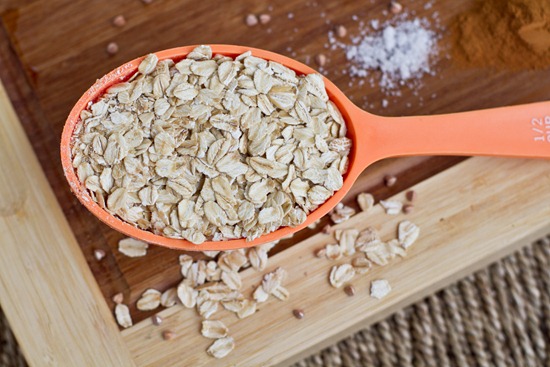 I brought the milk, oats, and chia seeds to a boil and then reduced the heat and cooked for about 5-6 minutes. The chia seeds help soak up the milk, so if you are omitting the chia seeds you will likely have to reduce the milk.
You want it this consistency: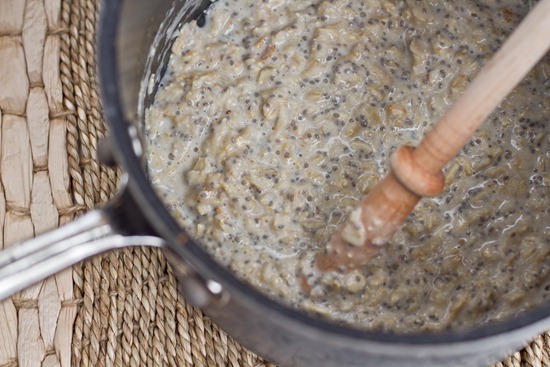 I used organic soy milk and it was a nice change in this oatmeal. Soy milk also pumps up the protein too. I like So Nice brand because it is organic, using non-GMO soybeans.
Now add in the cooked sweet potato and the banana and mash your little heart out with your (sa-weet) potato masher.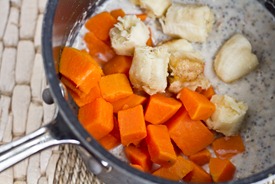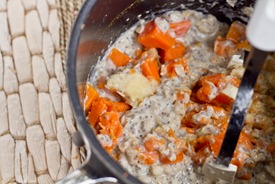 The banana and sweet potato pair wonderfully in this recipe! I left it a bit chunky because I knew my texture monster would be eating it.
Season: Add in the cinnamon, nutmeg, maple syrup, and salt.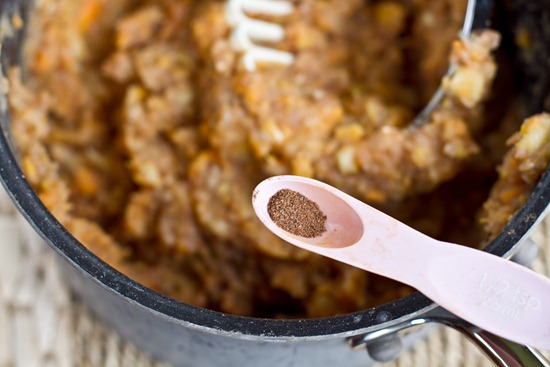 Stir, mash, whatever you please…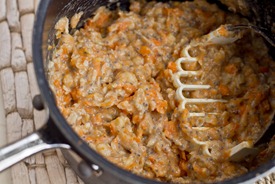 I like to use my Spurtle upside down. It works better that way.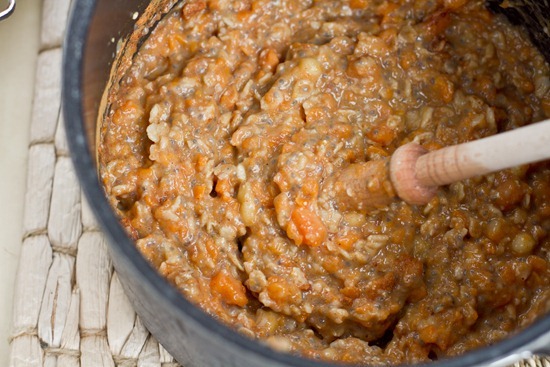 Spread into a small 8 inch (4 cup) casserole dish. Any size will do in a pinch though!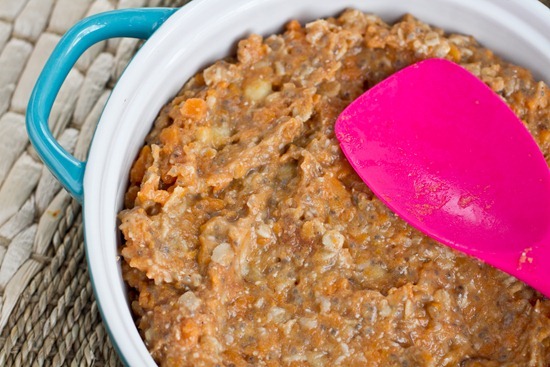 This baker dish is from Epicure Selections.
Make the fabulous crunchy pecan topping…this topping brings the recipe to a new level.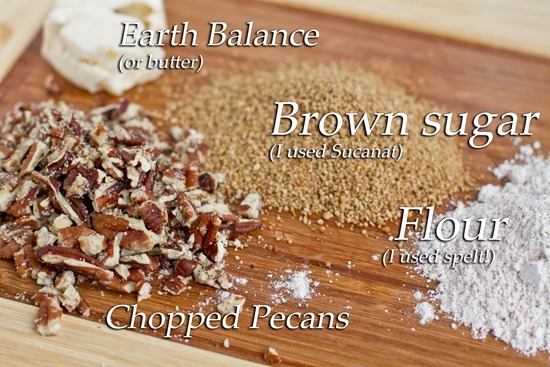 Mix together with a fork until very clumpy. The topping tastes so good.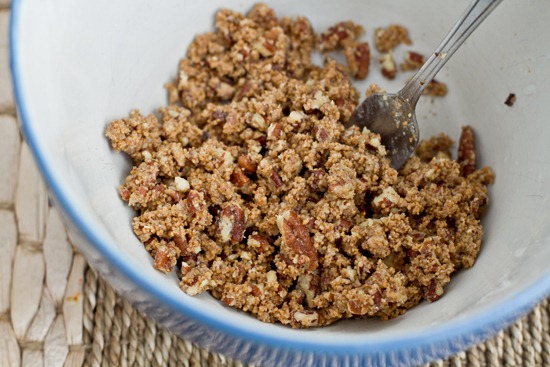 Sprinkle onto the oatmeal.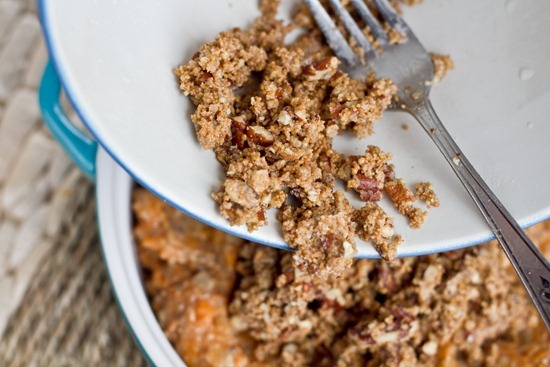 Wonderful.
You may be tempted to dig right in at this point…I say go for it if you want to…but if you bake it in the oven it will taste even better. The topping will get all crispy and buttery and the pecans will toast up into a rich nutty flavour.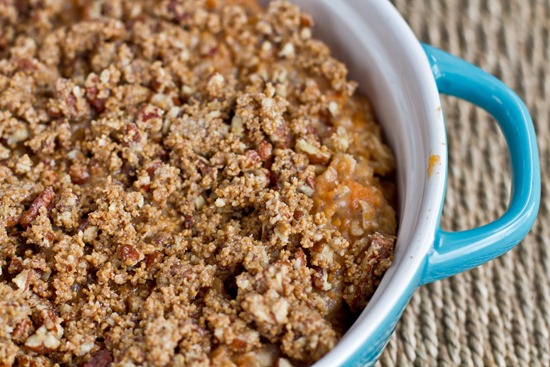 After baking for 20 minutes at 350F and broiling for 2 minutes on low….golden, crispy magic happens.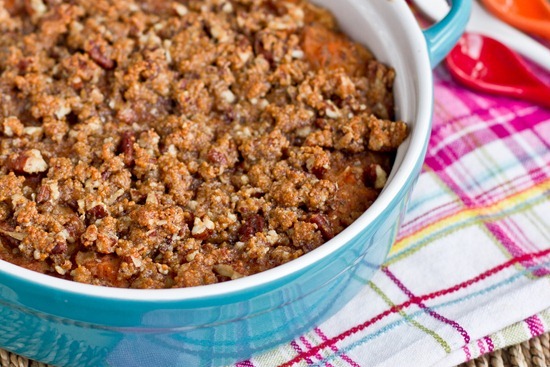 This recipe is hands down the best oatmeal I have made to date…which says a lot because I really love my Carrot Cake Oatmeal, Apple Pie Oatmeal, and Pumpkin Pie VOO.
I cut it into 4 servings and proceeded to eat two of them. Naturally.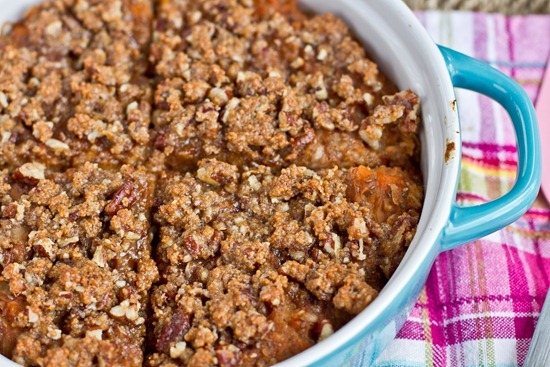 A great thing about this recipe is that you will have leftovers that taste great cold or heated up! It's a win-win situation here folks.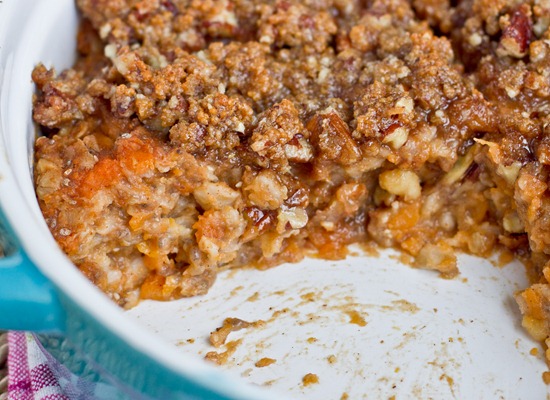 Much like my Carrot Cake Oatmeal, this Sweet Potato Breakfast Casserole tasted amazing straight from the fridge cold with a splash of milk.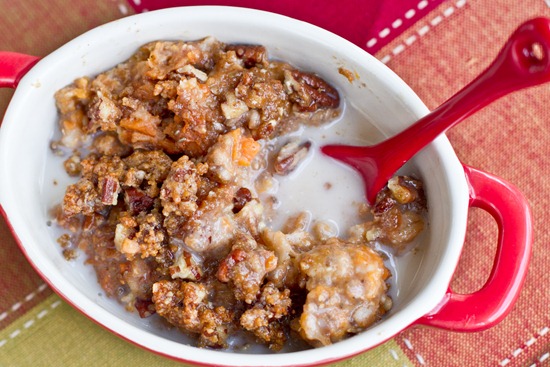 I better go stock up on more sweet potatoes.
RENO-Cation Updates:
Last night I Tweeted, 'I think Reno-cation week may be the end of our marriage. lol'
That is all I'm going to say about that. ;)
Here is the dining room BEFORE: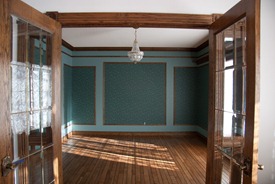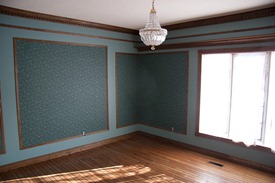 Yesterday, we shaved off the popcorn ceiling…
Popcorn is truly evil. Rooms look so much cleaner (and bigger) without it.
To get the popcorn off you soak the ceiling heavily with water (we use 1/2 gallon water bottle sprayer) and shave it off with a drywall knife. Dump excess into a lined garbage pail lid and then finally into a garbage pail.
But first, lay down plastic all over the ground because it makes a HUGE mess.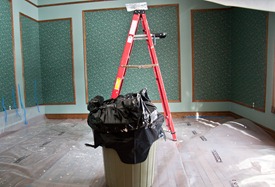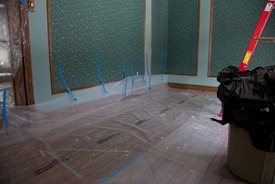 It looks so much more white after removing the popcorn! We haven't even painted a base coat yet. Instant facelift for the room. I told Eric it looks '10 years younger'. ;)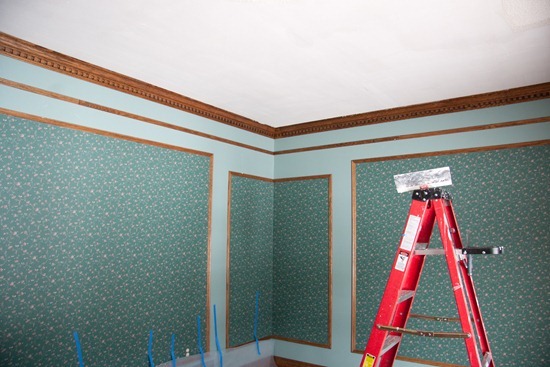 After we did that, we removed all of the wooden frames and then started patching the walls with drywall compound and sanding everything down. This is the worst part by far.
Today, I'm renting a steamer from Home Depot, so I can get off this pesky wallpaper. The old water and soap trick didn't work one bit.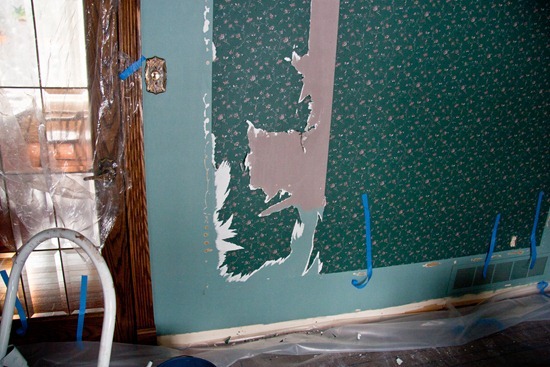 Happy 26 days until SPRING!