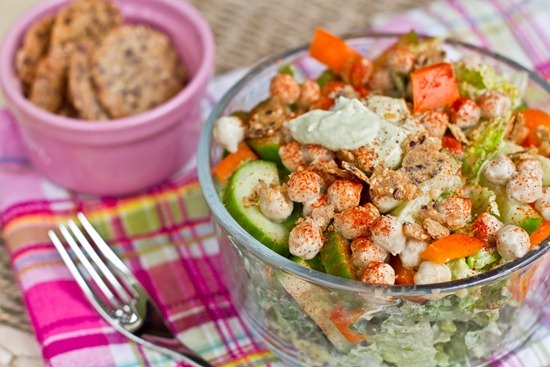 Today is a holiday Monday in honour of Family Day…so Happy Family day to you if you are one of the lucky ones celebrating! Happy Family Day to you even if you are not celebrating. ;)
Eric and I are taking a bit of a RENO-cation this week. We originally dreamed (and hoped and wished) to go on a Winter vacation during this week, but we opted for a RENO-cation instead. Eric is taking a few days off work and I will probably work half days and then do renos the rest of the time and in the evening. We still have a lot of reno work to be done on the house that will take many months (years, decades!) so we really couldn't justify a vacation right now. I guess it's an investment in the house instead of our immediate happiness. Ugh, we are such responsible adults now!
Anyways, we promised ourselves that we could still make some fancy drinks with umbrellas while we roll around in the sand. 
Unfortunately, not that kind of sand…the sand that comes from refinishing hardwood flooring!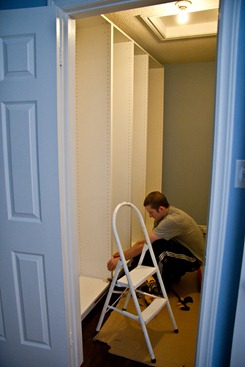 Yesterday, we spent the entire day putting together an Ikea PAX wardrobe in our closet and I concluded that I will never get those 12 hours of my life back. Sketchie did too. A piece of me died inside yesterday and you can find it buried under particle board and cardboard boxes.
Joking aside, it was pretty easy to put together once we got the hang of the instructions (lie), but of course we encountered some speed bumps along the way. It wouldn't be an Ikea experience for us unless we had a missing piece, a broken limb, or an improper installation…
I will never forget the time when Eric built my desk the wrong way and he had to take it apart and start over. Whenever he makes fun of me for anything, I remind him of that time and he hangs his head in shame. I win.
Check out the fun 'jewelry' organizers on my side of the closet: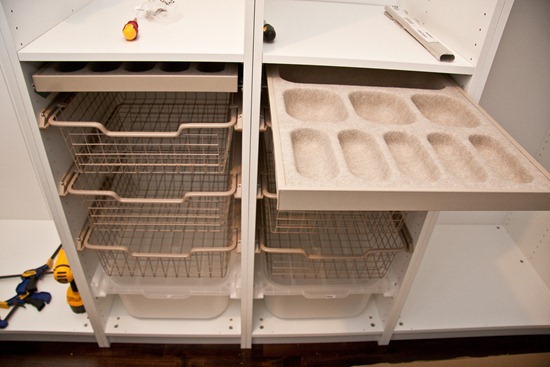 I installed all of those drawers myself…I'm just your average Mike Holmes, ya know.
Speaking of our luck with all things Ikea, we opened a box and one of the huge wardrobe pieces was badly damaged with a huge crack on both sides. We have to drive back to Ikea today tomorrow (it's closed today!) to replace this broken piece. Not fun, but whatcanyoudobuthaveabeer?
And eat great food…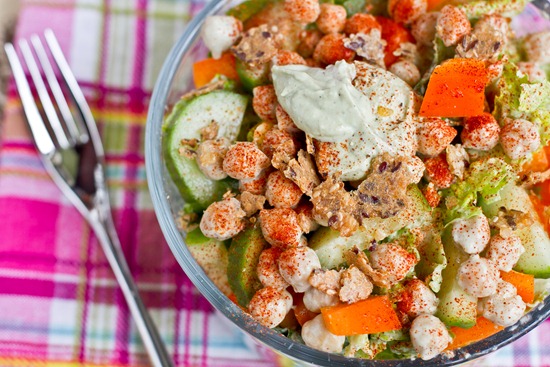 By the way, Eric and I are officially obsessed with these macaroons. We discovered if you put them in the freezer and then defrost in the micro for 15 seconds they have this slightly cold and crisp crust with a warm gooey middle. Insanity. I'd say they are probably one of our top 5 dessert cookies of all time.
And I'm just having way too much fun coming up with fun salads lately.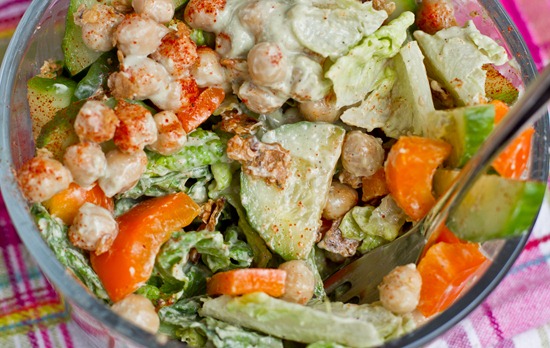 [print_this]
Chickpea Salad with Tahini Avocado Dressing
Inspired by Avocado Bravado and my 15 Minute Creamy Avocado Pasta Sauce.
Yield: ~3/4 cup dressing
For the dressing:
1 small avocado (about 1/2 cup flesh)
1-2 tsp extra virgin olive oil
1 garlic clove, chopped finely
3 tbsp tahini (or to taste)
2-4 tablespoons water (depending on the thickness desired)
2 tablespoon lemon juice (or to taste)
1/2 tbsp lime juice (if preferred)
3/4 teaspoon cumin, or to taste
1/2 teaspoon coriander
1/4-1/2 tsp kosher salt
Directions: In a food processor (or blender if you think it will work!), process the above ingredients together to make a sauce. I suggest adding the ingredients slowly to taste. You can adapt this recipe to suit your own taste buds! You might like more or less tahini or more EVOO, etc.
To make the salad I used:
2-3 cups greens (I used mix of romaine and spinach)
1 cup chickpeas, cooked
3/4 cup chopped veggies (I used red onion, cucumber, orange pepper, tomato)
Freshly ground black pepper + Paprika
Tahini Avocado dressing (whatever amount you desire! I used about 3-4 tbsp)
Note: Dressing lasts at most 2 days. You might want to make a half batch if you don't think you will use it all up quickly!
[/print_this]
Some of the dressing ingredients…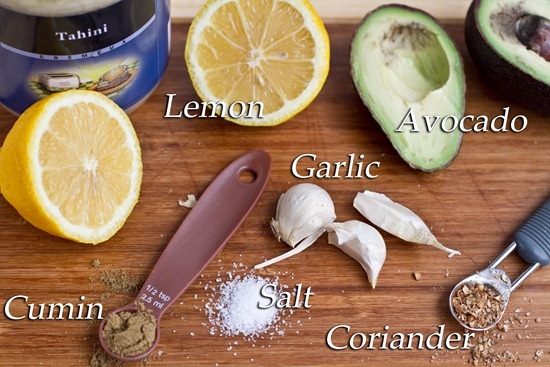 Feel free to adjust the dressing recipe to taste. You may like more or less tahini, olive oil, salt, seasonings, etc.
By the way, I showed 3 garlic cloves in the photo, but I actually only needed 1 clove.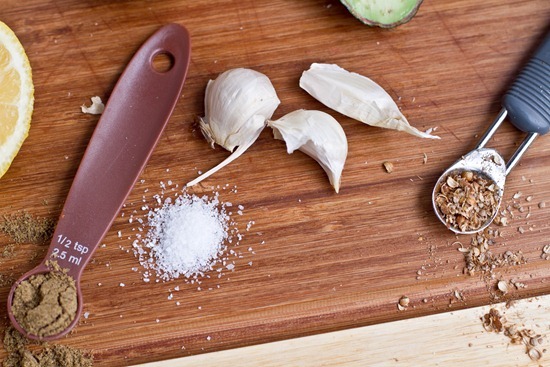 The dressing turned out soooo thick and creamy!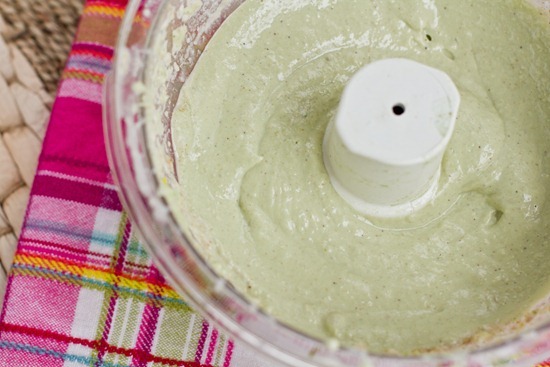 To mix it, I put everything in a big Tupperware container, added some dressing, put on the lid, and then shook it all up so it was coated very nicely. Then I just transferred it to a bowl.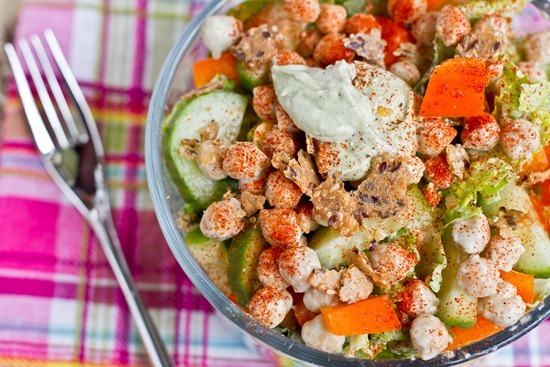 [But trust me, if I wasn't taking a photo of it, I would have just eaten it straight from the messy Tupperware container!]
I enjoyed it with some Mary's Crackers (dipped in more dressing).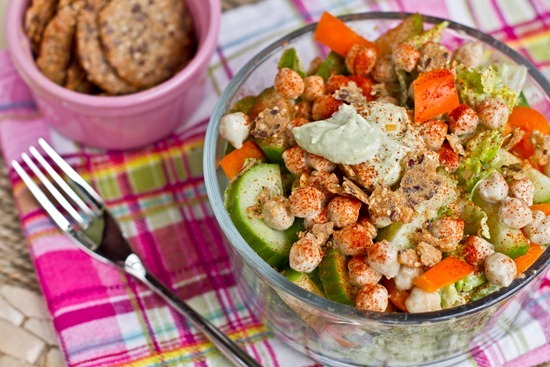 The dressing is super creamy and luxurious, with a tangy kick.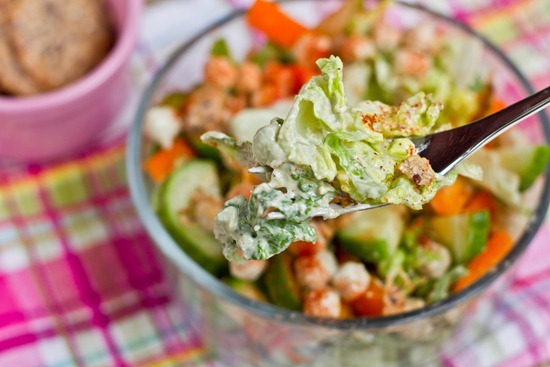 As I was eating it I realized how happy I am that I am not afraid of 'fat' anymore. Olive oil, tahini, and avocado are such wonderful foods for the body. Let's do our bodies a big favour and leave the 1990's fat-free era behind, sound good?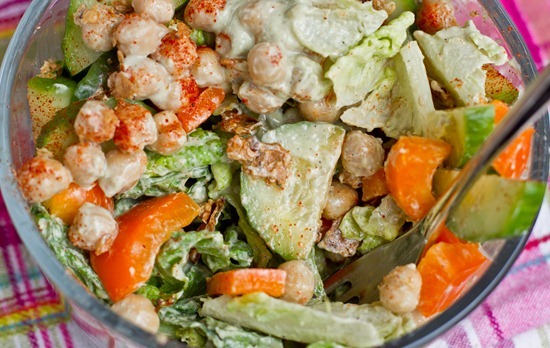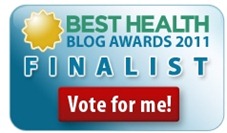 Thank you again for your votes in the Best Health Blog Contest!
You can vote once per day until March 21st and I would really appreciate your help for this contest. I have never actually won any blog contest before and I would be so excited if I actually did. :) I am nominated in the Eat Well category.
Uh oh, the husband is calling me..nothing good ever comes of this. He mentioned something about me 'stripping' (wallpaper…I think?). And shaving the ceiling. I shall return with more Reno-cation updates and the delish grub we eat while doing so.