I loved reading your comments on yesterday's Classic Green Monster post. Finally, I do not feel so alone.
I forgot to tell you, but earlier this week I had a Green Monster photoshoot in my very own kitchen. I was interviewed for a newspaper article a while back and they sent a photographer to do a shoot for the article. The photographer was looking for ideas on what we could do for the shoot and I suggested that I could make a Green Monster in the kitchen…
As soon as I heard myself saying the words 'Green Monster', I felt a bit awkward. It can be embarrassing trying to explain to a stranger what a Green Monster is and then convincing them that 1) you are not insane, and 2) You really are older than 8 years old.
But luckily the photographer was excited about the idea went along with the idea out of fear and it was quite fun! Here's hoping there is not an awkward piece of spinach in my teeth in the photo…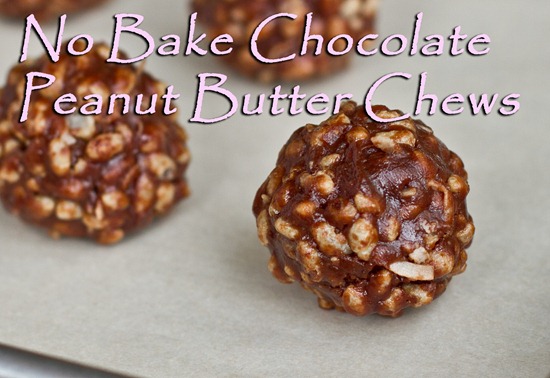 Naturally, on my quest for consuming as much chocolate as humanly possible this week I made a Chocolate Peanut Butter version of these delicious chews.
These Almond Butter Chews were my first attempt…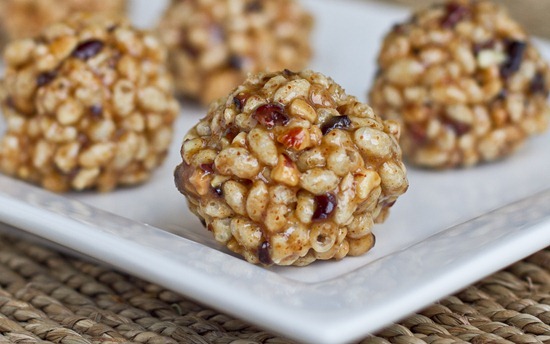 It was love at first chew.
Not being able to share like proper adults, Eric and I fought over the last chew. We finally agreed on splitting it down the middle.
I cut, he picked.
He got the bigger half. [Insert mad PMS face]
And then Eric begged me to make a chocolate version because he is basically the male version of a PMS monster and will eat chocolate 24/7 if he could. He didn't really have to twist my arm though…we make a good, chocolate-lovin' team.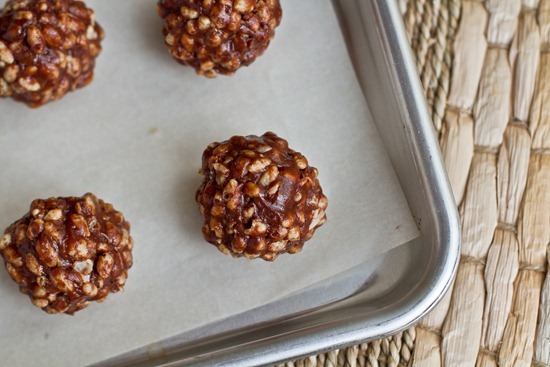 5 Minute Chocolate Peanut Butter Chews
Ingredients:
1 cup Crisp Rice cereal (I use GF Nature's Path)
1/4 cup smooth all-natural peanut butter
3 tbsp organic brown rice syrup
1/2 tsp pure vanilla extract
1 tsp cocoa powder
2 tbsp dark chocolate chips
Directions: Line a plate with parchment paper. In a medium sized bowl, stir together the peanut butter, brown rice syrup, 2 tbsp chocolate chips, and vanilla extract. Microwave on high for 35-45 seconds. Stir well and immediately add in the 1 tsp cocoa powder. Stir until incorporated. Immediately stir in the rice crisp cereal until all rice crispies are coated.
Wet hands thoroughly and shape the mixture into 'golf-balls'. Press mixture together firmly into balls so it will hold. Wet hands after each ball is formed so the mixture will not stick to your hands. Place the balls onto parchment paper and freeze for 5 minutes. You can keep these chews in the freezer in a sealed container. Let the chews sit at room temperature for about 5-10 minutes before consuming. This version gets more firm in the freezer than the first version does.
Makes 7 golf-ball sized chews.
Nutritional info: (per large ball, makes 7 balls): 113 kcals, 6 grams fat, 14 grams carbs, 8 grams sugar, 2 grams protein.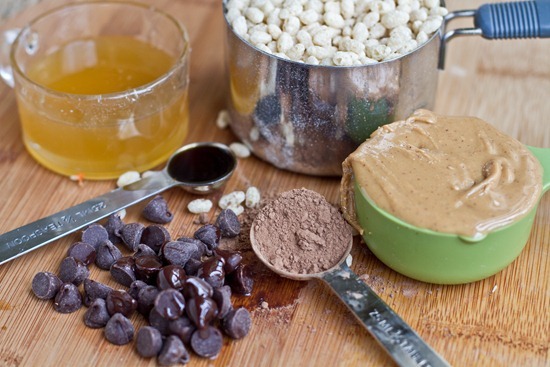 The first thing you do is add the brown rice syrup, chocolate chips, vanilla, and peanut butter into a bowl. Stir very well to mix.
Now microwave this mixture for 45-70 seconds, being sure to stop the microwave every 30 seconds to stir. Be very careful not to burn.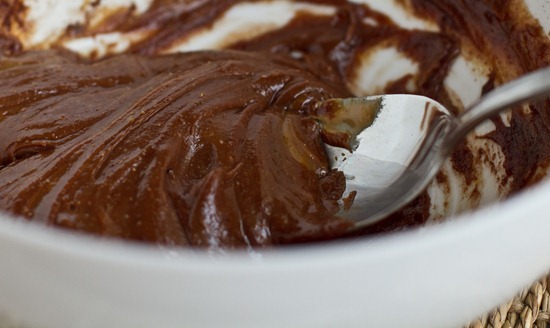 If you burn it, you will cry.
Stir in the cocoa powder into the microwaved mixture and now stir in the rice crisp cereal.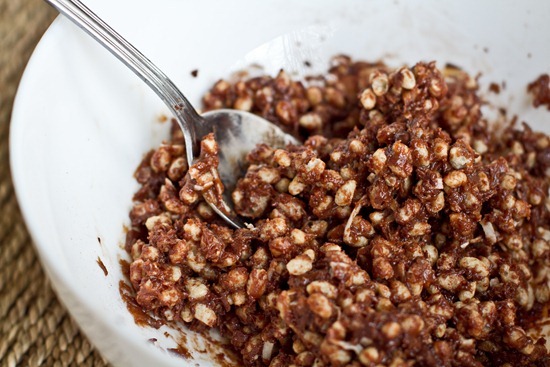 Press firmly into balls and place on a plate or small baking sheet lined with parchment. Freeze for about 5-10 minutes.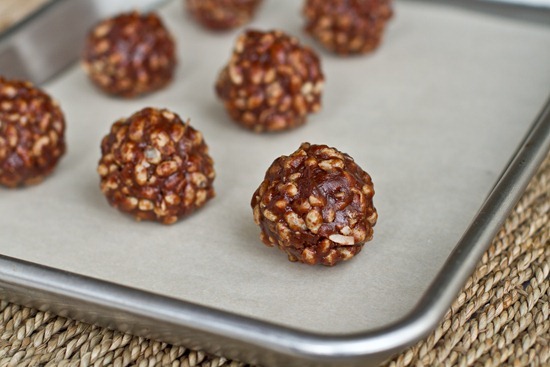 The Chocolate PB chews harden up much more than the original Almond Butter Chews, I assume because the chocolate hardens when chilled. This version can't really be eaten straight from the freezer, but they are perfect after sitting on the counter for about 5-10 minutes or so.
I also tried to make a carrot cake version and a banana PB version, but both did not turn out (too much moisture from carrots and banana). I think the carrots and banana would have to be dehydrated for it to stick together.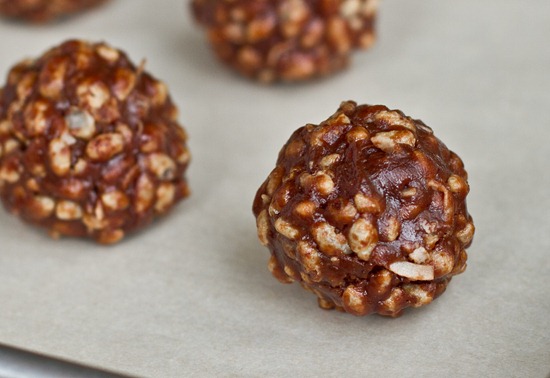 And if you are feeling really crazy…why not try making a Double Chocolate version by using some homemade Dark Chocolate Almond Butter?  I'm sure that would be incredible!
Ok, I will stop now.
But seriously…make these. They rule.
Happy Friday!