Good morning!
Thanks so much for your awesome comments yesterday…you guys have me so excited about this whole process. I will try my best to do some update posts here and there during the process.
Now onto the most important thing of the day: chocolate.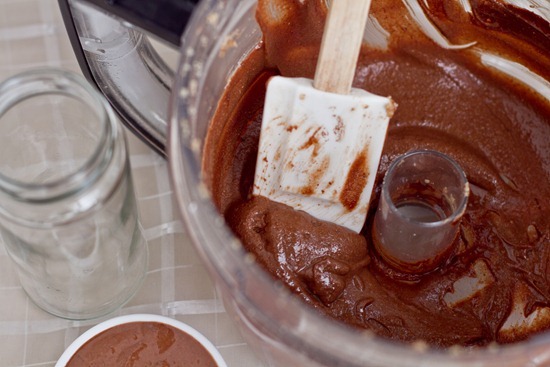 They say PMS will do crazy things to a girl.
I cry, I laugh (evilly), I groan, I complain, and I feel a fire in the pit of my stomach when I can't find my car keys. Flames and smoke erupt from my ears at any given moment. It ain't pretty.
However, this is why chocolate was invented.
The first edible chocolate bar is thought to originate in England by Fry & Sons in 1847.
Despite it all, I realized yesterday that there is a silver lining to the PMS cloud: I often think of my quickest and easiest chocolate recipe ideas during this time. It is almost as if all other mind clutter disappears to make room for the single and most important thought…
Chocolate.
I find myself desperate in the kitchen, thinking of a new way to get my chocolate fix, when idea after idea pops into my mind. I'm convinced this is an adaptive female instinct that has allowed us to survive during times of hormonal temper tantrums.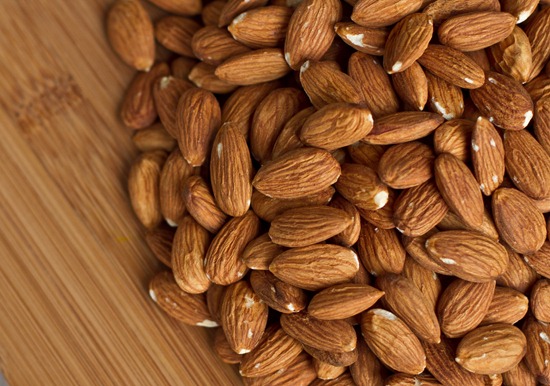 Yesterday, I tried a recipe idea that literally had me running to the kitchen: 4-ingredient homemade dark chocolate almond butter. I wasn't sure if it would turn out, but I was willing to give it a try. Sometimes a girl's gotta do what a girl's gotta do…!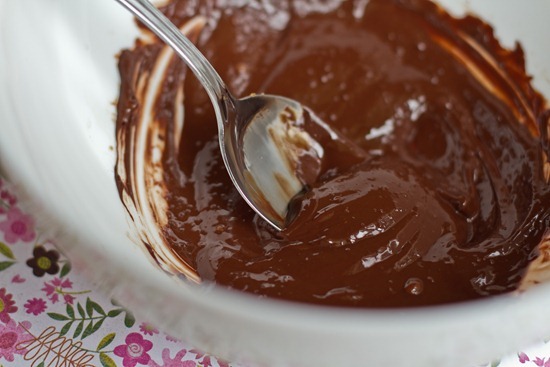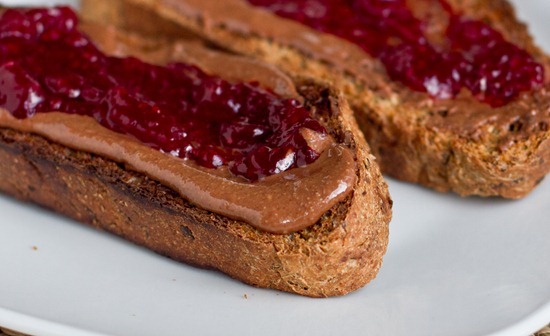 [print_this]
4-Ingredient Dark Chocolate Almond Butter
Creamy, silky, and intensely chocolaty, this homemade chocolate almond butter will satisfy even the most intense chocolate craving, while providing you with the nutritional benefits of raw almonds at the same time! The secret to this chocolate almond butter is melting the chocolate and mixing it into freshly made almond butter. Enjoy it on toast, hot oatmeal, muffins, crackers, fruit, graham crackers, or veggies…the sky is the limit. The calorie count is also about the same for this chocolate nut butter as it is for regular almond butter. See below for nutritional info.
Yield: ~ 20 one tbsp servings,1 & 1/4 cup, or enough to fill a 250 ml jar.
Ingredients:
2 cups raw almonds
1/2 cup dark chocolate (I used organic dark chocolate chips)
1 tsp coconut oil (another oil may work too)
1/8th-1/4 tsp kosher salt, to taste
Directions: Place 2 cups of raw, whole almonds into a food processor. Process for about 15 minutes, scraping down the sides of the bowl every minute or as necessary. It is a long process, but you don't want to stop until you have released all the oils in the almonds and the mixture is very smooth and buttery! This took me a good 14-15 minutes.
Just before your almond butter is ready, add the 1/2 cup chocolate chips and 1 tsp of coconut oil to a small pot. Melt on low. You want to remove the pot from heat when there are still some chocolate chip clumps remaining. Don't worry they will melt as you stir the mixture. I always take it off the heat a bit early to avoid burning the chocolate.
Add the melted chocolate to the almond butter (still in the processor) and process for a couple minutes, scraping down the sides of the bowl as necessary. Add your kosher salt to taste and process more. Scoop into a container and store in the fridge. Makes 1 & 1/4 cups, 20 one-tbsp servings, or enough to fill a 250 ml jar. Refrigerate. Note that the almond butter firms up in the fridge. Allow it to sit at room temperature to soften before using.
Nutritional Info: (per tbsp, approx 20 servings per batch): 104 kcals, 9 grams fat (1 gram sat fat), 6 grams carbs, 2 grams fibre, 3 grams sugar, 3 grams protein.
See below for a Dark Chocolate Peanut Butter version too!
[/print_this]
Gather your ingredients: Raw almonds, coconut oil, dark chocolate, and kosher salt.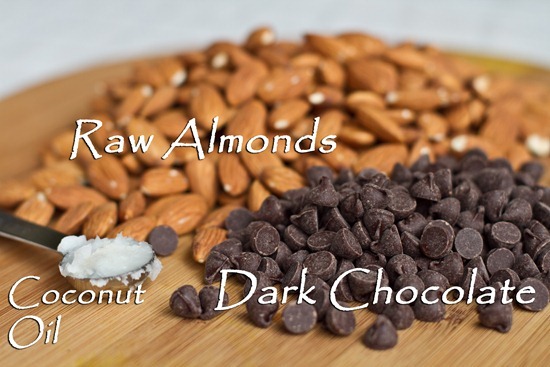 2 cups of raw almonds…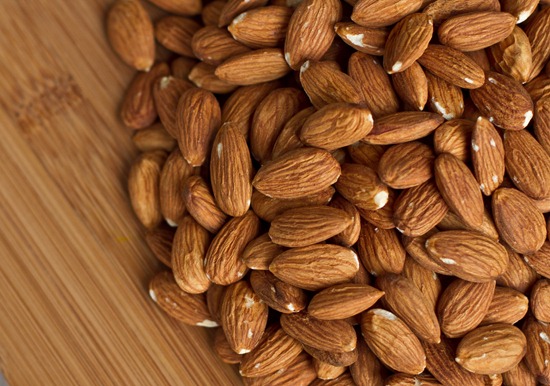 Place in food processor…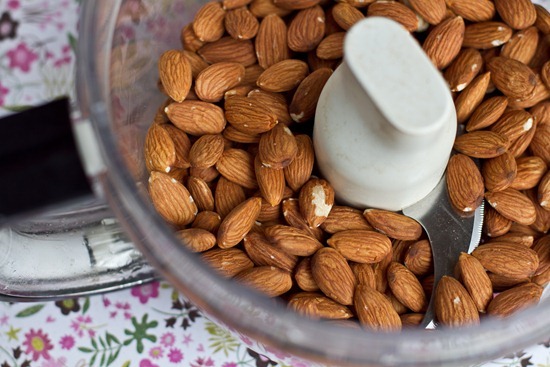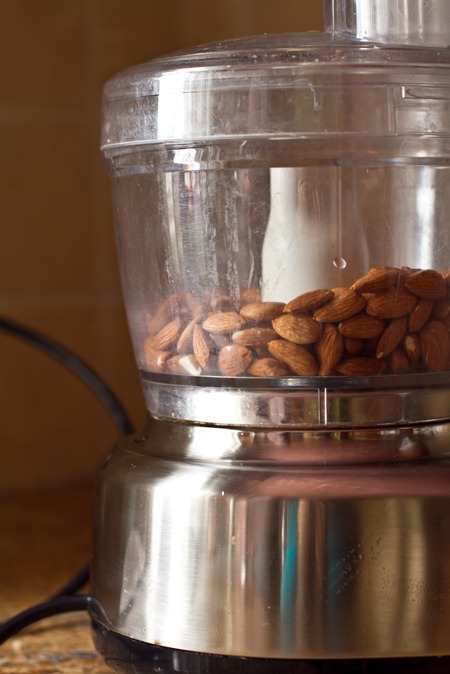 And whirrrrrrrrr away!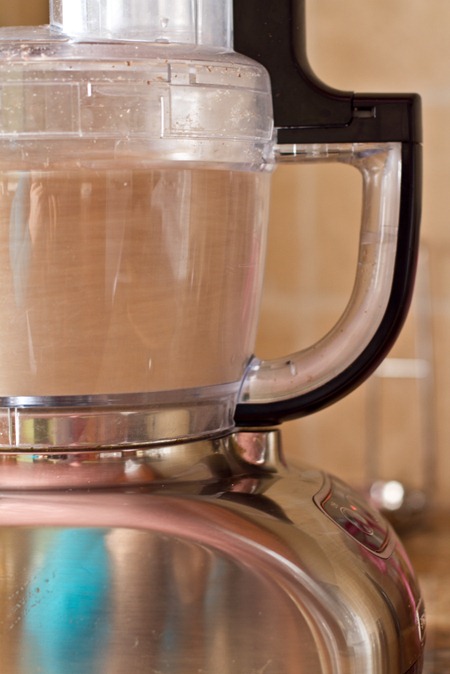 After a minute or two, you will see that the almonds begin to stick to the sides of the processor bowl…not much spinning action is going on at this point!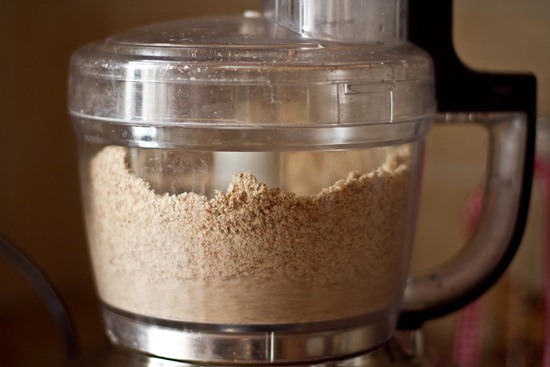 Stop the processor and scrape down the sides and bottom of the bowl.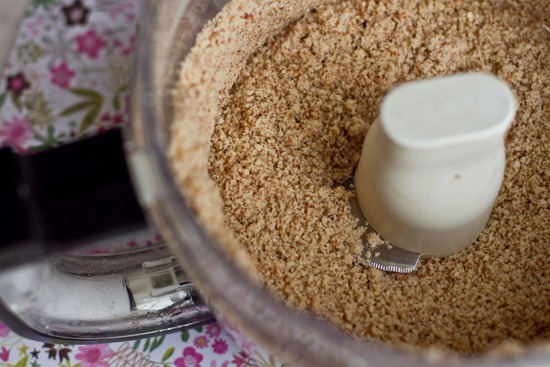 Like so.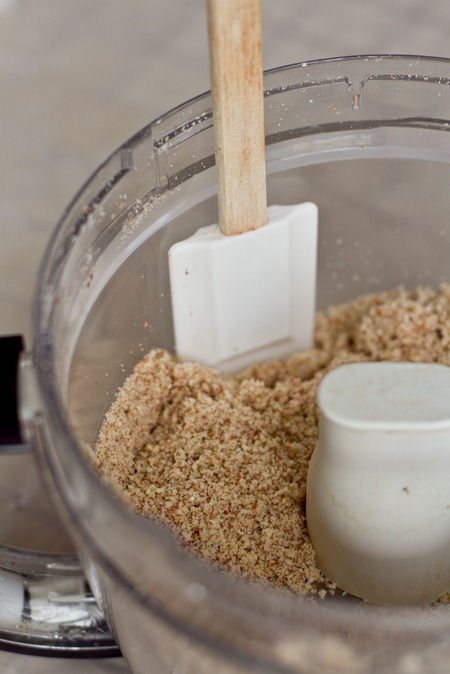 Now process some more until it starts to stick to the bowl again. You will have to stop and scrape down the bowl a dozen times during the 15 minutes. This is normal!
After about 4 minutes…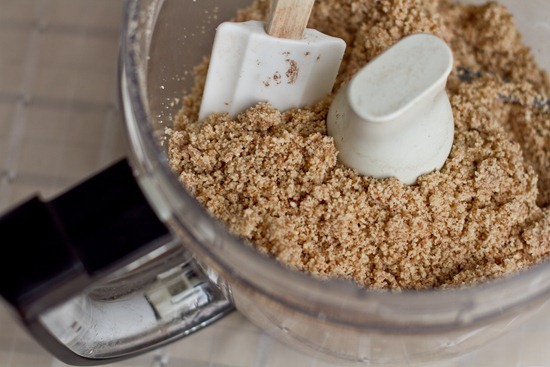 After about 6-8 minutes, it will start to look like this.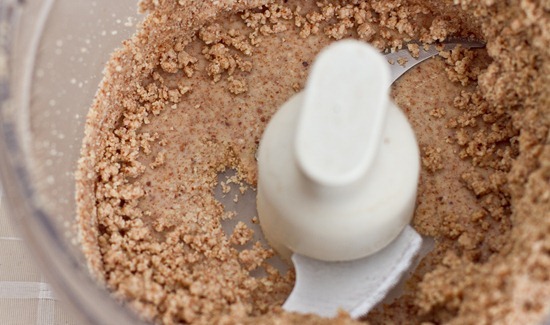 It sticks on the bottom of the bowl and you will need to use some elbow grease to get it off. Break up the clumps and process some more.
After 10 minutes, a ball will start to form. It has the texture of play-dough at this point. You will need to use a spatula and break apart the clumps.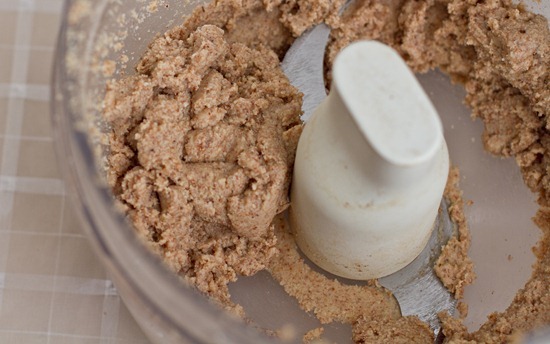 After 12 minutes, you will be tempted to say that your almond butter is now ready, but don't stop just yet! If you keep going an extra 2-3 minutes, you will be rewarded with an extra buttery and soft almond butter!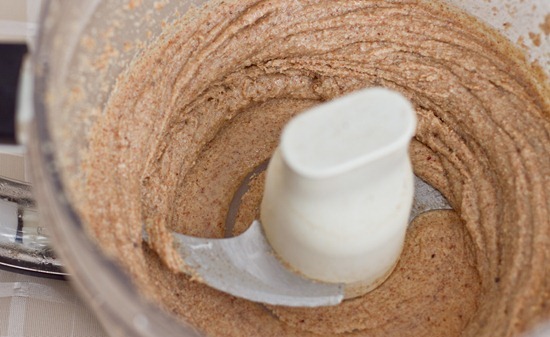 Keep going…
Meanwhile, heat your chocolate and coconut oil on low, making sure not to burn it.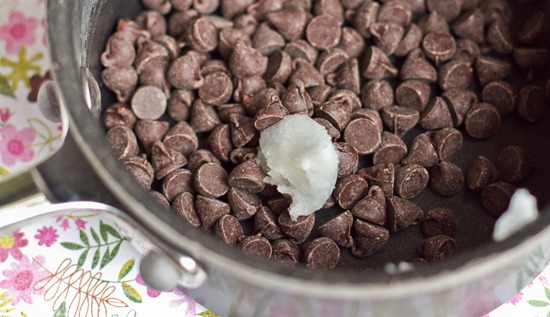 After 15 minutes, you will have the most creamy and buttery almond butter imaginable!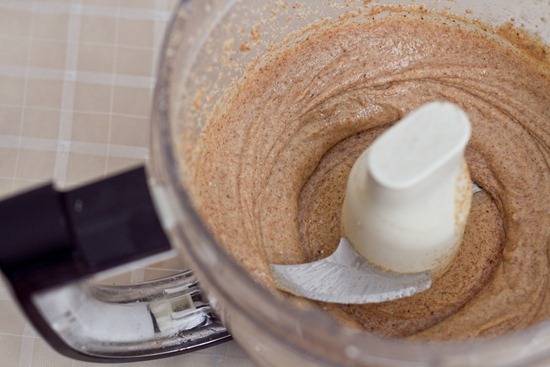 Now add the melted chocolate and coconut oil into the processor…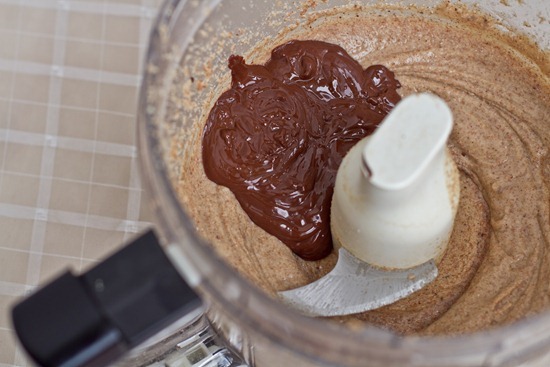 Process for about 2 minutes, stopping to scrape down the down as necessary…add kosher salt to taste (I think I used 1/4 tsp kosher salt).
Voila.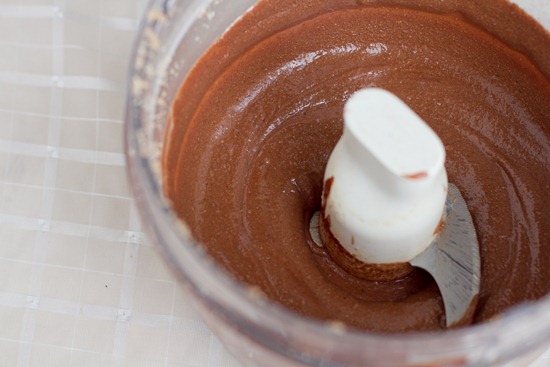 The most intensely chocolaty nut butter I have ever tasted! It sort of reminds me of Nutella…but then again I have never tried Nutella before!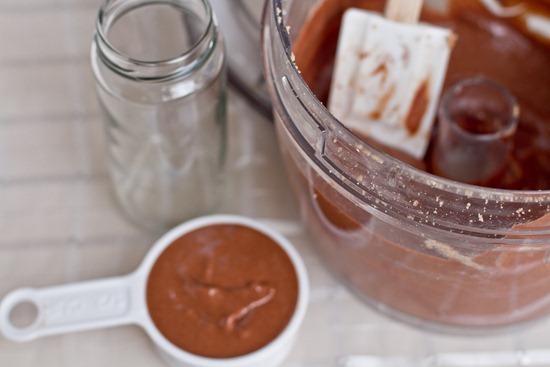 It makes 1 & 1/4 cup or enough to fill a 250 ml jar.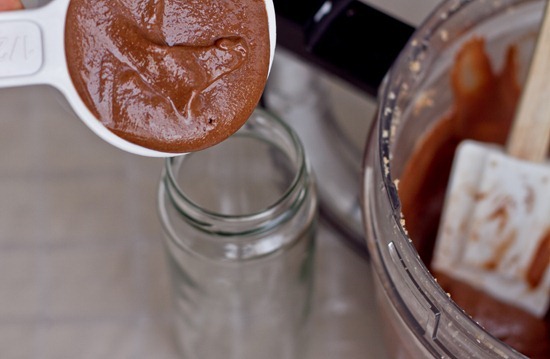 I like to save my old jam jars just for this kind of thing.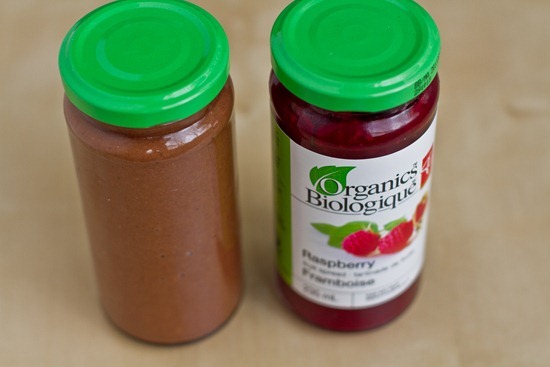 I enjoyed my dark chocolate almond butter on flax toast with raspberry jam.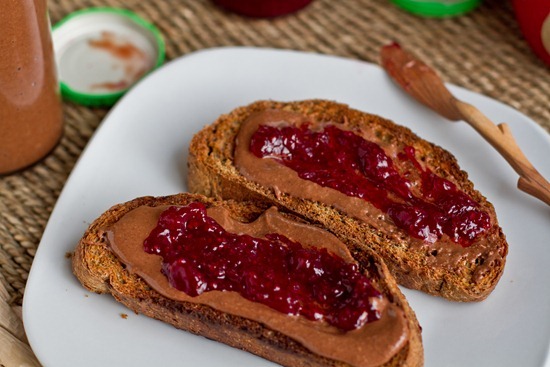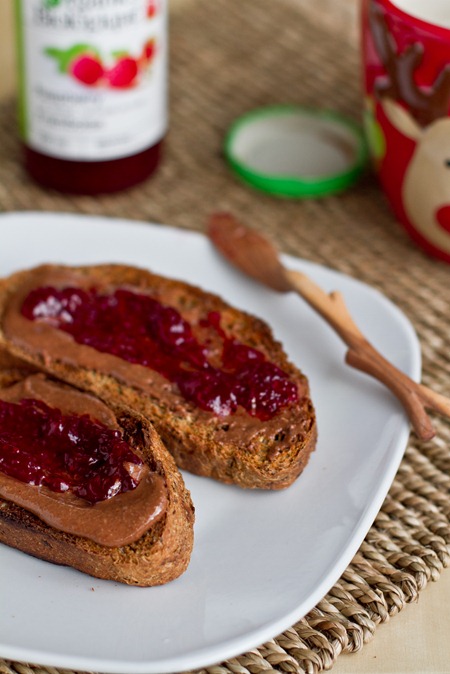 with tea…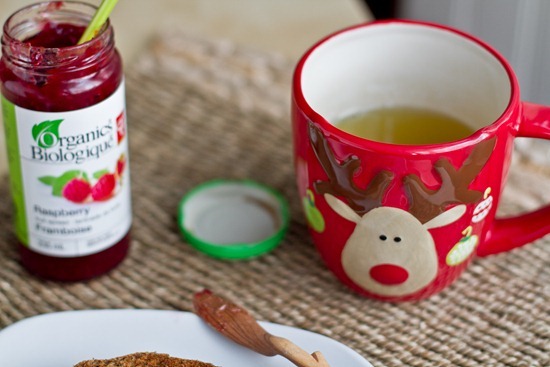 I also made a super quick dark chocolate peanut butter that took just a few minutes to make.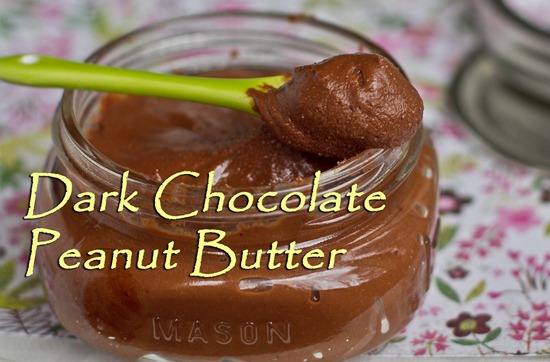 Dark Chocolate Peanut Butter
Ingredients:
1 cup smooth peanut butter
1/2 cup dark chocolate chips
1 tsp coconut oil
Kosher salt, to taste
Directions: Add peanut butter into a medium sized bowl. In a small bowl, melt chocolate and coconut oil in microwave for about 60 seconds, stopping to stir after about 40 seconds. Be careful not to burn. Add melted chocolate to peanut butter and mix well. Add kosher salt to taste.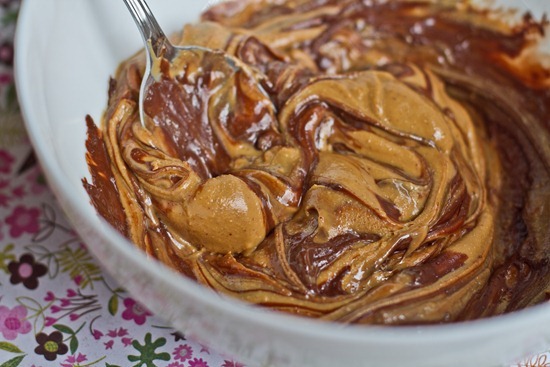 This version took about 3 minutes flat!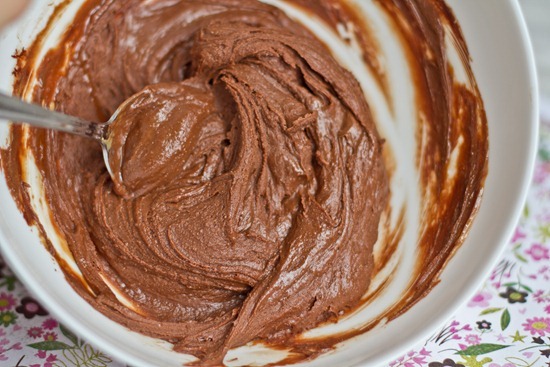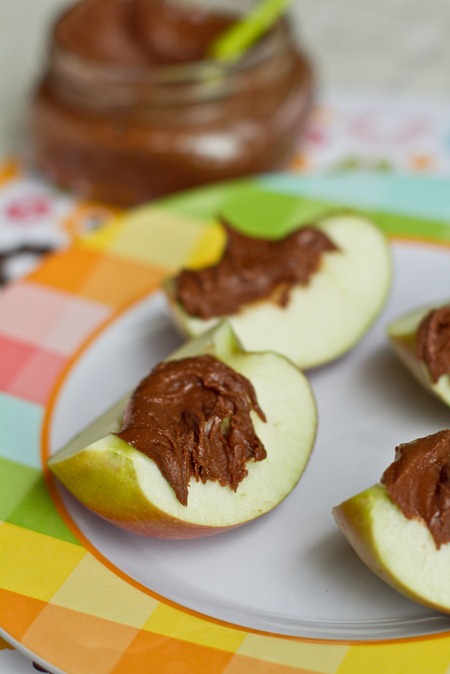 Both are really delicious. I have tried store bought chocolate almond butter before, but I was always a bit disappointed because the chocolate flavour wasn't intense. I was really happy with these homemade versions as they are super chocolaty!
I also want to try making a dark chocolate pecan butter or cashew butter and experiment using roasted nuts instead of raw.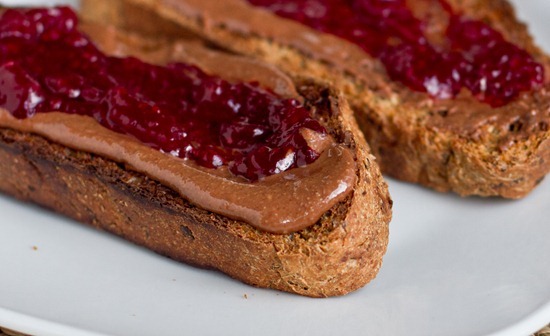 Chocolate craving demolished.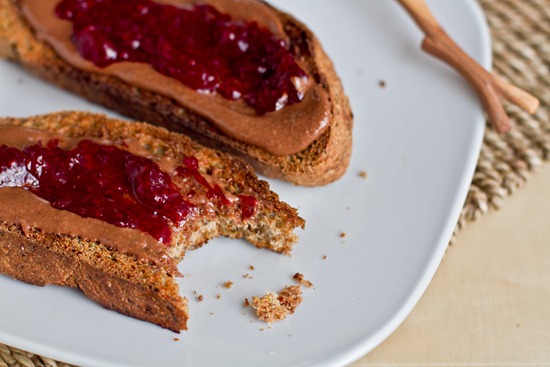 For now.