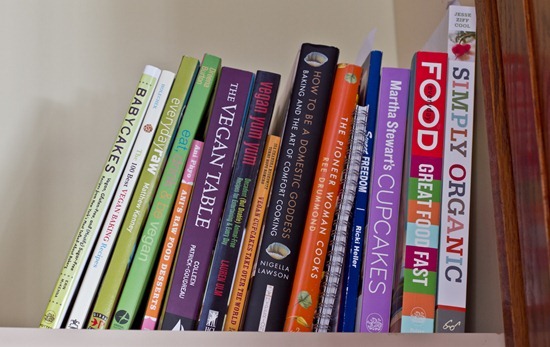 Good morning!
As you may have seen in my 11 in 2011 resolution list, one of my goals for 2011 is to write a vegan cookbook proposal and sell the idea to a publisher. During Project Food Blog, I was contacted by a few literary agents and I am currently in the process of figuring out my next steps.
I have been feeling a bit overwhelmed with the idea of 'where to start' with my cookbook proposal and these feelings have taken me back to my thesis days. My undergraduate thesis and my Master's thesis were both huge undertakings and I remember how I used to feel so overwhelmed whenever I had to take the first step and get started.
For me, starting a big project has always been the most difficult part.
Once I have started and I have a plan, then it seems to get a bit easier. That is just how I work.
My fear of beginning large projects has something to do with the high expectations I place on myself. I tend to put off big projects for fear of not doing a good job; if I can put it off, maybe the right idea will just 'hit me' and then I can move forward. But, that is rarely the case. It takes work, and lots of it, to get big projects off to a good start. Sometimes, I wait and wait for the 'perfect' idea, when I already have very good ideas to work with. Every project needs a solid foundation and while they shouldn't be rushed, procrastination doesn't do any good. I am really guilty of procrastination with large endeavors.
I mentioned 'once I have a plan' things seems to flow more smoothly. Having specific and attainable goals are always present in my life, but every good goal must have a plan to go along with it too! The reason why I have felt overwhelmed with my cookbook proposal is that I did not have a plan to guide me.
Every specific goal must have a specific plan to go along with it.
I would like to share my experiences with this process as much as I can. I also want my book to be largely based on your feedback. What types of recipes do you want to see in a vegan cookbook? What ingredients do you like to cook and bake with? What questions do you have about vegan cooking and baking? All of these things are things that I think about and I hope to address many of these things as I go through the process. (Don't worry about answering the questions now as I will be creating a survey at some point). I want the book to be not only a reflection of my fun approach to a vegan diet, but also a reflection of what types of things you would want to see in a vegan cookbook.
I thought I would show you how I was finally able to get this project off the ground and running.
I have been brainstorming cookbook ideas for over a year now, but my brainstorming never translated into much more than that. I finally realized that I needed to take the next step and create an outline, so I started a Word document and I created a chapter outline of how my cookbook may look. What sections do I want? What would I call them? What types of recipes do I want to focus on? How many recipes per section? How would the order of the sections flow?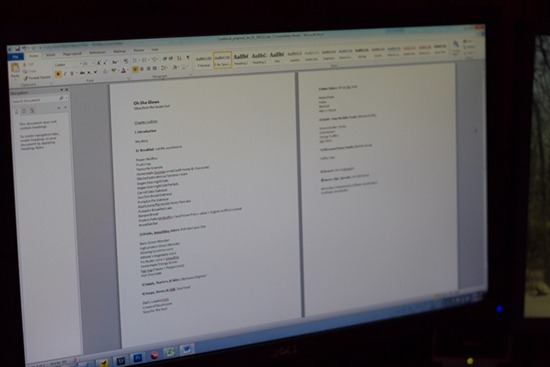 While I always do my brainstorming on paper, I prefer not to use pen and paper when doing a large outline. I find an electronic Word document is much cleaner because I can easily delete things and have a clean looking document at all times.
I have half a notebook filled with brainstorming ideas from Project Food Blog!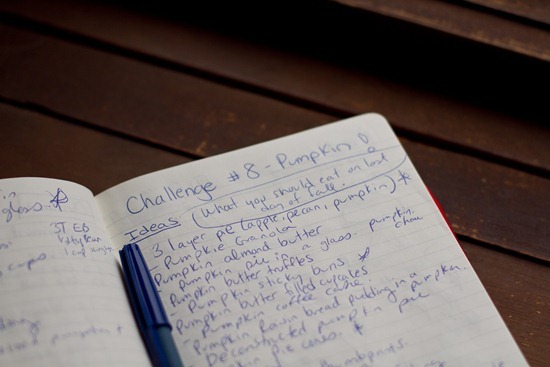 and weird diagrams apparently! haha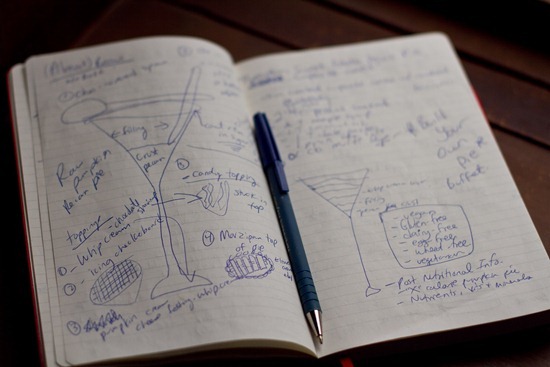 Don't ask. I really don't know what's going on in these diagrams. I think I wanted to make a raw layered pumpkin pie at one point. Then I realized the challenge was to make a BAKED good. Doh!
I worked on my outline this weekend and I am already feeling so much better about things. Once I planned out the chapters in my book, I started to place recipes or recipe ideas underneath each chapter that I may want to include. Over time, this is how my cookbook proposal will grow. Of course, what I plan now will likely change many times over, but at least there is a plan there to guide me and that is all that matters in the initial stages!
Do you have any big projects looming in 2011? Do you suffer from procrastination or fear of failure when big projects loom? Have you ever been intimidated by a large project? How did you begin?