Thank you all so much for your support with my final Project Food Blog post! Your comments, tweets, and emails mean so much to me and I can't thank you enough. Regardless of what the outcome is on Friday, I am truly grateful to have you all in my life and I feel extremely thankful for your positivity throughout this entire process.
To me, that is worth more than any prize!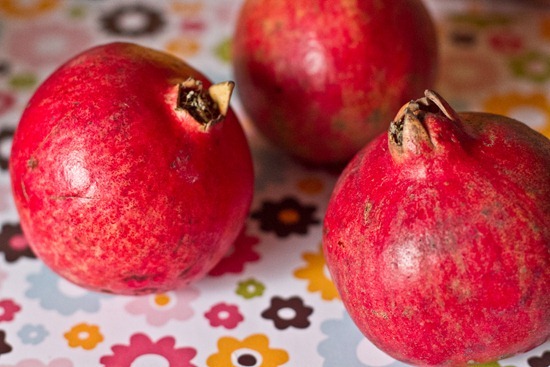 I have been having the worst case of insomnia this week, not falling asleep until about 3am each night. It is definitely my nerves and I have battled insomnia on and off throughout my life whenever I have a lot going on. I have been making sure to exercise and eat right, but I think I also need to work on other things like meditation or yoga!
It actually turns out that one of my favourite yoga websites – Yoga Journal– has a bunch of yoga poses just for insomnia. I think I will have to try this out tonight and see if it helps.
I also tend to start going a bit crazy at night when I don't sleep well…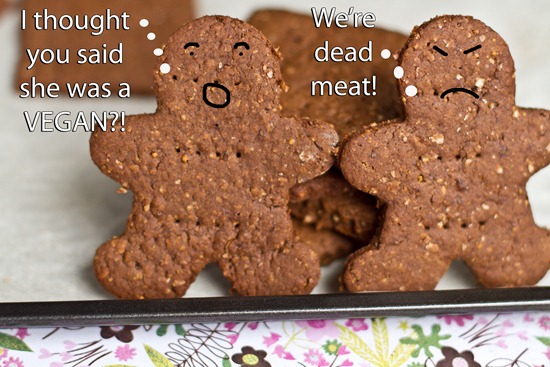 This is what happens when I am up at 2am.
It wasn't pretty.
Vegan Graham Crackers
Consider this post to be part one of how I made the Vegan Nanaimo bars!
Tomorrow, will be part two of the Nanaimo Bar photo tutorial. I'm excited.
Vegan Graham Crackers are really hard to find in my area, so I decided to make homemade graham crackers for the base layer of the bars instead of using store bought graham crackers.
I lightly adapted Ashley's graham cracker recipe to suit the ingredients I had stocked in my own pantry and after a few trials I am now happy to share this version with you!
I used to be intimidated to make my own graham crackers, assuming that the process would be lengthy and difficult, but these are actually super easy to make. I think from start to finish I was done in about 35-40 minutes!
Let us begin this magical journey.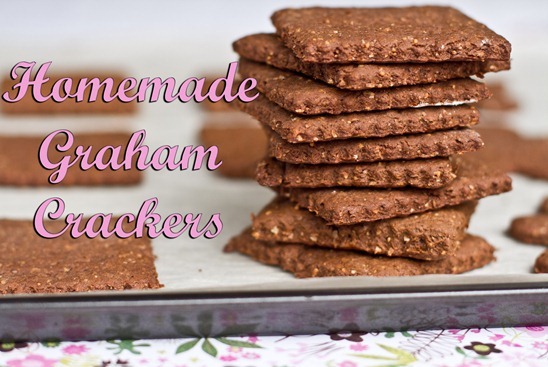 [print_this]
Vegan Graham Crackers
Crispy, flavourful, lightly sweet, and super addicting, these vegan graham crackers will have you coming back for more and more! Enjoy them plain, decorate them for the holidays, or make delicious homemade s'mores. The sky is the limit!
Adapted from Edible Perspective and Vegan Cupcakes Take Over The World.
Yields: Approx 18 crackers.
Ingredients:
DRY
3/4 cup + 1 tbsp whole wheat flour
3/4 cup white flour
2 tbsp Sucanat (brown sugar probably works)
1/2 tsp kosher salt
1/8th tsp ginger
2 tsp cinnamon
1/8th tsp nutmeg
1/2 tsp baking soda
Turbinado sugar or coarse sugar, for garnish
WET
3 tbsp extra virgin olive oil
Modified flax egg: 1/2 tbsp ground flax + 1 tbsp warm water
3.5 tbsp almond milk
2 tbsp pure maple syrup
3 tbsp blackstrap molasses
Directions:
Preheat the oven to 350F and line a baking sheet with parchment paper or a non-stick mat.
In a small bowl or cup mix together the modified flax egg: 1/2 tbsp ground flax and 1 tbsp warm water. Set aside for 5 minutes so it can gel up.
In a large bowl, whisk together the dry ingredients and make sure everything is combined very well.
In a small bowl, whisk together all the wet ingredients, including the flax egg, but give the flax egg a good stir before mixing it in.
Add the wet mixture to the dry mixture and stir well with a spoon and then set the spoon aside and get in there with your hands and squeeze the dough together with your fingers.
Form the dough into a ball and place it on a very lightly floured counter. Be sure not to use too much flour or it will dry out the dough. Lightly flour a rolling pin and begin rolling out the dough until you have a rectangle that is about 1/8 inch thick. You want to roll it as thin as you can while still being able to remove it from the surface. The dough tends to crack in the initial rolling stages (and this was true for all different trials of the recipe), but I found that once I worked with it more it began to hold together better. If the dough cracks for you, you can form it into a ball again and restart the rolling process if need be. Sometimes I just patch cracks with another piece of dough and press it into the crack. Don't worry because they don't need to be perfect!
Once your dough is rolled out you can use cookie cutters, a pizza slicer/pastry slicer, or even a knife to cut the shapes you want. The sky is the limit!
Now pull away the scrap dough around the edges and set aside. Using a flat spatula/pancake flipper, carefully slide it underneath each cracker and place the cracker onto the baking sheet about 1 inch apart.
Grab your scrap dough and roll it out and repeat the cookie cutting process. Place onto baking sheet.
Now grab a fork and pierce each cracker a few times so it has air holes.
Sprinkle with turbinado sugar (or coarse sugar/white sugar) and bake for approx 15 minutes, rotating the pan 180 degrees half way through the baking time. There is no need to flip the crackers during baking. Baking time will vary depending on how thick your crackers are, so keep that in mind.
Allow the crackers to cool on the baking sheet for about 10 minutes. They will firm up quite a bit. Enjoy plain, decorate them with frosting, or make s'mores! They are highly versatile and absolutely addicting.
Makes about 18 crackers.
[/print_this]
Making these graham crackers could NOT be easier!
Whisk together your dry ingredients…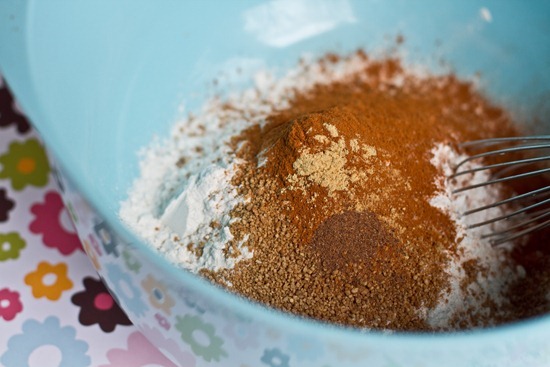 Like so.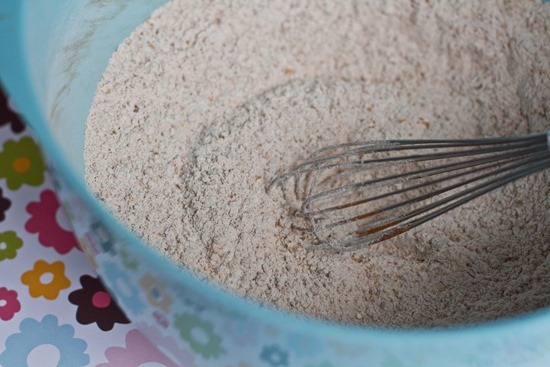 Whisk together the wet ingredients…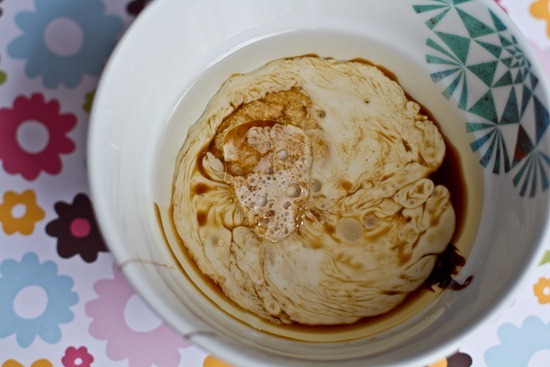 Like so.
Add wet to dry and stir until it starts to come together and then get in there with your hands and squeeze the dough together.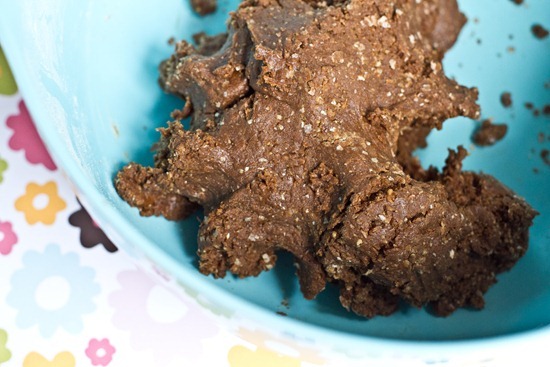 On a lightly floured surface and with a floured rolling pin, roll out the dough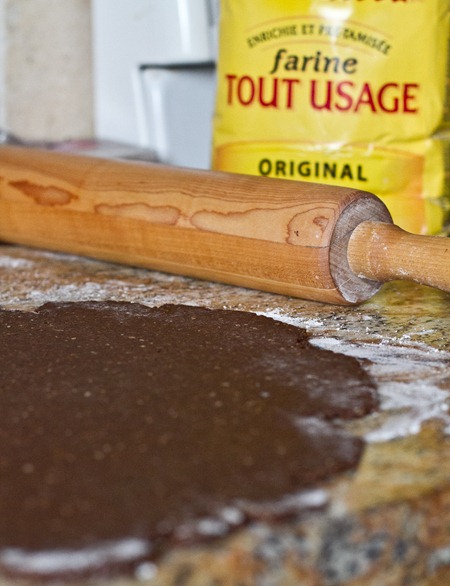 For all of the trials that I made, the dough tended to crack during the initial rolling stages. I found that the more I worked with the dough the easier it became to handle. Sometimes I would patch a crack with another piece of scrap dough and this seemed to work well for me.
This recipe would be so great to make with kids!!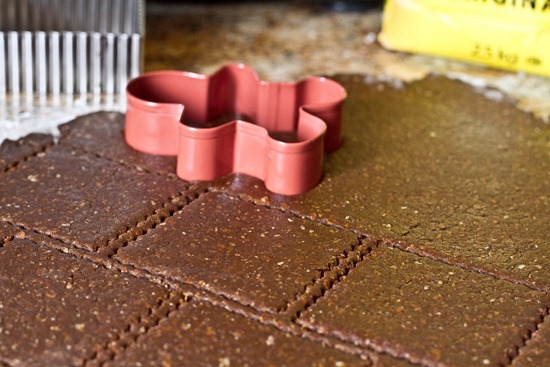 It has been way too long since I have used my fun cookie cutters! I have an entire drawer filled with them from back when I used to make decorated cookies for weddings and parties.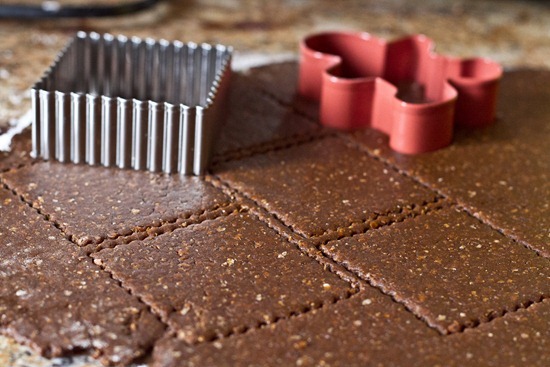 I was able to make about 18 large crackers.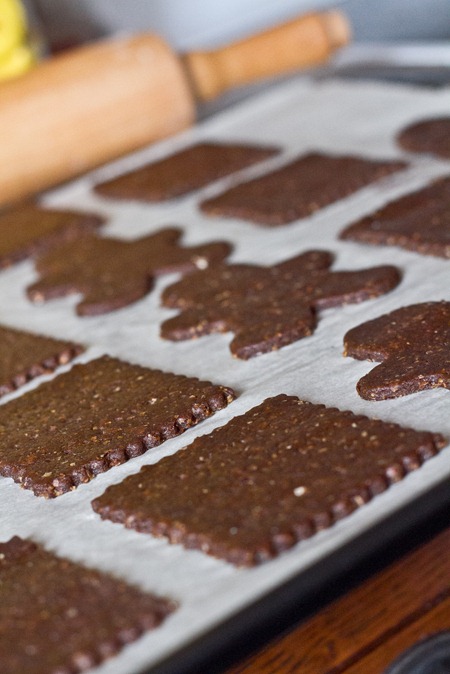 After removing the scrap dough, grab a flat spatula and slide it under each cracker, placing it onto the baking sheet.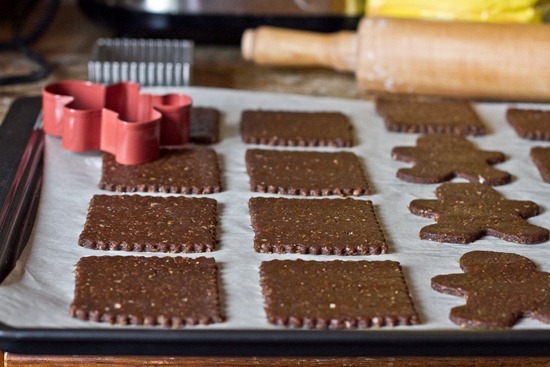 Roll out the leftover scrap dough and repeat the cookie cutting process.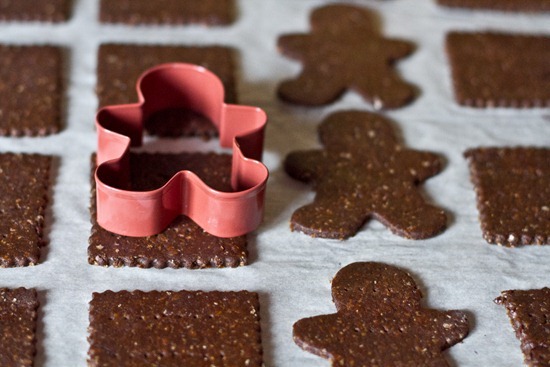 Take a fork and pierce each cracker about three times to create air holes. These little guys need to breathe!
Bake for approx 15 minutes at 350F and allow to cool for about 10 minutes. The crackers will firm up nicely. The baking time will vary slightly depending on how thin you made your crackers, so keep that in mind and watch closely.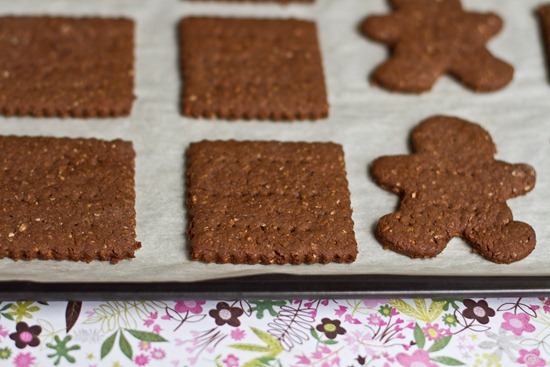 Sadly, I did not get a chance to decorate these little guys because I had to use them in the Nanaimo bars, but I definitely plan on decorating some in the future! How cute would they be decorated for a holiday party?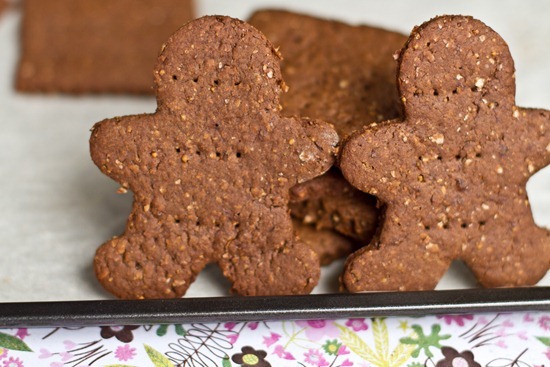 The result is a vegan graham cracker that is absolutely addictive with a rich molasses flavour and a very light sweetness. They are not as sweet as your typical store-bought graham crackers, but I enjoyed these much better than any store bought cracker I have ever had. Homemade always tastes better, don't you think?
They are nutty, crunchy, wholesome, and they are so delicious I was happy eating them plain. They would make the perfect cracker to throw into a lunch bag and you could enjoy them with all kinds of dips or toppings. Have fun experimenting!