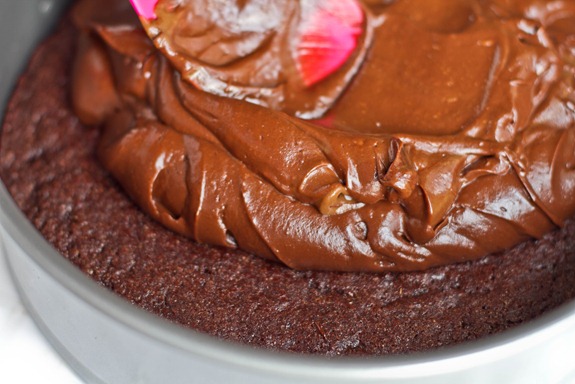 I think I jinxed myself yesterday talking about the cold because today we are under an extreme cold weather alert. The only upside to this cold weather is that there is usually some beautiful sunshine to go with it so today is really bright and clear outside!
Since I posted about my chocolate torte experience on Sunday, I have been excited to go into more depth about how to make it. After trying The Coup's chocolate torte, I was determined to create my own version free of tofu. I'm not really a fan of tofu in my desserts and I figured I could make one without it.
I absolutely fell in love with this torte and it was one of the rare occasions that I nailed the recipe on the first shot. Actually I think that is the only time it has ever happened! I was pretty excited that it turned out because I made it, along with the other 3 Coup recipes, on the day before and morning of the deadline for the challenge! It was a pretty crazy weekend to say the least. ;)
Not only is this torte free of tofu, but it contains a certain green ingredient that is packed with healthy fats and vitamins.
Any guesses?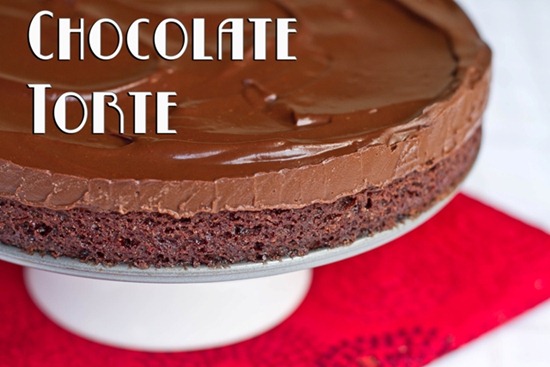 [print_this]
Chilled Double Chocolate Torte
Crust adapted from The Coup Cookbook.
Crust ingredients:
1 cup + 6 tbsp whole grain spelt flour
1/4 cup + 2 tbsp cocoa powder
1/2 tsp baking powder
1/2 cup + 1/3 cup white sugar

OR

1/2 cup sugar + 1/3 cup Sucanat
1 tbsp arrowroot powder
1 tsp kosher salt
4 tbsp + 2 tsp canola oil
1/2 cup almond milk
3 tbsp pure maple syrup
Filling:
2 cups avocado flesh (approx 4 medium avocados), pitted and scooped out
1/3 cup almond milk (revised amount)
2/3 cup pure maple syrup
1 tbsp smooth peanut butter (or almond butter)
1 tbsp arrowroot powder
1/4 tsp kosher salt
1 tsp pure vanilla extract
1 cup + 2 tbsp chocolate chips, melted
1/4 cup cocoa powder, sifted
Directions: Preheat oven to 375F. In a large bowl, sift together the dry crust ingredients (spelt, cocoa powder, baking powder, arrowroot powder, sugar and salt). In a medium bowl, whisk the wet crust ingredients (oil, maple syrup, milk). Add wet to dry and stir well.
In a 10 inch springform cake pan, scoop on the crust batter and spread out with a wet spoon or wet hands. The batter will be very sticky so you will have to keep wetting your spoon/hands. Spread out as evenly as possible and bake for 25 minutes at 375F.
Meanwhile, prepare the filling by placing all filling ingredients (except chocolate chips) into food processor. Process until smooth.
Once the crust is done baking, remove from oven to slightly cool off for about 5-10 mins. Now melt your chocolate chips in a small bowl and place melted chocolate into food processor mixture. Process until smooth. Scoop this filling into cake pan on top of crust. Smooth out as much as possible and then place in the freezer for 1.5-2 hours to firm up.
Remove from freezer and allow to sit on the counter for about 10-15 minutes before serving chilled. Serves 10-12. Place leftover torte in the freezer wrapped and placed in a seal container. I'm not sure how long it lasts in the freezer, but I would guess 1-3 weeks if sealed properly.
Note that this torte should be served chilled as it looses it's firm shape when at room temperature. Eric and I also agreed that it tasted much better chilled.
[/print_this]
If you guessed this torte contains avocado, you are correct! This chocolate torte filling packs in a whopping two cups of avocado. But, you'd never know it…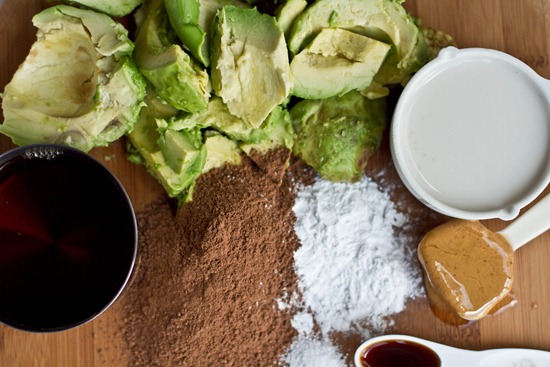 First things first, preheat the oven too 375F and gather up the dry crust ingredients.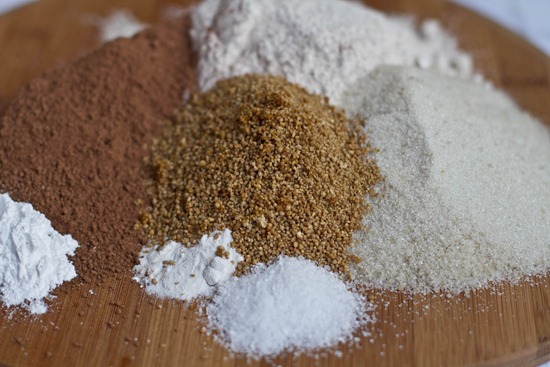 Sift together in a big bowl: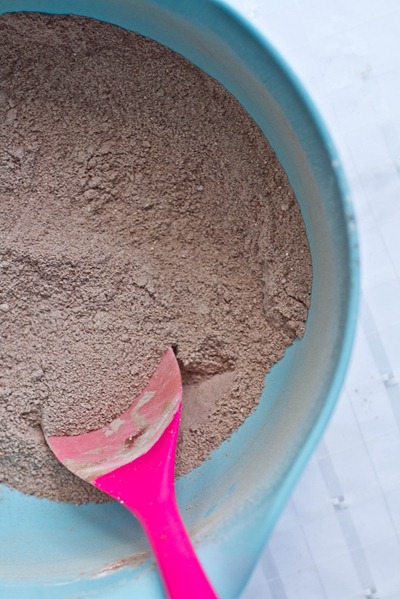 Gather the wet ingredients (almond milk, maple syrup, oil) in a small bowl and whisk.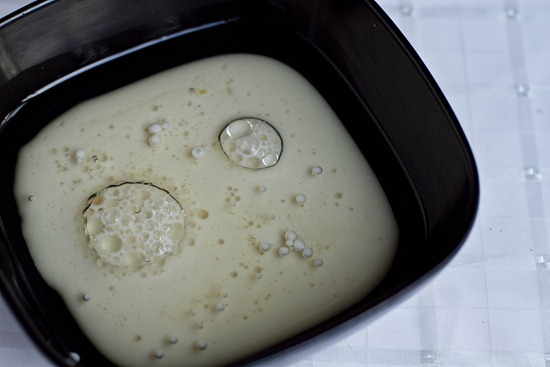 Add wet to dry and stir.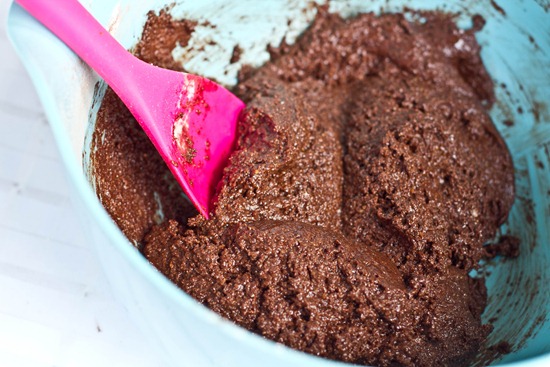 Spread into a greased 10 inch springform cake pan.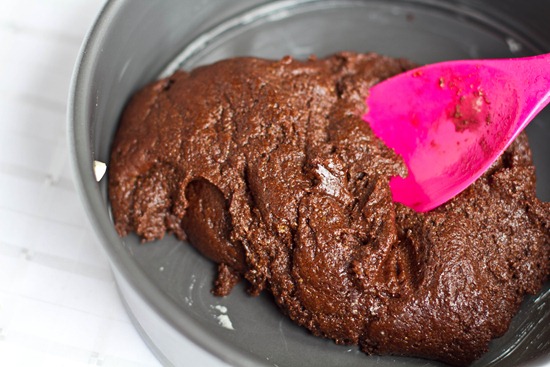 The crust batter will be very thick! Do not fear. Spread it around evenly as much as possible.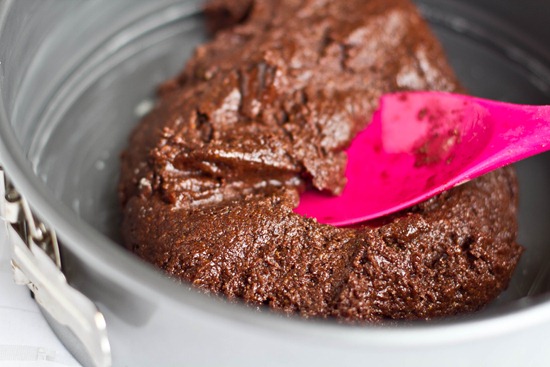 That'll do.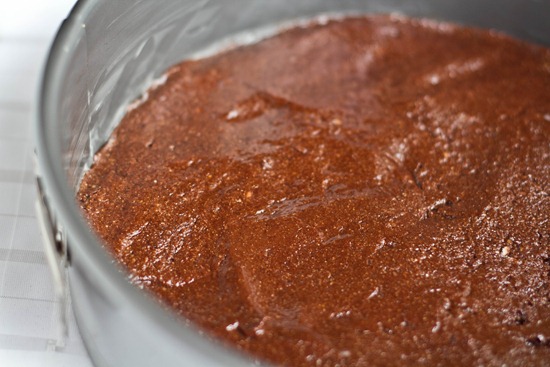 Now bake the crust for 25 minutes at 375F.
Meanwhile, let's make the delicious chocolate filling!
Gather up the 2 cups avocado flesh, almond milk, peanut butter, vanilla, arrowroot powder, cocoa powder, and kosher salt. Don't grab the chocolate chips yet as we don't need them right now.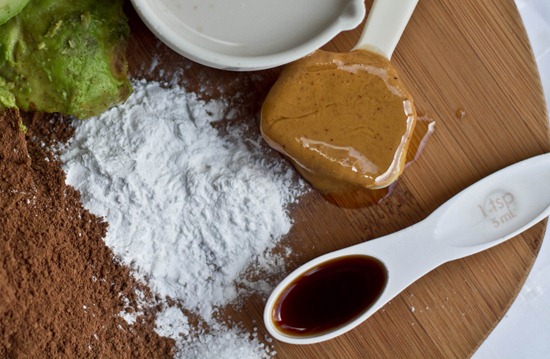 Process until smooth! This chocolate 'pudding' will taste incredible.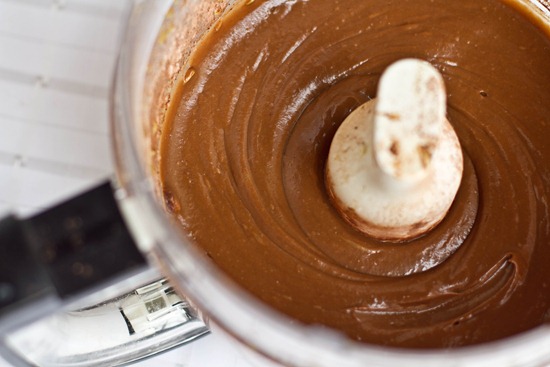 Once your chocolate base is finished baking, remove it from the oven and let it cool for 10 minutes. Take a knife and carefully circle it around the base.
Meanwhile, melt your chocolate chips.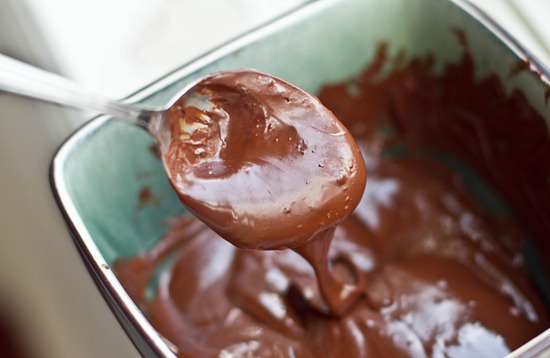 Mmmmm. Now add this melted chocolate into the food processor and process until smooth. It will taste like HEAVEN!!!
Your filling is now ready to be spread over the crust!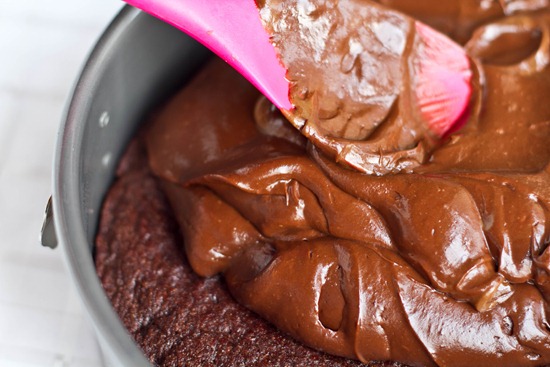 If you don't feel like making the entire torte you could always just make this chocolate filling and eat it as pudding.  :) It is that good.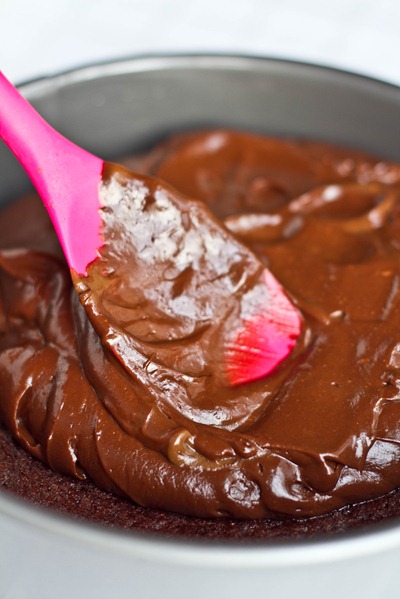 Smooth it out.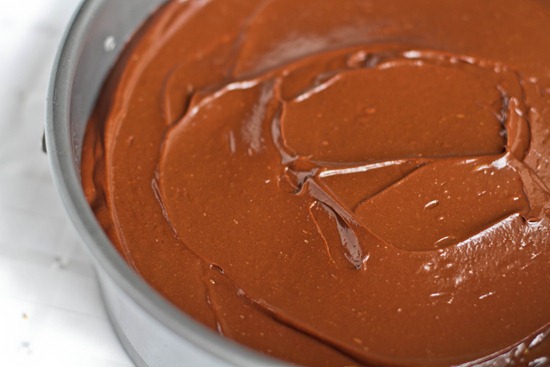 Now freeze the torte for 1.5-2 hours until firm. Once firm, take a knife and circle it around the edges once again, going very slowly.
Allow it to sit for about 10 minutes and then open up the springform pan carefully and serve immediately! This torte is meant to be served cold, so don't let it sit at room temperature to warm up (especially because there is avocado in the filling and you don't want it to spoil).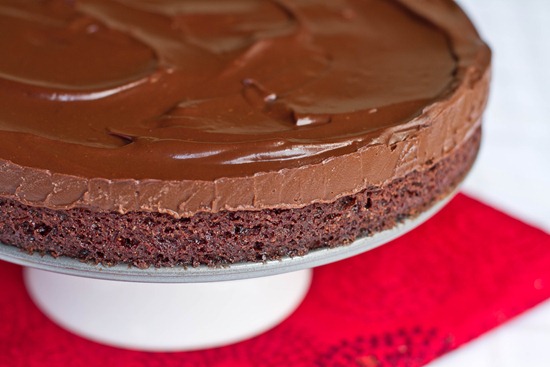 The result is an incredibly delicious, rich chocolate torte!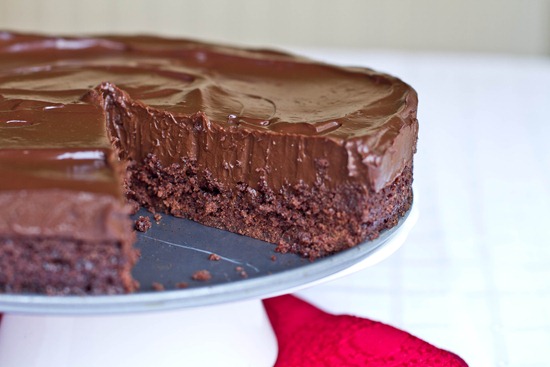 Place any leftovers into a sealed container and pop it into the freezer until you get your next craving. I'm not sure how long this keeps in the freezer, but I would guess that if sealed properly it would keep a couple weeks.
I don't think I need to tell you that Eric is obsessed with this torte. Last night he had two huge slices and was pretty much in chocolate ecstasy . :)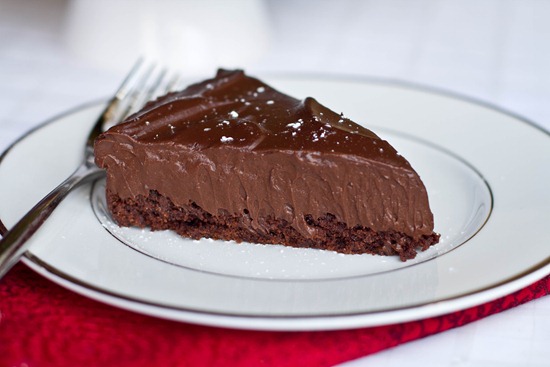 The filling has a pudding-like texture that is creamy, incredibly smooth, and chocolaty. It goes great with the Coconut Chai Latte too. :)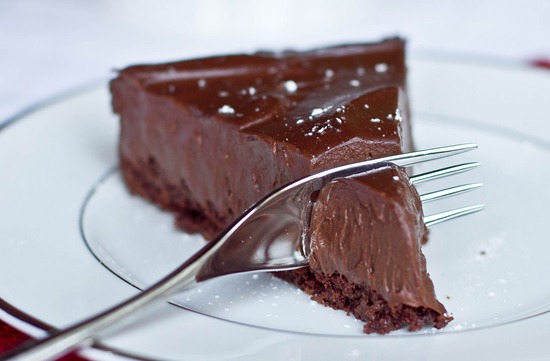 Today is the last day you can vote in round #9 of Project Food Blog! I appreciate your support in helping me advance tomorrow. :)
I am off to work on my holiday Glo bakery orders today. Have a great Thursday!