Good morning and Happy Friday!
Did anyone notice the surprise in today's Daily Food picture? I will be putting some interesting pictures in the Daily Pics that won't make it on the blog, so keep your eyes peeled. I have also added Daily Pic previews on the right sidebar that will take you to the page.
Also, check out my recipes page when you get a chance. I added a bunch of snazzy pictures for each category!
It is amazing what I can accomplish when Project Food Blog gives us a week extension. ;) I have had a chance to get caught up on a lot of blog related things this week, so it has been nice.
Steve and Joanne are coming over tonight so I thought I would bake up a delicious treat for them. They go crazy for my baked goods and I like to bake them something new whenever we get together. I think Steve is going to bring his new Kinect gaming system, so we will need all the energy we can get! I wonder if these go well with beer…hmm…My mind never stops I tell ya… ;)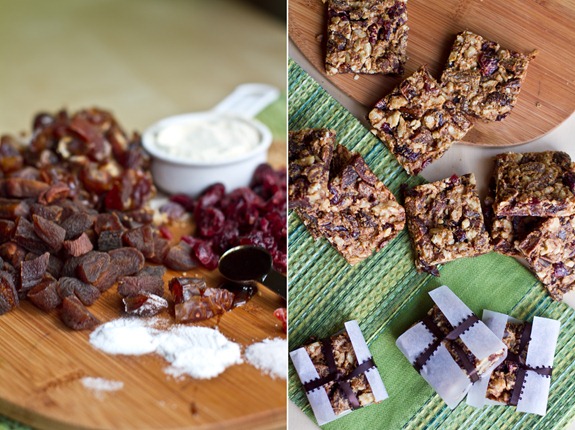 Fruit and Nut Energy Bites
Chewy, crunchy, delicate, and sweet. Packed with walnuts and dried fruit, these all natural energy bites will have you buzzing along in no time. They can easily be adapted with other dried fruits, nuts, and spices and would be perfect for outdoor Fall and Winter activities.
Adapted from Joy of Baking.
Ingredients:
1/3 cup whole-grain Kamut flour (or all-purpose, whole wheat, etc)
1/8 tsp baking soda
1/8 tsp baking powder
1/4 tsp sea salt
1/2 tsp cinnamon
1/3 cup  Sucanat or light brown sugar
1 1/2 cups toasted walnuts (can also use pecans, hazelnuts or almonds), chopped
1/2 cup dried cherries or cranberries
12 Medjool dates (approx 1 cup chopped dates), pits removed and chopped (or figs, and/or prunes)
1 cup dried apricots, cut into bite size pieces
1 flax egg (1 tbsp ground flax + 3 tbsp water)
1 tbsp almond milk
1/2 tsp vanilla bean paste or 1 tsp pure vanilla extract
Directions: Preheat oven to 325F. Line a square pan (8 or 9 inch) with parchment paper across both sides for easy lifting. In a small bowl mix together the flax egg and set aside.
Chop and toast the walnuts for 8-9 minutes at 325F. Remove from oven and set aside. Toasting the nuts really brings out the flavour so you don't want to skip this step.
In a large bowl, whisk together the flour, baking soda, sugar, baking powder, cinnamon, and salt. Stir in the walnuts and dried fruit. Make sure the nuts and dried fruit are all coated with the flour mixture.
Mix the vanilla into the flax egg after it has thickened up after about 10 minutes.
Add the flax egg mixture and the 1 tbsp almond milk to the fruit and nut mixture and mix well. Spread into the pan, pressing with fingers to even it out. I used a pastry roller too.
Bake for about 33-35 minutes at 325For until golden in colour. Remove from pan and allow to cool on wire rack for 10 minutes. Now transfer back into the pan and placein freezer to set for 10 minutes. Remove from pan once again and allow to cool for about 10 minutes. Now slice the bites up with a sharp knife. Makes 16-20 bites depending on how large you make them. I made them smaller as they are very dense energy wise.
Doesn't everyone buy Medjool dates by the11 pound box? ;)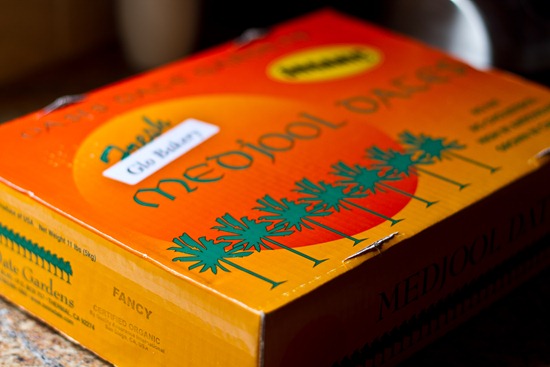 I love Medjool dates! They also make great pre-run fuel. I pack a couple of pitted medjool dates with me during my races.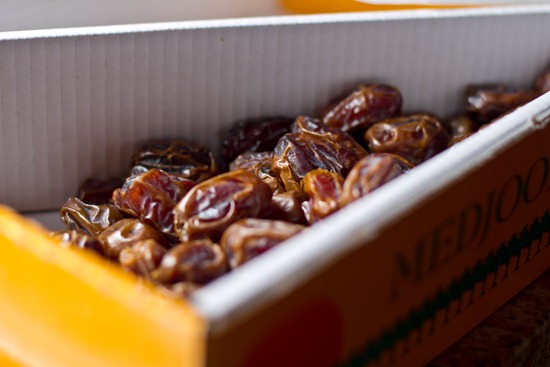 First up, toast your chopped walnuts for 8-9 minutes at 325F.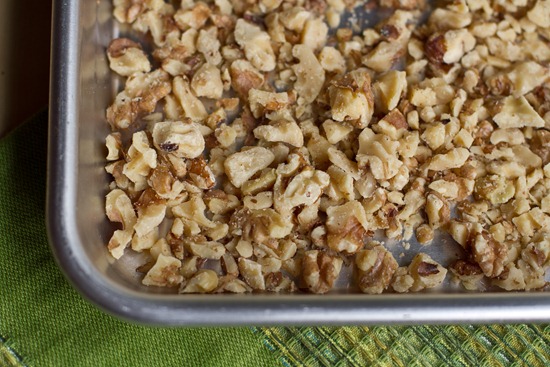 Now mix the flax egg and set it aside so it can gel up!
Flax eggs are delightful. After 10 minutes, the ground flax + water mixture turns into this beautiful gel with a consistency just like an egg!
Not only are they a great egg replacer, but flax eggs are also much cheaper than eggs and budget friendly.
Gather up the ingredients…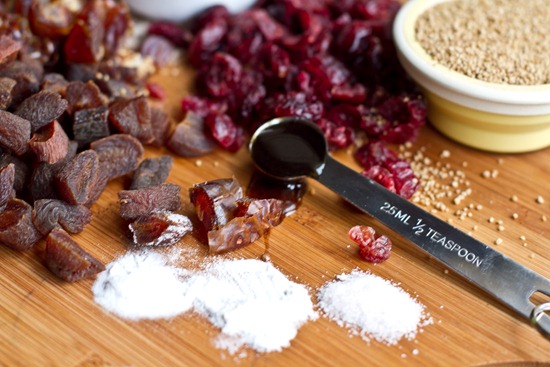 Mix the flour, salt, spices, sugar, and leavening agents together. Then add in the dried fruit and nuts.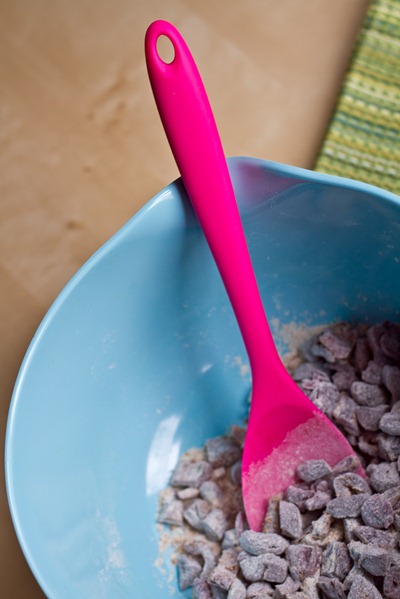 Mix well so every nut and dried fruit piece is coated with flour.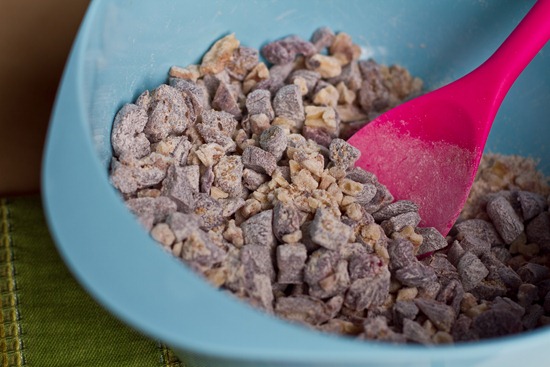 Now add in the flax egg, almond milk, and vanilla (mix together before pouring into bowl)…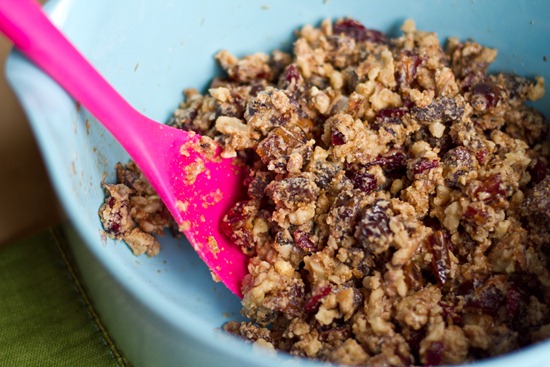 Spread into a pan and whip out that pastry roller if you have one!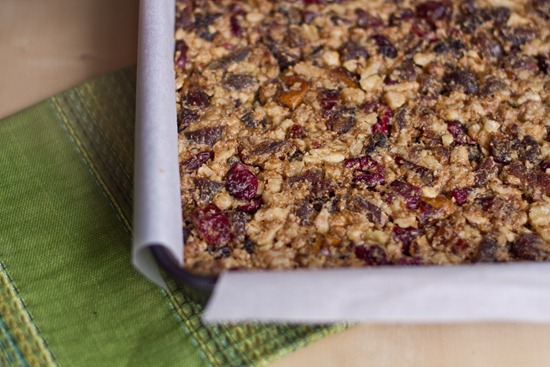 Bake for 33-35 mins at 325F.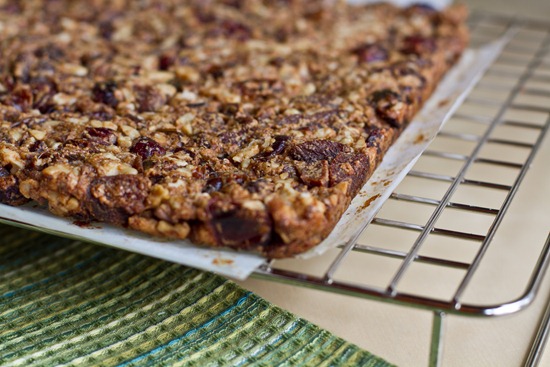 Yummy. The edges will be crispy and delightful, but it will still be chewy on the inside.
Cool on wire rack for 10 minutes and then pop back into the pan and place in the freezer to set for another 10 minutes.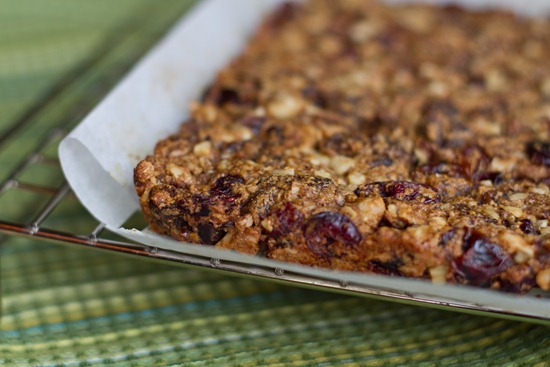 Sit at room temperature for 10 minutes and then slice with a very sharp knife.
Be careful my dear readers.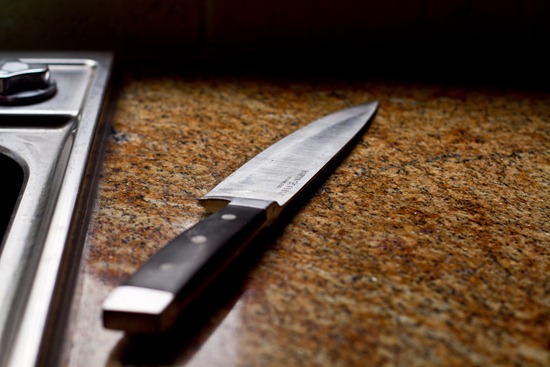 These bites are delicious, but they aren't worth losing a finger over. ;)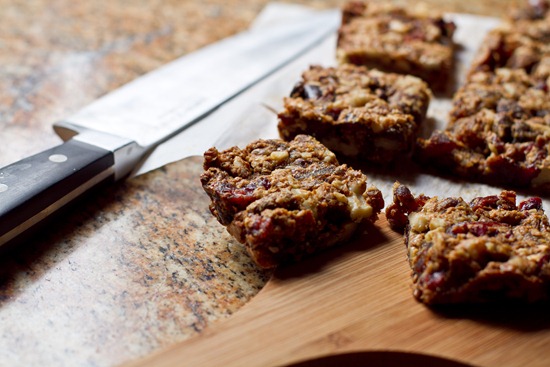 The result?
20 mini energy bites that taste incredible! They are crispy on the outer edges and chewy and crunchy in the middle. The dried fruit and walnuts makes these quite energy dense, so I prefer mini bites when slicing them up.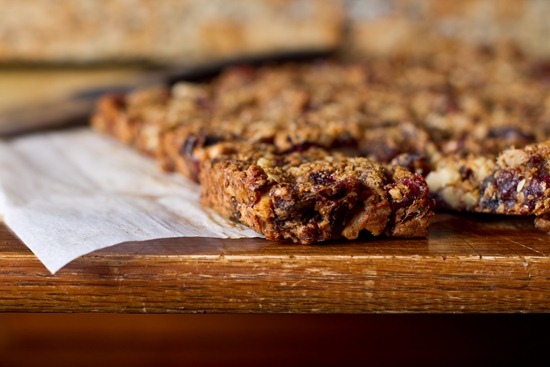 Of course, you can experiment with all kinds of mix-ins! If you adapt the recipe, leave a comment and share with others. :)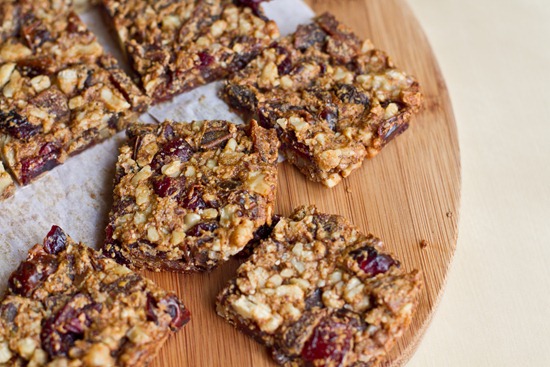 You can even wrap them up for a beautiful gift for the holidays!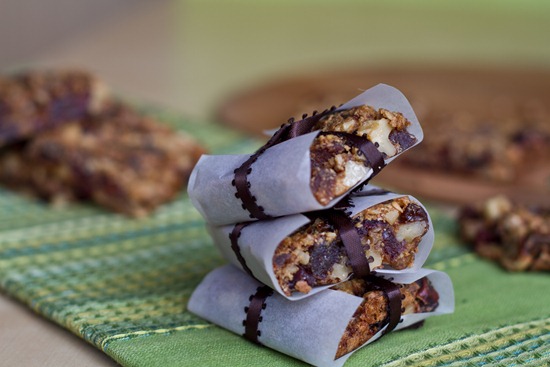 I wrapped these up with a small piece of parchment (about 1.5 times the length and the same width of a bite) and then wrapped with a ribbon. Portable and cute.
I am excited for this weekend because I finally get to show you my PFB video on Sunday that I have been sitting on for a whole week. :)
Have a GREAT start to your weekend.