Several years ago I was served Muhammara at a restaurant.
It was some life changing dip, let me tell you.
My taste buds were overwhelmed with pleasure as I tasted the complex flavours of the roasted red pepper, toasted walnuts, garlic, and spices.
Since that day, I have wanted to create this dip at home and I finally took the plunge.
I wasn't sure how it would turn out, but I had to ask myself:
How could I go wrong with roasted red peppers and toasted walnuts?
I simply could not go wrong.
No, I could not. ;)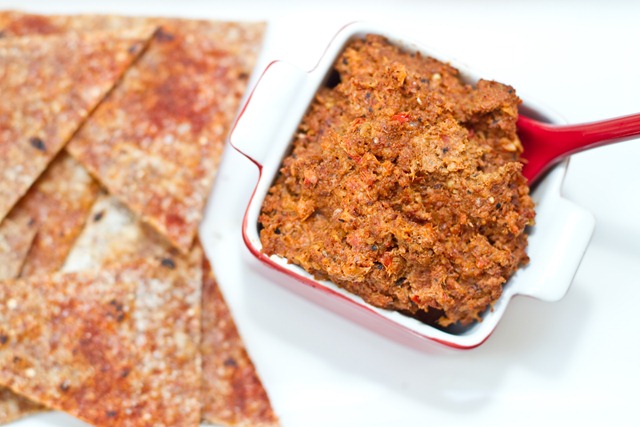 [Short of setting the kitchen to fire while making the roasted red peppers, but I had to keep the faith in my culinary skills.]
Muhammara Roasted Red Pepper & Walnut Dip with Spiced Tortilla chips
Inspired by Epicurious Muhammara.
Ingredients:
1 cup + 1/3 cup toasted walnuts
2 pieces Ezekiel bread, toasted
2 garlic cloves
6 curved bull's horn red peppers* (made 2 cups roasted peppers)
1/4 tsp ground cumin
2 tsp ground paprika
1.5 tbsp olive oil
1/2 tsp sea salt
2 tbsp tomato paste
For heat: Try Aleppo pepper flakes or hot sauce, to taste (I didn't add any)
Directions: Preheat oven to medium broiler setting. Wash and slice peppers and remove seeds. Take 1/2 tbsp of olive oil and spread onto baking sheet. Place peppers on top and broil on medium for about 10 minutes watching carefully. Once they are slightly charred, remove from oven and use a spoon to place them in a bowl. Cover bowl with a tea towel and allow to cool. Meanwhile, toast the walnuts in 1 tbsp olive oil over medium heat until golden. Remove from heat. Toast 2 slices of bread until moderately browned and firm. In a food processor process the walnuts, garlic, paprika, toasted bread, cumin, sea salt, and tomato paste. Scrape down sides of bowl as necessary. Once the peppers are cooled, remove tea towel and carefully remove the skin of the pepper. Discard the skin of the peppers and take the 'meat' of the pepper and process it with the rest of the dip until thoroughly combined. Serve with easy homemade tortilla chips (see below).
Makes 1.5-2 cups. Can be used as a dip or spread.
Notes: You can use regular red bell peppers. You might only need 4-5 as they are a bit larger. Also, I did not use any hot spices because Eric isn't a fan of spicy food. You might want to add some, although it is already very flavourful without any at all! It is quite garlicky so if you are not a garlic fan you might want to cut the amount in half or more.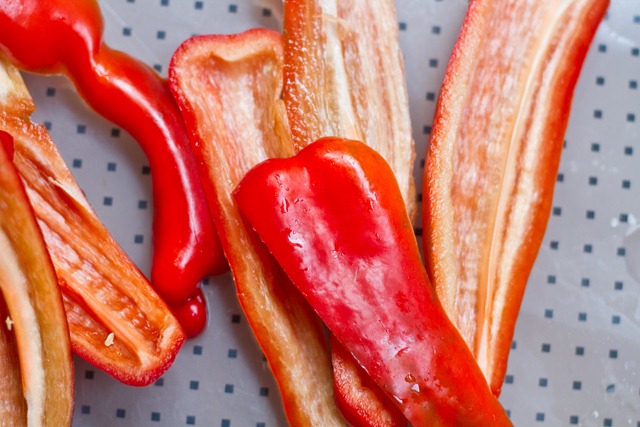 We got these sweet red peppers from our CSA last week (I think they are called 'Curved Bull's Horn'?). They are delicious.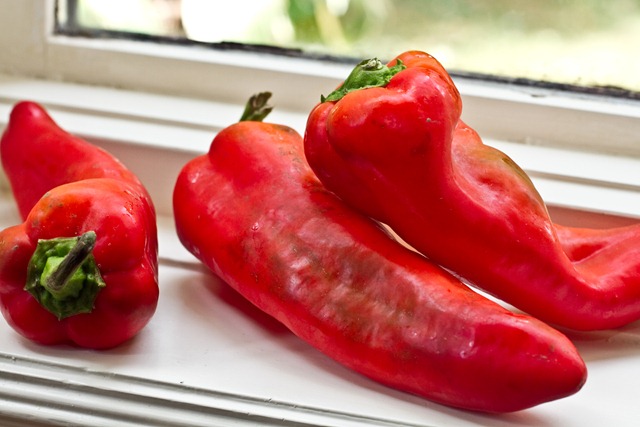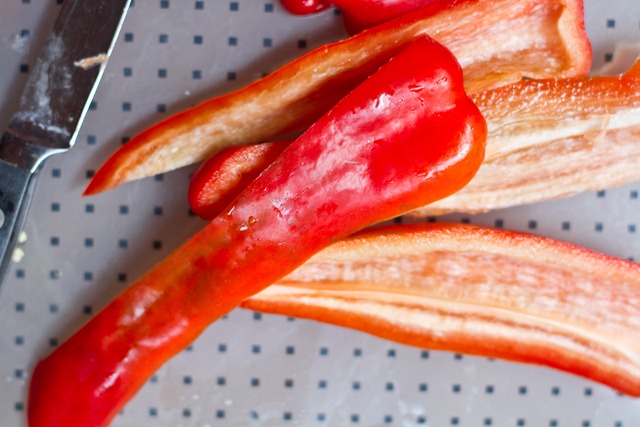 and perfect to roast.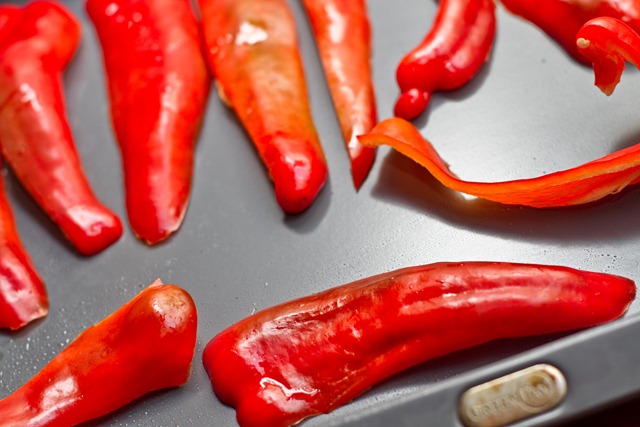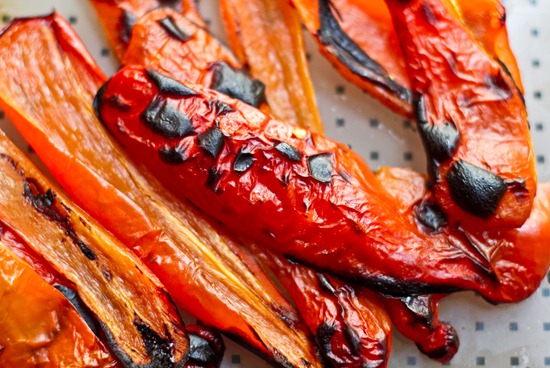 and walnuts are perfect to toast. ;)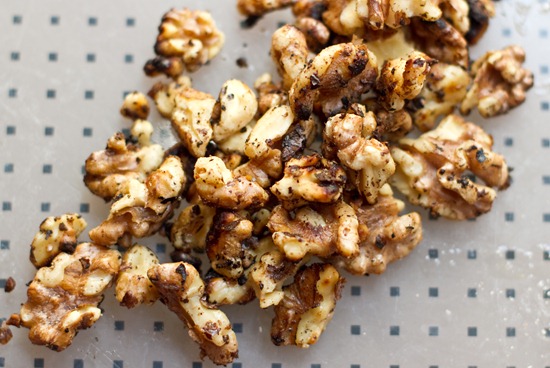 Feel free to shove a few walnuts in your mouth. They should not be resisted…ever. Don't even try because you will fail. ;)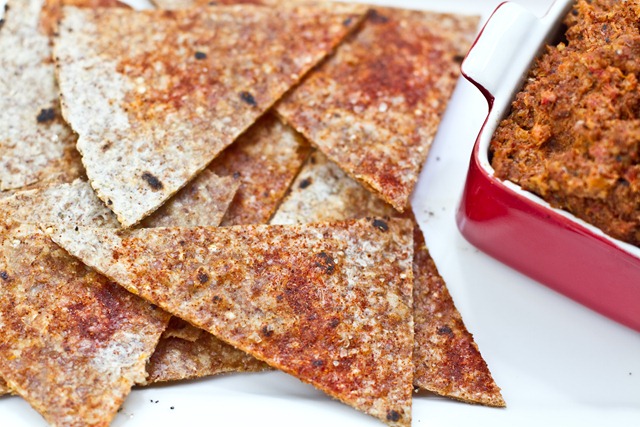 Easy Homemade Spiced Tortilla Chips
Ingredients:
2 Ezekiel tortilla wraps
1 tsp paprika
1-1.5 tbsp Earth Balance buttery spread
2 tiny pinches of sea salt
Directions: Preheat oven to 425F. Take tortilla wrap and spread with butter. Now sprinkle on paprika and sea salt. Cut into tortilla triangles. Place on baking sheet and bake for 5 minutes at 425F (no longer!). Remove from oven and immediately transfer to a plate to cool. Makes about 25 chips.
I loved using the Food For Life Ezekiel wraps because they are thick wraps! The chips were also crispy on the outside but still chewy and flavourful on the inside. I adore these!! If you use other tortilla wraps you might have to bake them for less time.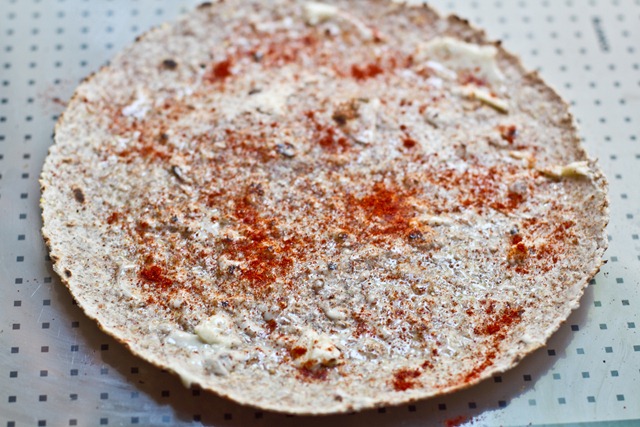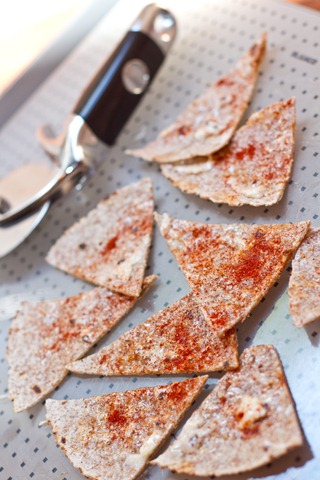 They were prepared in just a couple minutes and ready in 5!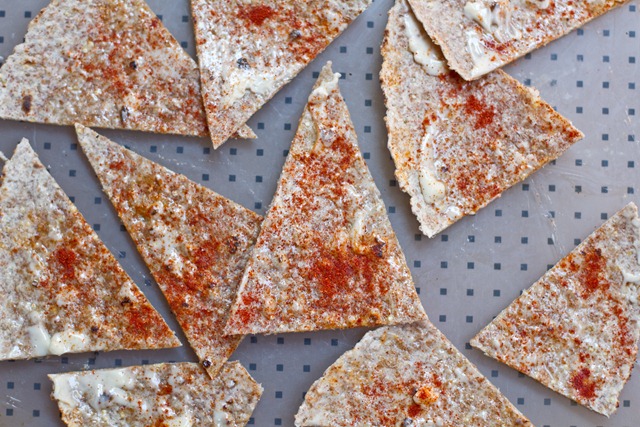 They are delicious with the dip. I highly recommend you make both at the same time!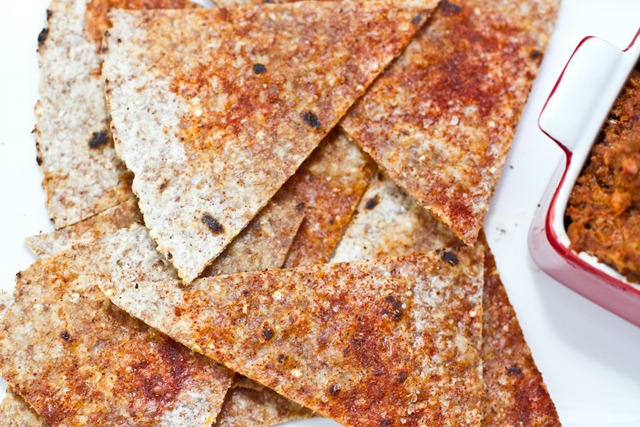 This is a wicked appetizer that would be a hit at any party.
Be careful though, it won't last long!