Good morning!
Look what little prince was asleep before we were last night!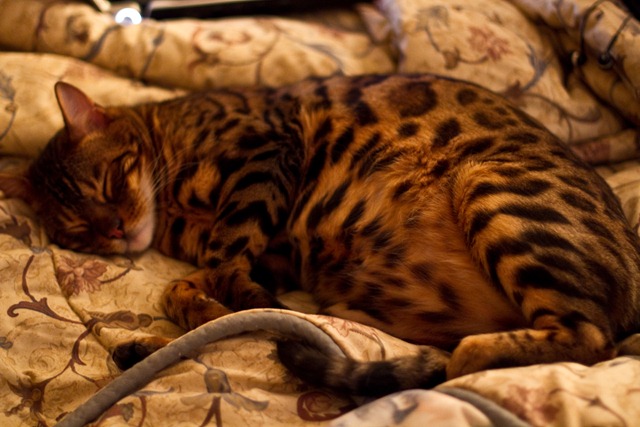 He was out cold. We poked him and he didn't move, lol. Very rare for him!
We slept well until about 4:30am when the cats decided they wanted to turn the bedroom into an all night rave!
Awesome.
We are such animal lovers though we couldn't bring ourselves to kick them out of the room. The things we do for our animals…right?!
Woke up earlier than we wanted to a windy and grey morning…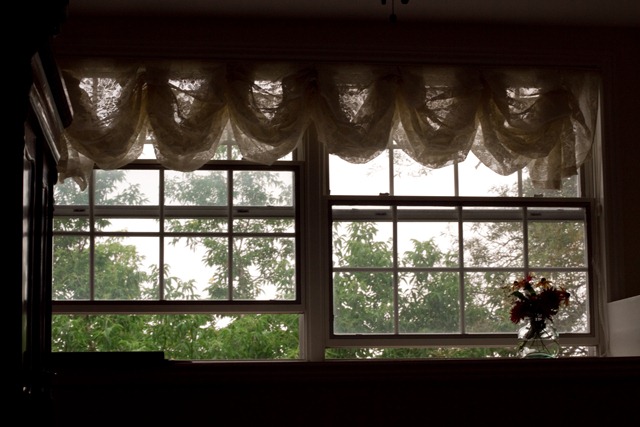 Sometimes I don't mind a grey and cool day. It was a nice contrast to all the heat and sunshine we have been having. It also poured all night long and I could hear the waves crashing into the shore. It was so relaxing! The yellowed grass and plants are happy now too.
We were all chomping at the bit for food this morning!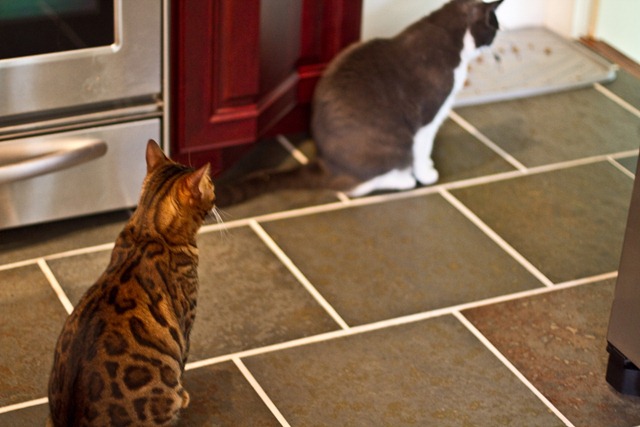 Sunday breakfasts are always a bit later than usual and the cats certainly take notice of this delay!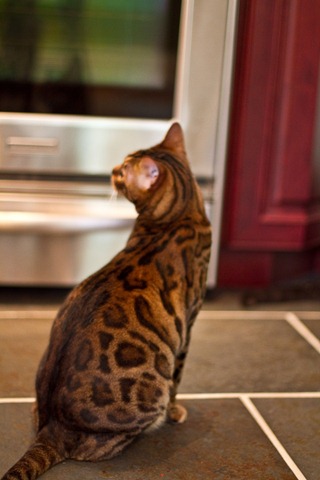 Here Sketchie is saying, 'Umm, can we get this show on the road please?!" ;)
For breakfast I had leftover fruit salad from last night! So so so refreshing. It was filled with juicy mango, strawberries, blueberries, apple, oranges, banana, and melon!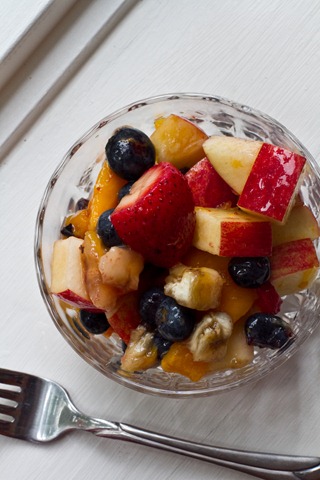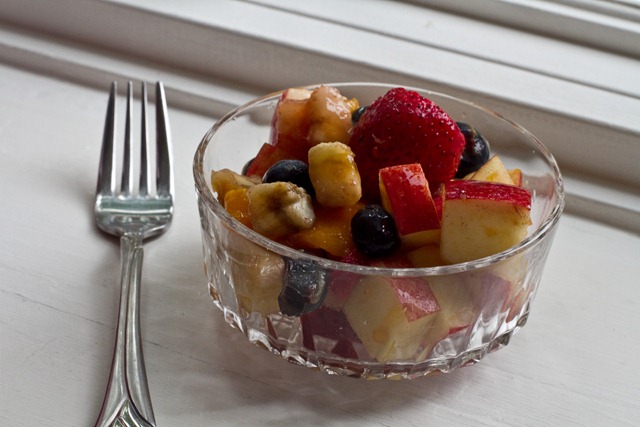 I also had another Vega High Protein Chocolate 'shake' on the side.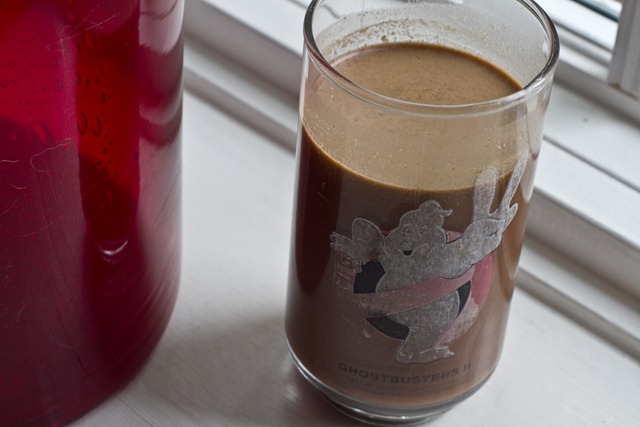 Can I just say how epic this 1988 Ghostbuster's glass is???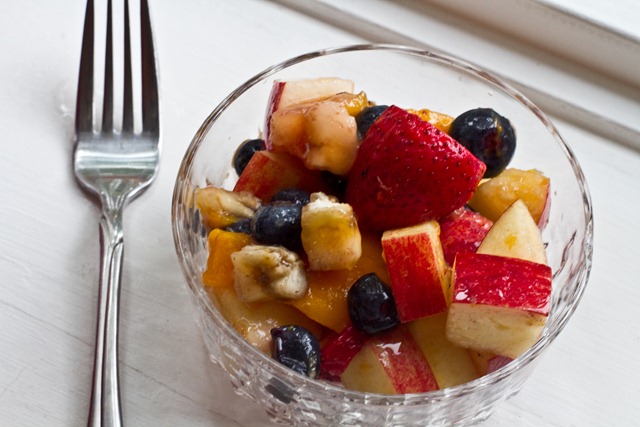 And some Japanese Sencha green tea and leftover chickpea salad from last night!
Had some interesting reads in the paper…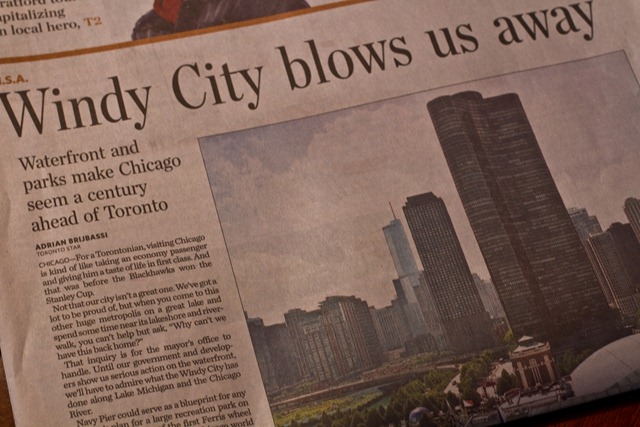 I guess I am not the only one who was blown away by Chicago's downtown!!!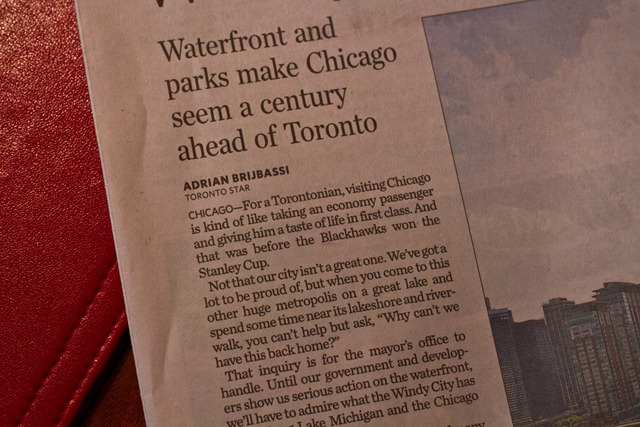 Then a failed Sketchie photoshoot!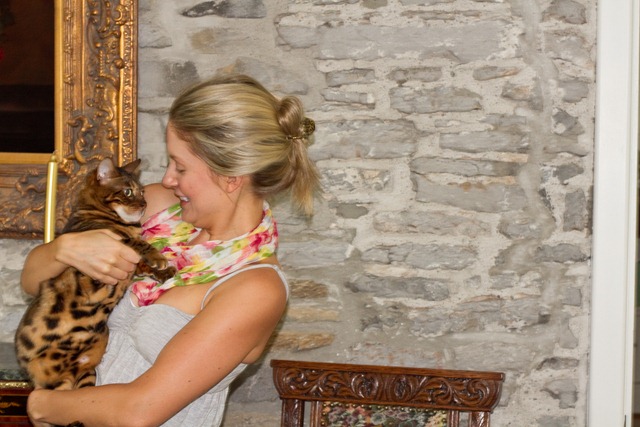 He was in his 'I got my belly filled so I don't need you anymore' mood. ;)
And a new blogging station with a view!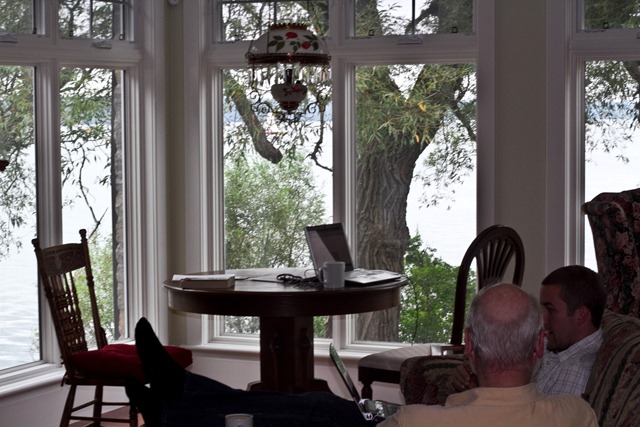 Now it is time for Recipe #1 from last night's amazing dinner! I will start with the Appetizer and work my way through.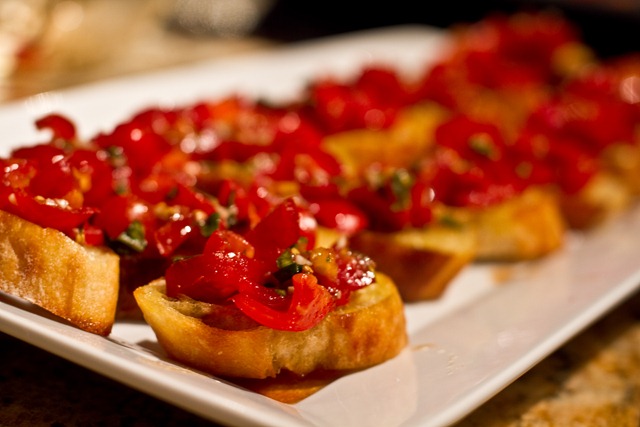 Easy & Delicious Bruschetta
Inspired by Simply Recipes.
Ingredients:
2-3 cups grape tomatoes (other types would work too), chopped
1.25 Tbsp extra virgin olive oil
1/4-1/2 tsp Fleur de sel sea salt,adjust  to taste
Freshly ground black pepper, to taste
1 handful basil leaves, chopped finely
2 cloves very fresh & juicy garlic
1 tablespoon balsamic vinegar
3/4 of a baguette (we used Ciabatta bread), sliced on diagonal (about 25 pieces)
4-5 tbsp extra virgin olive oil, placed in small bowl
Directions: Preheat oven to 400F. In a medium sized bowl combine 1 tbsp extra virgin olive oil, sea salt, chopped tomatoes, black pepper, finely chopped basil, 1 clove finely chopped garlic, and balsamic vinegar. Mix well and set aside. Take your baguette and slice 1" pieces. Take your other clove of garlic and carefully slice in half lengthwise, exposing the garlic juices. Take a piece of the cut garlic and rub one side of each slice of bread to spread the garlic juices and flavour on the bread. Now place 4-5 tbsp of olive oil in a small bowl and dip bread into the bowl (garlic side down) coating one side of the bread. On a baking sheet, line up bread oil side down and bake for 5-6 minutes watching very carefully. Bread will be crisp like toast, but not too hard. I checked mine every 2 minutes. While the bread is cooking take that sliced garlic clove and chop finely and add to the bruschetta mixture. Taste and adjust seasonings if necessary. When bread is ready flip so the oil side is up and scoop on the bruschetta mixture carefully onto each piece. Take remaining juices and drizzle over top. Serve immediately. Makes about 25 pieces and serves 6 comfortably. We ate every last piece!!
Everyone raved about this bruschetta. It was so good! I think it was gone in about 5 minutes. :)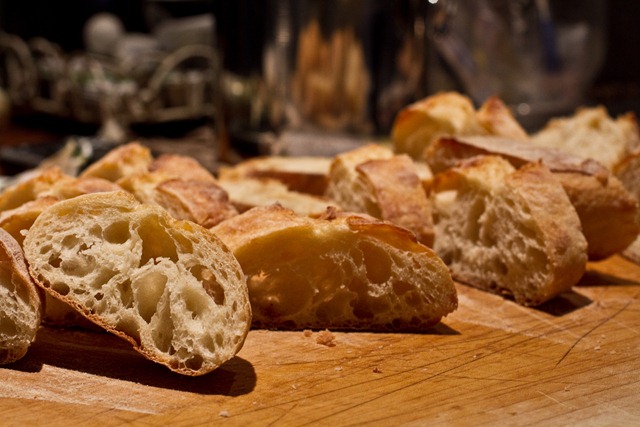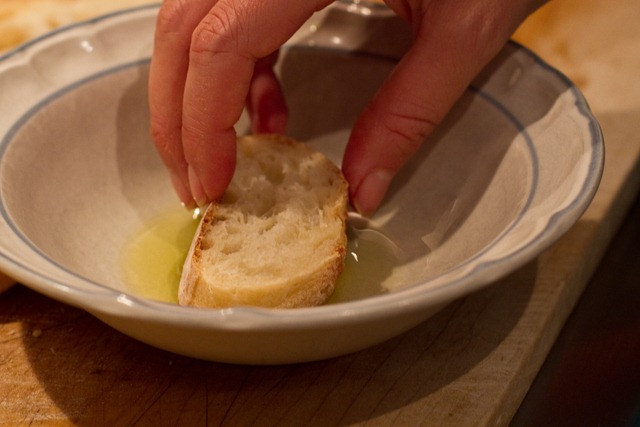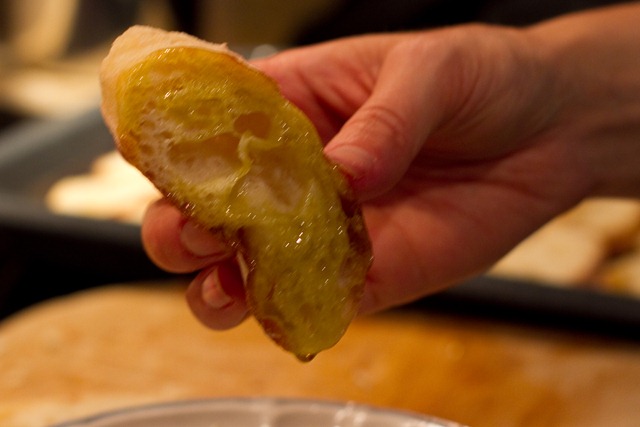 The key to good bruschetta is to keep adjusting it to taste. Once the mixture is all prepared taste it and add more sea salt, pepper, vinegar, etc as necessary. The recipe is not exact! Most of my cooking is like this actually.
Also, you need VERY fresh garlic. The juices must be oozing out of it. This is great for rubbing onto the bread before baking.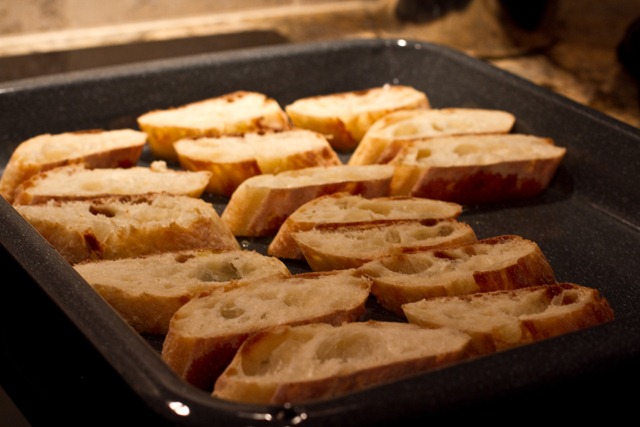 Flip oil side up after baking…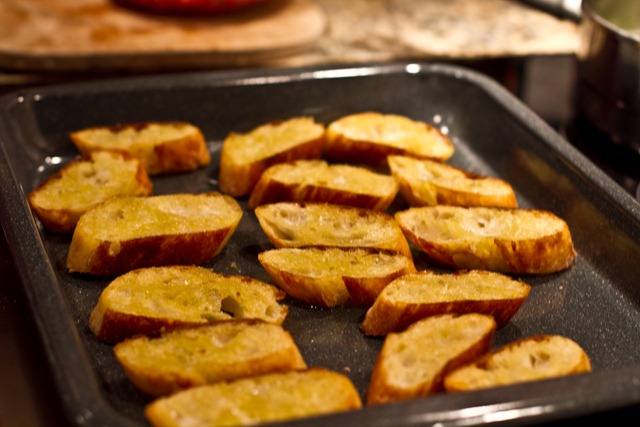 Scoop on mixture and serve!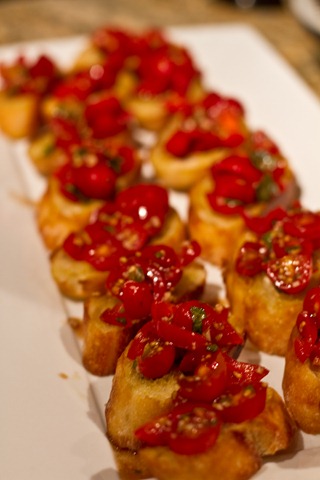 Mmmm so good.
My legs are STILL asking for another rest day today so I am going to honour that request and rest up. Should be fine to hit the road tomorrow with fresh legs!
Lunch calls my name. :)