Hello!
Well, my day surely improved after my accidental sleep-in this morning. I actually had a really productive day today! I will need to remember what a difference some extra sleep can do for a girl.
Also, I must admit my Green Monster this morning was pretty incredible…
This morning's Green Monster featured: 2 cups kale, 1 cup Almond Breeze, 1 tbsp carob powder, 1 tbsp chia seeds, 1 tbsp cashew butter, 1 frozen banana, 1 tsp raw maca powder, 2 large ice cubes.
Green Monsters really make my heart sing.
Loudly.
Sometimes my heart sings Lady Gaga…but that is another story.
Today was a Gluten-free and raw Liberate Glo Bar day in the bakery. I know a lot of you have been waiting on more to be available in the shopping cart and I am happy to say that I will have Liberate bars on sale at 11am EST this Friday July 30th. There will be a limited supply so be there or be square!
The Dinner Decision
I am often asked how I decide what meals to make each night for dinner.
I actually have a really easy system that works for me. It typically involves no lists or planning. I simply open the fridge, look at what veggies I need to use up, and then I base my meal around that. I am a very spontaneous cook and I love to just let my heart guide me in the kitchen. Or my stomach. Mostly, my stomach.
Tonight, I had to use up a 3-week old (but still good!) cabbage. I walked to the computer and googled 'Vegan Cabbage recipes' and I found this in less than 30 seconds. I just used it as inspiration. I decided to turn it into a cabbage soup because Eric has been feeling under the weather this week (sore throat) and I want to heal him with veggies!
Cabbage soup for the soul was born!
The key for my method to work, is to keep a well-stocked pantry whenever possible. Buy in bulk whenever you can (Costco, bulk food stores, online) and make a list of the foods that you use most often. Then when you go to the grocery store, you will know what to stock up on.
One of the most valuable lessons I have learned in the kitchen is to have fun with cooking. Experiment. Change up recipes based on what you have on hand or what you feel like. Sure, you will have some duds occasionally, but you will also have many more awesome meals and a newfound confidence in the kitchen!
I used to get all stressed about about cooking. I thought if I didn't follow the recipe to a tee, it was an utter failure. I couldn't understand why anyone said cooking was fun! But, I feel like I understand now…the beauty of cooking is about passion.
It is not an exact science. I prefer to put on my apron and pretend I am Julia Child (accent and all), tossing random things into a pot and emitting an evil cackle. [Ok, the evil cackle is my personal issue and has nothing to do with Julia. I will leave Julia out of this.]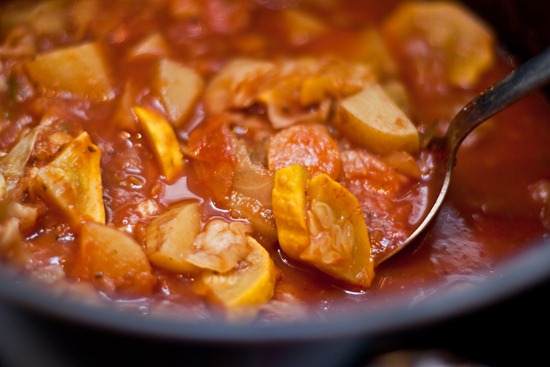 Healing Cabbage, Potato, Carrot, & Tomato Curry Stew
Who doesn't crave a piping hot stew in the summer?! I know I do. I have superb timing with this stew recipe in the middle of a hot summer, but I promise this is a good one and will be worth it. Actually I wasn't even that hot making this stew, because after I threw it on the stovetop I simply left the room for 1-1.5 hours. Piece of cake!
This stew is a wonderful way to use up a bunch of veggies that you may have sitting in your crisper. Cabbage is packed with nutrients including: Vitamin K, Vitamin C, Vitamin B6, and Manganese. The best part is you can enjoy this soup cold too!
Inspired by Veg Web.
Ingredients:
1 small cabbage head, chopped into 1 inch pieces (Note you might want to shred cabbage so it is easier to chew)
4 small carrots
1 large can of diced tomatoes
3 cups vegetable broth
1 yellow squash, chopped into 1 inch pieces
7-8 new potatoes, chopped into 1 inch pieces
1/2 small onion, chopped
3/4-1 tsp sea salt (or less, start slow and taste test first)
Freshly ground black pepper
1-2 tbsp Arvinda's Curry Masala (depending on how hot you like it) or other quality curry
1/2 tsp Herbamare spice (optional)
Parsley, to garnish
Directions: Wash and chop all vegetables. Throw into extra-large pot good for making soup and stew. In a large bowl, add the sauce ingredients diced tomatoes, vegetable broth, sea salt, pepper, herbamare, curry powder. Mix well. Add the sauce to the pot and stir well. Cover and cook on medium for about 45 minutes and then cook on low for another hour or until potatoes and cabbage are tender. Enjoy hot, cold, or at room temperature! Makes about 10-12 cups worth.
The cooking process through photography…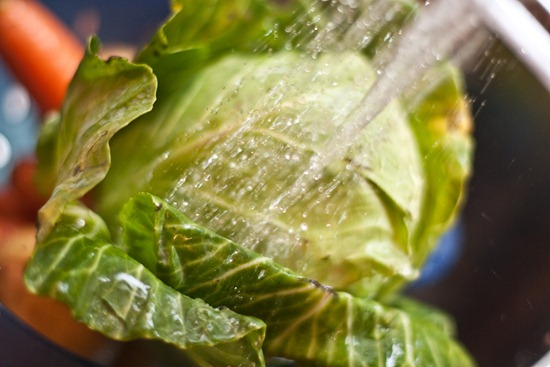 This is the little cabbage that lives on! It survived 3 weeks in the crisper!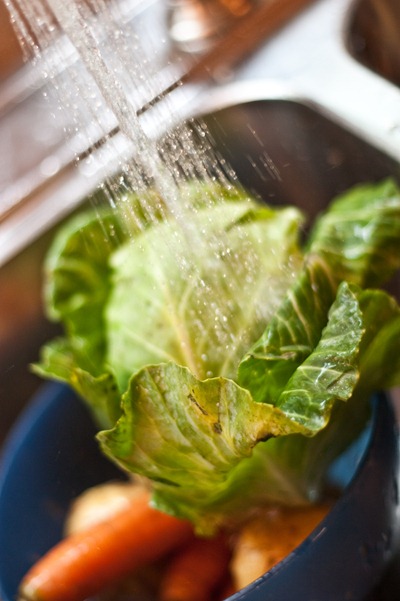 Clearly, I gave him a complex by choosing all the other veggies over him week after week.
Sorry cabbage, I do love you, I just find you hard to implement into recipes at times. I promise to be more creative with you in the future.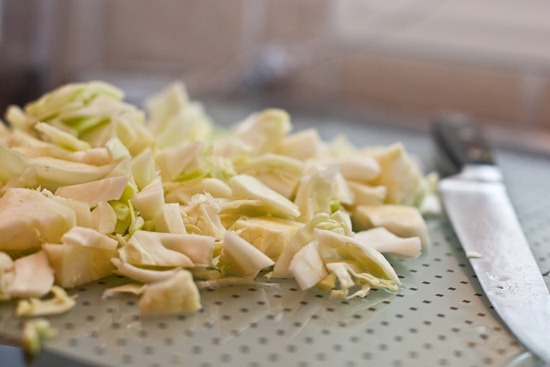 Chop, chop, chop!
I never used to like chopping, but lately I have found it very therapeutic and calming.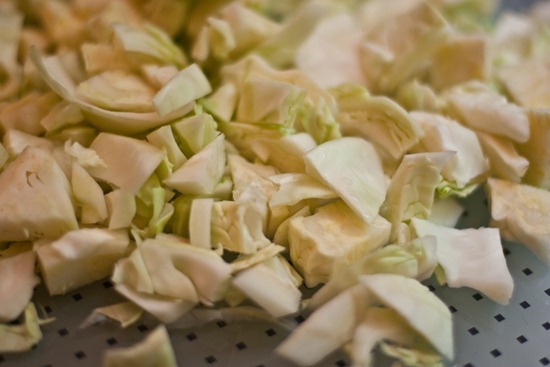 I am happy report the potatoes are all used up!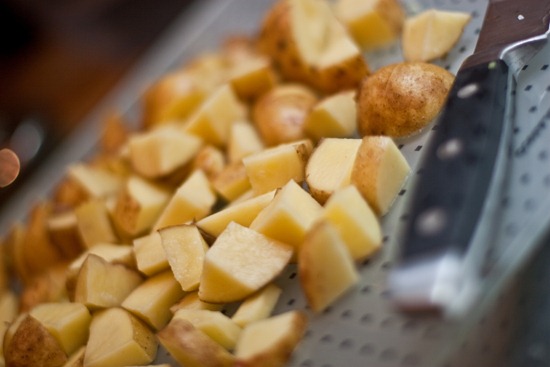 I was going to make the S & V potato chips, but I didn't have any vinegar. I will make them next time, promise! Another CSA pick-up is tonight and I suspect there will be more taters in store for us…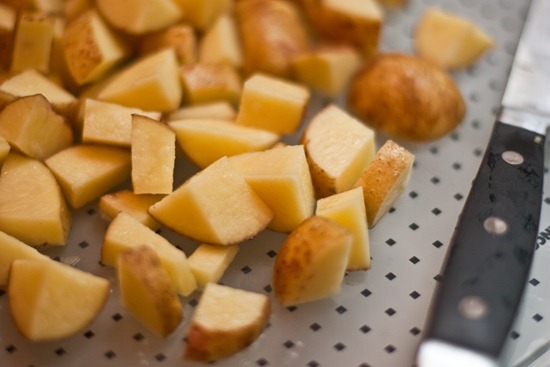 You will need a BIG pot.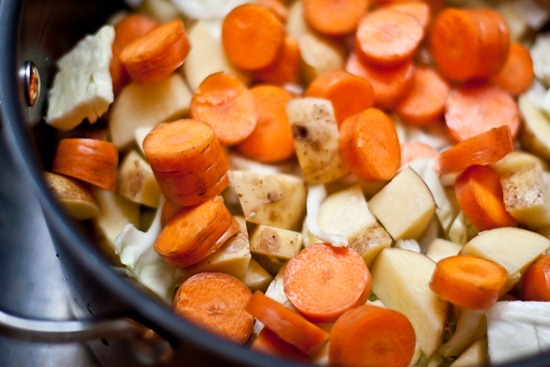 Or a cauldron will do!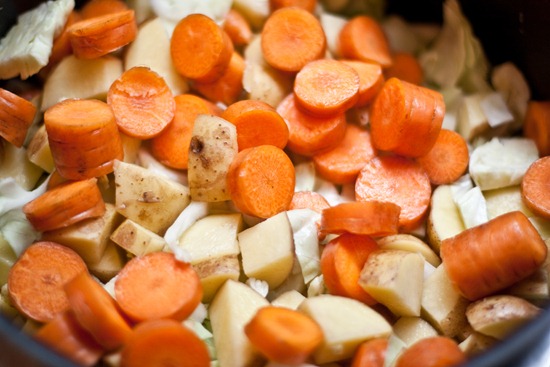 *witch cackle*
and a broomstick.
And that handsome man, Eden.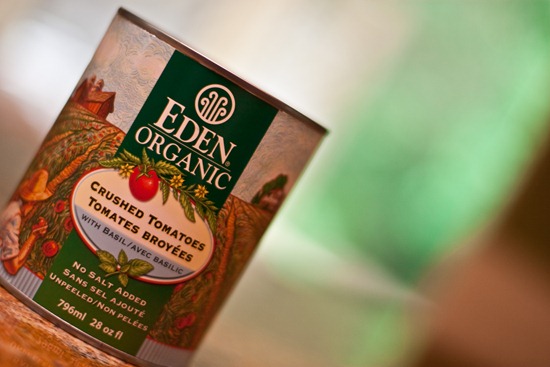 I try to buy Eden Organic whenever possible because they use bisphenol-A (BPA) free linings in their canned goods.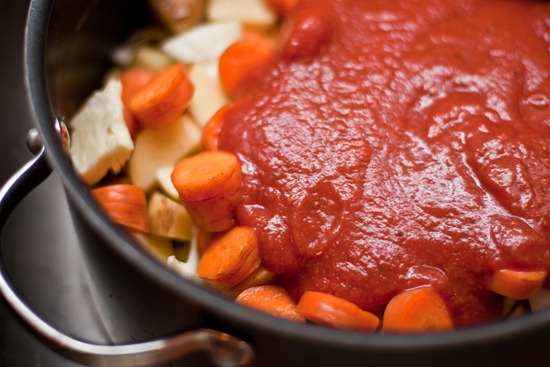 Progress…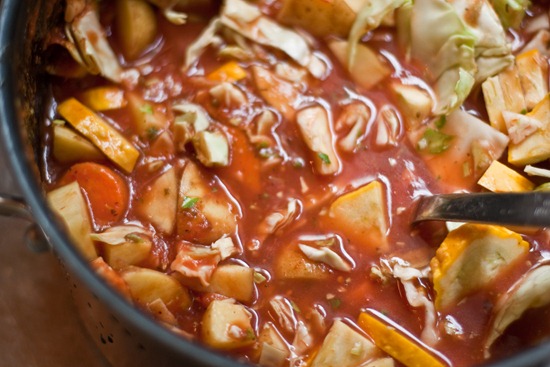 After 2 hours on medium to low on the stovetop. I also assume this would be a great slow-cooker recipe! Throw it on in the morning and let it simmer all day long.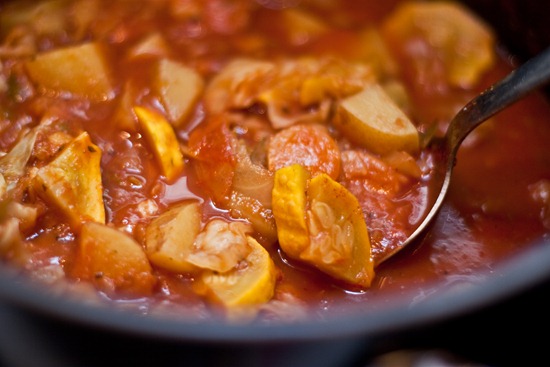 Pure bliss.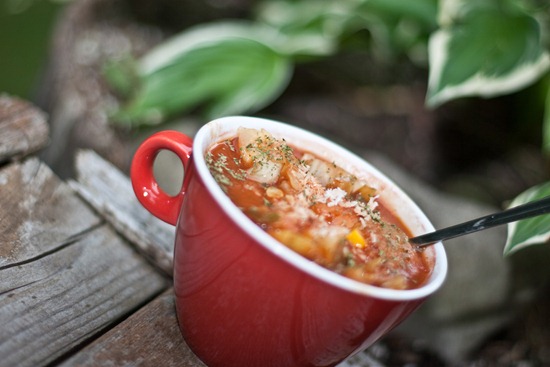 I don't think I have ever made a healthier stew than this one!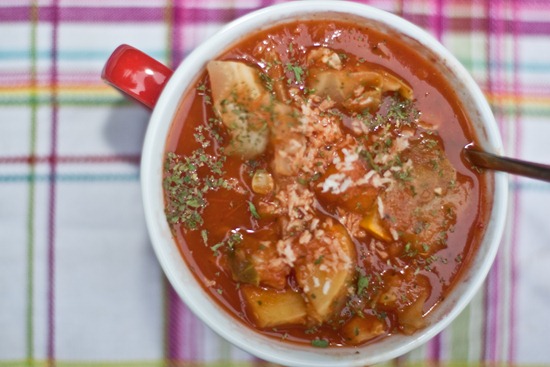 You can literally taste the healing powers of this stew when you eat it…and might I add, it is also DEELISH!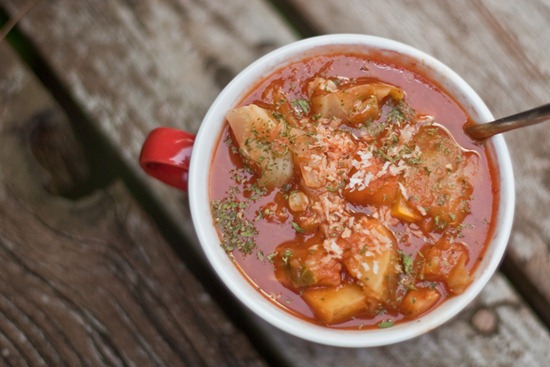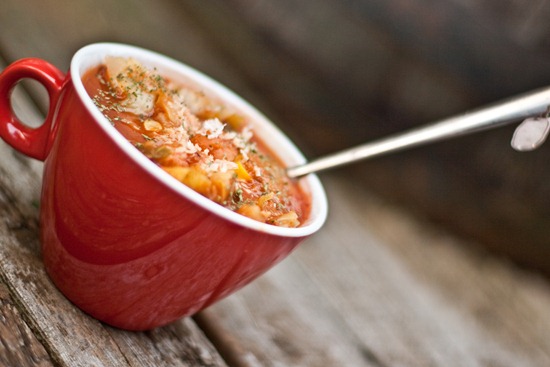 Sprinkle of Dried Parsley…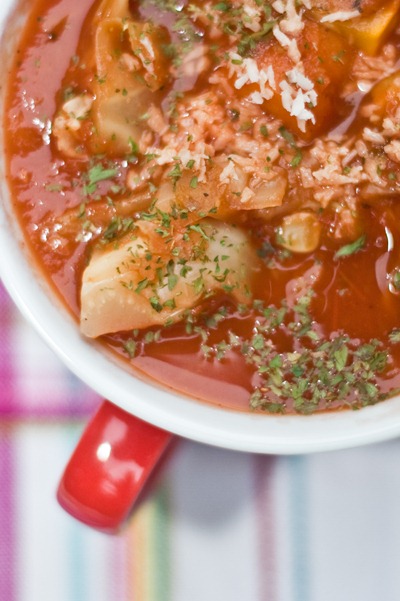 Operation: Heal my husband is underway!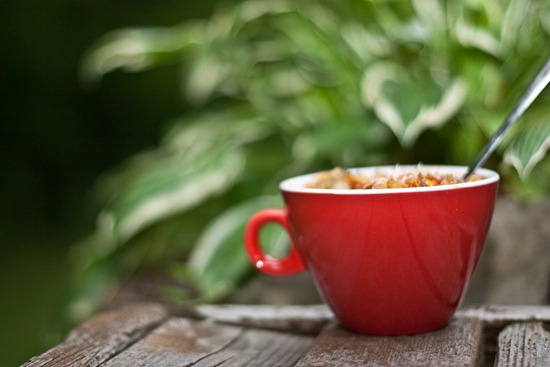 Tonight's questions: Choose your favourite: 1) Cooking, 2) Baking, or 3) Umm…restaurant, please!
Do you have a love and passion for cooking/baking? Why or why not?
I was always a baking girl at heart, but lately I have started to love cooking too. I see it as a challenge now. The blog has really helped push me to try out new recipes.
This post took a lot longer than planned (don't they all?!), but I promise that EPL quote is coming at ya tomorrow AM. =)
Happy Humpday!