Try saying that 3 times fast!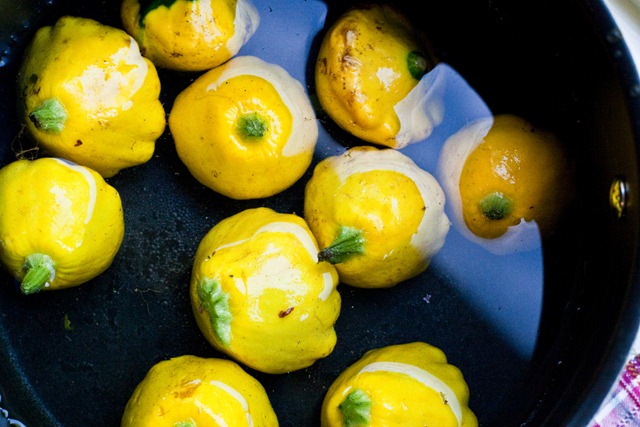 Needless to say today's photo shoot was a bundle of cuteness! This is maybe one of my favourite recipes yet.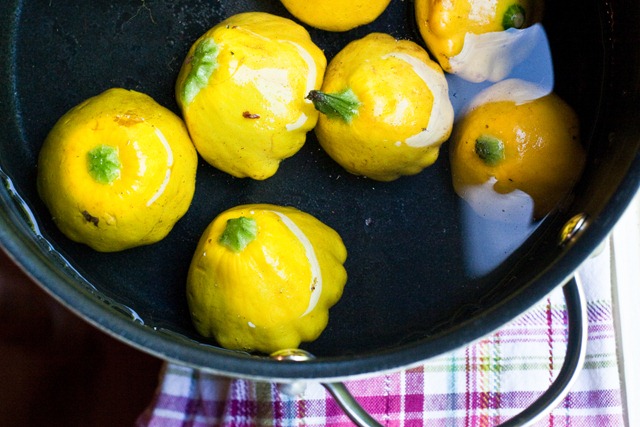 Thank you to those who kindly told me that this is Patty Pan Squash! It arrived in our CSA last week. Word on the street was that I should stuff the squash!
I decided, photographing Patty Pan Squash is the food equivalent to photographing puppies. It is just so fun.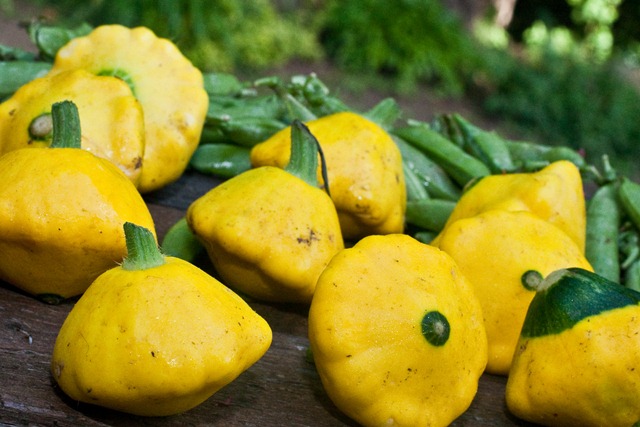 I admit, I was a bit intimidated to cook with them. they are just so dainty and delicate, I didn't want to ruin them.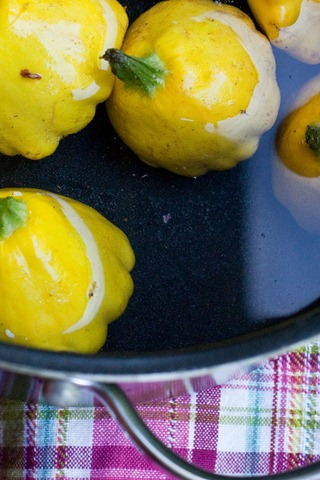 The first thing I do with any new veggie is try it raw.
I sliced up a Patty Pan and dug in, skin and all. I was so surprised at the taste. I think I was expecting it to be bitter (with the skin) or really firm (like other squash), but I was delighted to find that it was very mild and very soft. It is very similar to zucchini in taste.
I threw one all chopped up in this salad I posted the other night. It was fabulous!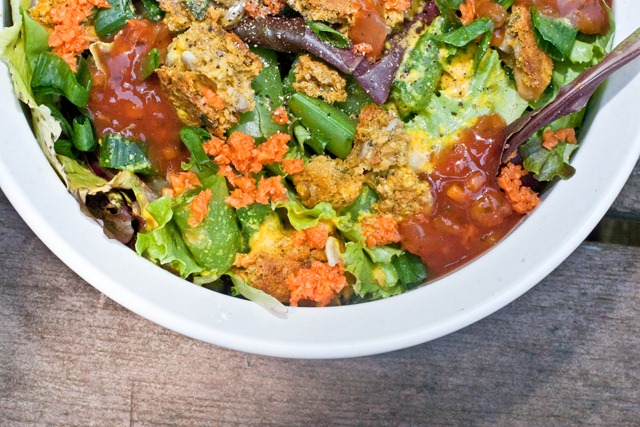 CSA garlic made an appearance…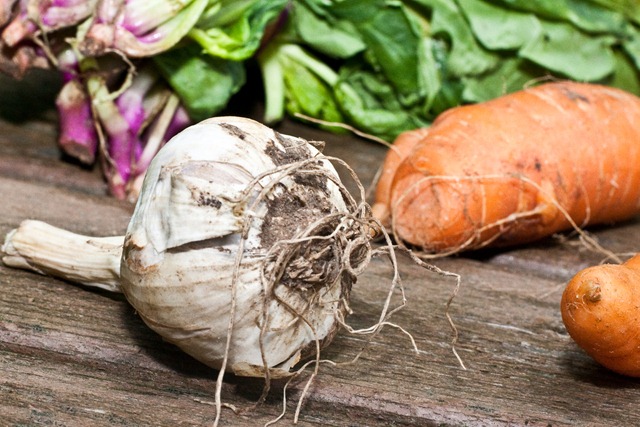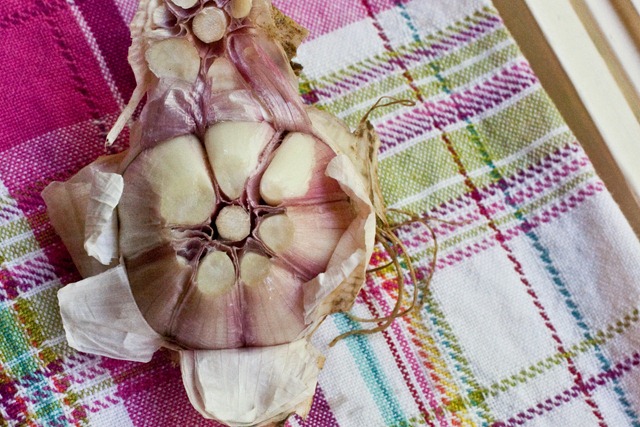 Even though my tummy doesn't like garlic too much, I just had to use some of this fresh CSA garlic in this dish. It would have been a crime not to. I think I also found a way to use garlic that doesn't bother my stomach (I will tell you about that below).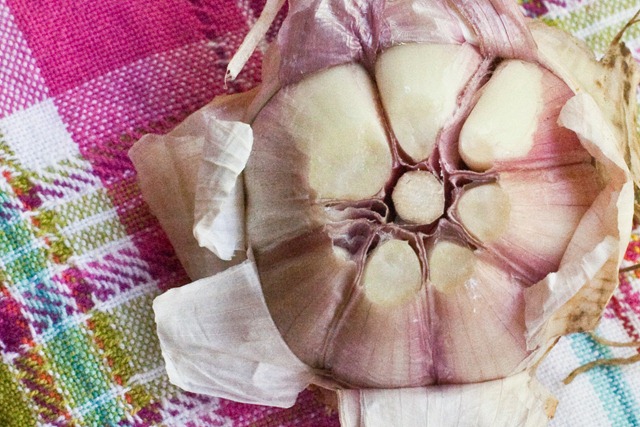 As suggested by Susan, I lightly cooked the Patty Pan in a large pot with 1 inch of water for about 6-7 minutes. This just softens the squash a bit more and makes it very easy to scoop out the insides. I'm not sure this step is totally necessary though. I think it depends on how firm your PP squash is…
I found a zucchini to use up so I decided to stuff half of it and use the other half in the stuffing. It has been a long time since I made stuffed zucchini!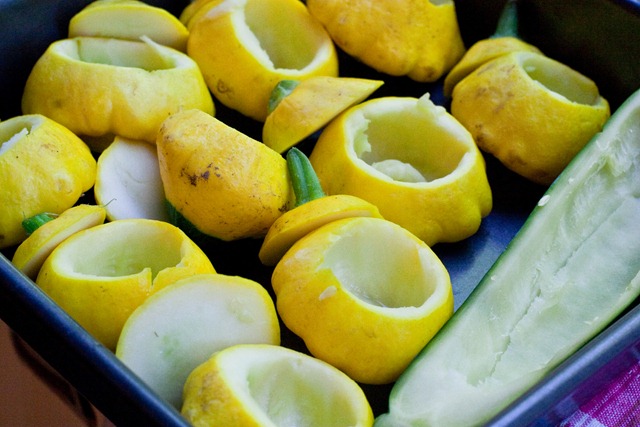 The stuffing included: 1 large green onion, 1 large carrot, 1/2 a zucchini + [garlic, vegetable bouillon, and creamy tomato infused Short Grain Brown Rice mixture] (below).
Onion, carrot, zucchini processed for 30 seconds…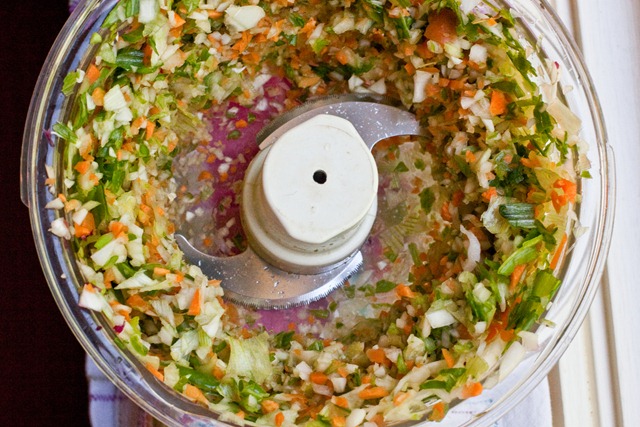 The other part of the stuffing contained a garlic, vegetable bouillon, and creamy tomato infused Short Grain Brown Rice mixture. It is hands down the best rice I have tasted.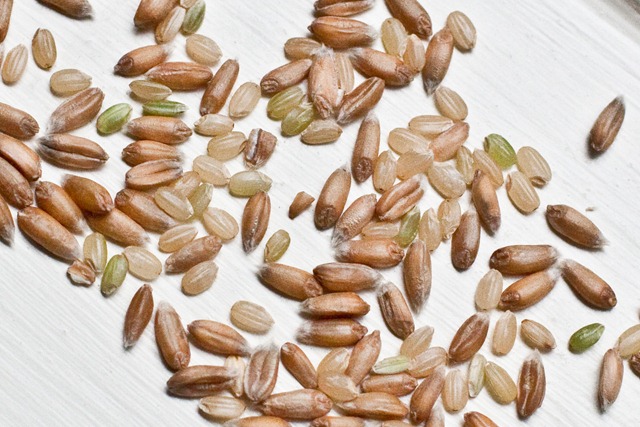 Short Grain Brown Rice is one of the most flavourful rice grains, it has a wonderful and addicting chewy and hearty texture, and it is a super healthy whole grain.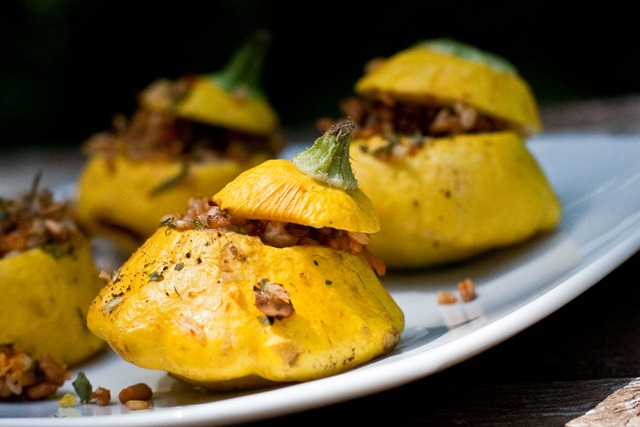 Pretty-in-the-Pan Stuffed Patty Pan Squash
If you can find some Patty Pan Squash you will love this dish, perfect for the summer months! It is extremely flavourful, has a great texture, and is very light. You will not feel loaded down after eating this meal! I purposely made it tonight because I am going for a run later and didn't want to be weighed down.
Inspired by Susan's PP Squash Stuffed with Cajun White Beans.
Ingredients:
10-11 Patty Pan Squash
1 zucchini (sliced in half with one half scooped out)
1 large carrot
1 large green onion stalk (or 1/2 sm. sweet onion will work)
1 cup short grain brown rice
2 cups (or a bit more if necessary) vegetable bouillon
1-2 garlic cloves, poked with a fork
3 tbsp (approx) tomato paste
1.5 tbsp Earth Balance (or margarine/butter of choice)
Pinch or two of sea salt
Freshly Ground black pepper
Dried or fresh parsley, to garnish
Freshly ground black pepper, to garnish
Directions: (Please don't be intimidated by the long directions, I just wanted to be detailed! It was actually very easy and took under 45 minutes start to finish).
1) Take a medium sized pot and bring 2 cups of vegetable bouillon + sea salt + poked garlic cloves to a boil on high. Add 1 cup short grain brown rice and stir well, checking often. Add more bouillon if it gets too dry. After about 10 minutes reduce to medium heat. Cook for about 20-25 more minutes over medium heat. Check it often as it can burn easily. [By 'infusing' the garlic in the rice, I was able to add a bit of garlic flavour without actually having the raw garlic in the dish!].
2) While the rice is cooking, take a large pot and fill it with 1-2 inches of water and bring to a boil. Place patty pan squash in the pot and cook for about 7-8 minutes. Remove from heat, drain, and allow to cool.
3) While the above is cooking, prepare the stuffing. yes, you are a multi-tasking goddess for this recipe! Take the carrot, 1/2 a zucchini (plus insides from other half), and green onion and process in a food processor until fine.
4) In a small bowl, mix the sauce for the rice. Take the earth balance in a small bowl and heat until soft. Now mix in the tomato paste until smooth.
5) When the rice is done cooking remove garlic cloves, add the tomato paste + Earth Balance mixture, and stir very well. Taste. Add salt and black pepper if necessary. This rice + tomato mixture BLEW MY MIND. It tasted so good!!! Addicting.
6) Take your cooled squash and chop off the heads and remove the insides carefully with a spoon. Take the flesh that you remove and add it to the processed mixture of carrots, onion, and zucchini.
7) Take the processed mixture (carrots, zucchini, onion + squash insides) and dump it into the rice pot. Stir well and taste for any adjustments you need to make.
8) Stuff the Patty Pan squash with your rice + veggie mixture. Take any remaining leftover rice mixture and scoop it onto the pan around the squash. Bake in the oven at 375F for about 20 minutes. Sprinkle with parsley, serve and enjoy!
Serves about 3.
This rice + tomato paste + Earth Balance + sea salt + fresh ground pepper mixture will blow your taste buds away. It is SO good it hurts.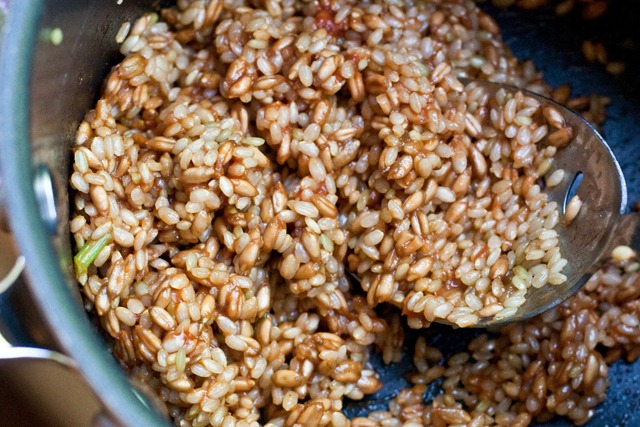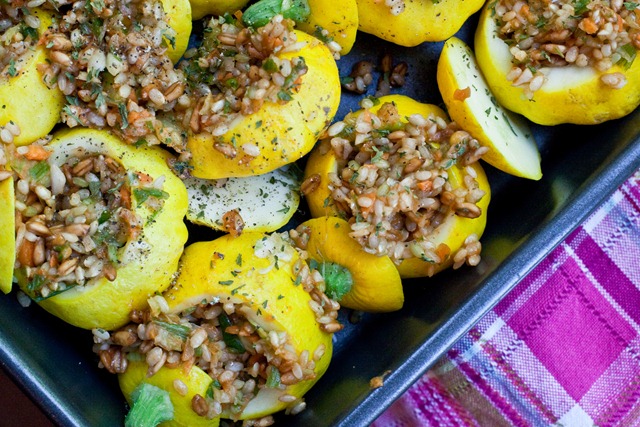 If you are a cheese lover you could also sprinkle this with cheese before baking! Similar to what I did in this recipe with vegan cheese.
Cooking the rice in vegetable bouillon and garlic makes the rice. It gives it such a wonderful flavour before you even add the sauce!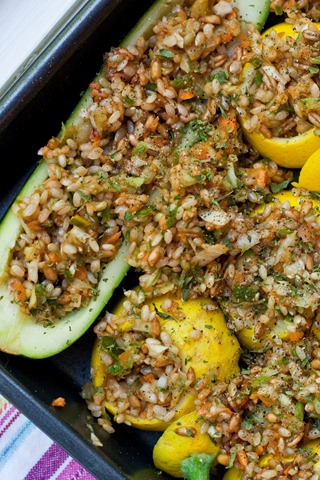 Pretty in the (Patty) Pan!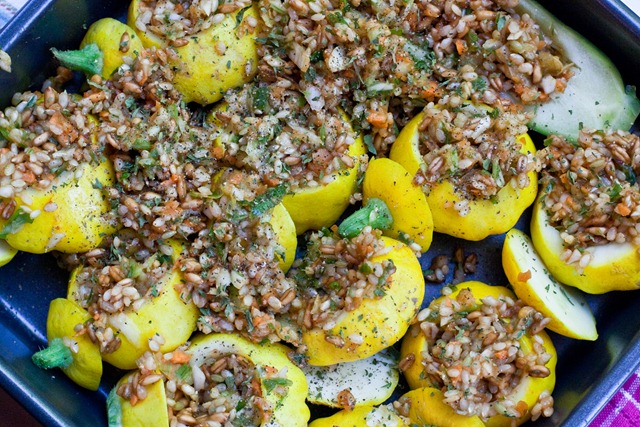 After baking for 20 minutes at 375F…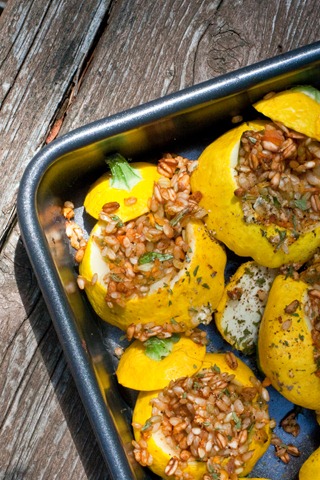 Mmmmm. I don't think I have ever been so excited to try a new dish!!!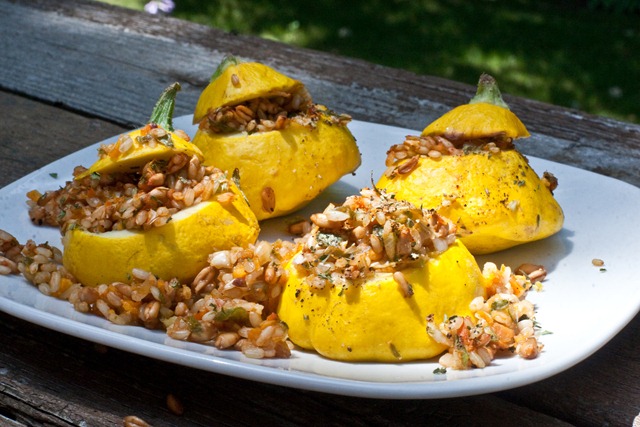 So unbelievably cute.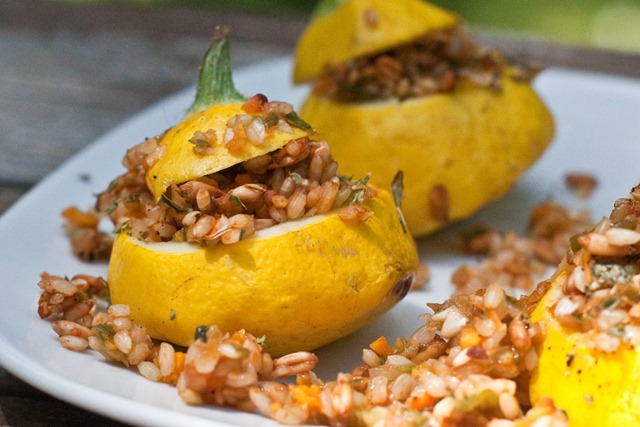 Hat (head?) less!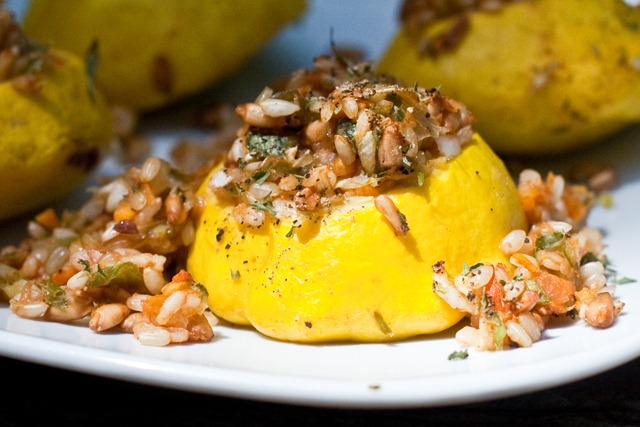 I was happy to find that I didn't need to skin the squash for it to taste wonderful. I loved every part of it.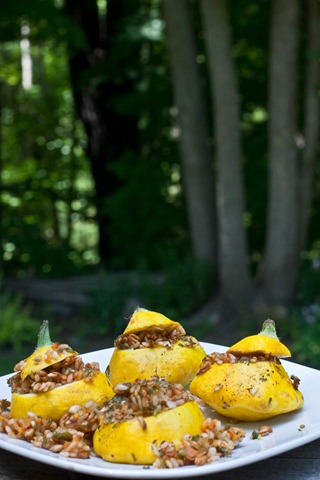 Needless to say I LOVED this dish. I am so glad I took a leap of faith with this! I hope we get more Patty Pan Squash in this week's CSA.
Want a chance to win a Healthy Living Summit ticket?
On Thursday, I will be raffling off one HLS ticket for this year's Healthy Living Summit in Chicago Aug 13-15th! It will be in the form of a Charity raffle at $10 a ticket or 3 tickets for $20. All proceeds will go to the Canadian Cancer Society.
I'm hopefully off later tonight to squeeze in that 'effortless' run I dreamed about last night…I was floating over the pavement in my dreams and felt so peaceful. I think the dream was my body's weird way of relating to Elizabeth's description of her out of body experience with meditation (in Eat Pray Love), perhaps? =)
See you tomorrow AM for an update on the food photography collage and some 'NEW VOO'. Wheeee.