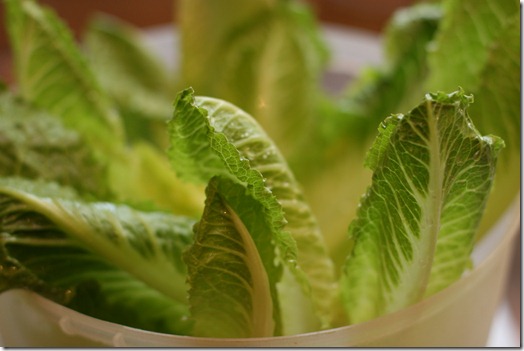 Oh, romaine, one of my favourite veggies. So versatile. The little black dress of vegetables, no doubt.
Was it ever beautiful outside today. I only wished I could have gone outside to enjoy it. I did make lots of progress with my orders today so I am feeling happy about that. I hope to be caught up by the weekend with a couple hours to spare for desk work. I need to get working on the Farmer's Market stuff too! Time is flying this Spring.
I find the warmer weather makes me crave salads in a crazy way. Big salads.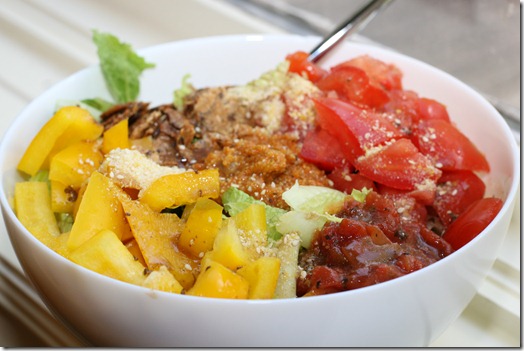 Crazy, not-sure-I-can-fit-this-in-my-stomach-but-who-cares big salads.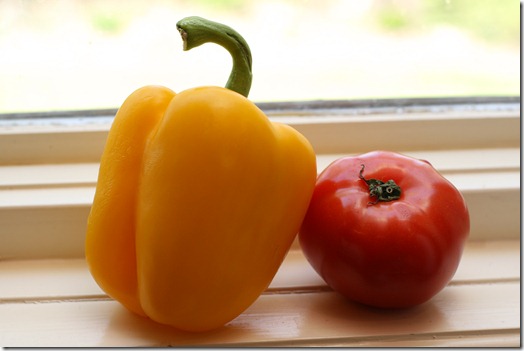 My newest thing is crushing some Mary's Crackers over my salads. The crackers absorb a tiny bit of the salad dressing, soften up, and taste quite lovely in the mix!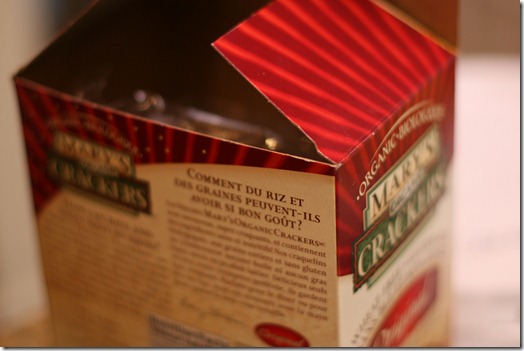 My 3 Minute Vegan Parmesan Cheese (this lasts forever!):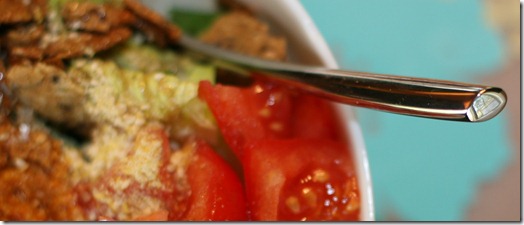 Deliriously Crazy.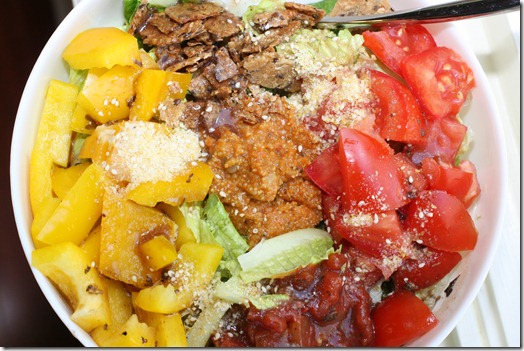 Spring Has Sprung Salad
Ingredients:
2 small hearts of romaine
1/2 Yellow bell pepper
1 tomato
2 T salsa
handful Mary's Crackers
1/2 cup Leftover Coconut Curry Sauce + cooked amaranth seeds (shown in the middle of bowl & adapted from here)
I will eat my big salads in nothing but a HUGE bowl. :mrgreen:
    To keep the light and refreshing theme going, a juicy grapefruit to finish off: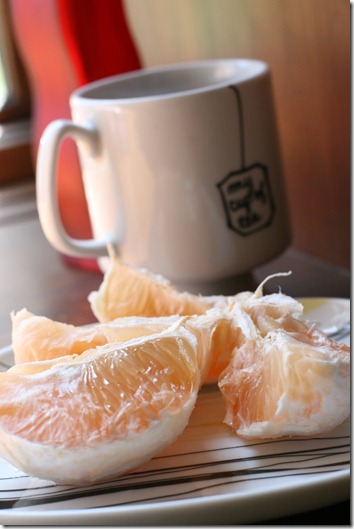 Tonight's question: Does your diet change at all when the temperature rises? What foods do you eat most of and does the heat affect your hunger levels?
~~~
Updates:
I'm glad you are enjoying the new 1,000 Words series. I like to think of it as a mid-day mental vacation. :) Hopefully you will enjoy the photography and the posts will soothe your senses during those hectic days.
Regarding the site being slow as molasses: Eric and I are planning a huge blog host move this weekend. OSG has outgrown my current host and the site has been painfully slow as you have probably noticed. I hope you will understand if there are a few hiccups in the process! ;) I'm hoping for a smooth transition this weekend, although Eric is doubtful, lol.
Eric and I are going to grab a quick bite to eat for dinner and get out on our bikes while the sun is still up. I'm not feeling highly motivated to bike tonight after baking all day, but I know once I get out there my mood will perk right up. Plus, I get to test out my new helmet (which fits like a GLOVE by the way!). Yay for helmet fittings. :)
Have a great evening!
Rest is not idleness, and to lie sometimes on the grass on a summer day listening to the murmur of water, or watching the clouds float across the sky, is hardly a waste of time.  ~John Lubbock