Greetings! Might I ask how is it Thursday already!?
Easy Vegan Overnight Oats
Adapted from Ohh May's Vegan Overnight Oats.
PM Ingredients:
1/3 cup regular oats
1 cup almond milk, and more if needed
1-2 tablespoons chia seeds
1 ripe banana, peeled and smashed
1/4 teaspoon pure vanilla extract
Directions: Mix together the above ingredients in a bowl and place in fridge overnight.
This picture was actually taken after 1 hour in the fridge…I was like a kid on X-mas Eve and just had to peek at the presents before bed!
EDIT: Here is an updated recipe that you can print!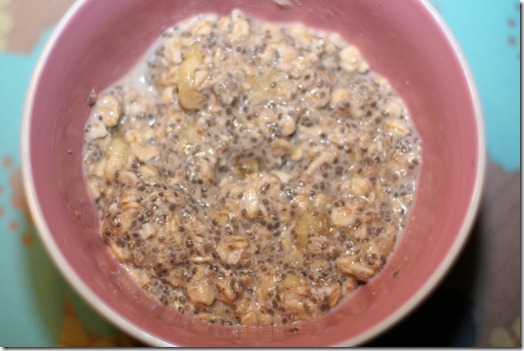 Mental rotation…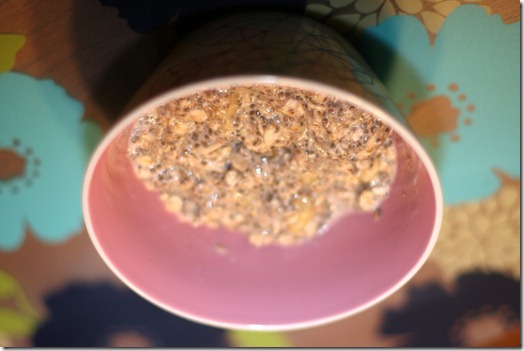 Little known fact about me- I am HORRIBLE at mental rotation- especially 3-D!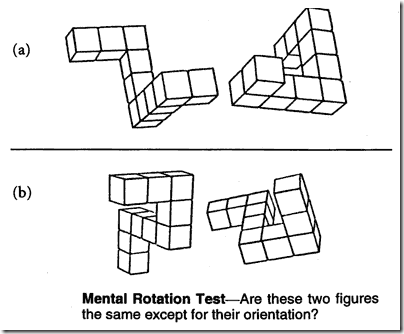 I am the type of person who turns a map… It is probably one of the things I do that irritates (and amuses) Eric the most. It is also probably the reason he bought me a GPS for my car… :mrgreen:
In the morning, remove bowl from fridge and add your magical toppings…
AM Ingredients:
1 tablespoon nut butter
Pure Maple Syrup
Directions: Serve nut butter in a spoon and drizzle Maple syrup over top. Serve overnight oats cold.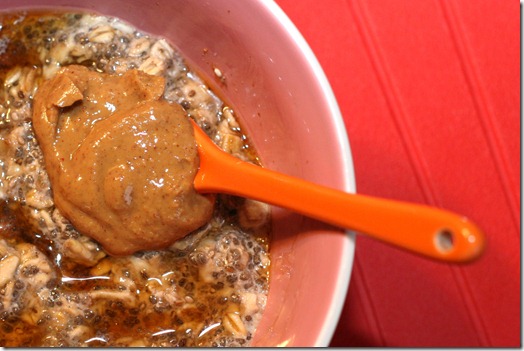 WOW, these were magical!
All mixed up!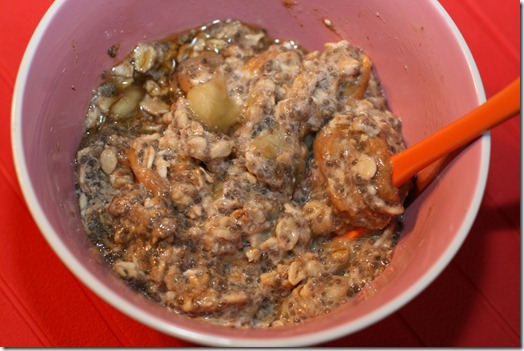 I admit, the whole thought of eating oats COLD without cooking them totally turned me off…it just sounded GROSS…and wrong…but ohhh was this so RIGHT!
I think the banana is key in the oat mixture to add sweetness and the toppings really make it come alive into something exciting to eat!
I thought because I didn't have any yogurt it would be a huge fail, but by increasing the chia seeds and almond milk, I was able to mimic the yogurt consistency.
The best part of it is that it took literally 2 minutes to whip together and throw in the fridge the night before. These would be a great option for summer when you don't feel like a hot bowl of oats.
I did up the nutritional information because I know how much you guys love it!
This nutritional information includes: 1/3 cup oats, 3/4 cup unsweetened almond milk, 2 tablespoons chia seeds, and 1 small banana.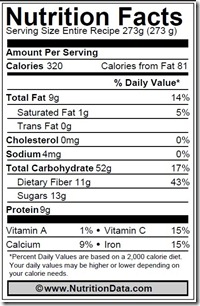 9 grams of protein and 11 grams of fibre before you even add any toppings- nice! :)
Updates:
Today's question- Have you ever tried overnight oats? How do you make them? If you haven't tried them, would you?
I was scared, but I took one for the team and gave it a whirl…and I am so glad I did. I can see myself experimenting with all different kinds of concoctions! :)
I'm off to get my Glo Bar delivery ready for the STORE!!