One of the biggest debates I have regarding my blog content is whether or not to post about
recipe flops.
Tonight, I had such a flop. I walked into the kitchen without a recipe and said I was going to create a recipe out of the blue and it would be magnificent. The most magnificent little recipe I have ever concocted. Yes, I tend to suffer from delusions of grandeur in the kitchen at times…
I debated posting about said flop and then I realized I had nothing else to blog about. :mrgreen:
Dilemma solved!
I also remembered something a crazy wise psychology professor once told me.
[Speaking in my old, wise professor voice]:
'Miss Angela, everything contributes to knowledge in some way, shape, or form. Even the studies that don't 'work' like you predict contribute to knowledge.'
I came across this and had some horrible memories:
"The distinguishing mark of graduate research is an original contribution to knowledge. The thesis is a formal document whose sole purpose is to prove that you have made an original contribution to knowledge. Failure to prove that you have made such a contribution generally leads to failure." <—no pressure though! lol
[Source]
So yes, even though my recipe tonight was a flop, I now know what not to replicate in the future- or better yet- how to tweak this recipe and iron out the kinks!
All seemed to start well. Chia seeds, onion, sweet potato, spinach. A good foundation, no?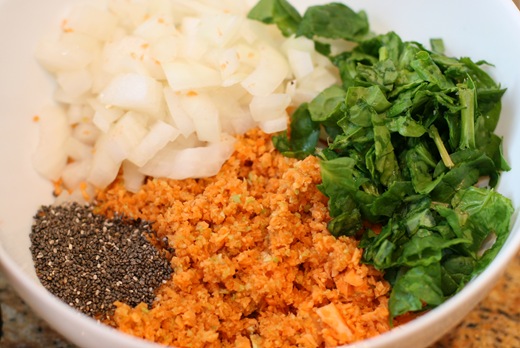 I guess I should probably tell you what I was intending to make.
I wanted to make the In A Jiffy Spelt Veggie Burgers. The only catch was I was too lazy to go get the recipe off my computer. [Whoever said it was a good idea to run 5 miles before baking on my feet all day was wrong…wait, that was my idea.]
I decided to save myself the troubling walk and to just 'wing it', creating a brand new recipe.
Sounds fun, right?
I used the following:
1 T chia seeds
1 small sweet potato, processed (or grated)
1 handful organic spinach, chopped
1/3 onion, chopped
3 T Sunflower seeds
1 clove minced garlic
Paprika, salt, and pepper to taste
1 cup Whole Grain Spelt Flour
1/4 cup water
1/2 avocado
Into a big bowl and then mix with your hands.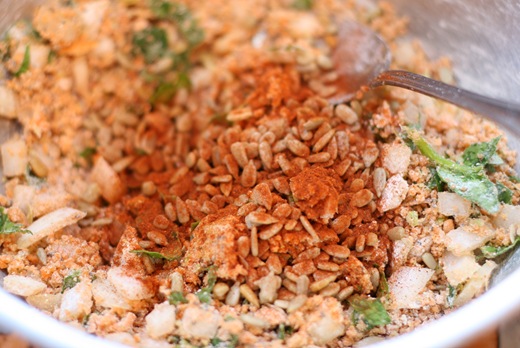 At this stage, I thought to myself oh this is going to be good. I jinxed myself, clearly.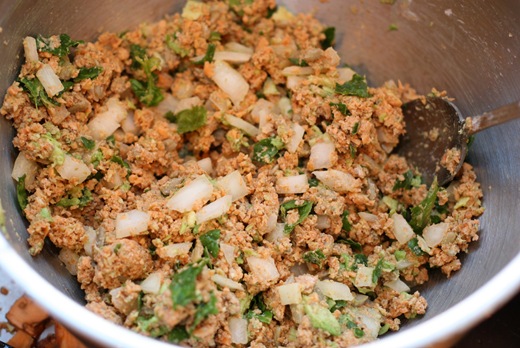 Oops, I forgot I also added half an avocado! Good thing I took pictures to document.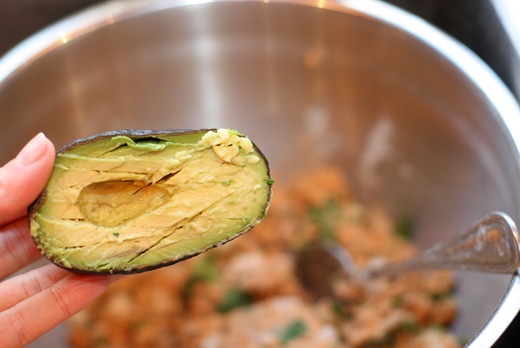 Despite widespread panic over the weekend, I was able to ripen my rock hard avocados on the windowsill. [In desperate times, I also place bananas on the windowsill too!]
The true test of a homemade veggie burger is usually how well the patties form. These formed fairly well, so I thought I hit the jackpot. My work here is complete.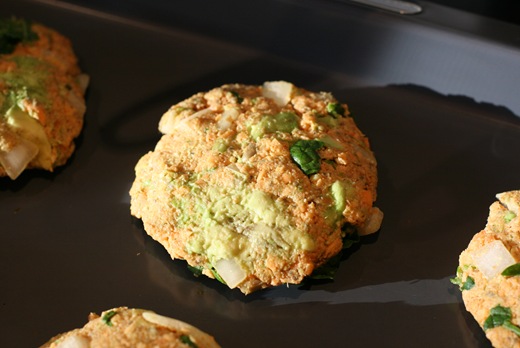 I made 5 patties and 5 BALLS.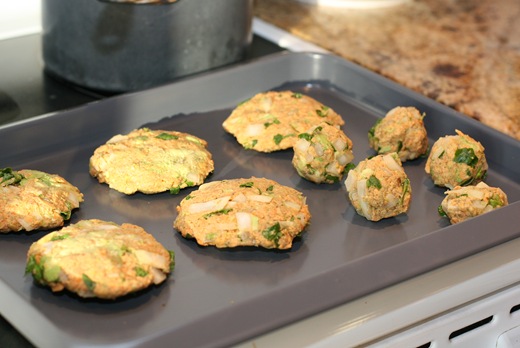 After 20 minutes of cooking at 375F, I flipped them. This is when I realized that something was wrong…very, very wrong.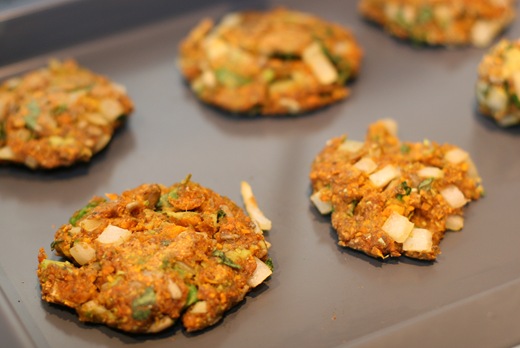 The patties cracked and split and generally looked like they were going to explode!
These pictures actually don't do the flop justice. The burgers wouldn't even hold together and just crumbled in my hand! I should have taken a picture of the crumbles. ;)
With my upper lip quivering, I said, 'Nothing 20 more minutes in the oven won't fix.'
But, I knew in my heart they could not be saved.
The middle was mushy. I blame that on too much moisture due to the 1/4 cup of water. The chopped onions also prevented the patty from holding together. Next time I would eliminate the onions and take out the water (anyone want to give it a go? haha)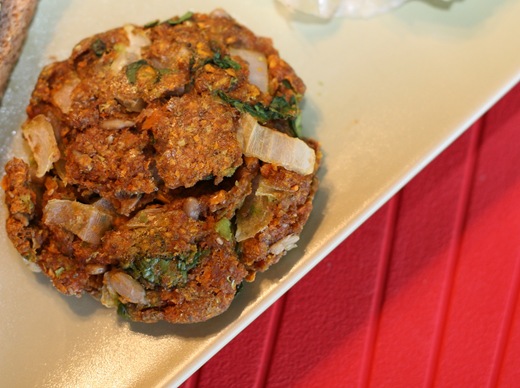 The upside? They tasted ok. The only thing I didn't like about them (aside from them falling apart) was the onion. The onion flavour did not pair well with the avocado and sweet potato! Should have thought that one through…
The BALLS held together very well, although they were still mushy on the inside.
I had three patties, one on a piece of toasted Ezekiel bread with hummus and t-paste.
My second flop contribution of knowledge was what I like to call BLAH, BLAH, BLAH (you know the song by Ke$ha??). That is what I was singing when I tasted this.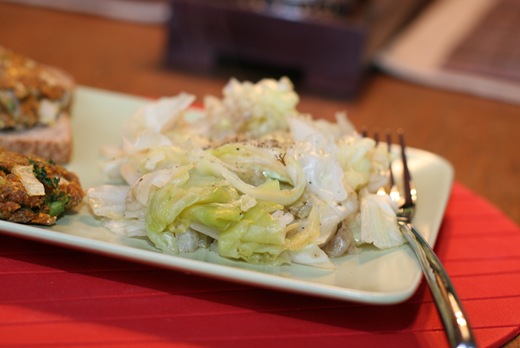 I boiled some cabbage, drained it, and then put some EVOO + balsamic vinaigrette on it. It was so utterly blah, I had to laugh. My poor husband. Eric would not touch this with a ten foot pole and I don't blame him.
I tried to redeem my Goddess of the Kitchen status to Eric by making a spin-off of the delicious Choco-cado Pudding. My goal here was to make a lighter version without chocolate (I know many of you gave up chocolate for lent and were sad when you couldn't make it.)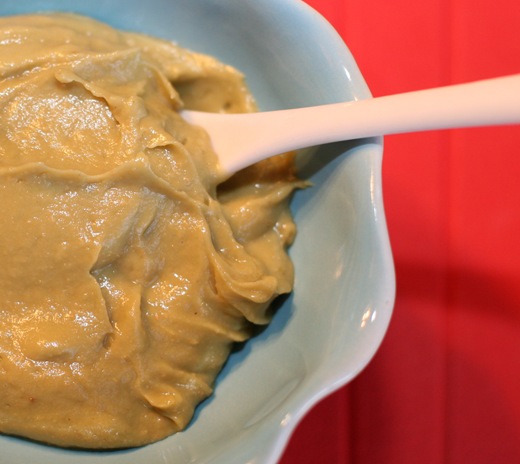 Refreshing Peppermint Pudding
[Adapted from Gina's Choco-cado Pudding]
1/4 cup cashew butter
1/4 cup water
1 small avocado
1 teaspoon pure peppermint extract
1 tablespoon dark agave nectar
Directions: Process all ingredients together and serve. This makes about 2 small servings.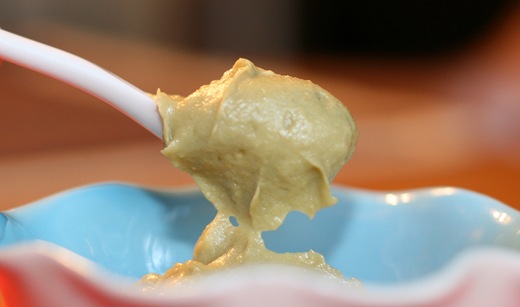 It was different, but very creamy and refreshing! Next time I might add a bit more water to thin it out a little. The cashew butter and avocado went surprisingly well together.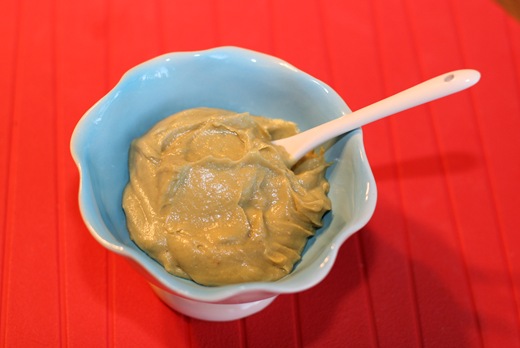 Good times! :)
Updates:
Follow me on Twitter (@ohsheglows) as well as Glo Bakery (@globakery) and Green Monster Movement (@ilikeitgreen)
I'm hosting a meet-up this Sunday March 7th in Toronto. If you are interested in attending please email me by Thursday morning for the deets (angela [at] ohsheglows.com)
Size Healthy Around the blog world:
5:30am wake-up call tomorrow. I have about 200 glo bars to bake, pack, and ship before the Fedex man arrives at noon! Zzzzzzzzzzzzzzzzzzzzzzzzzzz. This week is going to fly by.

The worst gift is a fruitcake. There is only one fruitcake in the entire world, and people keep sending it to each other. ~Johnny Carson