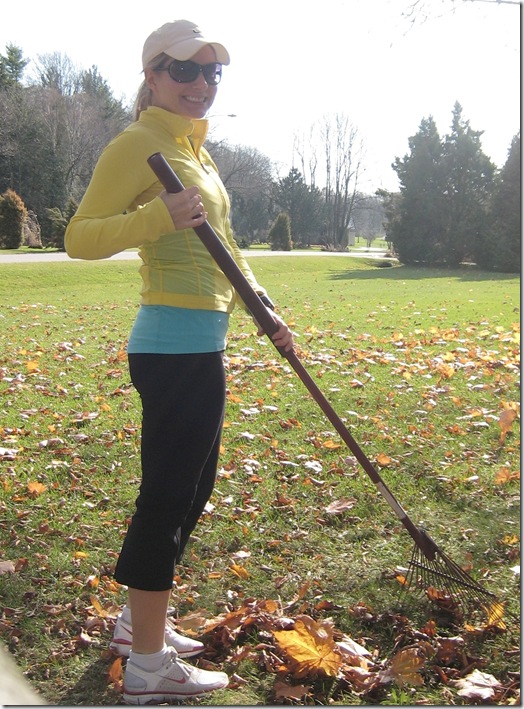 Project Snow Tip #4: Outdoor work does count as a great workout!
On Saturday, I was debating between a few exercise ideas:
1) Hit up gym

2) Hit up pavement for walk or run

3) Do yard work that desperately needed to be done!
I felt guilty because Eric was hard at work cleaning the gutters out…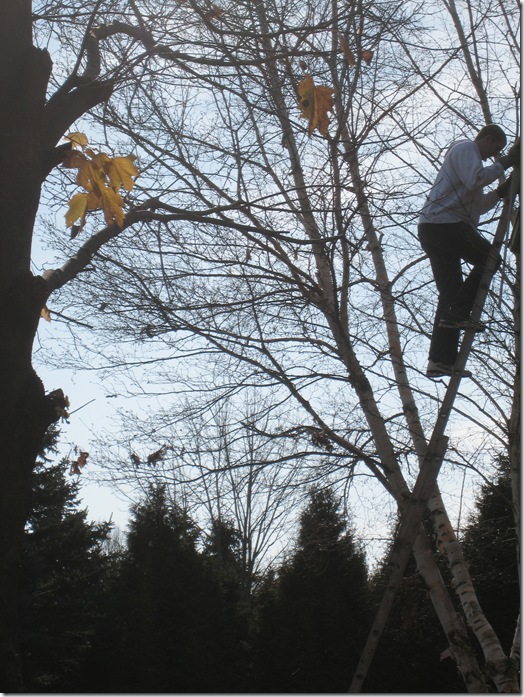 So I didn't really want to go somewhere else to workout when I could just stay and help him!
I was a bit skeptical that I wouldn't really feel like I got in a good workout from raking leaves.
Was I ever wrong! Within a minute my arms were burning and my heart rate was up.
I had my green tea to keep me hydrated. It is important to stay hydrated even when it is cooler outside.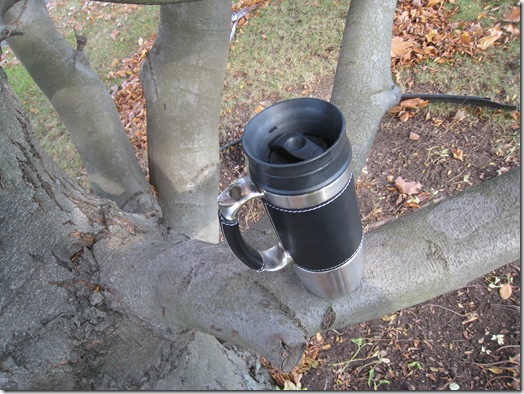 Then I decided to turn my raking into a mini outdoor bootcamp to tone my ENTIRE body!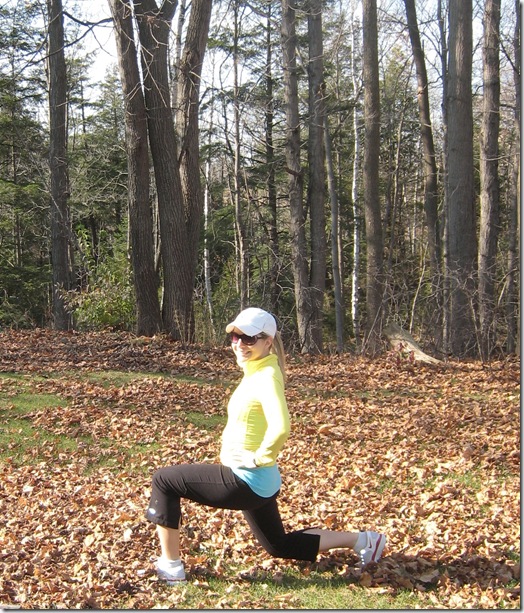 I focused the bootcamp intervals on the LEGS since my arms were already getting a killer workout from raking!
60 Minute Mini Outdoor Fall Bootcamp
1) Minutes 1-10: Rake leaves for 10 minutes
2) Minutes 10-12: Do 20 lunges on each leg
3) Minutes 13-23: Rake leaves for 10 minutes
4) Minutes 24-26: Do 20 squats on each leg
5) Minutes 27-37: Rake leaves 10 minutes
6) Minutes 38-42: Stop and play with neighbourhood dogs ;) (aka BREAK TIME!)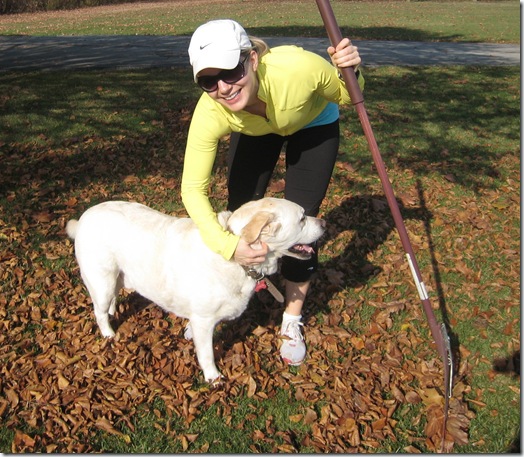 He was VERY friendly. You don't want to see what he did to the St. Bernard puppy that came by!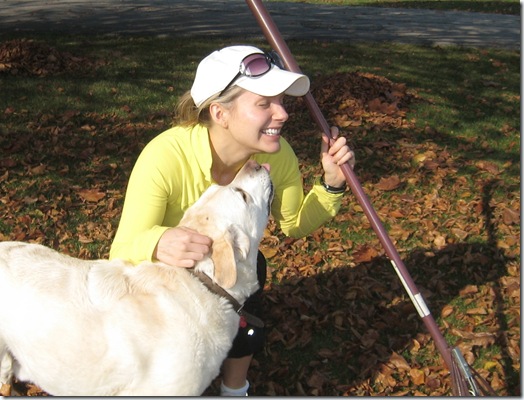 7) Minutes 43-45: Walking lunges up and down driveway for 2 minutes
8.) Minutes 46-51: Raking leaves for 5 minutes
9) Minutes 52-54: 3 sets of 50 calf raises performed off a step
10) Minutes 55-60: Cool-down: Bag up leaves or discard in woods/compost pile. Light walking. Stretch out legs and arms.
The hour FLEW by! It was fun too.
~~~
This workout left me feeling super energized and so refreshed! Yard work is most definitely a great workout.
I think it is important to realize that things like raking, shoveling snow, and other household duties like cleaning DO add up and they can work the body in new ways. My arms were quite sore from raking so I know they got a great workout. My legs also got in some challenging exercises which I haven't done in ages. On Sunday and even today, my legs are still sore from the resistance exercises!
It is all about changing it up for me lately, and I think my body is feeling really challenged and new muscles are forming.
My plan for this week:
ABS: This week is going to focus on my abs again (i.e., side planks!!). I vow to get back to the ability level that I was at in the Summer Glow Boot Camp! Tight abs here we come!!!!!!!
YOGA: Also because my back has been feeling tense lately from all the baking, I am going to focus on doing this easy back workout every day this week.
CARDIO
~~~
Will you be raking leaves this fall or shoveling snow in the winter?
I have MANY memories (good and bad) of shoveling snow.
In fact, I have done it so much in my life, I consider myself to be an Expert Snow Remover. lol. I grew up in the Maritimes and boy did we get a lot of snow. It wasn't uncommon for us to have snow banks well over my dad's head. My family used to take 'shifts' shoveling snow all day long. Such a great workout, but you have to be careful not to hurt your back and bend at the knees when shoveling!
This winter, I will definitely be channeling my PSS (Project Snow Strength) and getting out there to shovel snow and get in a great workout at the same time! Gone are the days when I thought that a workout had to consist of a piece of equipment. :)
~~~
Time to work! Have a wonderful Moan-day ;)

If we wait for the moment when everything, absolutely everything is ready, we shall never begin.
– Ivan Turgenev