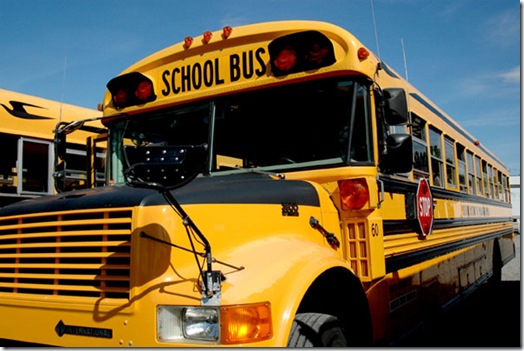 If you are like me, you have probably noticed an increase in flyers, commercials, and radio advertisements lately…
It's that time of the year once again…dun, dun, dun…
Back
To
School.
I find there are two main camps regarding Back To School:
Camp 1) No matter how old you are, simply hearing the words Back To School evokes fear, unease, apprehension, and a sudden breakout.
Camp 2) Back To School season (yes, it is a whole season) evokes joy, anticipation, shopping sprees, and a sudden urge to de-clutter, purchase new gadgets, notebooks, pens, and erasers. You are old school, and you love it.
Which camp are you?
Ok, I lied. There are more than 2 camps. I like to think of myself as part of the 3rd camp which is a combination of the first two.
Even though I am now entering my second year of 'Back-To-School-without-actually-having-to-go-Back-To-School, all of the emotions still flood back to me during Back To School Season (BTSS).
In no particular order:
1) A strong urge to organize and de-clutter
Before:                                                   After:
Closet cleaning
Donating unwanted clothing items to charity
Cleaning out my purse/wallet
2) A strong urge to organize and de-clutter my DESK area in particular
Before:                                                   After:
Reading over every piece of paper and keeping what I truly need (i.e., 1% of the crap on my desk)
I organize all of my scattered notes and to-do's onto one new piece of paper and recycle the rest
Clean desktop, keyboard, mouse, etc. Ewwwwwww. If you are like me, you wonder how you didn't see that dust bunny in the back of your keyboard tray (seriously take a look at your own, you know you aren't perfect either! lol)
Cleaning my virtual desktop. One of my tasks today. Can you just believe how out of control this has gotten? It got really bad over the weekend when I was coding and re-doing the website.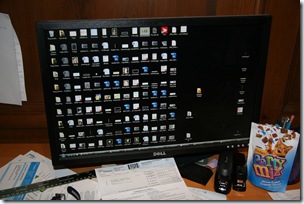 Yes, I have cat treats at my desk. I bribe Sketchie to lay in my office during the day. ;)
3) Schedule every aspect of my life.
I printed a new calendar for September. Ahhh, all fresh and ready to be filled in. I am making sure to write really 'pretty' so as to not ruin it like my current one.
Note: NOT pretty writing below: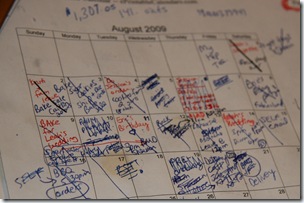 4) Renew my healthy eating and fitness goals!
I am planning out my fitness goals for Fall. The biggest of which is training for my half marathon on Sept. 27th. I also am planning on signing up for something that is so uncharacteristic of me. Any guesses? ;)
5) Pack lunches/Prep food
Yesterday, Eric and I shopped for groceries and we bought him lots of lunch foods (sandwich stuff, fruit, etc) to pack his lunches (we slacked off a bit in the summer).
This week I am making a couple bulk orders of food to save money. I am making my Buck Ten Spelt Tortillas and my 50 cent hummus (note that I didn't buy any store-bought hummus or tortillas this last grocery trip!!!)
Personally, I see the Back To School Season as a fresh start. A time to re-organize and re-new our goals for the last part of the year. Don't get me wrong, I absolutely hate seeing summer go, but nothing beats my favourite month of all- September. :)
~~~~~~~
Are you going back to school this fall? What are you doing?
How do you feel about Back To School Season? Do you make resolutions? What camp are you with?
~~~~
Also, be sure to check out Green Monster Movement for the latest Green Monster recipes! Today's bunch features a Peach Pie GM and a Green Colada GM- yum!
I'm really hoping my blender arrives today!!!!!