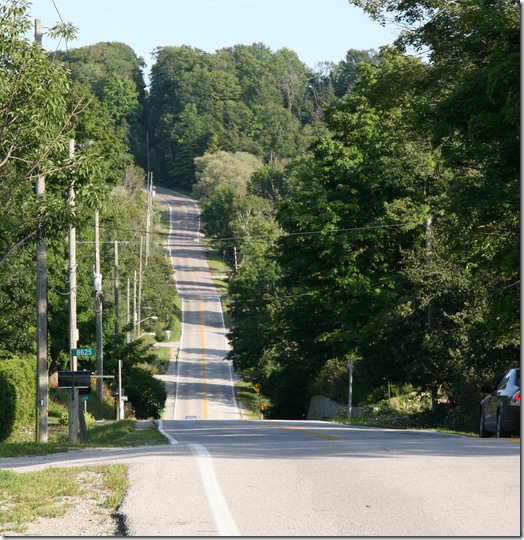 Did I mention there are a lot of hills where I live?!
I like to call this hill in particular 'Murder Hill' because I want to murder myself when I run it!!!! lol. ;) Today I went up this hill and one of equal steepness right in a row. It was brutal…but fun. Yes, I said fun! I love hill running.
I played Sean Kingston's 'Somebody call 9-1-1-Fire burning' song and it put a little grin on my face.
I love living near such beautiful countryside! I wouldn't trade this for the city any day.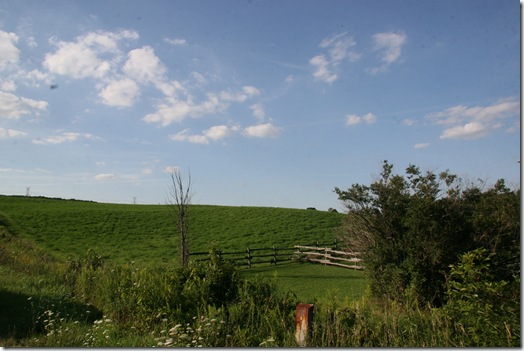 I took the last two days off exercise because one of the muscles near my shin was sore. I think the two days off really did the trick because I felt so strong on today's run! I felt amazing and like nothing could stop me. I maintained about a 9:30-:10 min/mile pace while tackling the hills.
The run:
Distance: 8 miles
Duration: 1 hour 17 mins.
Avg HR: 156 bpm
Max HR: 171 bpm
Max pace: 7:46 min/mile
Avg pace: 9:43 min/mile
I stopped and walked about 6 times for about 30-60 seconds each time. I will be doing a post on the Galloway method soon, as I have been looking into it more and more.
It was such a great run! I ran by streams, farms, open fields. C'est la vie.
Once home, I immediately (and I mean immediately) mixed up a protein swamp water. In the mix: 1 serving Amazing Grass Pom-Mango Infusion and water. This gave me a quick hit of 10 grams of protein to tie me over until I ate.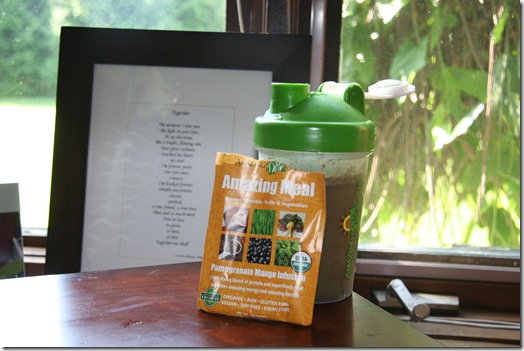 It also cooled my forehead!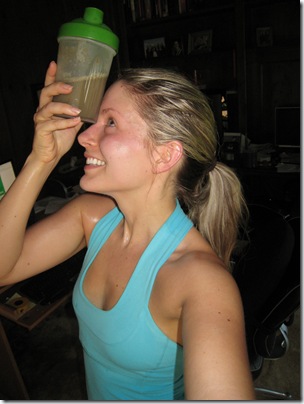 I really need to get back into my morning workouts. After this run I felt so energized, happy, and ready to work. Since I started to work from home I put off my workouts until the late afternoon, but today made me remember how energized a great workout makes me feel all day. When I was commuting and in the workplace, I used to get up at 6 and workout first thing. It also gets it out of the way!
My power snack post-run:
Veggie Pizza Crackers: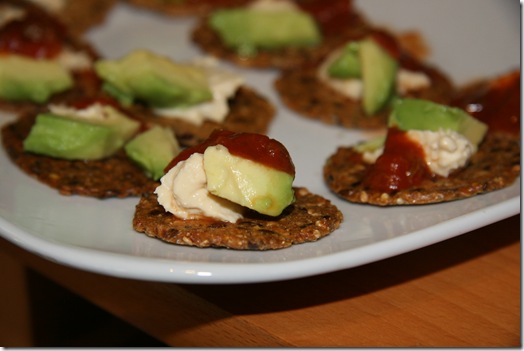 Ingredients:
Mary's Crackers
1/2 avocado
3 T hummus
Organic tomato sauce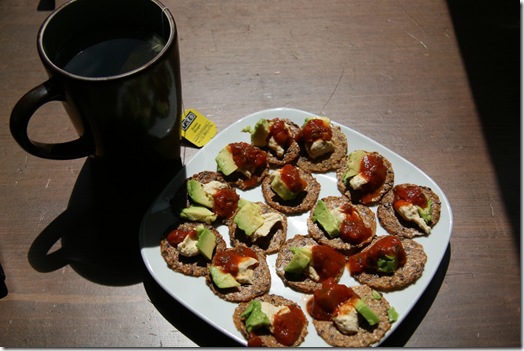 This is officially my new favourite snack!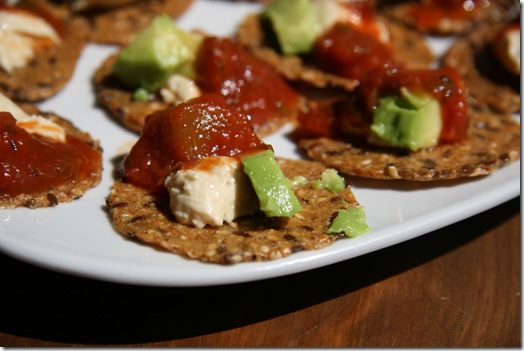 I had such a productive day today and was on the phone most of it doing business calls. Typically, I hate being on the phone but the people I were dealing with just happened to be super sweet as pie today! Love that!
Contacted Lundberg in US RE: bulk brown rice syrup (amazing sales rep named Tom I talked to)
Placed bulk Organic Brown Rice Syrup order with co-op (I'm buying 55 lb pails at a time!)
Started my RST Tax Return (due Sunday)
Followed up on KA appliances- should be shipping out tomorrow :)
Sent out some invoices
Renewed Costco membership
Worked on Eric's anniversary gift
On tonight's agenda: Eric is bringing home a second fridge (a friend of my BIL is giving it to us for free!). Here's to more storage space! I also need to complete my tax return.
Have a good one!

Do you live in the country or the city? Big city…small city? Do tell! :D
I've lived everywhere. And I mean everywhere. I have moved about 15 times in my life. I lived in Florida, Georgia, North Carolina, New Brunswick, Ontario and small and large cities. I lived in Toronto for 2 years and lived on one of the longest streets in the world (Yonge Street). Talk about big city girl!