Happy Leah's Wedding Day (and Friday!)!
As you read this I will be getting ready for Leah's wedding (the ceremony begins at 3pm EST- Should I podcast it? haha jk!!!). However, our hotel supposedly has wireless internet so I hope to get a blog up. I also have a few posts planned to keep you entertained while I am away!
Don't forget to get your vote in for the winner of the Summer Glow Photoshoot contest!
I was also passed along this fun Tic Tac Toe game. Tic Tac will donate an additional $1 to CancerCare for every game played, up to $5000. That's above the $100,000 donation Tic Tac is already making to this special cause.
~~~~~~~~
I would like to share with you this email I received after doing my post on finding your power spot.
A reader named Samantha shares her power spot with us!
Angela-
I loved your post on power spots and wanted to share a visual of mine.
It over looks Tumon Bay, Guam to the west and if you shift a few
degrees east, you see the east side of the island/ocean. It's a 1.5
mile run up to the spot, and I usually spend some quality time doing
yoga and getting "lost" in another world, then walk the 1.5 miles
back. It's a rare treat since I have 2 kids at home and a husband on a
submarine that is gone more than he's home. When I get the
opportunity, I RELISH it!

Regards,
Samantha
s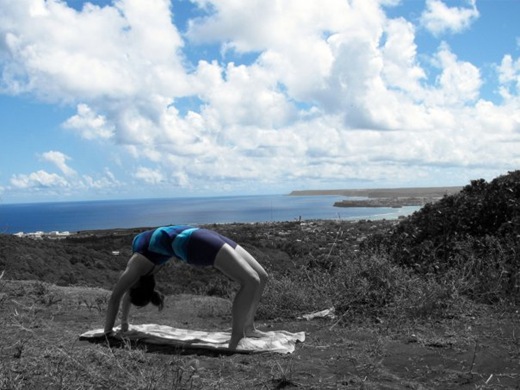 Wow, love it!
Remember- your power spot can be anywhere. As one reader so cleverly points out it is a state of mind:
Aaron says, "Lying out in the sun in the backyard, closing my eyes, and just letting my mind run free is my "power spot". Not really a place, but its a state of mind I guess!"
So true!
So that got me thinking…what are some other places I could call my power spot?
Comfy chair when Sketchie jumps up on me to cuddle
Baking in the kitchen and 'in the zone'
Driving on a long, countryside drive with my music pumping and my windows down
Running with no music and just my thoughts
DO you agree that power spots are a state of mind?
I certainly do. I am actually trying to work more on my mind and inner well-being lately. I think that this part of our health is often neglected in favour of the outwardly things such as toning muscles, improving our cardio, slimming down, etc. I reallly would love to get to a place where I make sure to give adequate time to work on my inner strength too. I need to get back into the habit of listing a few things I am grateful for each day.
Today's question: Do you work on your inner self? What do you do? How do you think we can keep ouor inner selves 'strong' and 'fit'?