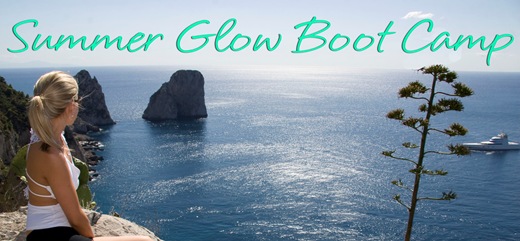 Good morning! :D
As you may know, this is the last week of the SGBC.
The theme of this week is: 'Where Do We Go From Here?'.
To be honest with you, I wasn't sure that I could write on this topic this week. As I mentioned in last night's post, I have been really lacking in the motivation department with exercise. I have skipped some SGBC exercises and I just have felt like I have let myself down at certain points.
And then I started to think about it some more.
Let myself down? What?
Sometimes I have to stop and challenge the negative thoughts that creep into my mind because they often are unsupported. One of the most difficult things I still struggle with is the tendency to experience negative thoughts, whether it is about my progress, body, accomplishments, or a negative comment that someone said about me. I have always struggled with this during my life.
Sometimes I am really hard on myself…and pardon my French…but for no goddamn reason!
So what if I skipped a couple workouts or I sat on the couch instead of hitting the treadmill? Is that really bad? Does that make me a bad person?
Of course not.
One of the most important life lessons I am learning is that I can't always plan my life. Life happens. It is impossible for any of us to foresee a 'blah' week, an injury, a family issue, etc. Life just happens and I think the more flexible I am with myself, the happier I will be.
Try to take a moment to sit down and recap some of the changes you have made so far in the SGBC. Maybe you have started to smile at your reflection in the mirror more, written yourself love notes, embraced your skin sans make-up, crank out 10 push-ups at a time, rocked some summer clothes that you were previously afraid to wear, or written down some long term health goals.
Whatever it was that made an impact on your life. Write it down.
Two of the biggest changes I have noticed in myself this month:
1) I have set fun fitness goals that I was always terrified to do (Yes, I used to be too scared to sign up for a race in the past…completely chicken- not sure why but I was.)
2) I have started to appreciate myself sans make-up as well as my muscles and curves. There was a point in my life when I hated curves and just wanted to be a stick, but I am starting to like them more.
Once you do a quick recap, give yourself a pat on the back and just revel in your accomplishments.
I know for myself, I don't do this enough. Here I was feeling bad for having a 'blah' exercise week when I just ran a 10 mile race. I mean, come on. Life is way too short to feel badly over exercise.
Goals can be a great thing, but they can also prevent us from appreciating the present. Sometimes I am so busy planning what I want to do next, I forget to really appreciate what I have done.
Don't think about next month, next year, or some other big date in your future.
Think about now. Rest and quiet your mind. And just sit.
Reflect on all of the amazing things you do for yourself every single day.
And most importantly, make sure that you allow yourself to feel good about it!
~~~~~~
Did you ever do something you didn't think you could do but proved yourself wrong? What was it?
I consider one of my biggest accomplishments to be beating disordered eating that consumed my life for 10+ years. No matter what I was doing in my life, as long as that held me back, I could never fully appreciate the life I am lucky to have.