I had so much fun reading through your Green Monster stories. I can't wait to post all of them on Green Monster Movement!
First up today, the winner of the Amazing Grass Package #2!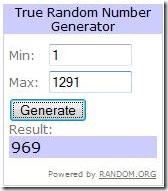 Congrats to Charlotte!
She submitted a Green Monster story to GMM:
Hi Angela,
I've dealt with/attempted to suppress/been proud of/secretly savored disordered eating since the age of 8 – literally as far back as my conscious memory takes me. I'm now becoming aware now of the strength, beauty, and worth of my own body – all of which I had refused to see before. I'm taking little steps, day by day, to get better – my favorite advice you gave was to look in the mirror at least once a day and sincerely smile at the face I see. Instead of looking for ribs in my back or sallow in my cheeks, I search now for that glow. Some days it's a struggle to find it (or even to want to look in the mirror at all), but I always see it best through a smile.
For my fav green monster –
Recipe:
-1 cup spinach
-1 stalk celery, chopped
-1 handful fresh basil
-1/2 banana
-1/4 cup blueberries
-1/2 cup frozen papaya
-1/4 cup almond milk
-1/2 cup water
-1/2 cup ice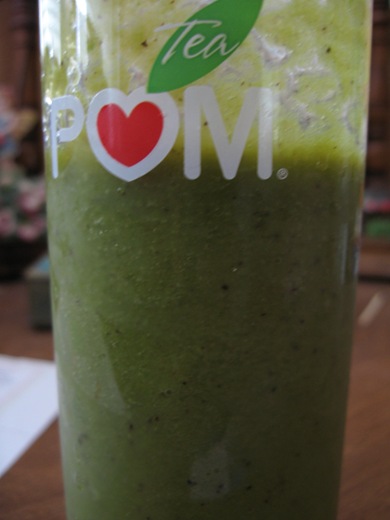 Description:
Pure deliciousness. The cup looks a bit sloppy because I couldn't refrain from taking a sip before I took a picture.
~~~~~~
So inspiring Charlotte! :) Please email me your mailing address so we can send these awesome goodies to you. Thank you to EVERYONE who participated. For those of you who submitted a GM story, it will be going up in the next week or so so keep your eyes peeled! Don't despair if you didn't win, the GRAND prize package will be drawn on the closing ceremonies of the SGBC!

For lunch today I was looking for another hot meal! Our weather has been the pits lately and it is quite chilly outside. I decided on a hot stir-fry and I continued my love affair with Quinoa as the featured grain.
Look how cute that Quinoa is!!! What a dainty grain. :D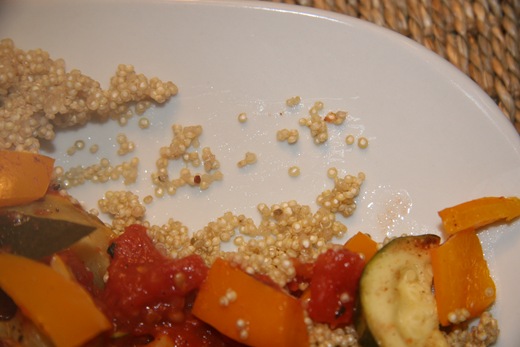 My view was very GREEN today…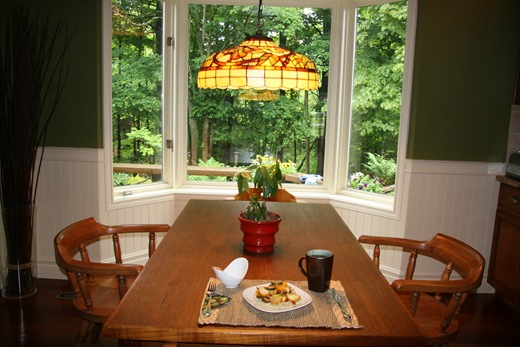 It was my first time trying yellow zucchini today…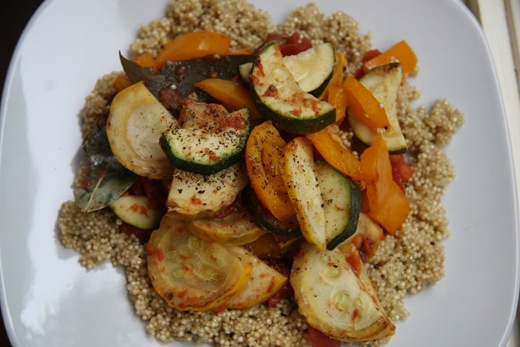 Ingredients:
1 green zucchini
1 yellow zucchini
1 cup canned diced tomatoes
1 orange pepper
pinch cinnamon
black pepper
1 cup quinoa
Italian dressing (to replace oil)
2 bay leaves for flavour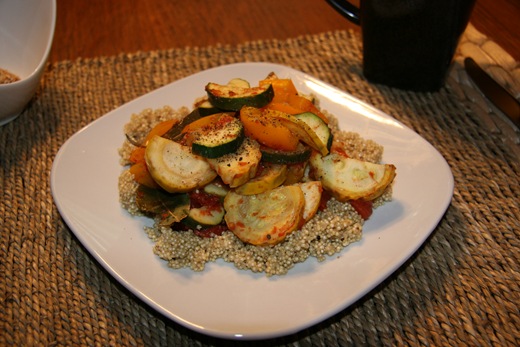 Bad news:
I was not a fan of yellow zucchini. It tasted like I was eating raw pumpkin innards…hahaha. Was I supposed to remove the skin perhaps? I just couldn't get paste the taste. I think I would like it in a recipe with a sauce (like a veggie lasagna), but not in this stir-fry.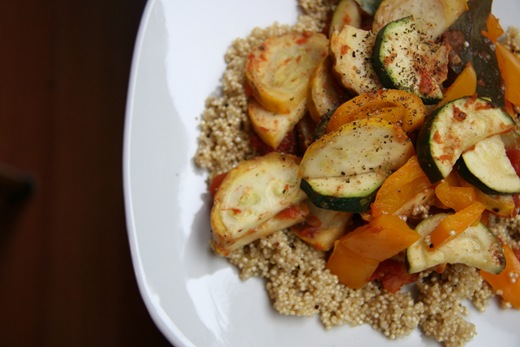 It sure did look pretty though! The rest of the stir-fry tasted great. It was my first time trying cinnamon in a stir-fry and I LOVED it! It had such a wicked flavour.
For dessert, I had an 'Endure' Cranberry Apricot Spelt bar so I could get through my crazy busy afternoon.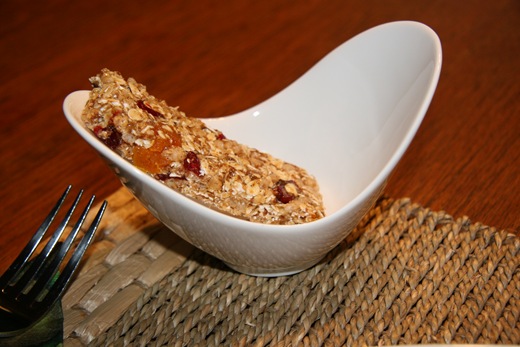 Japanese Sencha loose leaf. God, I'm so addicted to green tea again! I live for that caffeine kick.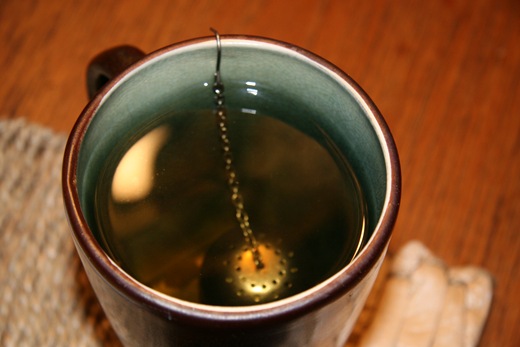 I'm off to finish some orders and then get back to nutrition labeling!
Three updates:
1. Green Monster Movement is now on Twitter! Follow @ilikeitgreen for all your green monster fun!
2. Glo Bakery is now on Twitter. Follow @globakery for updates on sales, special offers, and US shipping updates.
3. US residents:  Don't forget to enter my Glo Bar Sampler Pack giveaway! Ends tomorrow!

Enjoy your Thursday! :)