Hi OSG Readers!
I am Angela's mom, known on the website as OSGMOM. :)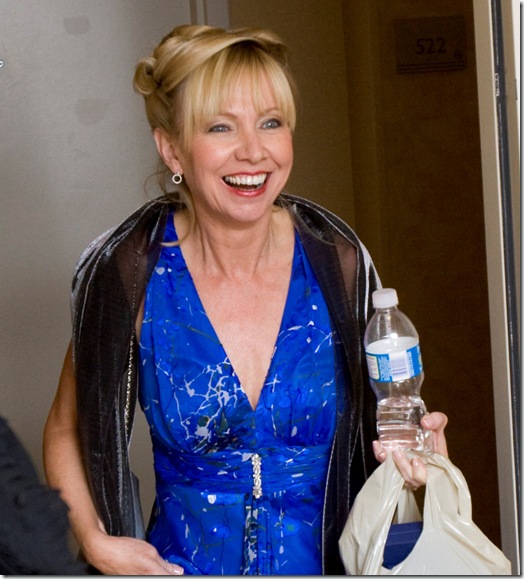 Before Angela reveals where she is, I thought I would fill in for her and do a guest post this morning!
Angela asked me to share my lifestyle and "glow" with you.
Here goes……
Distraction Number 1: I am enjoying a cup of tea this morning while beginning to write and my cat, Rudi, (he is a ragdoll born on Sept. 11, 2001 and named after the Mayor of NYC) is walking back and forth across my desk desperately trying his best to get my attention and distract me from the task at hand. If you have a cat, I'm sure that you know all about this!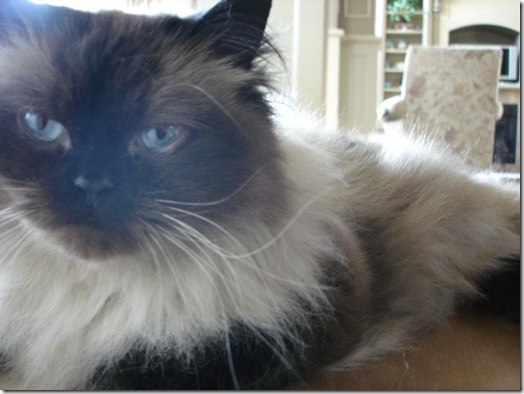 So how is it that I maintain my "glow". First of all, I have to say I am in a very happy place in my life. I have learned to be happy in my own skin and have come to peace with the fact that I am never going to be 5' 6" with the shape of Halle Berry or be thirty years old again. What has become very important to me is spending more quality time with my family, maintaining my good health, happiness, passion for life and challenging myself to try new things.
Distraction Number 2: My husband just came in the office and reported to me that he couldn't figure out why the stain remover hasn't been working on the laundry and discovered that he has been using Carpet cleaner for the past several months. OMG, I burst out laughing. This is what I get for letting hubby do the laundry! I had to share that with you. In our house, I do all the cooking and my husband does the laundry. Just about everything else we share.
Anyhow back to the glow. I have to go back to the basics. I think I have been fortunate in that I have inherited good genetics. Both of my parents (in their seventies) enjoy good health. Both are slim and fit for their age. So I have to say that I have this on my side. However, genetics only get you so far. I have chosen a lifestyle of moderation and balance. What does this mean? I eat a balanced diet and do so in moderation. I eat all food groups and love, love food! If I go out to a restaurant (for example, Red Lobster) and have the Seafood Trio smothered in a garlic butter sauce then I know that for the next few days I am going to eat a diet low in saturated fat. If I indulge in a high calorie desert then I steer away from deserts for a while. I don't deprive myself of enjoying the foods I like. I have them in moderation and balance with healthier choices. I have never been on a diet even when I have put on extra weight. I don't believe in dieting and strongly believe it can mess up your metabolism. I rarely get on a scale and only do so if I find my clothes are feeling tight and then I know I need to pay closer attention to what I'm eating.
I buy Prevention magazine and one tip I picked up is to serve your food on a smaller plate. I have been doing this for quite some time now. I am not sure if it has made a difference for me but my husband has lost 14 pounds over the last year.
One year ago I retired so my day-to-day routine has changed dramatically. A typical day for me is getting up around 7 am sometimes as late as 8 am. This is a dramatic change from years of getting up between 5 to 6 am. I know the extra zzzz's has done wonders for me. Since retiring, I purchased a treadmill so that I would have no more excuses because it is there in my face everyday! I generally do around 35 minutes four to five times a week. I do a 3 minute warm up followed by 25 minutes of varying intensity and end with a 3 minute cool down. I have two terrific grandsons who live close by (3 and 1) and the cardio has helped me tremendously in being able to keep up to them on the days I babysit them.
Breakfast usually follows the treadmill.
What do I eat for Breakfast?
1/3 cup Bran Buds (not for the faint of heart, but this has helped me tremendously with my IBS)
Handful of Berries of some kind (Blackberries, Blueberries, Strawberries or Raspberries)
If I get tired of berries I have a sliced Banana
Slice of Flax Bread with Peanut Butter
Tea or Coffee
Breakfast Out
I always go for Eggs with turkey sausage, Canadian back bacon or Peameal Bacon
After breakfast, I usually check my email and then it is on with whatever tasks need to be done around the house. We live on an acreage in the country so we have a lot of land that needs our attention. This week we have been devoting a good part of our day to gardening. I love gardening and it gives my arms a good workout especially carrying pails of water (we don't have an inground sprinkler system) to areas of the property where the hose doesn't reach.
Lunch
This really varies, but I do try to have Wild Sockeye Salmon sandwiches at least once a week . Other options for sandwiches are tomatoes, cheese or eggs but one rule I stick to is not using any kind of processed meat. I steer clear of mayonnaise as much as possible and have discovered using hummus in place of mayo and Becel margarine. I try and have avacados several times a week with lunch. I just slice them up and put them on a sandwich or on a salad. Sometimes I have salad, but I really load it up with tuna, boiled eggs, lots of tomatoes, avocado, sliced almonds. And then there is always leftovers from the night before so we sometimes have that.
Lunch Out
I don't have lunch out very often since retiring but while I was working I would either go to Subway or have a Japanese stir fry with chicken, veggies and rice
Now when we eat lunch out, we usually steer towards breakfast items.
Dinner
I made a concerted effort several years ago to cut back on my red meat intake so I try very hard to cut back to only twice a week. I love pasta so we usually have some kind of pasta twice a week, and I am now happy to report I have converted to using whole wheat pasta! Fish is on the dinner menu at least twice a week, and I am a huge salmon lover so we have baked salmon every week. I am always trying new recipes and try my best to cut back on the fat content as much as possible with lower saturated fat choices. Veggies are always served on the side. Some of my favs are butternut squash, sweet potatoes, asparagus, green and yellow beans, cauliflower and broccoli. I am using more EVOO in my cooking.
Dinner Out
I usually indulge in what I'm in the mood for but stay clear of fried foods. I LOVE chocolate and sweets so I often have desert but more and more lately, my husband and I will share a desert.
Snacks
I have always been one who enjoys snacking. As I have said, I love sweets so if I am in the mood for something sweet I go for Dark Chocolate at least 60% cocoa. I also enjoy hummus on crackers or Salsa on crackers. I often get an urge for nuts and try my best to eat them from the shell, but I do enjoy cracking open a can of Cashews every once in while. One grocery item I haven't purchased for myself in years is potato chips – it was a weakness of mine. I don't go down the snack isle anymore unless it is for Christmas or company is coming. I have been trying to have a GM a couple of times a week as a snack. Some weeks I am better then others. Sorry Ange, you need to keep on me about this one.
Beverages
For years I was a huge Tea drinker, and I wonder where Angela gets that from – ha ha. Since retiring I have developed a liking for coffee, but I am one of the pickiest people when it comes to what I think is a good cup of coffee. I don't like Starbucks and think SB's coffee is too bitter and lean more to a smooth blend like Tim Hortons. At home, I use Nabob Summit and can't seem to get enough of it. I drink water, milk, V8 low sodium juice, have introduced Vanilla Soy Milk into my diet and use it in the GM's. I enjoy wine with dinner and have been leaning more to reds lately. When I decide to have wine, I usually only have one glass with dinner but on those "wild and crazy" nights when I go out with friends it can be more, however, I know if I go over 3 glasses in an evening, I am going to suffer the consequences! Another good reason for sticking with moderation.
Vitamins
Centrum Multi Vitamins
Emergen C (only take when I feel I'm getting a cold and works wonders)
Vitamin D (I just started taking this daily)
Supplements
Kyolic Garlic for Digestive System and switch it up with Heart Health
Flax – use it in GM's and sprinkle in my cereal
The phone just rang and it was my daughter, Kristi. She is dropping by shortly to pick up a park pass as she has out of town company visiting, and they are going to see the Mountains. I can't wait for them to arrive because I will get to see my two grandsons. They light up my day. :)
Well, I better take a break.
See you this weekend for Part II where I will talk about my skin, make-up products/routine, de-stressing, and staying young!
And stay tuned today for a post from Angela- she will be explaining ALL!
I will leave you with these questions today for discussion:
– How do you think you will view your health when you are older compared to now?
– Do you think you will be more comfortable in your skin? 
~OSGMOM