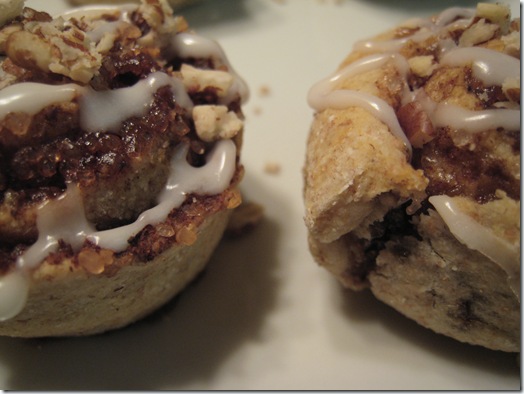 You know the saying, "Do 1 thing that scares you everyday"?
For me today, that was creating a healthy vegan cinnamon bun recipe.
I recently asked you for suggestions on healthy Glo Bakery items that I could make. What classic recipes did you want made healthier?
An overwhelming amount of you screamed at the top of your lungs:
MAKE A HEALTHY CINNAMON BUN RECIPE!!! wahhhhhhh.
I had so many people suggest that, I actually was starting to think it was the same person! (I kid, I kid). :)
I don't know about you, but I am taunted to this day by Cinnabon. Back in university, Leah and I used to go to a gym together that was right next to a Cinnabon.
We'd enter the gym smelling Cinnabon
And we'd leave the gym smelling Cinnabon.
At 730 calories and 24 grams of fat, it better damn well smell that good.
Let's face it. We want our Cinnabon without doubling the size of our buns! Right?
But I was scared, oh yes, I was shaking in my buns. But I channeled my inner Martha and dove right in…
And no, you aren't dreaming. I am revealing the recipe! How could I keep this to myself?
I wouldn't be able to sleep at night. Life is too short to hog a skinny-mini bun all to myself.
Skinny-Mini Globuns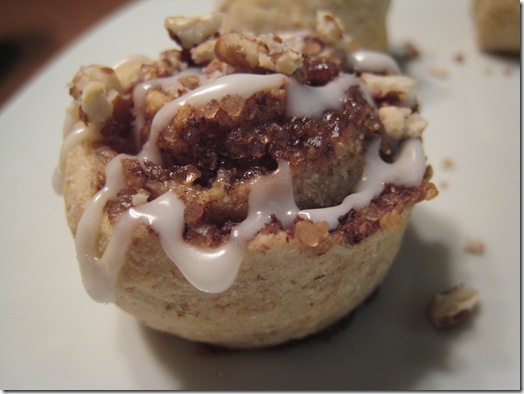 Makes 15 skinny-mini Globuns
Ingredients:
2 T margarine (I used vegan Earth Balance)
2.5 T milk (I used low-fat soy)
1/2 t apple cider vinegar
6 T plain yogurt (I used Soy yogurt, unsweetened)
1/2 cup All purpose flour
1/2 cup whole wheat pastry flour
1/2 tablespoon baking powder (I use aluminum free)
1/2 teaspoon baking soda
1/4 teaspoon salt
1/4 cup turbinado sugar (or brown sugar or sucanat)
1/2 tablespoon cinnamon
1/2 teaspoon nutmeg
1/4 teaspoon ginger
1/2 cup powdered sugar
1 T milk
pecans or walnuts for garnish (optional)
Directions:
1. Preheat oven to 400F. Line a cake pan (or whatever small pan you have handy) with parchment paper.
2. With a stand or hand blender, blend together 1 Tablespoon margarine, yogurt, milk, and vinegar until smooth.
3. Sift in the dry ingredients (flours, baking powder, baking soda, salt). Blend just until dough forms, no longer. The goal is to handle the dough as little as possible. Take the dough with your hands and pat up the rest of the flour in the bowl.
4. Set the flour on a very well floured surface (more is better when flouring surfaces!!) and dust some flour directly onto the dough. Now roll it out with a rolling pin. In a pinch a soup can does a borderline job, but it ain't pretty! lol. Roll dough out into a rectangle and trim sides with knife or pastry roller.
5. Melt 1 Tablespoon of margarine and spread the melted margarine over the dough with  a pastry brush- or in a pinch- dip some paper towel in the butter and spread. Easy peasy!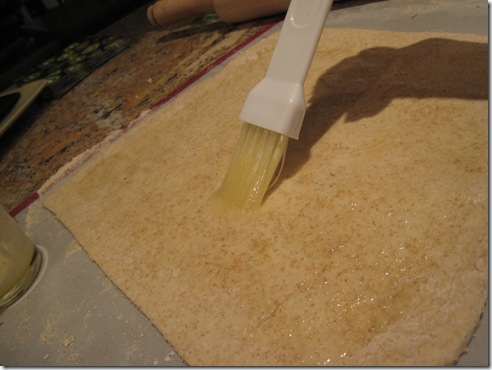 6. Mix together the sugar, cinnamon, nutmeg, and ginger in a small cup. Now sprinkle into the dough leaving about 1 inch around all sides.
7. Now roll up the dough as tightly as possible. Watch out- it might be tricky and the dough might stick a bit. You won't sweat it though because you are the goddess of the kitchen, right?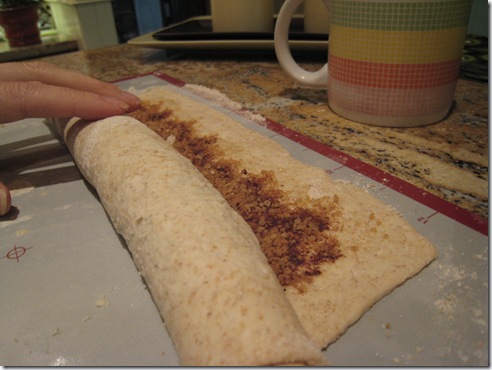 8. Now cut the roll into 1 inch sections. Place into a pan.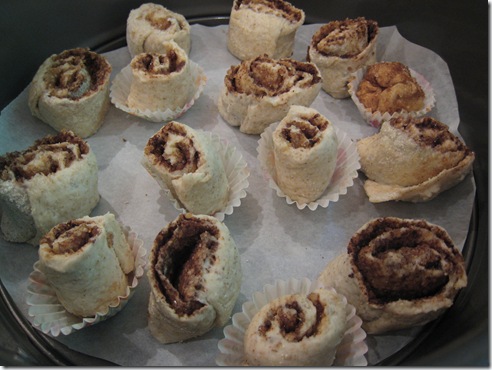 Note: I made mini buns for portion control! You may make larger buns if that floats your boat.
9. Bake for 16 minutes. Dough will be lightly golden and a bit crispy on the outside and soft and doughy on the inside (are you drooling yet?). Remove and place on a cooling rack for 10 minutes.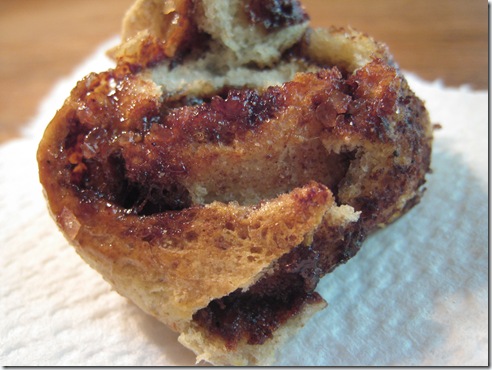 Pick your jaw off the floor when they come out of the oven and remain calm. We still have to ice these little guys!
10. Blend the powdered sugar and milk to make the icing. Place icing into a piping bag or simply a plastic baggie and trim the end. Now drizzle with icing and place a few crushed pecans or walnuts on top.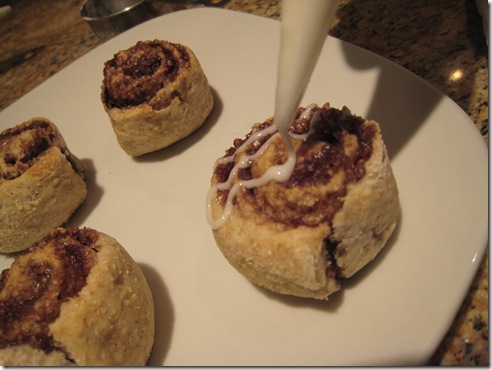 11. Enjoy, you skinny-mini! :)
I also made them into balls in petite four liners :)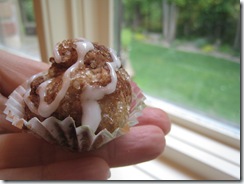 Now for the important part!
You won't believe how low in calories they are! And vegan to boot! Calories includes icing!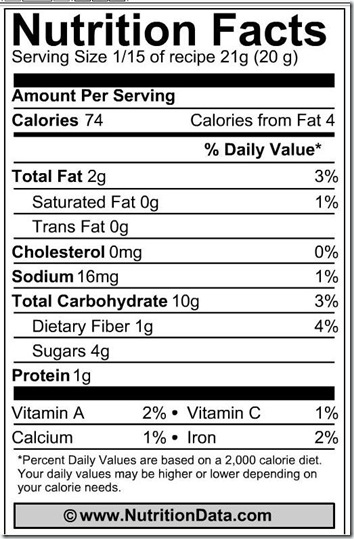 The taste?
While these clearly weren't as sticky and greasy as Cinnabon's, they were absolutely delicious! Eric doesn't even like cinnamon buns (I know, I know) and he really liked these. He said they were nice and light, not too sickly sweet and awesome!
Note: Warming the buns for 5-8 seconds in the microwave = PURE BLISS.
What I would change in the next batch?
In the next batch I may sprinkle on some powdered sugar over the dough itself. I found that the icing on top was great, but the bottom of the bun was lacking a bit of sweetness (just a bit!). Edit: After having another one- I am not even sure it needs any more sugar- I loved it just the way it was!
Next time I may also add 1/2 T of margarine to the icing to make it a bit more rich and luxurious.
Time for clean-up then a late dinner! See you tomorrow morning hotties (Yes, I read your 5 top body parts!!! meow!) :)